Terms of Reference
In this report, the strategic human resource management of the service industry has been focused on in the context of critical analyses of Human resources in the industry. The SHRM can be applicable here in a popular beauty parlor of a country for example. To consider SHRM in the context of the service industry, the paper has taken a beauty parlor for instance, how they manage and evaluate their business, how they manage their internal environment, and how they apply and manage the SHRM properly in their human resources like employees or other staffs of the business all these aspects are discussed with imperial analysis.
Executive Summary
As service industries start with competing for the challenging business and market environment, the increasing reason for the success of the business mainly depends on the effective functions of Human Resource Management. In a service industry, physical evidence, information about the market, and humans are the major resources. By controlling these resources, the service industry can earn competitive advantages. The main purpose of the report is to deliver a decision support tool aiding the decision-making values with the concern of the strategic management of the department of human resources in the service industry.
As here, the concept of a beauty parlor is taken as the example of the service industry, which mainly depends on human resources and their effective performances. In this SHRM report, its goals are to assess, organize and allocate human resources in perfect places with proper training and compensation. The service industries have different criteria in the marketing mix and SWOT analysis, which affects HR in the industry. With the increasing demand of customers and technological development, SHRM should be developed based on increased requirements of human resources, government regulations of the state, and expanded computer and information technology capabilities. So, the report should be developed by formulating the conceptual design of SHRM. From this point of view, SHRM can be able to employ different forecasting techniques to support the service industry in HR applications and to meet the goals of the industry.
Thus, finally, it can be said that in SHRM decisions are taken about people by integrating decision results. It can help in the HR planning process, emphasizing HR activities, supporting mission goals, and building a strong relationship with HR and managers of the industry. The manager can ensure the contribution in mission accomplishment. So, SHRM can align all HR activities to achieve strategic goals and to measure progress to these goals of the industry.
Introduction
The success or failure of any industry depends on the quality and effectiveness of its employees. In the recent market, the most successful and recognized firm has world-class HR managers with active participation in strategic and operational decisions. For this reason, SHRM plays the central role of any firm.
In the past few decades, HRM in service sectors viewed fads and fashions in western countries. They followed mission statements, customer satisfaction measurement, and total quality management as their techniques. Next, they had to add strategic planning and benchmarking in the management techniques. Now, this strategic planning has become more focused on Human resources in the industry. There are five steps in Strategic planning in Human Resources maintained in this report:
Mission and goals.
Environmental analysis.
Strategic formulation.
Strategy implementation.
Strategy evaluation.
These steps are the main focus of the report, which will be made on Strategic Human Resource Management in the Service industry. These SHRM activities should be started from rising industry mission and goals to a strategic evaluation in analysis and findings by HR managers. These stages are described after the current position of the service industry in the environment and other factors like marketing mix and SWOT analysis of the position of the service sector in the market.
The strategic HRM is a cycle of four steps:
Accomplishing performance matching with industry goals
Defining SHRM with managerial decisions for long run performances of the industry.
Taking SHRM as a superior action of the industry.
Considering SHRM a continuous activity with constant adjustments of HR managers, environment, and availability of resources.
The strategic human resource management is developed as a model here before further analysis of the report: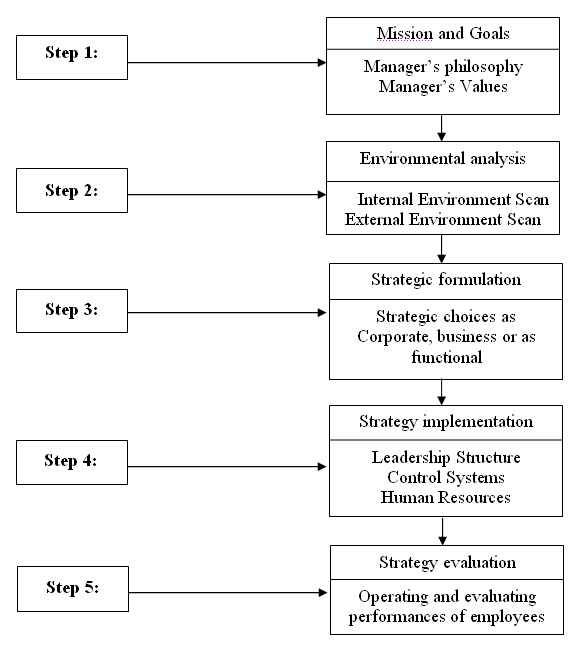 Methodology
In this report, the methodology should be developed as an exploratory research, which seems to be easing but difficult to exploit. Secondary data analysis will be main focus of the study as methods and materials, which will help in the development to go forward. In the analysis of the secondary materials, the collected data should be reviewed for the issues of SHRM in beauty parlor as a service industry, which may be researched before for another purpose of the related issues. To use secondary data have quick resource and economic also. In this report, the information is collected about SHRM in service industry mostly by using internet search engine and from studying other books, journals, and reports. The outcome from the information have provided the baseline and ending the conclusion of the report.
Challenges and Difficulties in Service Industry
Bratton, J. (2008) argued that service is represented to the customers as deeds, process, and performances. Broadly, the economic activities without any output of physical products and constructions, and also consumed at the time of production with some added values like convenience, amusement, timeliness, comfort, or health represents as intangible concerns are services1.
Parveen, S., (2008) said that in a beauty parlor, the beautification of the body is given to customers, like make up, hair treatment, hair color, hair straighten, manicure, pedicure, facial, hair removal from body and lots of collection of services given here. Nowadays, beauty parlor is not a hobby, but it becomes need for all people. Peoples are now habituated by standard living and different life styles. Mainly women, who are the large customers of beauty parlor, are working outside. For this reason, they can not able to manage time to take care of themselves in home. Young girls also like to become trendy. So, the growth of beauty parlor is rising. But, in same time, affording the beauty parlor is not possible for all classes of women for its high range of costs. So only the upper and middle class people can afford this service. In spite of being high costs, the demand of beauty parlor is increasing day by day2.
Marketing Mix of Beauty Parlor as Service Industry
Zeithahaml, V. & Bitner, M., (2008), argued that the marketing mix of beauty parlor as a service industry is extended with the traditional marketing mix of products. The marketing mix of beauty parlor is given below by following diagram:

Product: In the beauty parlor, the product is mainly the physical goods features, quality level of the products used; accessories, product/service lines, and branding are main products in beauty parlor.
People: There can be used two types of people in a beauty parlor:
Customers: As it said before, in a beauty parlor, upper and middle class people can take services for high price & quality. The service company of beauty parlor should maintain a professional, reliable, and friendly relationship with the customers by proper education and training of human resources of the industry.
Upper class people: The groups of upper class people are the main customers of this service company, they can effort these services so easily. The upper class should be main focused customer groups from the targeted customer groups.
Middle class people: people of this class are also customers of beauty parlor by carefully choosing the requirements that are affordable. But, nowadays, middle class people also give importance in the beautification of themselves as their necessities.
Employees: Beauty parlor is a service industry, so like other service industries it is mainly based on employees of the industry. To make efficient and skilled employees, beauty parlor has to be careful in recruiting, proper training, motivating by rewards and other beneficiaries, and also making teamwork between them. In a parlor, security guard, receptionist, employees in marketing the sector, manager and expert beauticians are needed.
Price: There are lots of beauty parlors in any place, different industry can charge differently, but the average pricing policy will be similar for most beauty parlor. There should be flexibility, simultaneous price level, terms, differentiation from others, discounts and allowances are main pricing system. The pricing strategy should be developed by measuring the cost effectiveness of the industry.
Promotion: it is very significant for any industry, also in a beauty parlor. Without appropriate promotion, business may face losses. People can know about the service by proper advertisements. Some common promotion strategies are promotion blend, sales people, advertising, sales promotion, publicity, and internet/web strategy. Some strategies of advertisements are to publish advertisements about the service industry of beauty parlor in different daily news paper, magazines, television and radio, personal contact are used to increase the business.
Physical Evidence: In terms of services in beauty parlor, physical evidence is essential. In any service sector, services cape is differ for different service sectors. For example, the usage of interpersonal services for both employees and customers for getting help from the employee for the services. It mainly focuses on the tangible part of the services by which people can make judgment about the services including all the aspects of the industries physical facilities and other forms of tangible communication. To being intangible of a service, customers rely on physical evidence to evaluate the service before purchasing and assessing the satisfaction with the service during and after consumption.
Some physical evidences are:
Well furnished office with waiting room,
Specific dress for all employees,
Industry should have brochures and business cards,
Ambient conditions like temperature, lighting, noise, music, scent, and color.
Air conditioned system with comfort.
Spatial layout like machinery, equipments, and furnishing arrangements.
Telephoning system,
Parking place,
Signage and
Dress for guard.
Place: The surrounding environment of the industry should be quite standard in a good area of any city. The facilities of channel type, exposure, intermediaries, outlet locations, transportation, storage and managing channels should be available in any place of the service sector.
Process: The process of service in beauty parlor has to have the flow of activities, specific number of steps, customer and employee involvement. The important steps of process in beauty parlor are given below sequentially:
The HR staffs have to make personal contact with the customers who are actually want the service of beautification.
Loyal customers, making the relationship with employees of the parlor, customers will eager contact in the industry looking for the services.
Employees of the parlor have to know the demand of the customers according to their needs.
The employees also try to know the demand and budget of customers.
Customers choose the services as they needed by calculating the costs.
Then, the customers want to feel the new or previously experienced services in reasonable time.
The employees have to meet the employees need with proper responsibilities.
Then, the beauticians give the services to the customers as they demanded with proper way.
After getting the service, customers have to pay the amount charged for the services.
In the last stage, the employees have to make sure that, customers become satisfied from the given services.
SWOT analysis of Beauty Parlor as Service Industry
In SWOT analysis, four dimensions are described and analyzed, which are: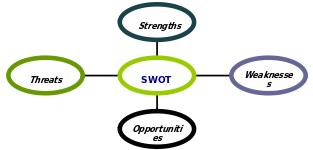 Strength: The strengths of beauty parlor as a service industry, some opportunities can be:
Skilled and efficient employees and beauticians,
Brand name,
Expansion as alliances or partnership with hospitals and fitness club
Having experiences.
Weakness: Some weakness can also be aroused, like:
Lack of rules by Government.
Trustworthiness of the beauty parlor.
Price consciousness of the customers.
Opportunities: Several scopes of beauty parlor are:
Increasing number of customers,
Taking responsibilities of peoples' beautification,
Maintaining difficulties of beautification by individuals.
Threats: Some risk factors of beauty parlor are:
Unstable political and social environment
Not affordable by all people.
Huge numbers of competitors.
Identification of Challenges of Beauty Parlor as Service Industry
After analyzing the Marketing Mix and SWOT analysis of beauty parlor it should required to discuss challenges. According to Zeithahaml & Bitner (2008) there are some real and distinctive characteristics of services as challenges:
Definition and improvement of intangible and non-standardization of services,
Design and test of services effectively,
Communication of service industry by consistent and relevant image,
Accommodation of fluctuating demand,
Selection of service employees with best motivation,
Set of price by actual costs determination,
Organization of good strategies and tactical decisions,
Determination of balance between standardization and personalization,
Protection of new concepts from competitors,
Communication of quality and value to customers and
To ensure the delivery of consistency of quality service.
Therefore, to develop business in service industry as a beauty parlor, the human resources should be developed in the context of challenges that industry faces continuously. As human resources are main assets and people in any organization, whether it is any service industry or manufacturing industry.
Identification of Internal Environment in Service Industry
The environment of any service industry should be built up with following environmental criteria:
Market: The exchange of services and relationship with customers leads to the concept of market, with the set of actual and potential buyers of the service. The customers share particular needs through exchanges and relationship.
Marketing: Individuals and groups related with social and managerial process are obtained to make a balance between needs and want by exchanging services and values with others.
Target consumer: In today's competitive market place, industries must be customer oriented, winning customers from competitors and delivering greater values to customers. Industry must understand the needs and want to satisfy customers. A sound marketing has required careful analysis of customers of any beauty parlor.
Service Provider: Service providers or employees of the service industry are main part of an environment. Mainly, the service industries depend upon their employees, their efforts, knowledge, skills, and efficiency to their work.
The environment of any service industry in any market is given below in a diagram form: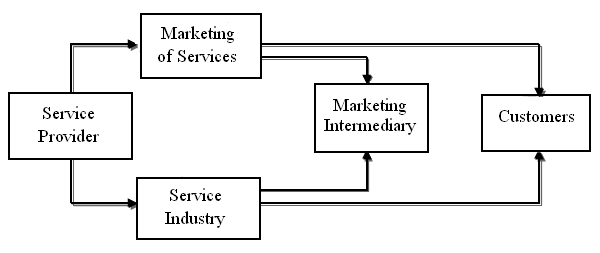 Internal Marketing environment
Marketing management has the ability to develop and maintain successful transactions with the target customers by actors and focus of the marketing. The service industry focuses on their internal environment, specifically the human resources or the employees, which affects its ability to serve its customers by following diagram: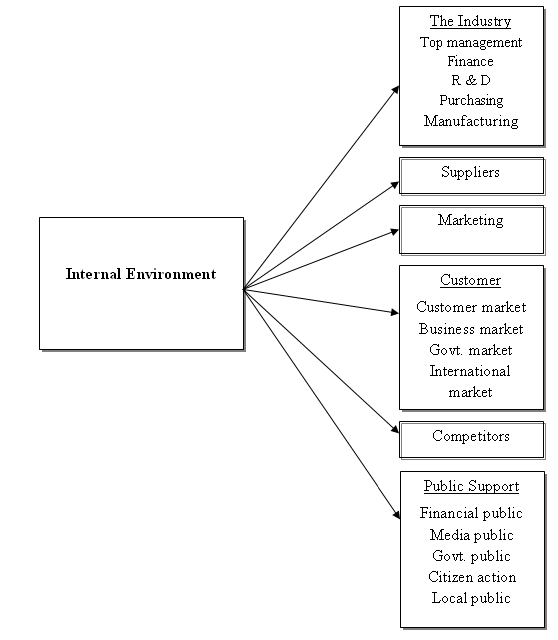 Employees Role Internal marketing environment
In the internal marketing environment, the boundary of spanning roles, emotional labor and customer oriented employees are very necessary in service delivery as beauty parlor. The communicating media within employees can be used as telephone, personal visit etc. In the beauty parlor, mentally strong and physically expertise employees are needed to this job, with proper training and handling the communication with customers.
From the starting of the parlor, the industry should have the ability of hiring the right people, by identifying and computing applicable people with other competitors. In this job, skill and knowledge about the service competencies are must. The employees also have to have goal achiever, extensive trainer with career and advancement opportunities, internal support, attractive incentives and offering quality. The HR manager should develop employees as deliverer of the service quality. These would be only possible with training the interacting skills with courteous, caring, responsive, and empathetic service.
Implication of Strategic Human Resource Management
The traditional view of Human resource has not have clear picture of the service industry. But in the strategic view of HRM, the functional duties describe essential tasks and accomplishments in service industry. Strategic human resource management is the accomplishment of mission in HRM, which means to integrate decisions about customers with the results of an industry that trying to obtain. In SHRM, the ultimate level of HRM is accountable with basic legal compliances by the following pyramid of the strategic goals: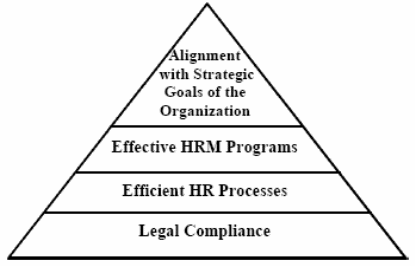 Thus, according to the Dimba, B. & K'Obonoyo, P., (2007), the development of consistent, aligned collection of practices, strategies or programs, and policies, which facilitate the achievement of industry's strategic goals, can be defined as Strategic Human Resource Management. The new strategic view of HR has tended emerging representation of the integrated view of HRM.
Fisher, Schoenfeldt & Shaw (2008) mentioned that the SHRM has some strategic goals in any service industry.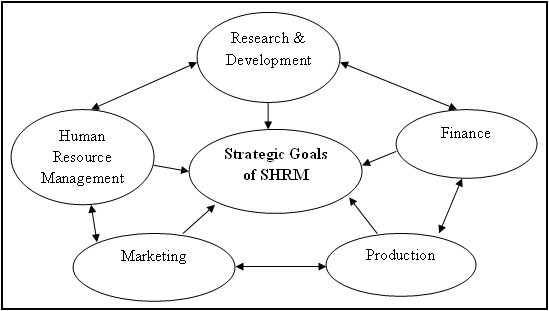 In SHRM, the tasks and duties that performed by any kind of industries which provide better coordination between human resources. SHRM identified six major functions:
HR planning, recruitment, and selection: In this section, the employees should hired on the basis of relating to the nature of the job.
HR development & training: Training and development of employees includes developing and increasing employee skills and knowledge to the hired job.
Compensation and benefits: HR manager should develop equal reward and benefit system to all the employees.
Safety and health: Safety of working place and considering the health of employees, HR manager should develop SHRM.
Employee and labor relations: The employees and worker relationship should be stable in the working environment.
HR research: HR research should be developed by judging the employees and their behavior towards the industry.
In the SHRM, there are number of associations identified and related in any service industry, which are:
HR practices and performance.
Re-engineering organizations and work.
Leadership.
Workplace learning.
Trade unions.
Human resource management practices and performance: In HR performances, the link between business strategy and HR strategy can improve industry's performances and competitiveness. The HR performances are positively related to the well being of industry performance.
Re-engineering and strategic human resource management: The re-engineering of business process is highly committed with the management of the industry, also with HR strategies.
Leadership and strategic human resource management: The leadership structures and practices are depended on how well the industry understands about SHRM. The leadership involves in the influence in context of industry context.
Workplace learning and strategic human resource management: Formal and informal workplace management is the key level to achieve SHRM goals with commitment, flexibility, and also quality of the formulation of the strategies.
Trade unions and strategic human resource management: There are some contradictions between SHRM and trade union of the industry. The cultural perspectives of the trade union, uncomfortable environment, individualization are the main reason of conflicts between them.
Strategic Planning of Beauty Parlor
Strategic planning is first in SHRM in any service industry. Fisher, Schoenfeldt & Shaw (2008) argued that these strategies should be developed to understand its potential benefits of both customers and employees. The strategic planning focuses the following criteria showing below in the diagram:

This planning process of SHRM varies from industry to industry. The human resources, who are directly or indirectly related with any service industry, or in a beauty parlor, as said specifically, senior managers, line supervisors, employees, staffs, beauticians, guards, and stakeholders throughout the entire process of planning. The strategies, which developed before, measured with the annual performance plan in SHRM planning. Then the performance report is evaluated based on proper judgment.
Strategic Implementation of Beauty Parlor
SHRM planning allows the direction to go in the right way, but if not implemented, does not act these plans. Fisher, Schoenfeldt & Shaw (2008) expressed that strategic implementation measures the activities performed by the employees to accomplish mission, and the contribution to the strategic goals of the organization. In the completion of the mission, first to complete the HR activities in proper ways is must. After completing the HR activities, HR manager should develop the following strategies to motivate its employees and beauticians:
Individualism versus Collectivism: Individualism means the ties between society and individual families looses, where collectivism means the integration for a society as strong, in groups to protect themselves in exchange for loyalty. HR managers have to position their employees in these polls.
Masculinity versus Femininity: HR manager should develop the distribution of emotional roles of gender, another fundamental problem for any industry. In other papers, it is seen that, women like to attach with relationships, helping others, and physical environment, whereas, men like to give importance on careers and money.
Uncertainty avoidance: The uncomfortable or comfortable situations felt by the unstructured situation, unknown, surprising, shocking, and sometimes different from usual situations. These uncertainties can be avoided by organizing proper rule orientation, employee stability, and removing the stresses of employees.
Power distance: in many institutions, the powerless members take idea that, power is distributed unequally. HR manager should remove the human inequalities in each particular society under the parlor.
Job security: To motivate the employees properly, industry has to give the employees the security from their job at the workplace, which is very important.
Hiring practices: In beauty parlor, the hiring practices should be taken in the group into account, which is given preferences of their skills first, not the known people of current employees.
Performance appraisal: The main aim of performance appraisal is to determine the promotion, transfer, salary increases, and to supply data to management on performances of the employees in determination of the need of training.
Training and development: The value of SHRM can be fulfilled when training and development of employees can be done properly.
Findings and Analysis
In the findings and analysis part, the strategic evaluation of the industry is given in considering the context of SHRM in service industry, as beauty parlor.
In the progression of the field of SHRM, this paper offers the unexplored questions of HR practicing in the service industries. New framework and approaches of SHRM practices make not only national and cultural strategic human resource management, but also the cross cultural views in industry's performance development.
With a high market share and high sales on basis of demand of customers, beauty parlor should strictly focus on its service quality, which is totally dependable on employees of the industry. The industry always has to follow the new trend with the mixture of traditional culture of the society. For this reason, young and trendy employees should be selected by the HR. It also has to emphasize and concentrates on the promotion with strong message. As a parlor, this message can be built up within the relationship between employees and customers. Without the above affords of the employees, it's impossible to get high profit and market share of the business as a beauty parlor.
There are also some need of moderating influences and research on the relationships of the employees in SHRM practices, motivation and goals of industry. To have a greater outcome from SHRM practices, employees should considered as resource of the industry by the HR managers. To make employees as resource, HR manager should adding values in SHRM functions, taking advantages of rare skills and characteristics of employees, hiring such employees who are difficult for imitate by the competitors, and lastly to exploit HR advantages.
Conclusion
Developing SHRM in a beauty parlor looks so easy on paper, but it is not easy to match SHRM with the mission of industry. Truly, SHRM practices become more difficult in the influential of employees of the beauty parlor, because, at the present time employees' behavior inspire with optimism about the perspective of the current position of the industry. In SHRM, the HR manager should make decisions about HR, allocate resources, negotiate, manage and motivate employees, training and developing employees' skill and performances. In this report, it is determined that, the service sectors dimensions are major concerns in SHRM. This study makes clear idea about SHRM relating to the service industry as a beauty parlor, which not only focuses on the evidence of the secondary data, but also attracting more attention to many researchers. So, to do better in the service sector, developing SHRM in employees of the industry is obvious.
Bibliography
Anthony, W. P. Prrewe, P. L., & Kacmar, K. M. (2002), Strategic Human Resource management, 4th edition, The Dryden Press, London. Web.
Anthony, W. P., Kacmar, M., & Perrewe, P., (2005), Human Resource Management: A Strategic Approach, 5th edition,South-Western College Pub. Web.
Bloisi, W. (2007) Introduction to Human Resource Management, 2nd edition, McGraw-Hill: London. Web.
Bratton, J. (2008), Strategic Human Resources Management. Web.
Bratton, J. & Gold, J. (2007) Human Resource Management, 4th edition, London: CIPD. Web.
Cameron L. and Miller P. (2008), Enhancing HRM practice in SMEs using the concept of Relationship Marketing, this dissertation has been submitted for Graduate College of Management Papers.
DeCenzo, D. A. & Robbins, S. P, (2008), Fundamentals of Human Resource Management, 8th edition, John Wiley & Sons Ltd. Web.
Dibb, S. Simkin, L. Pride, W. M. & Ferrell, O.C. (2001), Marketing Concepts and Strategies, 4th ed., Boston, USA: Houghton Mifflin.
Dimba, B. & K'Obonoyo, P., (2007) Influence of Culture on Strategic Human Resource Management (SHRM) Practices in Multinational Companies (MNC) in Kenya: A Critical Literature Review.
Fisher, C. Schoenfeldt, L. & Shaw, J., (2008), Strategic Human Resource Management, 5th edition, India: Biztantra.
Foot, M. Hook, C. (2005) Introducing Human Resource Management, 4th edition, Prentice Hall: London. Web.
Fombrun, C., Tichy, N., & Devanna, M., (1984), Strategic Human Resource Management, Kindle Edition, Wiley.
Greer, C. R., (2000), Strategic Human Resource Management: A General Managerial Approach, 2nd Edition, Prentice Hall. Web.
Griffin, R. W. (2006), Management, 8th Edition, Houghton Mifflin Company, Boston New York. Web.
Hitt, M. A., Ireland, R. D., Hoskisson, R. E. (2001), Strategic Management, 4th Edition, South- Western Thosmson Learning, Singapore.
Hill, C., and Jones, G., (2007) Strategic Management: An Integrated Approach, 8th edition, South-Western College. Web.
Kotler, P., Armstrong, G. (2006), Principles of Marketing, 11th Edition, Prentice-Hall of India Private Limited, New Delhi. Web.
Kotler, P. (2006), Marketing Management, 11th edition, Prentice Hall, NJ. Web.
Porter, M. E. (2004), Competitive Strategy, Export Edition, New York: The Free Press. Web.
Luis R. Gomez-Mejia, David B. Balkin, Robert L. Cardy, (2006), Managing Human Resources, 4th edition, Prentice Hall: London. Web.
Mazen, S. & El-Kayali, D., (2008), Conceptual Design: For a Strategic Human Resources Quality Management System.
Mello, J. A., (2005), Strategic Human Resources Management, 2nd edition, South-Western College Pub. Web.
Parveen, S., (2008) Beauties at the city's beauty shops. Web.
R. Compton, W. Morrissey and A.R. Nankervis, (2008), Effective Recruitment and Selection Practices, 5th Ed, CCH: Australia. Web.
Richard, M., Ruyver, B., Vermeulen, G., Beken, V, & Beken,T., (2001), Strategies of the EU and the US in Combating Transnational Organized Crime. Maklu Publication. Web.
Stoner, J. A. F., Freeman, R. E., Gilbert, D. R. (2006), Management, 6th Edition, Prentice-Hall of India Private Limited. Web.
Saloner, G., Shepard, A., and Podolny, J., (2001), Strategic Management, 2nd edition, John Wiley. Web.
Thompson, A. et al (2007), Strategic Management, 13th edition, Tata McGraw- Hill Publishing Company limited, New Delhi, India.
U.S. Office of Personnel Management: Office of Merit Systems Oversight and Effectiveness, (1999), Strategic Human Resources Management: Aligning with the Mission.
Zeithahaml, V. & Bitner, M., (2008), Introduction to Services, 4th edition, Singapore: TATA McGraw Hill.
Footnotes
Bratton, J. (2008), Strategic Human Resources Management.
Parveen, S., (2008) Beauties at the city's beauty shops.