Wal-Mart is unquestionably a dominant retailer, with 6,300 stores and 11,700 associated retail units spanning 28 countries. The company manages approximately $32 billion in inventory (Lu, 2018). This scale requires effective management strategies and systems. Wal-Mart does not call the process inventory and warehouse management but rather generalizes it under supply chain management. The highly integrated and technology-focused nature of Wal-Mart's supply chain management allows it to be a leading retailer with highest sales per square foot, inventory turnover, and operating profit that ensures the company's continued success.
Process
The foundation to Walmart's strategy is to provide customers with goods at any time and developing cost structures to allow for low pricing. Therefore, from its early days, Walmart has focused on highly structured and advanced supply chain management to achieve a competitive advantage. The primary element of Wal-Mart's supply chain is that it eliminates several links, working directly with manufacturers who deliver merchandise in bulk and efficiently cut costs by eliminating distributor fees (Lu, 2018).
Wal-Mart utilizes a supply chain initiative known as Vendor Managed Inventory (VMI) where manufacturers are responsible for product management in Walmart's warehouses. This ensures both efficiency as well as near 100% order fulfillment on merchandise. Data is sent to centralized databases of stock inventory, so trusted partner manufacturers can send more goods to Walmart when low (Lu, 2018).
Walmart categorizes various types of inventory with roles in the supply chain. There are the finished goods, which are the primary inventory type, goods which arrive to stores regularly and always on-hand. Transit inventory are goods which are held in transit for periods of time to replace furnished goods. Buffer inventory is immediate inventory in-stores on hand for immediate re-shelving for times of high demand. Anticipation inventory, which are seasonally or temporary forecasted demand for certain types of goods on-hand. In combination with VMI systems, the way that Walmart manages its inventory allows it to have one of the lowest distribution costs of just 1.7% of sale costs (Greenspan, 2019).
Walmart adopts critical elements of efficient warehouse and inventory management and builds on them. These include highly controlled warehousing processes, with tools such as barcode solutions. Warehouse metrics are essential, and Walmart has built a state-of the art system with its VMI system. Finally, Walmart houses its warehouse locations strategically which is vital to meeting service level commitments at scale (Shmula, 2012).
Walmart is well-known for a logistics practice named cross-docking which allows it to efficiently replenish inventory. It encompasses the direct transfer of products between facilities using inbound and outbound truck trailers with minimal storage in between. For example, a delivery to Walmart's distribution center results in the inbound goods being immediately placed on appropriate outbound trucks to the stores. When the system scales to Walmart's size, the inventory and transportation costs are decreased significantly due to reduced transportation time, storage costs, and elimination of inefficiencies (Skubana, 2020).
Some products and trust partners immediately load from its trucks to Walmart trucks, resulting in zero storage. The small storage footprint that Walmart has for its inventory reduces costs at all levels Consolidation and distribution centers are key to the inventory movement and management in the company. Their role is move products quickly via the cross-docking procedures. The consolidation centers combine shipments from small ones to full truckload freight, and then the 42 regional centers distribute products among stores as appropriate (Smith, 2019).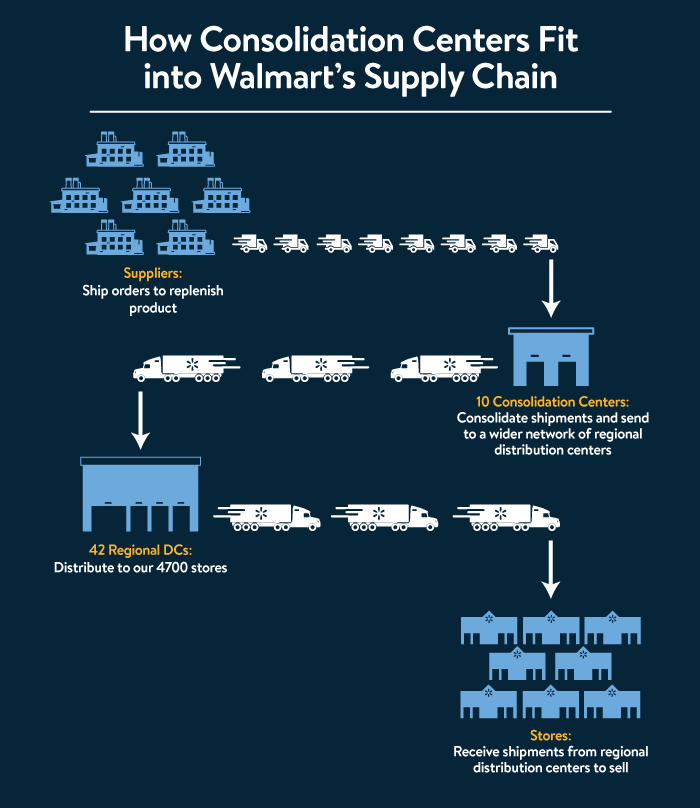 ERP and Software
Advanced information systems and software are at the center of Walmart's inventory and warehouse management and the general supply chain management. As mentioned before, Walmart utilizes a centralized database and stock ordering system which allows suppliers to access data within its vendor-managed inventory model. Walmart utilizes an ERP platform called HANA by SAP technologies, a business intelligence platform which oversees multiple aspects of organizational operations (Wilson, 2015).
Walmart's inventory network using ERP is the foundation to its efficiency of managing such large amounts of inventory. The automated and manual system co-ordinate with supplier's industrial facilities which determine any inventory issues ranging from scheduling to guaranteeing items are available to pick up by Walmart freight (Natto, 2014). Walmart is generally considered the technology leader in retail, being the biggest private sector data warehouse. It also utilizes innovative technology such as radio frequency identification (RFID) which is a replacement for bar scanning technology and much more efficient at managing inventory along its supply chain, essentially creating real-time databases for minimizing inventory management and avoiding any cases of mismeasurement of inventory (Shin & Tucci, 2015).
Organizational Elements
Surprisingly little is known about the Wal-Mart organizational structure beyond top leadership. Wal-Mart follows a hierarchical structure of organization. John Furner is the CEO of Walmart US. It has recently restructured leadership and united the supply chain team, which oversees including elements of warehouse and inventory management. Greg Smith is the president of supply chain operations. There are 12 executives which represent the distribution, e-commerce, reverse logistics, transportation, and automation strategy which all report to Smith (Kapadia, 2019).
Using a standard organizational chart above, the organizational elements circled play a role in the inventory and warehouse management elements for Walmart based on the known information. Obviously, all elements of the supply chain are directly involved in the complex network and Walmart's highly integrated inventory management. Engineering and business logic processes are most likely utilized as Walmart consistently seeks to upend and improve the systems in order to maintain a competitive advantage in retail. Finally, finance elements are involved due to investments in new technologies, paying the transportation and inventory costs, and managing its facilities and assets which Walmart is rapidly expanding.
References
Greenspan, R. (2019). Walmart's inventory management. Web.
Lu, C. (2018). Walmart's successful supply chain management. Web.
Natto, H. (2014). Wal-Mart supply chain management. International Journal of Scientific & Engineering Research, 5(1), 1023-1026. Web.
Shin, S., & Tucci, J. E. (2015). Wal-Mart's dilemma in the 21st century: Sales growth vs. inventory growth. The Journal of Applied Business Research, 31(1), 37-45. Web.
Shmula (2012). Warehouse management processes. Web.
Skubana. (2020). Walmart supply chain 2020: Why it continues to dominate. Web.
Wilson, M. (2015). Wal-Mart focuses on speed, innovation with SAP's HANA technology. Chain Store Age: The Business of Retail. Web.
Smith, M. (2019). High-tech consolidation center set to open in July, adding efficiency to Walmart's supply chain. Web.