Executive Summary
This project explores the entrance of Amazon to India, including such sections as an introduction, company review, industry overview, regional analysis, and conclusion. The paper begins with the topic presentation and challenges associated with entering the Indian market. The proactive integration of adaptive strategies allowed Amazon to succeed and become a serious competitor to the local companies.
On-Time Delivery!
Get your customized and
100% plagiarism-free paper
done in as little as
3 hours
The overview of Amazon shows that this US-based corporation adopted technological advancement and customer-orientedness as the key priorities, which is also relevant to the market of India. Covering such large cities as Chennai, Bangalore, and Hyderabad, the company introduced special strategies, focusing on the local cultural aspects and customers' needs. In particular, Amazon Tatkal to provide a suite of launch services, Amazon Chai Cart to promote e-commerce, and Fulfillment by Amazon (FBA) as a shipping platform was provided.
The overview of the industry illustrates that not only books but also other products were offered by the industry for online shopping. The industry is presented by such companies as Flipkart, Myntra, Snapdeal, and eBay. The research revealed that Flipkart is the main rival of Amazon since it takes a 44 percent share of the Indian market, while the latter embraces only 15 percent. The competitive advantage of Flipkart is composed of well-developed and close relationships with customers, which was established through the years.
The analysis using Porter's Five Forces indicates that competition, customer bargaining power, and the threat of substitutes are strong forces; the bargaining power of suppliers is moderate, and the threat of new entrants is low. The Indian retail market may be marked as the one that has an unlimited potential to grow because more and more people prefer online shopping. The key success factors (KSFs) of this industry are high-quality services, improved branding, innovation through technology, and proactive business flexibility.
According to the regional study conducted with the help of PESTEL analysis, such factors as political stability enhanced cybersecurity, and e-commerce promotion by the government create beneficial conditions for the market expansion. The economic stability accompanied by the growing incomes of the local populations is also likely to facilitate online retail in India. As for social factors, wealth disparity may be noted as a potential threat to Amazon's success. More to the point, cyber crimes and technology obsolescence present additional challenges. The fact that Amazon contributes to environmental sustainability shows its social responsibility. CAGE analysis of the Amazon regional markets pinpoints that the use of the integrated and region-specific customer-centered approach is the best option for successful business growth.
The initiatives implemented by the Indian government seem to facilitate further Amazon expansion. Cybercrime laws, enhanced Internet coverage, patent regulations, and provision of incentives (tax breaks) may be noted among such initiatives. It is possible to suggest that Amazon's competitors may adopt customer-centricity and the low-cost customer-centricity pricing strategy or set a standardized price limit to eliminate unfair rivalry.
However, one of the key advantages of Amazon is that it expanded into the home service and business platform support services. Similar strategies may be applied by the competitors, thus creating customer loyalty and expanding the client base. For the future operation of Amazon on the Indian market, one may recommend keeping localized in terms of national languages, employment of Indians, and cooperation with the Indian-based suppliers. Rebranding and continuous promotional activities as well as the creation of a mobile application that can be operated without the Internet would allow retaining customers and penetrate new markets.
Yes, we can!
Our experts can deliver a
custom Amazon in India
paper
for only

$13.00

$11/page
Introduction
The entrance of Amazon into the Indian market was a game change aimed at attracting more than 400 million potential clients. However, a quick preview showed that due to weak infrastructure, challenges posed by competitors, and unique cultural market stratification, the success rate of this US-based online retail giant might be compromised. Nevertheless, using proactive integration of effective approaches for adapting to the Indian market and execution of business strategies, Amazon has managed to enter and expand its operations in this region. This analytical essay attempts to provide a comprehensive company overview, industrial and regional analysis, and synthesis of different competitive instruments used by Amazon.
Company Overview
Amazon is a global online retail giant headquartered in the US. Established in 1994, the company has grown over the years into a multinational corporation with an active presence in the Indian market (Govindarajan and Warren). In India, the company is present in three major cities, including Chennai, Hyderabad, and Bangalore. The vision of the company is based on customer-centeredness and continuous technological advancement to provide the best shopping experience through the online platform. The low-cost business model, free delivery, and wide coverage of the Indian market have contributed to the current success.
Amazon's business strategies in the Indian market included Amazon Chai Cart to promote e-commerce, Amazon Tatkal to provide a suite of launch services, and Fulfillment by Amazon (FBA) as a shipping platform (Govindarajan and Warren). In addition, the company has maintained its quality service charter by ensuring that only genuine products are sold to customers. This charter has made it possible for systematic and quick market penetration.
Industry Overview
Apart from the traditional business of selling books, the company has incorporated online shopping along with distribution and delivery fulfillment infrastructure to penetrate the Indian market (Arun). Amazon has managed to reach 52 million Internet customers annually through strong partnerships with publishing houses and electronic companies to sell affordable products via the online platform. Flipkart is the main competitor of Amazon and the current market leader in the online retailing sector in India (Maheshwari, "Etail Giants") (see Table 1 for details). The other competitors are Myntra, Snapdeal, and eBay. As captured in Table 1, the competitive profile matrix favors Flipkart more than Amazon because of the strong customer-business relationships maintained over the years.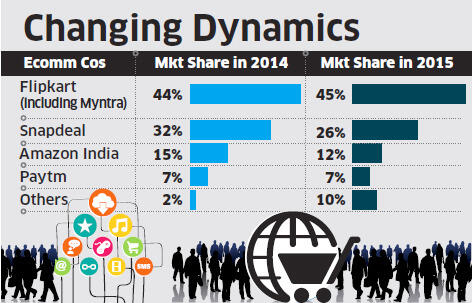 In terms of Porter's Five Forces, Amazon faces fierce competition from five firms that provide perfect substitute services. The customer bargaining power is a strong force since there are many substitute products and the cost of switching from Amazon to other companies is low (Greenspan, "Amazon.com Inc. Five Forces Analysis"). The impact of suppliers is moderate since many suppliers are willing to support Amazon's business platform. The threat of substitutes is a strong force because of low-cost substitutes from competitors and high substitute availability (Greenspan, "Amazon.com Inc. Five Forces Analysis").
Amazon enjoys high economies of scale, thus, is not threatened by a new entrant in the Indian market. Moreover, the online retail sector in India is highly stratified with a high brand development cost. The Indian online retail industry's life cycle analysis projects positive future trends. Namely, the online initiatives compose 12 percent of TV sales (Maheshwari, "Etail Giants"). India is ranked third in the global publishing of English language books. E-commerce has unlimited potential since the online market is expected to grow as more and more people prefer online shopping.
Amazon's role in the Indian online retail industry was to improve the quality of services and sustain its low-pricing business model. The Indian online retail sector's key success factors (KSFs) are high-quality services, enhanced branding and awareness, proactive business flexibility, and advancement in technology. The regional value chain is well-developed across the three major locations, where there is an improved and affordable Internet network.
Cut
15% OFF
your first order
We'll deliver a custom
International Marketing
paper tailored to your requirements with a good discount
At present, more than 36 percent of Indians have daily access to the Internet ("India. Internet Usage Stats and Telecommunications Market Report"). The industry analysis reveals a highly stratified online retail market sector in India. As a multinational company, Amazon could take the advantage of the industry variables to sustain its low-cost pricing model and expand further into other regions of India.
Regional Analysis
Amazon operates in more than fifty regions across the globe. The US market has the largest market share of Amazon's business activities. This is followed by Europe's market share. India is third in terms of annual sales. In all these regions, the favorable, political, economic, social, technological, and environmental factors have propelled the growth of Amazon. In terms of PESTEL analysis, the political stability, government endorsement of e-commerce, and improved cybersecurity present opportunities for Amazon to excel in the regional markets (Greenspan, "Amazon.com Inc. PESTEL").
The economic stability in India and increasing disposable income among potential customers are called to facilitate the company's market expansion strategies (Govindarajan and Warren). However, the current economic struggles between China and the US might affect the business in the future since it might spill into the Indian market.
The ever-rising global wealth disparity has been a threat to Amazon's business survival as a social factor. The increasing online purchase habits and consumerism present opportunities for growth (Greenspan, "Amazon.com Inc. PESTEL"). The rapid obsolescence in technology and the increasing cybercrimes are a threat to Amazon's online business platform. Lastly, Amazon has been active in supporting environmental programs through business sustainability reporting and low-carbon lifestyle promotion. These initiatives point at a bright future for the company in India and other regions of operation. As captured in Table 2, the CAGE analysis of the Amazon regional markets indicates a positive trend that could be integrated into a region-specific customer-centeredness business approach.
Cultural differences
Administrative differences
Geographic differences
Economic differences
Bilateral measures
Different languages in Europe, Asia, and the US markets.
Lack of connective social and ethical networks.
Variations in national work laws.
Unstable economic ties in each region.
Limited shared regional commerce bloc.
Variance in currency across the regions.
Variance in the legal systems.
Political hostility, especially in the Communist Russia and China regions.
The long physical distance between the regions.
Variation in climate and work cultures.
Variations in consumer income indexes.
Variations in financial, human, intermediate, and natural resources relevant to doing business.
Unilateral measures
Insularity
Inscrutability
Home bias vs. foreign bias in India.
Societal conflicts in India.
Expropriation risks in China and Russia.
Geographical remoteness of some parts of India.
Lower per capita income in India than in the home country.
Limited infrastructure in India.
Table 2. CAGE analysis of Amazon regional markets.
The favorable home conditions for Amazon include high disposable income, stable legal and political regimes, well-developed infrastructure, and limited language barrier since the English language is acceptable in the target market. As captured in Table 2, there are strong legal networks, economic stability, and positive government intervention policies across all the regions of operation. The Indian market is fertile for expansionary business strategies (Govindarajan and Warren).
For instance, the large population, positive government interventions on e-commerce, well-developed Internet infrastructure, and increasing online buying habits among the middle-class population are attractive components for successful business growth and strategic expansion. In addition, the corporate social responsibility initiatives of the company are likely to endure the company in this region market and develop a large and loyal customer base. The trend replicates in other regions of interest.
Get a custom-written paper
For only
$13.00
$11/page
you can get a
custom-written academic paper
according to your instructions
Conclusion
To conclude, the governments where Amazon operates have the role of legislating strong cybercrime laws and effectively implementing them to protect the online business platform of this multinational company. The governments could also facilitate the expansion of Amazon through the provision of incentives (tax breaks), improvement of internet coverage, and implementation of patent regulations (Arun). Moreover, the government should be at the forefront in ensuring business security to avoid loss during transit of customer orders, especially in the Indian market where security is still a challenge. In addition, legislation should be put in place to standardize discriminatory labor laws. These proposals will create a healthy business environment for Amazon and other competitors.
Amazon's competitors such as Myntra, Flipkart, and eBay could adopt a customer-centricity and the low-cost customer-centricity pricing strategy to avoid the current price wars in the Indian market. For instance, as the market leader by share, Flipkart could mobilize other competitors to set a standardized price limit to eliminate unfair competition (Maheshwari). Moreover, the competitors could internalize the 'customer centricity' business model to expand their current business segments. Within the Indian online retail sector, implementation of a quality service charter is simple, and frequent promotional activities would make a difference in the annual revenues.
Unlike Amazon, Myntra has not diversified its product and service portfolios (Maheshwari, "Flipkart-owned Myntra"). The company still concentrates on online retail while Amazon has expanded into the home service and business platform support services. Therefore, Myntra could benefit from the introduction of several products as part of the branding and the creation of a self-competition environment. Lastly, the competitors could also consider expanding beyond the traditional market and focus more on the virtual market for retailing apps. This will go a long way in caging loyal customers and expanding the client base.
Being a foreign-based company, Amazon could implement several suggestions to penetrate and establish a strong niche in the Indian market and beyond. The first strategy would be to keep localizing the business strategies such as the use of local languages, employments of the locals Indians, and establishing partnerships with the Indian-based suppliers (Govindarajan and Warren). This strategy will improve the magnitude of company acceptance among employees, customers, and suppliers as one of their own. The second strategy would be rebranding and constant promotional activities to reach the highly conservative and closed Indian culture.
Lastly, Amazon could create a mobile application that is operated without the internet to penetrate the unexploited market estimated at more than 60 percent of the population ("India. Internet Usage Stats and Telecommunications Market Report"). However, the implementation of these strategies should be done within the Indian commerce laws to avoid unnecessary confrontation with the local authorities and competitors.
References
Arun, MG. "Indian E-Tailers Have Much to Learn from Amazon's Success, Flikart's Fall". India Daily. 2017. Web.
Govindarajan, Vijay and Anita Warren. "How Amazon Adopted Its Business Model to India". Harvard Business Review. 2016. Web.
Greenspan, Roberta. "Amazon.com Inc. Five Forces Analysis & Recommendations (Porter's Model)". Panmore Institute. 2017. Web.
Greenspan, Roberta. "Amazon.com Inc. PESTEL/PESTLE Analysis, Recommendations". Panmore Institute. 2017. Web.
"India. Internet Usage Stats and Telecommunications Market Report." Internet World Stats, 2017. Web.
Maheshwari, Richa. "Etail Giants like Snapdeal, Amazon Lose Market Share in 2015; Small Etailers Emerge as Real Winners". The Economic Times. 2016. Web.
Maheshwari, Richa. "Flipkart-owned Myntra All Set to Diversify into Home Furnishing, Personal Care Segment."The Economic Times. 2016. Web.