Introduction
There is a well know cliché in marketing that goes something like 'even if you build the world's best mousetrap, the world will not beat a path to your doorstep.' The only option is to market the product as best as you can. This implies the importance of marketing in any business, whether it is for a product or for a service. The great economist Peter Drucker is said to have spoken these words on marketing namely "Because the purpose of business is to create a customer, the business enterprise has two and only two basic functions: marketing and innovation. Marketing and innovation produce results; all the rest are costs. Marketing is the distinguishing, unique function of the business."( Trout). For marketing to be effective, the most important factor is communication the facts, features and other relevant details of the product or service to be marketed. This concept has grown in importance to such an extent that separate curriculum and also job categories have been developed. This concept is referred to as marketing communication and is often called marcom or marcomm. There are many elements to be considered in a marketing communication strategy. The company has to have proper balance of these elements which is called integrated marketing communication or the marketing mix.
This paper attempts to create an integrated marketing communication mix for the world famous Daihatsu Motors in the Kuwait marketplace. Even though Daihatsu is a top quality brand and a product from the famed Toyota stables, its presence in the country has been very poor. A proper strategy for the successful re-launch of the car (and its models) will be formulated here. The brand will be marketed by a company called Kuwait Daihatsu Motors Limited' which will be the exclusive dealers for the brand in the Kingdom of Kuwait. It is incorporated as a limited company in Kuwait. The theoretical aspects of marketing communication and communication mix will be presented first. The marketing communication mix for Daihatsu in Kuwait will be given after that section. A short history of Daihatsu Motor Corporation will also be given at the beginning.
Marketing Communication
As mentioned earlier marketing communication or marcom are the steps and the process of communicating all the values of the product to the prospective customers. "Short for marketing communications. Marcom includes advertising, public relations, web development, signage, point-of-purchase, packaging, print collateral, direct mail, identity – anything that serves as a vehicle for brand and marketing messages". ( A glossary of terms). This definition suggests correctly that marcom can be a complex task depending on the product or service sold and also the type of market in which it is to be marketed. Before moving on the marketing communication mix, a short history of the Daihatsu Motor Corporation is presented here. Communication mix simply means employing the right mix of all or some of the elements mentioned above to effectively communicate the details of the product to the potential consumers. It can be defined as "the range of approaches and expressions of a marketing idea developed with the hope that it be effective in conveying the ideas to the diverse population of people who receive it". (English dictionary with multilingual Search). The effectiveness of a marketing strategy will be depend on finding out the right communication mix.
Daihatsu Motor Corporation
The company has a long history starting from 1907. The company was originally called Hatsudoki Seizo Co until its name was changed to Daihatsu Motor Company Ltd in 1951. The company used to manufacture engines and three wheeled vehicles and even produced a four wheel car in 1938. Like Kia Motors of Korea, the focus is on producing small cars and four wheel drive off road vehicles. By the 1970's electric-powered cars and three wheelers were being produced by the company. Its first four-wheel drive car was introduced in 1978. additional manufacturing plants were being set up during the 1970s and 80s. It commenced its American operations in 1986. The next decade saw the company's presence in other Asian countries as well. 1998 was an important year in the company's history when it became a subsidiary of Toyota Motor Corporation after it bought majority stake in Daihatsu. Hybrid fuel cars were also manufactured by the company by the year 2005. New models were being developed all through these years by the company. (About Daihatsu) Financially and operations wise, the company is doing well with sales, income and profit rising steadily year by year as can be seen from the following charts.

Hence the company is financially sound and a good bet for market expansion in the Kuwaiti market.
Guiding Principles in integrated marketing communication
As mentioned earlier marcom is now a seriously viewed topic. It would be worthwhile to have a look at some of the basic principles to be followed in integrated marketing and communication. According to a book titled 'IMC, The Next Generation', there are eight basic marketing communication principles to be followed for this concept to be effective.
Customer-centric principle
Any company that takes integrated marketing communication seriously must be customer-centric and not shareholder/profit centric. The book states that "the company must focus on its ultimate customers, for they are the only ones who provide the resources and therefore the rewards for everyone involved". (Schultz Don E., Schultz, Heidi F.P (51) ). The book adds that in the traditional approach, managers focus on activities that are aimed at fulfilling the requirements of their departments and is inwardly focused. The new approach should be such that all activities should have the customer in mind always. Two figures are given which will illustrate both the traditional approach and the customer-centric approach.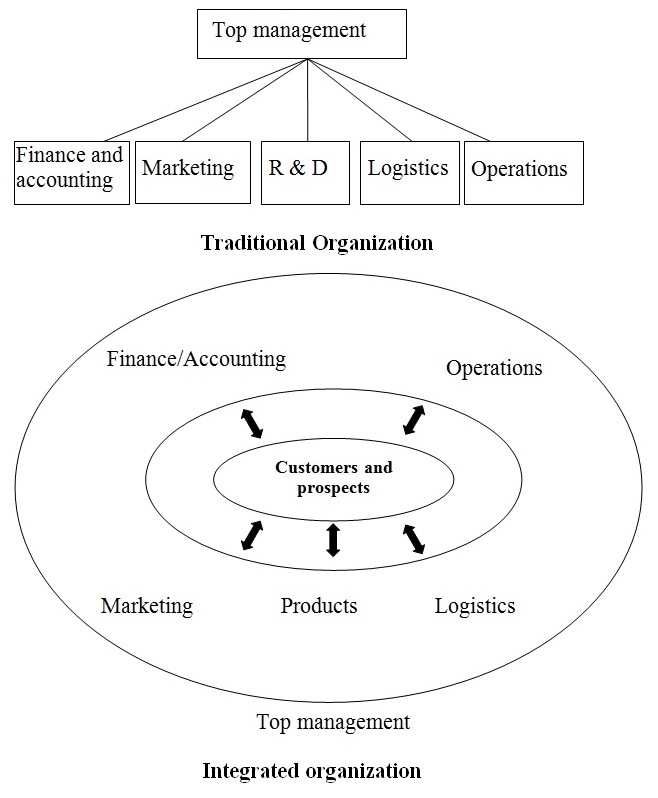 (Schultz p:52). The figure shows current and prospective customers at the centre of all activity. It is proposed that Kuwait Daihatsu will follow this structure to ensure that its activities are customer-centric.
Outside in planning
This is a novel approach to planning on expenditure set aside of marcom activities. The general approach is referred to as inside out approach where all expenditure is preplanned in order to achieve the sales target. In the outside-in planning, customers are seen as a source of income and the aim is to increase income through the customers. The task is generation and retention of customers using the various tools available for marketing communication like an advertisement, promotion, direct marketing, etc. Kuwait Daihatsu Motors will focus on customer generation and retention in its approach to integrated marketing communication.
Total customer experience
This refers to focusing not just on customer satisfaction by providing a good product or service along with after-sales service. These should just be a part of the total customer experience. It should look at the customer in a holistic way. This entails determining all the drivers that may affect the customer/prospective customer both positively and negatively from the point of view of the customer.
Alignment of customer and organizational goal
Companies are formed for profit and customers want good quality products and service that have value for money spent. The organization can align customer wants with its own goals and strategies.
Change customer behaviour
Marcom activities should focus should be on changing customer behaviour that will be beneficial to the organization. The customer behavior should be such that they will continue as customers, will begin to purchase more from the company and will also purchase across all product lines.
Customers as assets
This is an extension of the principle of treating customers as source of income. As asset has the power to generate income and steps should be taken for the asset to be maintained properly.
Streamline marcom activities
The traditional method is to separate all marketing activities and assign budgets and people to it. There will be competition within, for allocation of more funds, time etc among each of these activities. What should be done is to view all marcom activities as a whole and streamline them as one activity that will be effective for communicating to the customers.
Convergence
Once streamlining is done, it will be possible to converge or integrate all the activities in the right communication mix. This will ultimately become what is called integrated marketing communication.
The Communications Mix
Once the principles of marketing communication are firmly integrated into the firm, the next step is the creation of the communications mix. It can be seen that more and more channels of communication are opening up as technology progresses. Fifty years ago, the primary methods would have been the print media, radio and television is select countries apart from direct and word of mouth marketing. Television has become commonplace in most countries now. New ways of communication now includes the internet and the mobile phone. In a sense the marcom task is getting more complicated due to the diverse methods. This is also the case with finding the right marketing mix.
Different categories of marketing communication
"The five traditional elements of the MARCOM mix are Advertising, Direct Marketing, Personal Selling, Public Relations and Sales Promotion". (The Marketing Communication Mix of Tomorrow). Advertising refers to communication through mass media like television, movies, internet websites, newspapers and magazines etc.
Advertising: This is the main and most common form of marketing communication used by most organizations today. Advertising can be defined as "The sum of media and consumer promotion. Media advertising costs include the production, airtime, and space costs incurred for television, radio, magazine, newspaper, billboards and other media outlets." (Colgate investor glossary). Apart from the above, the internet and the mobile phones are emerging as popular media today.
Direct marketing: This is one of the oldest forms of advertising in the world. This was the only was, a product could be marketed in the days before mass media emerged. At present direct marketing is a highly developed and structured form of communication and marketing. Direct marketing involves "Sending a promotional message directly to consumers, rather than via a mass medium. Includes methods such as Direct Mail and Telemarketing." (Definition, Laura Lake, Direct Marketing, About.com, Marketing).
Personal selling: This is also a form of direct marketing, but is usually used by small organizations. It involves the business owner or his staff contacting a customer face to face and selling products/services by explaining about it.
Public relations: This is an indirect form of marketing communication. It involves maintaining good relations with the customer, the society at large, the stakeholders, the government, other organizations etc. Public relations with respect to marcom can be defined as "information that is given to the public, persuasion that is directed at the public to modify its attitudes and actions, and the efforts to integrate an organization's policies and actions with the attitudes and reactions of the public". (Public relations objectives, Page 215, AMA Handbook For Managing Business To Business Marketing, J. Nicholas DeBonis, Roger S. Peterson, Published by McGraw-Hill Professional, 1997). Many organizations do not take this factor seriously with regard to marketing communications.
Sales Promotion: This includes all activities to communicate about and market the product other than what is mentioned above. The process "Encompasses the paid marketing communication activities other than advertising, public relations, and personal selling that stimulate consumer purchases and dealer effectiveness." (Sales promotion, Online glossary). It usually involves short term strategies like discounts, free offers, vouchers and coupons, promoting charity etc.
Consumer decision making process: A marketing mix needs to be designed by taking consumer behavior and their decision making process into consideration. There are five steps that a consumer usually takes before a purchase is made. They are need recognition, information search, evaluation of alternatives, purchase decision and evaluation of purchase. (Consumer decision making process, Page 152, Carl D. McDaniel, Charles W. Lamb, Joseph F. Hair, Introduction to Marketing, Published by Thomson South Western).
This can be graphically represented as follows: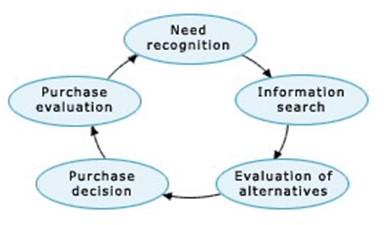 The first step as mentioned above is the need to buy a car. Daihatsu models consist of small cars and off road vehicles. Hence only certain sections of the society will feel a need to buy one. They could be the lower income group unable to buy a bigger car, ladies who prefer small cars, those who need a second car, relatively well off college students and adventurous types who like to drive on the desert sand dunes. The next step would be searching for information for such models. It could be through articles, advertisements, visiting dealers, the internet, opinions of friends, family, colleagues and owners of the required models.
After this an evaluation of alternatives will be made. Both the above steps are relative to the personality of the customer. The intensity and depth will vary from person to person. Once this is over, the purchase will be made after which he/she will also evaluate his purchase. If unsatisfied the product will be usually returned or discarded (mostly for inexpensive products) as the case may be.
Marketing communication plan (mix) for Kuwait Daihatsu Motors Ltd
Product specifications
Even though Daihatsu models have been present in the country for quite a long time, it does not have a major presence in the market. Currently three models are available to be marketed namely the Daihatsu Sirion, Materia and the Terios. The last one is a 4WD (4 wheel drive) model which is loved by many people in many parts of the Middle East and is mainly used for riding the dunes in the desert. Competing models with Sirion are the Honda Jazz and Kia Rio and Toyota Xa. Materia competitors are Suzuki Swift and the Honda and Toyota models mentioned above. Competitors for the 4WD model Terios are Hyundai Tucson, Kia Sportage and Suzuki Jimny. (Daihatsu, Drive Arabia). For the first two models Kia has the lowest price in terms of competition. Toyota and Honda models are priced much higher than the Sirion. The Swift is also priced marginally higher. For the 4WD models the highest price is for the Terios with all other models being marginally lower. Features wise, the Daihatsu scores above all other models in each case.
Target customers
The competitors and their production specifications and that of the Daihatsu models have been compared. So the strategy to be followed is to compete with these models first. The target audience of all Daihatsu models except for the 4WD comprises of middle income families, people who love to buy fully loaded models but cannot afford big cars, wealthy students, housewives and those looking for a second car. Target audience for the Terios is the young and adventurous drivers who would like to take the vehicles on to the sand dunes. There is another group who may require going to the interiors as a part of their job or business. Roads may sometimes get submerged in sand dunes and may not be cleared immediately in such places. They may also have to go to places where proper roads are not available.
Other stakeholders
Other stakeholders apart from the customers include Daihatsu Motors, Kuwait Daihatsu Motors employees, all direct suppliers of products and services to the dealer, local and national government of Kuwait and the society at large.
Marketing mix – Advertising
Advertising can be done through television, print media, internet, cinema theatres, radio and hoardings. The following table shows the major televisions channels and internet coverage.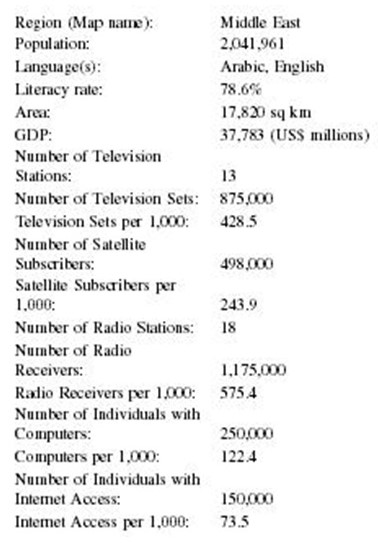 It can be seen that both radio and television coverage is quite high with radio having slightly higher coverage per 1000 persons. But radio owners may be mainly from the lower income group except for those who listen to the radio on their automobiles. TV advertisements are done by Daihatsu itself, but this must be increased in Kuwait to the level shown in the UAE. The radio can be used as a medium especially those covering popular music programs. Censorship with regard to criticism of the government and nudity is quite high and care must be taken to see that advertisements do not breach any of these laws. (PRESS LAWS AND CENSORSHIP, KUWAIT Press, Media, TV, Radio, Newspapers). It is decided that more focus be given on other methods of marketing. This is mainly because there already exists heavy advertisement from other vehicle manufacturers in all the above mediums mentioned above.
Direct marketing: This is one method which is proposed to be used extensively by Kuwait Daihatsu Motors. The company will employ sales representatives to approach customers directly. This can be done by fixing prior appointments from potential customers. Telephone numbers randomly selected from the telephone directory and calls can be made depending on their profession or line of business (if provided). Separate staff will be appointed and trained to make such calls and fix an appointment. Once fixed, this will be intimated to the sales agents or representatives. They will be paid a fixed salary plus an incentive scheme based on number of sales made per month. Emphasizing that Daihatsu is a subsidiary of Toyota will be done at every instance.
Personal Selling: This mode of communication is not practical for a product like cars. One area where this can be done is to use personal influence of the staff and customers to influence friends, relatives and colleagues to buy the car. But it is proposed that cash incentive schemes will be provided to all those who manages to sell cars through this method.
Public relations: Kuwait Daihatsu Motors will take this aspect very seriously and the company will have a separate public relations department. Efforts will be made to develop and maintain excellent relations with customers, stakeholders, the government departments, other organizations and the society in general. Visibility in the public high will be kept high by activities like sponsoring welfare programs along with the government or other not-for-profit organizations. Building good public relations will result in increasing personal selling to a large extent. The fact about the relationship with Toyota will also be promoted
Sales Promotions: This is the area where Kuwait Daihatsu will focus on most. Many incentive schemes, free accessories, referral points etc will be implemented. On the whole, the sales promotion strategy will be based on the following chart.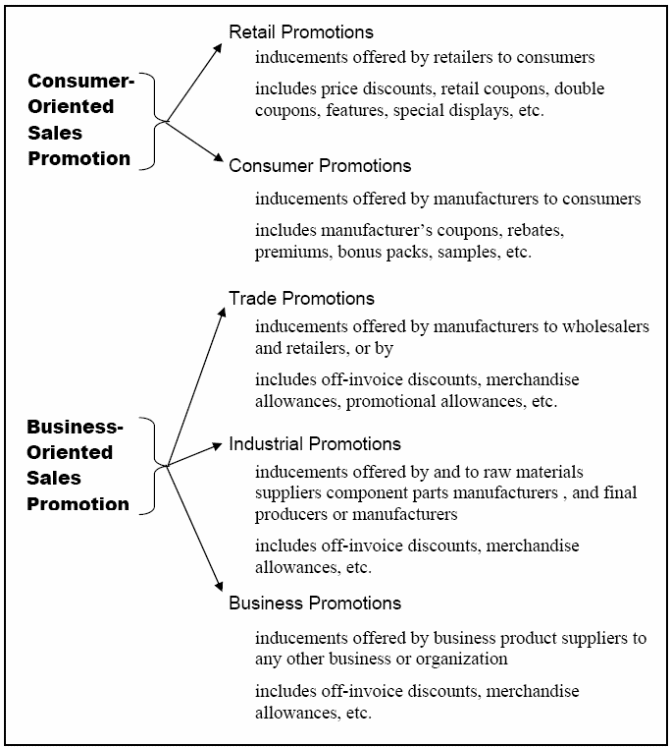 The maximum number of strategies possible from the above will be taken up by this dealer. this will be in accordance with the terms and conditions agreed with Daihatsu Motor Corporation.
The Daihatsu Club and the DAC (Daihatsu Adventure Club): As a part of customer relations and enjoyment the above two clubs will be set up. Membership is free for all Daihatsu customers. The first one will be a common to all customers and the second one open to 4WD model customers only. Monthly (or once in two months) get together will be arranged with the intent of having a good time. Members will be provided with free product updates, new models, facilities to sell old models in exchange of new ones etc. Free driving tips and advice will be provided by expert drivers. Competitions in sand dune driving will be held for DAC members. Guests if accompanied by members will be allowed for these meetings.
The coastwise breakup of communication mix: The total budget is fixed at 195,000 dinars. The time period for the whole campaign is for one year. It is expected that it will begin by January 2009. Public relations expense are not provided here since it is a full fledged department of the company. (Kuwaiti Dinar).
Item
Cost Allocation
% of total cost
Advertisement
50,000
(Most of total budget of 200,000 is paid by Daihatsu)
25.64
Direct marketing
25,000
(Does not include salary and commission. Mainly training expense)
12.82
Personal Marketing
5,000
(This is just a nominal figure for unanticipated expenses. Does not include commissions)
2.56
Sales Promotions
100,000
51.28
Clubs
15,000
7.69
TOTAL
195,000
100
Conclusion
The marketing communication plan (communication mix) for the marketing of Daihatsu Cars in Kuwait has been completed here. The dealer for the car is Kuwait Daihatsu Motors Ltd. It has been decided that maximum focus and budget allocation be given to sales promotion activities. The competing models have been identified. It is expected that following this strategy for the first year will set the foundation for a successful re-entry of Daihatsu into the highly competitive and saturated Kuwaiti market.
Work Cited
Trout, Jack. Tales From the Market War: Peter Drucker on Marketing. Forbes.com. 2006. Web.
A Glossary of Terms: Marcom. BrandSequence: Brand Research and Management. 2008. Web.
English Dictonary-With Multi Lingual Search: Communication Mix. 2008. Web.
About Daihatsu: Hisory-2000s. Daihatsu. 2008. Web.
Financial Highlights (Highlights in fiscal 2008). Daihatsu. Web.
Schultz, Don E; and Schultz, Heidi. What is The Value Based IMC?: Traditional vs Customer Centric Centric Organizations. IMC The Next 2008. Web.
Schultz, Don E; and Schultz, Heidi. Guiding Principles of Value-Based IMC. IMC The Next Generation. 2008. Web.
The Marketing Communication Mix of Tomorrow: The Traditional Marketing Communication Mix. Sales-and-Marketing-for-you. 2008. Web.
Share Holder Services: Colgate Invester Glossary: Advwerticing. Colgate World of Care. 2008. Web.
Lake, laura. Direct Marketing.