Executive Summary
Airbnb is a leading online retailer that offers a wide variety of products in the hospitality and travel industries. Headquartered in San Francisco, California, the firm has made impressive progress over the years and it is currently offering its services in the global market. The firm faces numerous challenges in the market, including stiff competition among rival firms. The management should maintain effective communication and marketing strategies to ensure that this company achieves competitive advantage over its market rivals.
The paper suggests the use of celebrity endorsement as one of the strategies of strengthening the brand. The management should consider using a mix of digital and social media platforms to communicate with its target audience. Other strategies have also been proposed to help strengthen this brand in the global market.
Communication
Introduction
Airbnb is one of the rapidly growing online retailers in in the global market. It has its headquarters in San Francisco, California. According to Gallagher (2017), the company that offers online hospitality and travel services. Clients can visit the website of the firm or use its mobile apps to access a wide range of services such as homestays, lodging, and tourism services among others. It is important to note that the firm does not own real estate of facilities where its customers get various services they need.
Airbnb acts as a broker and receives commissions from every booking that a client makes through their mobile apps or website (Dredge & Gyimóthy, 2017). The firm makes it easy for travellers to have access to all services they need in one shop instead of having to make several payments to different entities. If a client wants to visit Miami Beach, the firm will book the hotel, make all travel arrangements, and make any other booking based on needs of the client.
It means that the client will not have to struggle to find these services. Keene (2018) argues that many travellers from all over the world are using the services offered by this company because they are guaranteed that their money will not be lost. In this section, the focus is to discuss communication and marketing strategies that this company can use to reach out to its clients in the global market and promote its brand.
Communication
Airbnb is operating in a highly competitive market. Initially, travel agents dominated the industry with offices located strategically at airports or major highways. However, the online business model is rapidly replacing this brick-and-mortar approach of offering services to travellers. Numerous firms have emerged offering the same services to their customers. It means that Airbnb should find a way of outsmarting its rivals in the market.
It should ensure that its brand is not only conspicuous but also popular among travellers. He should convince them that its services are the best in the market with reasonable price tags. It will be necessary to use communication theories and concepts to ensure that it achieves the strategic goals set by the management. The following concepts will need to be taken into consideration.
Audience engagement
Audience engagement is a relatively new concept in the field of communication. According to Lewis and McKone (2016), although there is yet to be a universally acceptable definition of the concept, many scholars hold that it refers to the ability of a firm to identify its audience and provide them with the right information regularly and consistently. They should be able to participate in the communication process through well-established platforms for feedback.
Every time they provide their feedback, it would be necessary for the firm to provide necessary response. In this cyclic communication process, there will be constant flow of information from the firm to the clients and back to the firm. The strategy is meant to ensure that if there are misunderstandings that arise because of the products offered, the firm can respond to the issue within the right time to ensure that the image of its brand is protected (Dredge & Gyimóthy 2017).
The brand can use consumers in their communication by turning them into evangelists. Other than offering thrilling products, the firm can also develop short but effective promotional messages that its clients can easily pass to other potential customers. The firm can also use multiple platforms to communicate their message to customers. Other than the traditional media (television, radio, and newspapers), the firm can also use emerging media such as the digital and social media.
Media power and new dynamics of media influence in post-broadcast media spaces
The management of Airbnb should understand the relevance of having a strong media presence as a way of promoting its brand in the global market. In the post-broadcast era, it is necessary for the management of this company to understand how it can use the digital and mass media to reach out to the customers with the right promotional messages. It should harness digital media technologies to influence and communicate with its clients in major urban centres where it has large pools of clients. The digital media should help in creating a lasting impression in the mind of the client. As such, they should be used to promote the brand logo and specific information that define the main services offered to clients.
The message should be short and specific. As Wernick (1991) suggests, the digital media should always be supported by other media platforms. In this case, Airbnb should consider social media as a supportive platform. Most of the details of the nature of products that the firm offers, their availability in the market, and costs should be explained in social media. Facebook, YouTube, and Twitter offer good platforms through which this firm can reach its global clients.
The management should be keen not to ignore economic and political forces. During recession, clients tend to be cautious with their expenditure. It may be necessary to lower the profit margin by offering competitive prices to ensure that customer loyalty is maintained. Politically, the firm will need to ensure that their clients are adequately informed about stability of the country they wish to visit.
Effectiveness of the communications strategy at Airbnb, Inc
Airbnb is currently using various platforms to reach out to its clients both locally and internationally. The communication strategy of this firm is effective based on its ability to promote the firm's brand name. This company was started about 10 years ago, but it is currently one of the dominant players in the industry (Tobak 2015). It is a clear indication that the firm has been using effective platforms to reach out to its global audience.
However, that does not mean the firm's communication strategy does not need any improvement. Introducing some adjustments in the manner the firm passes its promotional messages to customers can improve the popularity of the brand. The next section focuses on the marketing strategies that the firm uses and ways in which it can achieve success in this competitive market.
Marketing
The act of promoting a brand in a market that is highly competitive can be challenging. Berger (2013, p. 67) defines the concept of marketing as "the philosophy that firms should analyse the needs of their customers and then make decisions to satisfy those needs, better than the competition." The primary goal is to convince clients that the firm offers superior products at competitive prices and in convenient ways. In this case-study, the focus is to determine how Airbnb can use effective marketing strategies to convince its local and global clients that it has the best products in the market.
The management of this company has made major steps in ensuring that its brand animates this concept. Its promotional messages often explain the superiority of the services offered, especially the consistency, convenience, cost-effectiveness, and quality of the products offered. The approach has had a positive impact on the brand of the firm because it has not only become more conspicuous but it has also gained popularity among travellers from North America and Europe (Smith 2013).
Current marketing strategies at Airbnb, Inc
The current marketing strategies at Airbnb are focused on promoting the company's brand in the market. The strategy is working for them and it is expected to have lasting impact on the success of the firm. Currently, this company does not own hotels, tour vans, or any other facility that its clients use once the booking has been made. It means that the management of Airbnb may not have full control over the quality of products offered at these facilities.
It is not guaranteed that these service providers will remain loyal and committed to this company forever. Issues may arise that can affect the relationship between the two entities. It means that this firm should not commit itself to these partners in its advertisements. Emphasis should be placed on the fact that the company links customers with service providers (Percy 2014). The firm's responsibility should be to ensure that bookings are made at the right time based on the tastes and preferences of the customer.
In case the client is not happy with the services offered at a given facility, he or she can inform the management of Airbnb about the dissatisfaction and the need to consider other options. The current strategy of promoting the firm's brand may also be of benefit in the future because if it becomes dominant in the market, it will have better chances of dictating terms of engagement with the service providers.
Uses of celebrity and their brand value within the campaign
The use of celebrity in promoting brand value within a marketing campaign is gaining popularity. Marshall (1997) argues that when a firm uses a popular celebrity, the value of the brand will be attached to the popularity of the person. Celebrities such as Christiano Ronaldo, Tiger Woods, Rihanna, Beyoncé, and Angelina Jolie can help promote the image of this firm in the local and global market. People often admire the lifestyle of these celebrities.
Getting their endorsement is a sign that they approve of the services that the firm offers. As Svec (2014) explains, many people who want to imitate the lifestyle of these celebrities will be convinced to use the product. The brand value of the celebrity will be attached to the value of the firm's brand. Jones (2016) warns that some measures should be taken to avoid inviting celebrities who have personal issues that negatively affect their public image's integrity. It is not advisable to lose a large section of the market because of a wrong choice of a celebrity.
Conclusion
Effective communication is critical in ensuring that a firm passes promotional messages to the target market. The paper shows it is crucial to understand the nature of market competition and develop effective promotional messages that can help strengthen the brand of the company. The discussion shows that the communication platform that a firm chooses has a significant impact on its ability to reach the target audience.
It is suggested that this company should use a combination of digital and mass media to reach out to the targeted customers. The management should not ignore the following opportunities and problems when developing further communication and marketing strategies.
Opportunities
This firm should be ready to take full advantage of the opportunities in the market. Emerging technologies in the field of communication offer opportunity to reach a wider geographic area when promoting a brand. In the past, firms had to rely on mass media, especially newspapers, television, and radio, to reach out to the audience. However, these platforms were limited geographically. They were also affected by language barrier.
However, the emergence of social media has eliminated these barriers. It is possible to reach a global audience within a relatively short time using YouTube or Facebook. Growing market size is another opportunity that should be taken seriously. As Sejati (2018) notes, the growing size of the middle class is a sign of increased opportunities for firms in the tourism and travel industries. Foreign markets such as that of China, Japan, and other Asian countries offer huge opportunities, and this firm should consider exploiting.
Problems
Airbnb should identify and effectively handle problems that may affect its normal operations and the ability to communicate effectively with its customers. Limited control over the quality of products that customers are offered is a major problem. Sometimes customers fail to get what they were promised. The post-purchase dissonance directly affects the company, as the clients are likely to blame it for failing to ensure that the desired quality is offered.
Cybercrime is another major problem that may affect this firm. Operations of this firm are entirely based on online platforms, making it a great target of online scammers and other internet-based criminals (Cummings & Angwin 2015). If the system of this firm is corrupted or manipulated in any way, there can be a devastating impact on its operations and its ability to serve customers. The firm will need to develop strategies of dealing with these threats.
Strategy
Marketing Strategy Objectives
The opportunities and problems analysis conducted above identifies key areas of management that Airbnb should focus on to ensure that it achieves strategic goals in the global market. The analysis shows that this firm should define the best approach of reaching out to its customers with appropriate message that addresses key questions when they want to purchase a product in this industry. Embracing communications and messaging objectives theory will help the management to understand the best approach that should be taken based on the prevailing market forces (Ozuem & Azemi 2018). The objectives are classified into two categories, the top-level objectives and IMC objectives.
Top-level objectives
The top-level objectives are based on the strategic goals that the firm wish to achieve in its long-term operations. They are meant to ensure that the company remains focused on its vision and mission statement. The following are the top-level objectives of the company based on the analysis done in the first part of the paper:
To ensure that Airbnb brand remains conspicuous in the global market;
To ensure that global customers understand the nature of products offered under the Airbnb brand;
To create a large pool of customers who are loyal to the firm's brand;
To create a lasting relationship between this firm and service providers in the global market.
The top management unit of this company will be responsible for ensuring that these strategic objectives are realised. Most of these objectives are long-term and it will take some time before their benefits become evident to the firm. They need proper planning and commitment from the senior managers of the company. They can be broken down to operational objectives based on the steps set by the management towards their realisation.
IMC Objectives
Developing integrated marketing communication objectives will help this firm to determine how to achieve the top-level objectives set above. Advertising, public relations, and digital marketing are some of the components of ICM. They define areas of focus that a modern organisation should consider when promoting its brand and products in the market. The following objectives should be embraced by this firm.
To ensure that the company understands and is capable of using emerging technologies, especially in the fields of digital and mass media, to achieve its communication and marketing goals;
To ensure that the marketing department of Airbnb understands how to balance digital, mass, and social media marketing platforms to achieve its promotional goals within the set budget;
To embrace best practices in brand awareness promotion as a way of remaining relevant in the market;
To remain committed in ensuring that clients get what they are promised in the promotional campaign messages.
Target market analysis
When developing a promotional message, it is critical to start by defining the target market. Ozuem and Bowen (2016) notes that promoting a brand or product through the mass, social, or digital media platforms is financially demanding, and it is necessary for a firm to have a clear understanding of the audience targeted. In this case, the primary target market is travellers who have to spend time away from their homes.
They include local and international tourists, business travellers, individuals travelling for medication, and any other group of people who have to travel away from home for various reasons. Tourists and business travellers form the bulk of target market for this company. Using the concept of STP (segmentation, targeting, and positioning) can help in defining the steps that the firm should take in defining its market and developing appropriate message that would convince them about the superiority of its services.
STP approaches and defining target audiences
Embracing marketing theories sometimes simplifies the task of the management why trying to identify the most appropriate group of customers and how to promote a brand and its products to them. The concept of STP has become popular because of its ability to narrow down a large market into a manageable market size with most desirable qualities. In this section, the discussion will focus on how Airbnb can use this concept to achieve the desired goals. Figure 1 below identifies the steps that should be taken when using this model: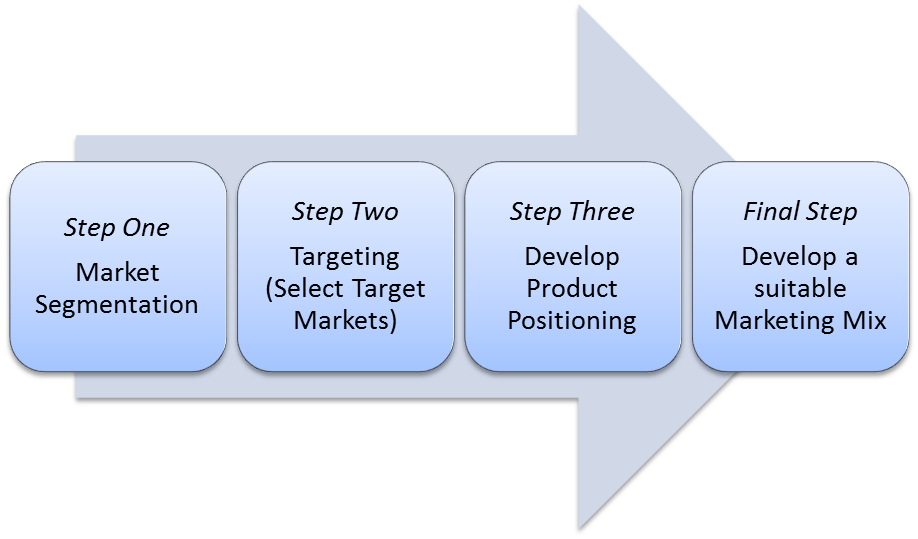 Segmentation
As shown in the above model, the first step is market segmentation. It involves classifying customers based on various characteristics. In this industry, Airbnb should classify its customers into the following classes: leisure tourists, medical tourists, and business travellers. The three classes are the most attractive segments in this industry. It is important to note that in each segment, customer needs vary. Services needed by business travellers are significantly different from that of leisure travellers. A business traveller may want to stay in a hotel that is near a specific region where a given event will be taking place.
When it comes to travel services, they may need to be dropped at the place in the morning and taken back to the hotel in the evening for a specific number of days. On the other hand, a leisure traveller may need a hotel within a national park or beautiful scenery. They tend to travel a lot and that means it would be necessary to book for travel services that meet these needs. Baker (2014) explains that leisure tourists often use special vans that offer perfect view of wildlife or anything they want to see without necessarily having to move out of their vehicle. On the other hand, medical tourists may want a delicate balancing of spending time at a given hospital while at the same time being able to travel.
Targeting
After segmenting the market, the next step is targeting. It involves selecting the most appropriate market segments that a firm should target. Based on the classification above, Airbnb should target leisure tourists and business travellers. The two are the most lucrative segments because of their size and the willingness of those involved to spend. Business travellers often have their bills paid by the employers (Martinez Delfín 2013).
As such, they prefer having the best services at reasonable prices. On the other hand, leisure tourists have to pay their own bills, but they are often prepared to pay their own bills. After a year of saving, these travellers often want to get quality time away from home touring the world. They know they have to spend and that is often not a problem to most. Kim and Mauborgne (2015) also note that millions of people all over the world travel regularly for leisure or business purposes.
Positioning
The third step is to develop product positioning. It involves determining the best approach to communicate product attributes to the targeted customers based on various factors such as customer needs, the level of competition, and communication channels available (Hu, Chen & Yang 2017). The goal in this stage is to convince clients that this firm is best positioned to offer them services they need when traveling.
According to Ozuem and Bowen (2015), selecting the most appropriate communication channel is crucial at this stage of marketing plan. The firm should ensure that the selected channel would help it reach as many customers as possible. Social media platforms such as Facebook, Twitter, and YouTube are some of the most effective channels that can enable a firm to reach out to a large number of customers. As shown in the model above, the STP concept should help a firm to develop an appropriate marketing mix based on the factors identified.
Communication Strategy & Plan
The integrated marketing communication strategy selected aims at ensuring that this firm reaches out to as many customers as possible with its promotional messages the management of this company can choose to use a wide range of ICM tools as deemed appropriate. It is at this state that the firm develops a blueprint of what it intends to do to convince the target market to consider purchasing its services. The following are the tools/strategies that this firm should consider embracing.
Advertising via traditional media
The emerging media platforms have increasingly become popular in the market, but that does not mean traditional media are no longer relevant. Ozuem and Bowen (2015) argue that traditional media are still as important as they were in the past, especially if one is targeting the elderly members of the society. A good portion of leisure tourists are senior citizens (Kim & Mauborgne 2015). They are not regular visitors of social media platforms such as Facebook, YouTube, and Twitter.
They still cherish print media and other traditional media platforms such as radio and television. The management of Airbnb should develop promotional messages that largely target senior citizens willing to travel to various parts of the world and using traditional media to pass it through to them. Television commercial and print media advertisements are very effective when trying to reach out to the elderly with a promotional message. The content of the message should be suitable to the targeted customer. Some phrases and words popular among the youth may be offensive to the aging population and as such should be avoided at all costs.
Advertising via emergent channels
Advertising via emergent channels such as digital and social media platforms can also help this company to achieve its communication objectives. Social media marketing has particularly gained massive popularity over the years. Many large multinational corporations have reduced their expenditure on mass media marketing in favour of social media marketing (Berger 2013). The trend is caused by the increasing popularity of these platforms, especially among teenagers and adults under 50 years old. According to Smith (2013), Facebook has over 2 billion regular users while YouTube has over 1 billion.
Twitter and Instagram also have large following. Using these platforms can help Airbnb to reach out to the other section of the targeted customers who were not covered in the mass media marketing. The digital media can also be considered, especially in major cities and strategic highways.
PR strategies and crisis management
Maintaining public relation is another way of maintaining a strong brand in a highly competitive market. In its normal operations, Airbnb may encounter various challenges. Sometimes the issue may be relating to its integrity and the manner in which it handles customers in the market. It may also be a misunderstanding or a mistake committed by some of its partners when serving the clients. Tobak (2015) warns that when a client starts complaining, it is prudent to address the issue within the shortest time possible before it escalates. A good example is the case where employees of Domino's Pizza uploaded a video showing how they handled food in unhygienic manner before serving it to an unsuspecting client (Ozuem & Azemi 2018).
The top management unit took time to address the issue when it emerged, and what started as a small misdemeanour case turned into one of the biggest crisis that the firm has had to deal with in its many years of operation. Airbnb should avoid similar mistakes by responding to such issues within the shortest time possible through effective public relations strategies (Dredge & Gyimóthy 2017). When any issue of public interest arises, the management should use various media platforms to address it and restore trust among its loyal customers.
Conclusion
The paper emphasises the need for this firm to develop effective promotional strategies for Airbnb. The proposed promotional campaign strategy and communication platforms will help Aairbnb to achieve the goal of promoting its brand and developing a pool of loyal customers. The proposal is appropriate because it defines the goals that should be achieved and specific steps that should be taken. This company operates in a highly competitive market and any mistakes may be costly.
There is the problem of cybercrime among other dangers that can have profound consequences on the firm if proper care is not taken to manage them appropriately. The proposal identifies ways in which this company can deal with the threats while at the same time promoting its brand to expand its market share. The plan is simple to implement using the current team of employees at the firm.
Reference List
Baker, JM 2014, Marketing strategy and management, 5th edn, Macmillan Education, New York, NY.
Berger, S 2013, Making in America: from innovation to market, The MIT Press, Cambridge, MA.
Cummings, S & Angwin, D 2015, Strategy builder: how to create and communicate more effective strategies, John Wiley & Sons, Hoboken, NJ.
Dredge, D & Gyimóthy, S (eds) 2017, Collaborative economy and tourism: perspectives, politics, policies and prospects, Springer International Publishing, Cham.
Fabrizio, M & Gallo, R (eds) 2016, Global marketing strategies for the promotion of luxury goods, IGI Global, Hershey, PA.
Gallagher, L 2017, The Airbnb story: how three ordinary guys disrupted an industry, made billions… and created plenty of controversy, Houghton Mifflin Harcourt, Boston, MA.
Hu, Z, Chen, X & Yang, Z (eds) 2017, Research frontiers on the international marketing strategies of Chinese brands, Routledge, New York, NY.
Jones, P 2016, Strategy mapping for learning organizations: building agility into your balanced scorecard, Routledge, New York, NY.
Keene, A 2018, Airbnb: a 21st-century goldmine, Post Hill Press, New York, NY.
Kim, CW & Mauborgne, R 2015, Blue ocean strategy: how to create uncontested market space and make the competition irrelevant, Havard Business School Publishing Corporation, Massachusetts, MA.
Lewis, A & McKone, D 2016, Edge strategy: a new mindset for profitable growth, Harvard Business Press, Boston, MA.
Marshall, PD 1997, Celebrity and power: fame in contemporary culture, University of Minnesota Press, Minneapolis, MN.
Martinez Delfín, JM 2013, Marketing strategy for SMEs in emerging economies: A comprehensive research of marketing strategies in Mexican SMEs, Grin Verlag, Berlin.
Ozuem, W & Azemi, Y (eds) 2018, Digital marketing strategies for fashion and luxury brands, IGI Global, Hershey, PA.
Ozuem, W & Bowen, G (eds) 2015, Computer-mediated marketing strategies: social media and online brand communities, IGI Global, Hershey, PA.
Ozuem, W & Bowen, G (eds) 2016, Competitive social media marketing strategies, IGI Global, Hershey, PA.
Percy, L 2014, Strategic integrated marketing communications, 2nd edn, Routledge, New York, NY.
Sejati, VA 2018, Marketing communication, direct marketing, public relation and advertising, Grin Verlag, Berlin.
Smith, RD 2013, Strategic planning for public relations, 4th edn, Routledge, London.
Svec, HA 2014, 'Brando versus Franco: media theorising with the stars', Celebrity Studies, vol. 5, no. 3, pp. 368–371.
Tobak, S 2015, Real leaders don't follow: being extraordinary in the age of entrepreneur, Entrepreneur Press, Irvine, CA.
Wernick, A 1991, Promotional culture: advertising, ideology and symbolic expression, Trent University, Ontario.