Customer Profile and Target Market Analysis
Gucci is a high-end brand, and it is typical for Gucci to attract most wealthy and influential celebrities ("A New Dawn: Gucci Guilty" par. 1; Binkley par. 10-12). As a result, the main socioeconomic aspect for Gucci customers consists of the level of income; features like marital status as well as demographic characteristics like gender and age become less relevant. However, based on the analysis of the brand's advertising campaigns, it may be suggested that the brand targets young and middle-aged adults as its primary target market. The race/ethnicity and family size do not matter; the customers are likely to be educated due to belonging to wealthy families.
On-Time Delivery!
Get your customized and
100% plagiarism-free paper
done in as little as
3 hours
From geography, Gucci customers can come from any country of the world: the brand is being distributed in several countries of Western Europe, North and South Americas, the Asian-Pacific region, and the Middle East, and due to the popularity of Gucci, its customers often visit other cities in case theirs does not have a store, and online shopping is not available for their region ("Kering 2016 First-Half Report" 11-21). From psychography, the key defining feature of Gucci customers consists of being interested in fashion, which results in increased attention to the brand itself. Given the goals of the reinvention of Gucci, the modern looks of the brand also target the population that is interested in innovation and modernization; in particular, the reinvented Gucci intends to recapture "the spirit of innovation" ("Kering Letter to Shareholders" 4). As a result, the following customer lifestyle board (see fig. 1) and customer profile can be suggested for Gucci clients.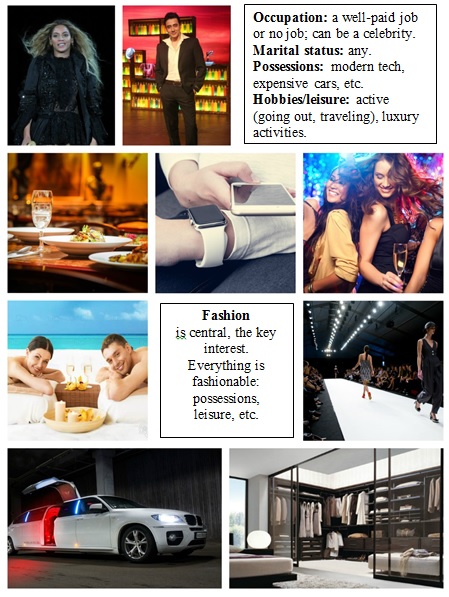 Name Linda Famous and Cole Wealthy
Age: 22 and 38.
Occupation and income: Linda is a student, she belongs to a rather wealthy family. Cole is the single child of an owner of a hotel chain; he was gifted over 20% of its shares and works as a member of the board of directors. (Other possible backgrounds involve famous people: actors, singers, and the members of aristocratic families, including royalties).
Geography: Linda comes from the UK; Cole is from the US. Their locations let them use online shops, and they do it sometimes, but they also like to travel and visit Gucci stores all over the world. Linda prefers the Milan store.
Hobbies: Linda has multiple hobbies, but fashion is her passion. She owns two walk-in wardrobes that she fills with the newest, most fashionable, and only brand clothes, footwear, and accessories. Cole's main passion is his business, but he is also interested in inexpensive cars and has a collection.
Leisure time: Linda parties, travels, visits various resorts. Cole visits parties and more formal events. He travels as well, but mostly for work; still, he dedicates some time to getting acquainted with the culture of the country, which often involves leisure activities.
Yes, we can!
Our experts can deliver a
custom Gucci Brand and Target Market Analysis
paper
for only

$13.00

$11/page
Values and attitudes: both customers value their status and find it important to have the right impression on the people around them. Linda is very interested in expressing her personality through her look; Cole wants the brand to be a promise of quality and a sign of status. Both own expensive and high-quality things; both are interested in the latest trends and use modern gadgets.
Why Gucci: Linda chooses Gucci because its products are sophisticated but modern and because the brand is very popular and fashionable. She has a soft spot for bags and owns a dozen of them. Cole chooses Gucci because of the brand and personal preferences; he has a soft spot for colorful prints.
Shopping behavior: Linda spends a lot of time shopping and does it personally; she likes Gucci and is a returning customer. She is a bit dissatisfied with the lack of loyalty programs because she enjoys belonging to a club of a particular brand. Cole does not always shop himself; he is not a very loyal customer, but he will buy a thing in case it catches his eye and serves his purposes.
Marketing and Promotion Analysis
Seasonal Advertising
Gucci's 2016 Fall advertising campaigns (see fig. 2 and fig. 3) were filmed in Tokyo, and the website explains the inspiration behind the Fall collection, which is the 70s fashion ("Poetic Reactivation" par. 1; "Tokyo Connection" par. 1). Also, the new Gucci fragrance Gucci Guilty is being advertised through a Venice campaign starring Jared Leto ("A New Dawn: Gucci Guilty" par. 1). The advertisements include videos and photos that are spread through the website and other media (Turra par. 1).
Other Promotion Measures
Given the lack of typical financial incentives (discounts), as well as personal sales, Gucci uses other promotional means. In particular, the website contains multiple stories that describe the worldview of Gucci designers and the ideas behind new looks as well as behind-the-scene events, for example, an interview with Jared Leto on his work on Gucci Guilty fragrance advertisement ("The Agenda" par. 1).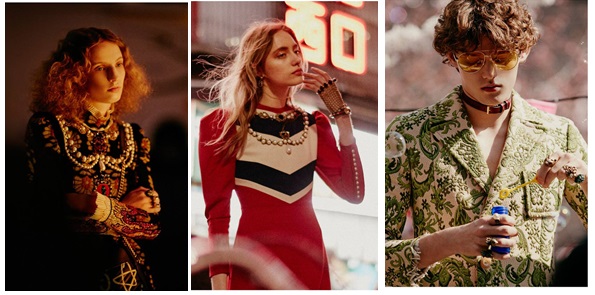 Also, the website can be used to make orders, and there is an option of creating an account to facilitate future purchases. Finally, the website is a platform for corporate social responsibility statements and other public relations activities. Thus, the website of the brand is an important promotion tool. Other media (including social media) are used similarly (Strogatz par. 10-11).
Another promotion tool of Gucci is its stores, especially those that are directly operated. They are designed to reflect the brand image; they offer displays to help customers with purchase decisions, and they have consultants for the same purpose. Finally, Gucci has its brand package, which is also a means of promoting both through the improvement of the shopping experience and the formulation of the brand image.
Cut
15% OFF
your first order
We'll deliver a custom
Company Analysis
paper tailored to your requirements with a good discount
Competitor Analysis
The fashion industry is a highly competitive market, and given the scope of Gucci production (clothes, footwear, leather goods), as well as its popularity and revenues, it can be suggested that its primary competitors are Prada and Louis Vuitton (Mesco par. 10). Both Prada and Louis Vuitton are global in terms of their operations just like Gucci; they also have a long history with Prada founded in 1913, and Louis Vuitton established in 1854, and they sell the same or similar categories of goods: leather ones, clothes, footwear; Louis Vuitton also sells books ("Galleria 1913" par. 1, 3; "Louis Vuitton" par. 1-4).
According to the Wall Street Journal, Louis Vuitton has been more successful in terms of sales than Gucci (both in actual revenue and the tempo of its growth), and Prada performs slightly worse than Gucci (Mesco par. 10). As a result, the companies were chosen to indicate a competitor that Gucci has yet to outperform and one that threatens to outperform Gucci in the future.
SWOT Analysis
While sometimes blamed for being overly simple, a SWOT analysis is a tool that is supposed to be simple because it offers a fast and convenient overview of a company's "strengths, weaknesses, opportunities, and threats," that is, the internal and external factors, which can be classified as advantages or disadvantages (Helms and Nixon 217, 234-235). Here, the internal and external advantages and disadvantages of Gucci are going to be described.
Strengths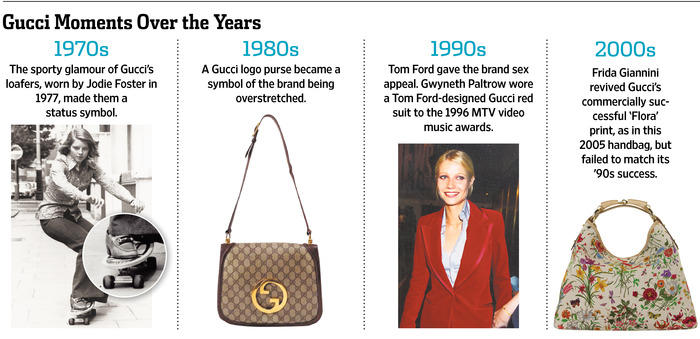 The strengths of Gucci are numerous, and they can explain why it has been having a little difficulty in remaining a top fashion brand. Gucci is an old brand that was established in 1921, and it has had a history of creating unique, fashionable products, the examples of which can be seen in figure 4 (WWD Staff par. 6-51).
Therefore, Gucci has both the reputation of the most desired fashion brand and the experience of one, which can also be regarded as an advantage. Gucci is very financially successful and stable, which is very important during a global economic slowdown ("Kering 2016 First-Half Report" 11-21; Mesco par. 8). Gucci diversification of products can also be regarded as a strength as well as the prevalence of directly operated shops, which improves the brand's control over its distribution channels ("Kering 2016 First-Half Report" 17). Finally, Gucci's ability to evolve (including the recent reinvention) suggests that it is resilient, flexible, and adaptive.
Weaknesses
Gucci has a limited customer pool, and while it is understandable for a high-end product, it also means that in an unstable economic situation, the pool can be further reduced. Also, while Gucci's reputation is a strength, the need to maintain it may be regarded as a challenge if not a weakness. However, the brand is a very strong one, and few weaknesses can be detected for it.
Opportunities
Gucci's opportunities include, first of all, expansion, and this opportunity is being extensively used during the reinvention that has involved opening new shops ("Kering Letter to Shareholders" 6). Similarly, more extensive use of multi-brand shops for distribution is an opportunity that will allow reaching more population, but it is not exactly in line with the strength of directly operated shops (Binkley par. 7).
Get a custom-written paper
For only
$13.00
$11/page
you can get a
custom-written academic paper
according to your instructions
The development of online distribution to include more regions is an opportunity as well. Also, the reinvention involved the redesign of the brand image, which is also an opportunity for development that Gucci is using today ("Kering Letter to Shareholders" 4-5). Finally, to eliminate the weakness of limited customer pool, the brand may work towards creating more affordable products, but it would not be in line with its high-end brand image.
Threats
The competition is a definite threat to Gucci, including the two competitors mentioned above as well as emerging and potential threats (for example, Mesco suggests Delvaux as a brand that is fresh, luxurious, and can potentially grow into a Gucci competitor). The current economic situation (Russian sanctions, China growth slowdown, oil prices decline) is a threat as well, one that has already caused some problems for luxury fashion industries (including the three above-mentioned brands) (Mesco par. 8). Finally, counterfeit products can be regarded as a threat to the company, even though Gucci attempts to crush it (Young par. 1).
Conclusion
Gucci is a very strong well-established brand with few weaknesses, but it exists in an environment that offers multiple threats. Currently, the reinvention of Gucci is making use of several of its opportunities, and even though some of them contradict the brand's strengths (in particular, the multi-brand store expansion as opposed to directly operated ones), the ability to change proves Gucci's flexibility, which is a strength.
Works Cited
A New Dawn: Gucci Guilty. 2016. Web.
Binkley, Christina. "The New CEO behind the Gucci Moment". The Wall Street Journal. 2015. Web.
Galleria 1913. 2016. Web.
Helms, Marilyn M., and Judy Nixon. "Exploring SWOT Analysis – Where Are We Now?". Journal of Strategy and Management 3.3 (2010): 215-251. Web.
Kering 2016 First-Half Report. 2016. Web.
Kering Letter to Shareholders. 2016. Web.
Louis Vuitton. 2016. Web.
Mesco, Manuela. "Gucci's Luster Fades in Tough Luxury Climate". The Wall Street Journal. 2014. Web.
Poetic Reactivation. 2016. Web.
Strugatz, Rachel. "Social Media: Nobody Does It Better". Women's Wear Daily. 2011. Web.
The Agenda. 2016. Web.
The Tokyo Connection. 2016. Web.
Turra, Alessandra. "Gucci Sets Fall Ads in Tokyo". Women's Wear Daily. 2016. Web.
WWD Staff. "Gucci: A History Lesson". Women's Wear Daily. 2011. Web.
Young, Vicki. "Gucci Awarded $144.2M against Online Counterfeiters". Women's Wear Daily. 2013. Web.