Introduction
This report was aimed to examine the transition of a media company from the brick-and-mortar past to the digital future. The firm selected was the Walt Disney Company founded all the way back in 1923 and a historical part of America's media and entertainment industry. As a business, Disney has consistently evolved and has become a huge multinational multimedia empire. However, it was relatively late to transitioning into the digital age of media streaming with its direct-to-consumer platform Disney+.
Since its launch in late 2019, Disney+ has reached third place in both domestic and international markets for streaming services, rapidly gaining subscribers. The COVID-19 pandemic has accelerated the growth and demonstrated that streaming is the key part of Disney's future and business model as a technological service. For the most part, Disney+ remains competitive, but due to a lack of maturity as a business for Disney, it lags behind industry leaders Netflix and Amazon Prime Video. However, the streaming platform has achieved 14% market share domestically and shows no signs of limiting growth at over 90 million subscribers in two years. Disney is taking the right steps in marketing the product with original content and taking advantage of the globally recognized brand name to push the service.
It is recommended:
Disney+ continue to aggressively pursue market saturation through promotion, original content development, and strategic expansion into global markets.
Disney to make a strategic decision regarding its brand's future and the public perception it seeks to establish, as the family-oriented business of the past or having the diversity of content for older audiences.
Disney+ should take advantage of untapped markets where its brand name and connections through the feature film theatrical releases can provide it with a strategic advantage over competitors.
The Walt Disney Company Analysis
Introduction
Company Overview
Company Background
Disney was named after its founder Walt Disney and his brother Roy Disney. Walt was a genius artist and animator, and creating cartoons was his passion. It was his vision to produce entertainment for families to enjoy together. At first, the company began with shorter cartoons, with popularity stemming from the iconic Mickey Mouse character shown in theater houses. As the company and industry grew, under Walt's supervision, it transitioned to feature films in the 1930s. As television became prevalent in the 1950s, Disney entered that space as well with some of its well-known characters.
The company also opened Disneyland in 1955, a theme park based on its properties. Disney continued to rapidly grow even after the deaths of the founding brothers as they had trained their successors. For decades, Disney continues to grow as a media empire, consistently adapting to both new technologies in filmmaking as well as new trends in media consumption. In early 1980s, Disney launched its own cable network, The Disney Channel. However, each decade in the company's is known for the iconic family Disney animated films as the company stuck to its roots (Walt Disney Archives, 2021).
Disney has also successfully ensured its financial future by monetizing its numerous properties that bring in billions in sales through the Disney theme parks, toys and other merchandize. In modern day, the company has rapidly expanded through purchasing of other studios and becoming arguably the largest media empire in the world.
Disney's Mission and Vision
The mission of Disney is to "entertain, inform, and inspire" people globally through its storytelling, iconic brands, creativity, and technology which make the world's "premier entertainment company" (The Walt Disney Company, 2021). The company's vision is "to be one of the world's leading producers and providers of entertainment and information" (The Walt Disney Company, 2021).
Marketing Challenges for Disney in the Digital World
PESTEL Analysis
Disney is a multinational corporation producing media via its numerous studios worldwide, managing its large theme parks and other events/locations, conducting sales of merchandize, and running infrastructure to support all these elements. It faces many traditional risks of any entertainment company as non-essential and 'service' oriented business not dealing in a specific product or commodity. Politically, the firm is interested in a stable status quo as it is not disruptive to operations. Disney has to maintain relationships with governments for release of its films, business licenses, taxes, and benefits from business-friendly legislation (Garcia, 2019).
Economically, Disney is interested in and contributing to economic growth in many regions. Even with COVID-19 declines, Disney employs over 203,000 people globally, contributing to local economies with its studios and resorts. Furthermore, economic growth and stability means that populations have disposable income to be spent on entertainment, commonly reduced in times of crisis (Cornfield, 2019).
Socially, Disney must appeal to current trends, maintain its reputation through CSR and public brand building, and respect cultural and social boundaries with the content it produces.
From a technological standpoint, Disney is dependent on innovations in the industry and evolving capabilities of both, film-producing technologies, and digital platform capabilities. The company must consider the trends of switching to mobile for watching and interacting with content going forward (Ting, 2012). Environmentally, as any large firm it is expected to minimize carbon and waste impact while increasing renewable energy use (The Walt Disney Company, n.d.). Disney is also dependent on environmental factors such as climate, disease in order to function properly as it will impact their operations. Finally, as a large corporation, Disney has to navigate significant legal aspects ranging from contracts and employment law to property law to financial regulations to intellectual property. Disney spends tens of millions on legal expenses annually and maintains a team of top-tier lawyers (Weiss, 2016). Overall, the macro environment analysis shows standard risks and considerations for a multinational corporation of Disney's scope.
Porter's Five Forces
The Porter's Five Forces microanalysis was conducted selecting the digital media industry, particularly the video streaming where both Disney and general experts see the future of media consumption for the foreseeable future. Threats of substitutes is a medium force. While cable television viewership is declining, it remains high, especially for newly released shows or live events which traditional streaming cannot attain. Meanwhile, digitally, YouTube is the most direct competitor to streaming (Kovach, 2021). The potential for new entrants is high, as virtually every media company with visual content is entering the streaming market locally or internationally. However, to reach the scale of top-tier platforms extremely high initial costs are needed, so that does limit most firms to minor percentages of the market share (Dudash, 2021).
Power of suppliers is weak, because in the current climate, the suppliers are usually the subsidiaries of the companies themselves creating original content or simply license holders. A few years ago, when Netflix was dominating the market share, suppliers had more power given that Netflix was relying on paying to keep popular shows in its catalogue. However, now each studio wants exclusivity for popular shows (both old and new) to attract subscriptions to their own streaming platform (Whitten, 2019). The power of buyers is high, as they essentially hold the choice on which platform to choose to pay subscriptions to. There are low switching costs as most platforms allow to cancel subscriptions monthly and virtually no differentiation in services among platforms other than type of content available (PWC, 2020). This leads to competition in the industry being high, as multiple large firms are in the market pursuing aggressive strategies to attract consumers.
Disruptive & Sustaining Innovations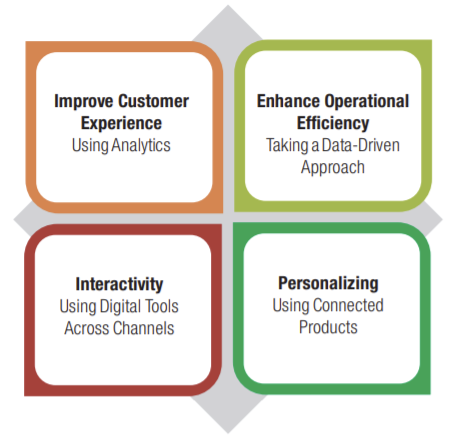 Innovation in the media and entertainment industry is key to business success. In the words of Disney CEO Bob Iger, "technology is lifting the limits of creativity, transforming possibilities for entertainment and leisure" (Buvat & Subrahmanyam, 2020, p.2) Entering the digital age, Disney has invested significantly both in public products and behind the scenes technological support that offers innovative solutions. Ranging from using the innovative Stagecraft technology instead of a traditional green screen to high tech wrist bands for passes at the Disney resorts to the rapid expansion of the Disney+ streaming platform across multiple devices and in various countries. In the figure below, Disney's four-pronged approach to innovation and technology is shown. Notably, the company uses data to strive for efficiency to improve the consumer experience that presents the interactivity capabilities in the technology and the benefits of personalization for consumers. This allows Disney to sustain technological superiority and invest into future development of digital innovation for itself and the industry (Buvat & Subrahmanyam, 2020).
Unlike its major competitors like Netflix and Amazon the digital media industry that release original feature films directly to their platforms, Disney has a range of franchises for which it produces full length films that see theatrical release. However, the COVID-19 pandemic saw a significant decrease in theater box office, but an increase in on-demand purchase of movies at home. Bob Iger, seeing the impact of the pandemic, made a tremendous emphasis on streaming with its Disney+ subscription service, including disrupting the company's business model by releasing films both theatrically and on-demand simultaneously.
They also took a unique approach to streaming in order to rapidly acquire consumers, as well as keep them subscribed (Alford, 2020). As a result, the latest Disney films have grossed about 80-90% on-demand streaming of the sum from current theatrical box offices. Meanwhile, the original series are seeing an overwhelming pop culture success. With its transition to digital streaming, Disney essentially disrupted the industry by disrupting itself and its model, which is a rare trait of embracing disruptive change as while this may innovative, it is a high-risk from a financial standpoint (Stone, 2021).
The Global Paradox
The global paradox phenomenon, with a particular emphasis on the concept of 'the world is flat' was developed by a journalist and foreign affairs expert Tom Friedman in regard to globalization. It implies that rather than the hegemonies of the past, several technological, economic, and political forces converged to produce a global, most importantly digital, even-playing field which allows for various forms of collaboration regardless of location or background (Pink, 2005).
Theoretically, this allows for competition to arise from smaller countries and smaller companies in a specific industry. In fact, despite being a multinational corporation, until recently, Disney was virtually a non-factor player in the digital media space. Experts doubted that the company had the content or the capability to challenge the giants such as Netflix and Amazon. However, Disney bought 21st Century Fox, spun off some of its properties, and developed a versatile and competitive digital platform under the Disney+ subscription (Barnes, 2021).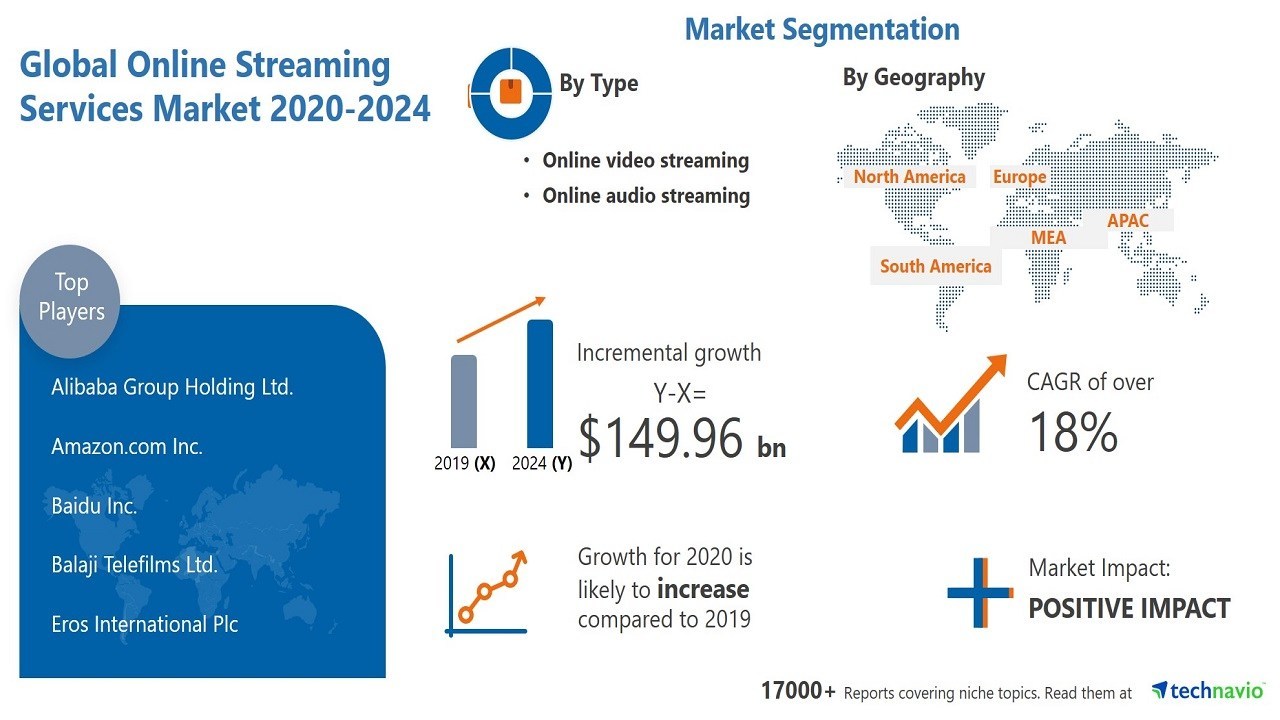 The digital status quo is creating a level-playing field. Anyone with original or licensed content can create a streaming platform. This has almost fully disrupted the media industry. The so called 'cord-cutting' effect (people cancelling cable and transitioning to online viewing) has been taking place and is only accelerating. The industry has seen an unmatched amount of sales and mergers as major media giants such as Disney, Time Warner, AT&T, and Comcast are redistributing properties and funding their respective sub-brand streaming services (Barnes, 2021). Meanwhile, it is not only the major Western firms dominating the sector. Internationally, there has been a rise of local media platforms, that are small and even lack major franchises, but dominate regional markets and diasporas abroad. Netflix which essentially created the streaming market was first to spread internationally and was ahead by years. Disney+ is entering a heavily saturated digital market and does not have the luxury, having to face high customer acquisition and advertising costs (Sturgill, 2019).
The Long Tail
Long tail marketing is a strategy which aims to target a large number of niche markets with a product or service offered. It is used in industries that are dominated by a significant market leader. However, both large and small businesses can utilize the strategy in the attempts of targeting low demand markets by covering multiple niches. The premise of the long tail is that while niche markets may not be popular or as lucrative as mainstream products, when encompassing the total reach, combined these markets can bring significant value as well (Hayes, 2020).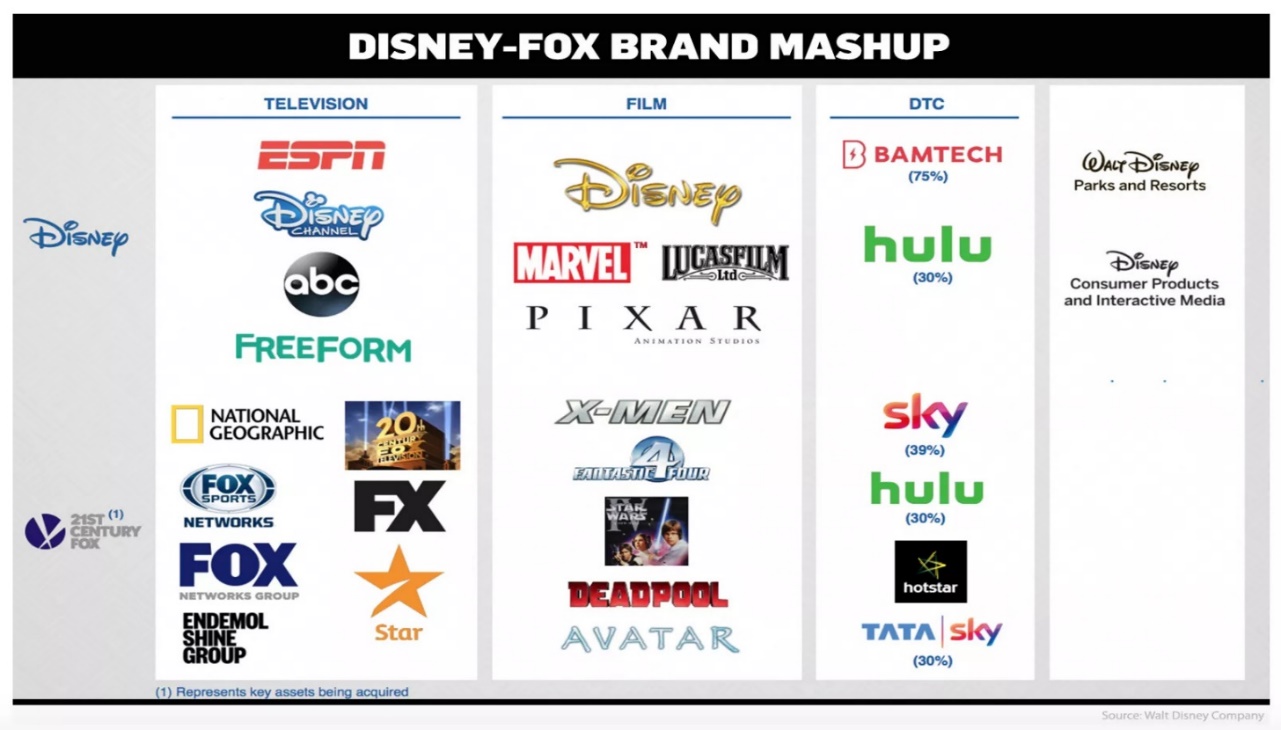 In modern day, Disney is using long tail strategy and marketing by purchasing properties and studios that cover a wide range of content. Below one can see some of the most popular brands that Disney has accumulate ed, resulting in a diverse range of content, including for niche markets.
In the chart below, the long tail effect can be seen somewhat. In comparison of the major streaming platforms, four of them are majority-owned by Disney. Disney+ is the firm's primary streaming service, where its most popular past and future franchises are released and is meant for mainstream entertainment. Hulu is a service that appeals to more adult audiences with an emphasis on network television shows. Discovery+ is the highly niche scientific/nature and documentary programming.
Meanwhile, ESPN+ is fully sports content oriented. By appealing to various niches through its streaming services, Disney is attracting a fair number of subscribers of many interests and demographics. By making them separate rather than under the umbrella of Disney+, it brings more revenue to the company as those who are subscribed to Disney+ have to pay additionally for an ESPN+ subscription if they enjoy sports. Disney is adapting to the market to match its competitors by producing or hosting both mainstream and niche content (Forbes Technology Council, 2018).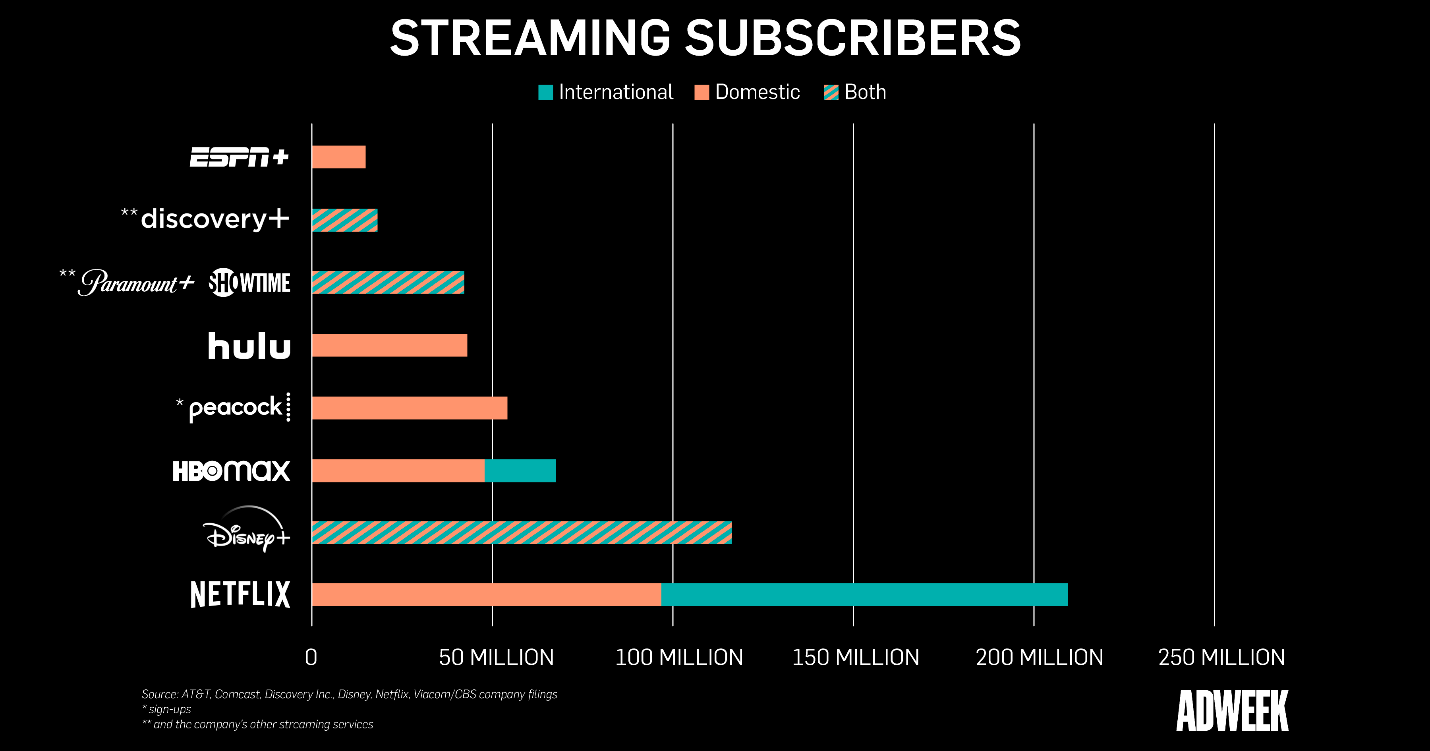 Marketing Challenges for Disney in the Digital World
Evaluation by Sales & Market Share of the Company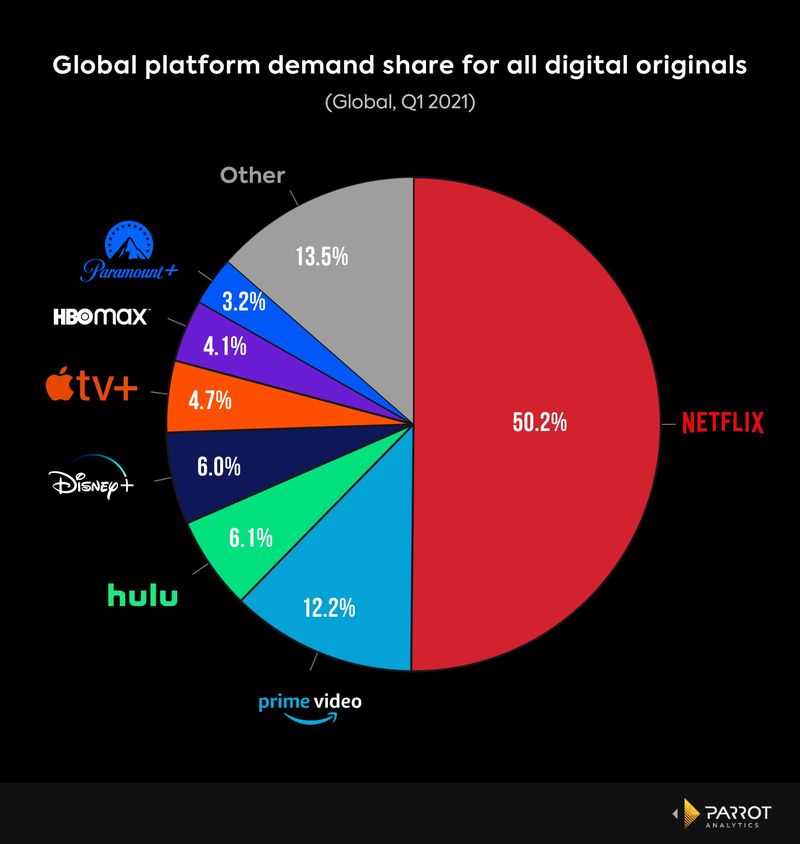 Disney+ was launched in November 2019 as a digital subscription-based, direct-to-consumer video streaming service. It contains Disney, Pixar, Marvel, Star Wars and National Geographic branded content with approximately 700 movies and 11,700 episodes with the company's television and film programming. Initially launching in the U.S. and four countries in the Americas, it has expanded to select countries in Western Europe, Latin America, and Asia (Walt Disney Company, 2021). The service has reached 116 million subscribers as of October 2021 and is projected to grow to 260 million subscribers by 2024 as international expansion and market growth continues (Roettgers, 2020).
The most recent international data suggests Disney+ holds 6% market share globally (Shaw, 2021). Domestically, in the United States, Disney+ holds the third place with 14% market share (Hepburn, 2021). Disney+ is projected to earn over $10 billion in revenue in 2021, up from $4.5 billion in 2020 (Walt Disney Company, 2021).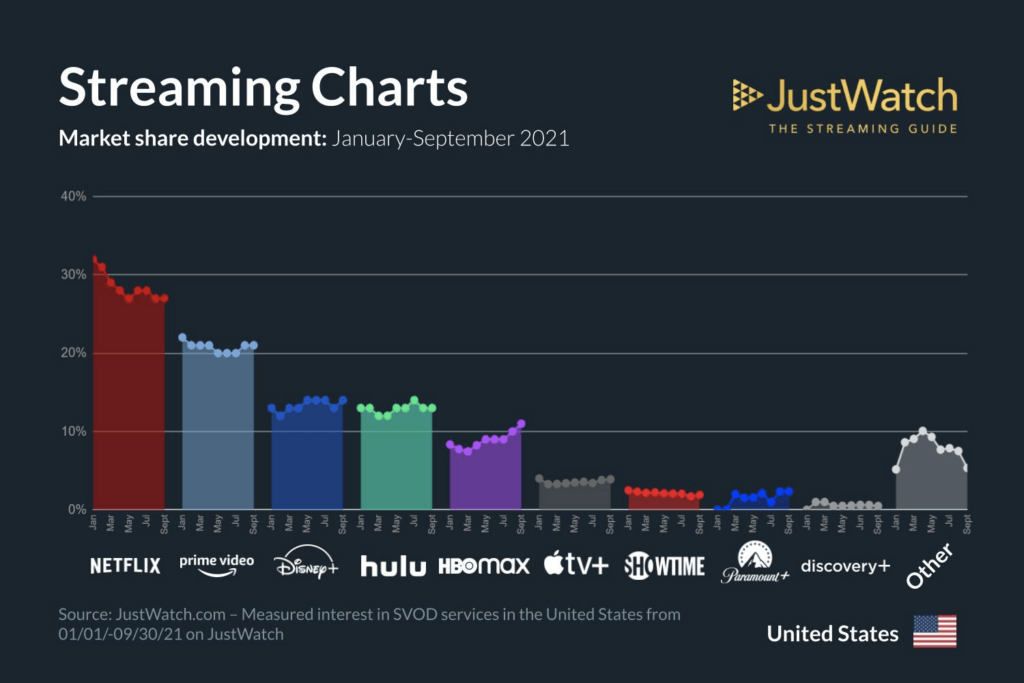 Given the launch of Disney+ only two years ago, its rapid rise to a third position market share both domestically and globally can be seen as an incredible success. A tremendous part of this was the initial successful launch, which albeit had some functional issues, but became a popular consumer success. It occurred due to Disney's advertising efforts and the original series which accompanied the launch, The Mandalorian. Notably, Disney's marketing took the ingenious approach of building the expectations around the series rather than the service.
When the series became a pop cultural phenomenon for a few months, it capitalized into subscriptions and popular recognition of Disney+ as every review mentioned that it was exclusive to the platform. Digital advertising was a significant part of this as people waited for new episodes and one of the protagonist characters 'Baby Yoda' became an Internet-wide sensation to the benefit of the showrunners (Whitten, 2020). Disney+ is seeing stable subscriber growth, particularly in economically stable times when 69% of American households have 1 or more streaming subscriptions (Ng, 2019).
Figure 7: Perceptual map of the digital streaming services adapted based on US News rankings and known subscription prices (Shelton, Greenberg, and Brooks, 2021).
Evaluation by Perceptual Map
The perceptual map helps to demonstrate where Disney+ has positioned itself in the digital streaming industry. In terms of ranking, it is in the middle/average, but leaning towards the positive side of consumer perception. Currently priced at $8 a month, it is below the top tier competitors which for the same level of HD content charge $12 to $17 per month. In terms of quality and amount of content, it falls just slightly short of the other companies. Simply because Disney+ has not been around as long, and its legacy Disney content is largely family oriented. It lacks the rich variety that Netflix offers, the gritty series produced by Amazon, or the tremendous catalog of more adult-audience films and series that HBO Max owns.
This remains a question for Disney moving forward, does it want to forever preserve its brand as the family-oriented network and publish other content through Hulu, or does it want to diversify its primary Disney+ service, increasing the amount, quality, and range of content offered? This directly will impact its marketing positioning and strategy moving forward.
Evaluation by Competitive Profile Matrix
The evaluation by the competitive profile matrix demonstrates largely what has been shown by polls, market share measurements, and experts – Netflix is for now still the clear leader in the industry, followed by Amazon Prime Video. However, by my evaluations, Disney+ is close behind. This does not inherently position Disney+ as a poorly executed entry of the Walt Disney Company into the digital space and lack of success for its business model. Many of the factors for success in the industry are high for Netflix because it has had years to develop, beginning streaming as early as 2007.
Netflix, and later Amazon have had to undergo many of the elements through trial and error. They also had time to build and execute strategies in concepts such as global expansion and customer loyalty. However, being one of the last entrants to the streaming race, Disney+ has two advantages. First, the knowledge on how to build a successful streaming service is already know and available, reducing the number of errors that the company has to make. Second, Disney is already a multinational corporation with a world-recognized brand-name and consumer following. It has the resources and capabilities at its disposal to achieve that global dominating position with time.
Evaluation by Market Research Analysis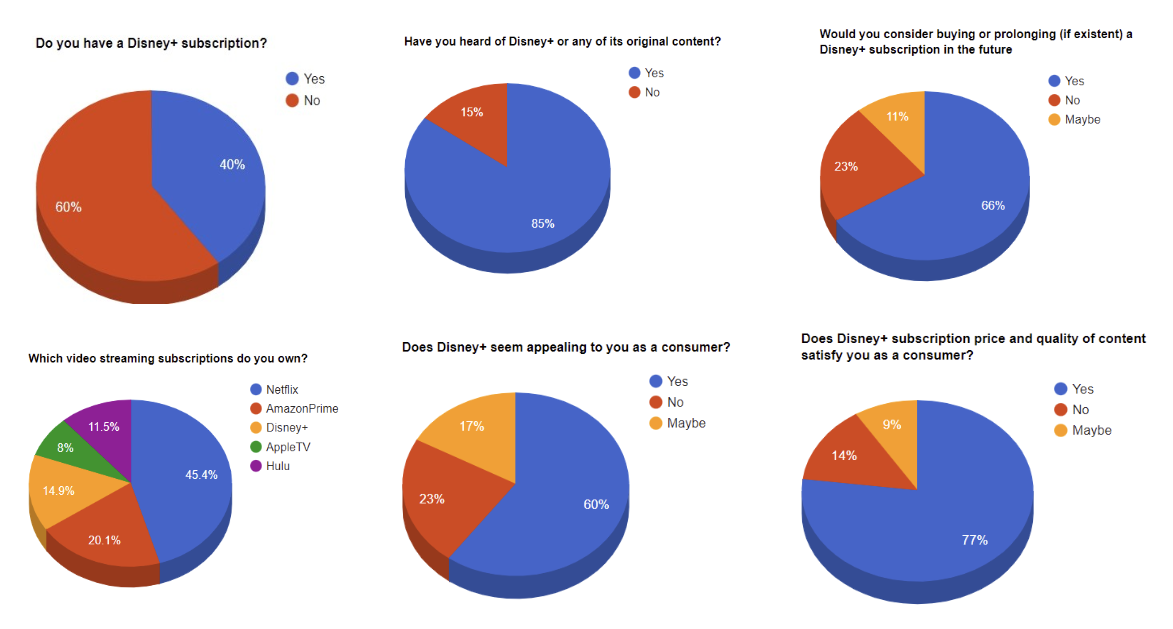 The market research analysis was conducted by sending a quick 6-question survey regarding people's perception the Disney+ streaming service. A sample of 35 individuals responded to the survey. Demographic data was not collected as the focus of the survey was to identify marketing influence of Disney's platform. The results above largely demonstrate the above trends and market statistics. Disney+ is third in terms of percentage for streaming subscription, but only 40% of the respondents had the subscription as one of their subscriptions. However, the large majority have had contact with marketing for Disney+ and to most the platform is appealing in price and content, something that they would consider for the future or enjoy currently. Generally, positive responses are seen in this marketing evaluation for Disney+.
Taking these results into consideration, it is evident that even if currently Disney may not have achieved full market saturation, it has tremendous potential to do so. The results suggest of an open market for acquiring new consumers, due to the reputation of the Walt Disney Company in itself as well as the potential fatigue that users may be experiencing with other platforms. Interestingly enough, while Netflix is gaining subscribers as well globally, it is gradually losing the market share to the likes of Disney+, decreasing its leadership position.
Recommendations
Ansoff Matrix
The Ansoff Matrix indicates that the best path forward for Disney is to continue to pursue aggressive market penetration. This is done through aggressive promotion while maintaining a lower price than its competitors. It is also recommended for Disney to take advantages of its numerous franchises such as Star Wars to draw fans to the service. This is where product development comes in. After streaming has existed for years, a large majority of consumers want to see original content. In fact, surveys indicate that Netflix has the best original content, which has allowed it to continue subscriber growth through the years, one of the most difficult challenges for this business model, as consumers and ideas eventually do run out.
A report by HBR indicates that to attract consumers, digital service offering legacy content from previous films and TV shows is not sufficient, original content is the driving value factor (Prince and Greenstein, 2018). As Disney+ matures, it can expand into new untapped markets with its original content, as well as find the ability to create locally targeted content with international popularity as Netflix has successfully done with their global series. It is early to talk about diversification for Disney, as it has not established its footing in video streaming and there needs to be further technological development for anything else.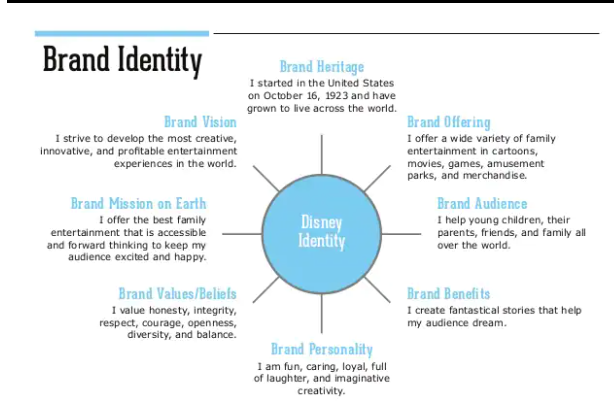 Brand Identity Elements
Disney's brand is crucial to its success. It is one that has been building since the company's first emergence into the spotlight. Despite so much change to the company and industry, current management has been careful to protect the reputation and image of the brand as family-oriented and traditional but with a modern twist as it pursues new forms of storytelling through the various franchises. Consumers see Disney and its affiliate services such as the digital Disney+ as the keystone of family entertainment and fun.
Disney's branding is instantly recognizable alongside its various owned franchises. Note on the home screen below, the categories are branded with the stylistic text or logo of the respective studio rather than simple text, indicating that the enormous popularity of Disney's branding serves almost as self-advertising in itself. It is recommended that the company continue the similar strategy it has been thus far in order to capitalize on its universally recognized brand name.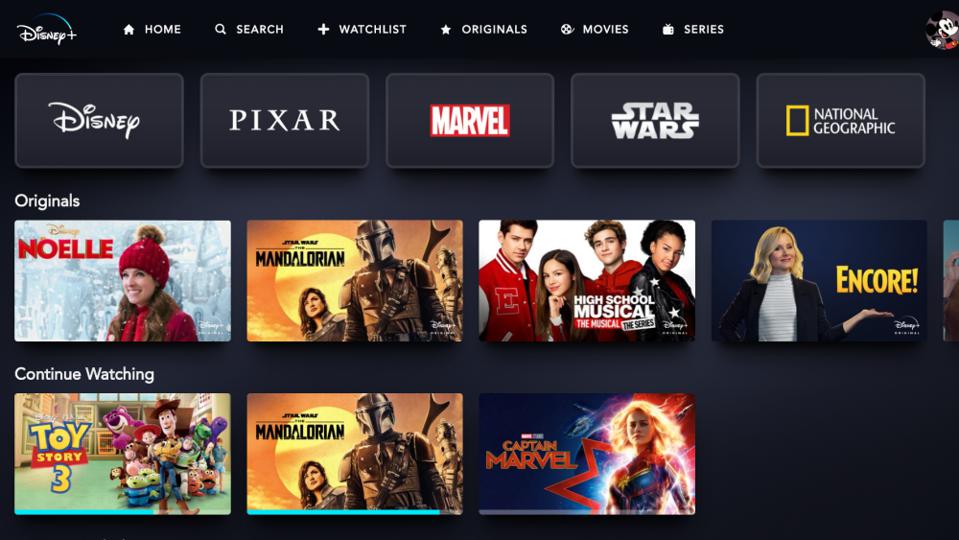 Figure 12: Map showing the most popular streaming service by region (Hananto, 2018).
Emerging Markets
The final recommendation is for Disney to pursue an emerging markets expansion and marketing strategy. Despite overwhelming odds, both Netflix and Amazon have seen great success expanding internationally and capturing market share against local streaming players and globally. This is considering that Netflix makes international content while Amazon does not specifically. Disney is beloved around the world along with its franchises, particularly in China and Asian countries. The region presents billions of new subscribers and tens of billions in revenue as untapped markets (Times Square Investment Journal, 2020). Disney could make strategic entry into local markets or partner with local firms as it has done in India, achieving rapid subscriber growth.
Conclusion
Media and mediums of communication are consistently evolving. As society has become almost fully digitized in the advent of the 21st century, it represents a new step for media and entertainment in the forms of instantaneous access to visual and audio content through technologies of streaming to any device. The mediums of sharing media and communication may change, but their fundamental human needs do not change. Based on Maslow's hierarchy of needs, these fill the need for love and belonging.
Through modern mediums it is simple to receive information, feedback, and even entertainment which helps emotional needs and development as human being towards better self-esteem and self-actualization. The company Disney explored in this paper, has brought emotions and feelings to generations of human beings via its media through the decades. In the digital age, it seeks to do the same both as a business model but also to continue fulfilling its vision to bring entertainment using the latest technologies. Disney+ is the product of its digital age and will serve as the company's forefront product to share the latest media content with millions of consumers.
Reference List
Alford, H. (2020) Wartime innovation: how Disney is succeeding in the age of disruption. Web.
Beattie, A. (2020) Walt Disney: how entertainment became an empire. Web.
Buvat, J. & Subrahmanyam, K.V.J. (2020) Disney: making magic through digital innovation. Web.
Cornfield, J. (2019) 'One-third of Americans have cut their spending this year, and some fear a recession is coming'. CNBC. Web.
Dudash, S. (2021) 'The streaming wars are entering their final season'. Forbes. Web.
Forbes Technology Council. (2018) 'Can Disney's streaming service compete with Netflix? Eleven tech pros weigh in'. Forbes. Web.
Garcia, J. (2019) 'Walt Disney World's political spending'. Florida Trend. Web.
Hananto, A. (2020) World map of most popular streaming service in every country. Web.
Hayes, A. (2020) Long tail. Web.
Kovach, S. (2021) 'YouTube is a proven juggernaut that rivals Netflix in the streaming wars'. CNBC, Web.
Ng, D. (2019) 'More households subscribe to streaming than traditional TV, according to new report'. The Los Angeles Times. Web.
Peters, L. (2012) Analysis of the Disney brand. Web.
Pink, D.H. (2005) 'Why the world is flat?', Wired. Web.
PWC. (2020) After a boom year in video streaming, what comes next?. Web.
Stone, T. (2021) How Disney disrupted its industry by disrupting itself. Web.
Sturgis, J. (2019) Beyond the castle: an analysis of the strategic implications of Disney+. Web.
Sutton, K. (2021) 'Here's how the biggest streaming services stack up in mid-2021'. Ad Week, Web.
Technovio. (2021) $149.96 Billion growth expected in Online Streaming Services Market | 14.38% YOY growth in 2020 amid COVID-19 Spread | North America to Notice Maximum Growth | Technavio. Web.
Times Square Investment Journal. (2020) Netflix's final frontier is in Asia, where untapped markets make up billions of potential subscribers. Web.
Ting, R. (2012) 'Why mobile will dominate the future of media and advertising'. The Atlantic, Web.
The Walt Disney Company. (n.d.) Environmental sustainability. Web.
The Walt Disney Company. (2021) About the Walt Disney Company. Web.
Walt Disney Company. (2021) Fiscal year 2020 annual financial report. Web.
Walt Disney Archives. (2021) Disney history. Web.
Weiss, D.C. (2016) Disney's top lawyer is best-paid general counsel. Web.
Whitten, S. (2019) 'Netflix says it can spend more on its own shows now that it's not paying for 'The Office' and 'Friends''. CNBC. Web.
Whitten, S. (2020) ''The Mandalorian' launched Disney+, now it has the goodwill to usher in a new era of Star Wars', CNBC, Web.