Executive Summery
Dena's salon is a professional beauty salon committed to providing every time highly customer's satisfaction through its rendering outstanding service, organic and herbal products and delivering an enjoyable impression at a satisfactory price level ensuring a homely environment rather than artificial elegance. Dena's salon also preserves a friendly, reasonable, and creative workplace atmosphere that respects diversity with creative ideas and hard exertion where Dina has adopted her innovative thinking. Dena's salon has started its journey from a home based service and now driving to enlarge its market by gaining a potential market share of Melbourne beauty salon market, and with this prospect, this marketing plan has been deliberated.
Introduction
In order to prepare marketing plan for Dena's Salon, this paper will focus on the external factors of the Salon market, key market trends, strengths, weaknesses, and target customers of the selected company. This report will concentrate on the positioning and pricing strategy, 4Ps of marketing mix, key success factors, and financial performance of Dena's Salon.
Company Background
The owner of Dena's Salon Ms. Dena has started his professional life as a sales assistant under an inflexible and low paid without any job satisfaction. The job has seriously exploited her and disturbed her regular family life at the same time earning was very poor. All these stress and exploitation leads Dena to be an entrepreneur and she formed Dena's Salon with her personal initiatives.
Mission
Dena's Salon would support the Melbourne beauty salon market by approaching the boundaries of industry's innovation under the full personal care of professional beautician Dena who is eager to introduce training course for housewives of locality and by doing so, the salon would sustain to capture a potential market share.
Vision
The Dena's Salon has started with the vision of most impressive line-up of beauty talents from local and national level with cutting edge styles innovated from the up coming trends of the locality, Dena's Salon would deliver an unparallel opportunity to lead a salon business in Melbourne. However, the true vision of Dena's Salon is to coordinate fashion, science, and inspiration of human beauty and present them artistically with exclusive live looks.
Market Trend
Melbourne is the most prospective beauty salon market of Australia where the giant local and international players of beauty market are active with their brilliant service and products in the aristocratic area of city with most expensive price. The beauty conscious women of Melbourne are interested for herbal beauty products and organic or green beauty treatment. To address these needs, Dena's Salon is Melbourne's ultimate event for beauty salon with professional touch to delivering the leading brands beauty products with hottest new treatments in nail, hand, and face beautification conveying mutually the excellent Australian stylish services with herbal treatment.
Target markets
The main target market for Dena's salon includes female customers between ages of 15 to 50, house wives, upscale and middle- earning working women, students, and teenagers who have much leisure time with interest to spent money and time for beautification programmes.
Competition
As a small salon, Dena's Salon has no international competitors but it has some direct local competitors in Melbourne, for instance, Wabi Sabi Salon, Auburn Village Beauty Therapy, Orchid Day Spa, Mien Salon Spa, Sens Amore, and Aix Café Creperie Salon are the major player in this market.
SWOT Analysis of Dena's Salon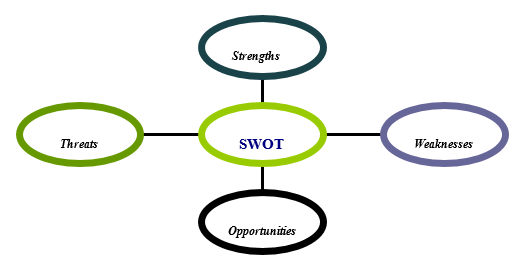 Strengths
It offers services comparatively lower price, so it has many loyal customers;
Environment of the company;
Dena recruited creative and efficient beauticians,
Despite of recession the monthly revenue has increased;
customers are becoming beauty conscious;
Finally, suitable location is the major advantages of the company.
Weakness
Dena failed to reach targeted monthly revenue;
It has financial problem to introduce new services
High operating costs;
It is not a technologically developed company;
It has no website for promotion
Opportunity
Besides regular services, It has huge opportunity to sales its beauty products;
It has opportunity to merger with similar company;
If Dena's Salon can create brand awareness then it would be able to sale its franchises.
Threats
Huge number of local competitors are the main threat for Dean's Salon;
The services are not affordable for all;
Mintel (2009) reported that global financial crisis negatively affects the business;
It is not a technologically developed company;
It has no website for promotion.
Positioning
Positioning map
The perceived brand positioning map of Dena's Salon in terms of other competitors has shown in the following figure –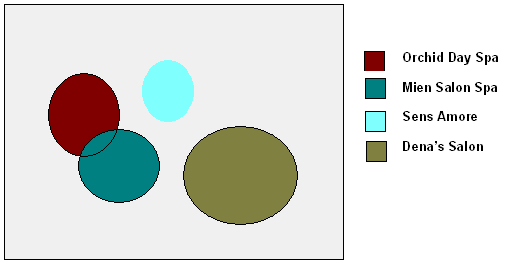 Brand positioning
Dena's Salon need to position its products and services as more as effective way in order to place the product in consumer's mind clearly, however the following figure shows its positioning strategy –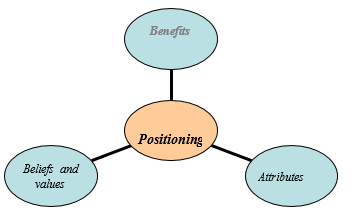 Choosing a positioning strategy
As the brand name of Dena's Salon is not too popular to the customer, it should not position "more for more" strategy;
However, among the a variety of options of the following grid, "more for less" option will be effective for Dena's Salon because it is a good strategy to create loyal customers. The following figure shows its positioning strategy –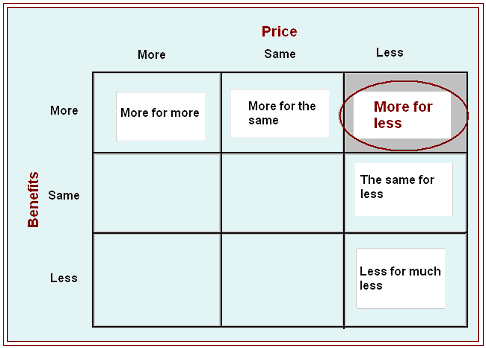 Keys to success
The owner of this company Dina has long experience to work in sales assistant for Breville, which will help to increase sales of Dena's Salon;
Dena's own home was decorated for the company, so, homely environment of this centre is suitable to attract target customer;
Professionalism of the beauticians, individual attention for each customer;
Increasing reputation for customer satisfaction brings fruitful results;
Increase rate of repeated customers for unique facilities;
Dena's Salon highly appreciates customer's feedback and takes initiatives according to their choice.
Marketing strategy
The initial strategy of Dena's Salon was to specialise in nail technology and introduce new services like gel nails, manicures, pedicures and add hair removal to her list of services to increase customer patronage;
Dena always eager to increase its profit margin, so inclusion of Spray Tanning services to earn $210 per hour was a effective marketing strategy;
holding new customers for a long time;
Intended to building brand of Dena's Salon by providing new look to the customer (Bplan, 2010)
Other key strategies are- discounted pre-paid tanning packs and gift voucher offer ($10) as a Christmas gift.
The 4Ps of the marketing mix for Dena's Salon
Product and Services
The Dena's Salon offers two packages (5 Sessions Voucher, 10 Sessions Voucher), Facial (Eyebrows, Upper and lower Lip, Chin), Mini Pedicure etc. However, it has a wide range of services, for instance –
Nails: Acrylic Nails and Gel Nails (Full Set sculptured Nails and French or Natural, Acrylic Overlay Nails, Refills, Repairs, Removal, Buff & Polish).
Hand: pedicure deluxe, French Polish Nail Painting, full arm wax, Buff & Polish.
Bikini: it offers G-String and Brazilian and so on.
Price
The Dena's Salon follows cost-based pricing strategies for its products and services as Dena first calculates all relevant costs incurred to provide its services and then add up a profit margin to the accumulated costs to set prices for its products or services. The reason to choose this strategy is to offer fair price or competitive price, for example, its service price starts from $5 to $280, so lower earned customer can take its services.
Place
Dena's Salon is situated in Melbourne and this place is suitable for the owner of the Salon because she started its business from home to save rental costs and to give more time for family members.
Promotion
Dena's Salon use sales promotion strategy, such as, it offers special discount pricing model for festivals and long time facilities for its services etc. However, it uses few pornographic exposes for advertisement, which has negative impact on society, so it should not include these items in their advertisement policy to show their corporate social responsibility. Recently, it uses few promotional tools, like –
It advertises in local news paper, internet and other magazines;
It is going to use social networking sites and TV channels for its promotion (Bplan, 2010);
However, it is intended to make more links Google, yahoo, MSN and YouTube.
Marketing research
Market research plays significant role to know about customer's behaviour as many customers come from different culture and traditional background. However, Dena's salon has to boost its operation cost by 12% to develop knowledge of the customer decision-making process, to observe the market condition in global financial crisis, and to monitor competitor moves.
Financials Overview
According to the data sheets, the sales revenue of Dena's Salon is increasing gradually, for example, it made only $355 profits in the first month of its operation whereas in June 2008, its total profits was about $9,910, and this figure becomes double within one year as in June 2009, its total revenue was approximately $18,878. However, the following graphs demonstrate the financial growth of the company –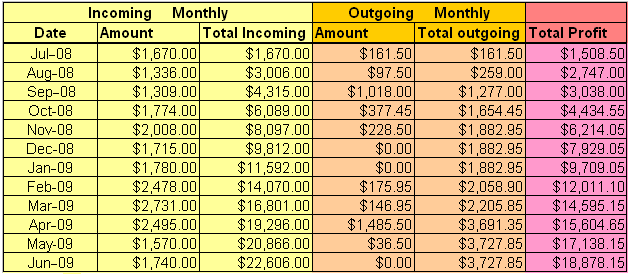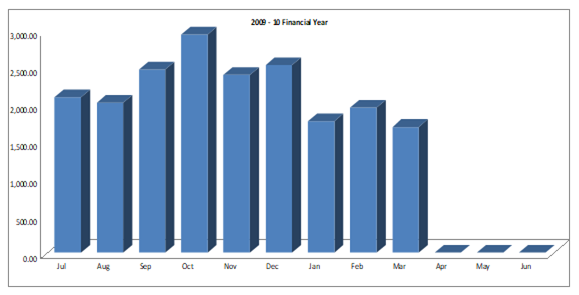 Recommendation
Dena's Salon should increase promotion budget for increasing profit range;
It should develop a new advertising campaign to support the positioning strategy
It should develop a e-commerce website to sale beauty products;
Besides female customer, It should offer services for male customers
It should diversify its product line by following differentiation strategy, for example, it can target hair segment to attract more customers.
Reference List
Bplan. (2010) Day Spa Business Plan: Pamperzhou Day Spa. Web.
Bplan. (2010) Hair and Beauty Salon Business Plan: Trend Setters Hair Studio. Web.
Hitt, M. A., Ireland, R. D., & Hoskisson, R. E. (2001) Strategic Management. 4th ed. South-Western Thomson Learning.
Kotler, P. &.Armstrong, G. (2006) Principles of Marketing. 16th ed. Prentice-Hall of India Private Limited.
Kotler, P. & Keller, K. L. (2006) Marketing management. 12th ed. New Jersey: Pearson Prentice Hall.
Mintel. (2009) Salons and Spas. Web.
Pearce II, J. A. & Robinson, R. B. (2006) Strategic Management. 8th ed. London: McGraw-Hill.