Executive Summary
Entrepreneurial organizations are the most vulnerable firms. As starting a new venture is a challenging task, most entrepreneurs face different types of problems. To assess such an organization, Entrepreneurs Alliance (EA) is a type of consortium where different types of entrepreneurial organizations come together for mutual benefits. In the introductory phase, the organization experienced some important planning issues, described the total process, and mustered the characteristics of a good entrepreneur. The subsequent steps of doing the business are to Prepare for Business, Feasibility Analysis, Putting it on Paper, Exploring Business Opportunities, Developing an Effective Business Model, Finding the Financial Resources, Building and Structuring the Business, Preparing for Growth, Strategies for Firm Growth, Strategic Entrepreneurship and finally the assessment of all these steps. Altogether, these steps shape the probability of success for the firm.
Introduction to Entrepreneurship
The concept of entrepreneurship is defined as the principles and terms of any particular business, through the managerial and personal perspective of an organization or firm (Hisrich, Peters & Shepherd, 2005). Therefore, it can be said that entrepreneurship is the process of creating something new with value-generating within time and effort, and considering risks and rewards from value creation.
Outlines the importance of planning for entrepreneurship
The value creation of entrepreneurship has some important aspects towards the audiences and overall markets, which are:
Involving in the value creation processes, which are developed for audiences
Requiring devotion of necessary time and efforts
Rewards, which are an indicator of the success of entrepreneurship planning
Describe the entrepreneurial process
The entrepreneurial process involves deciding how to become an entrepreneur from the present activities. There are two phases in the potential entrepreneurial process, which are:
Form new entrepreneur
Desirability:
Culture
Subculture
Family
Teachers
Peers
Possibility:
Government
Background
Marketing
Financing
Role Models
Change from the present lifestyle:
Working environment
Disruption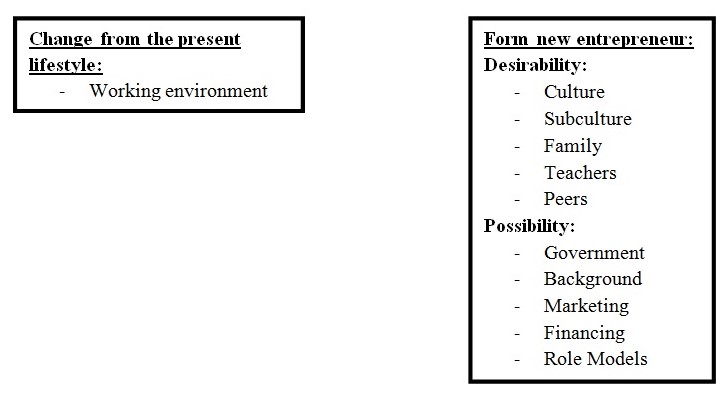 The decision of leaving the present lifestyle to form a new career life is not easy for any person. The individual has to leave the present working environment and personal disruption to form new entrepreneurship desirably and possibly. The formation of new entrepreneurship encloses the aspects of the situation that make it desirable and possible to start a new venture or company.
Characteristics of successful entrepreneurs
A successful entrepreneur has to have some leadership characteristics to compete in a corporate environment, which are: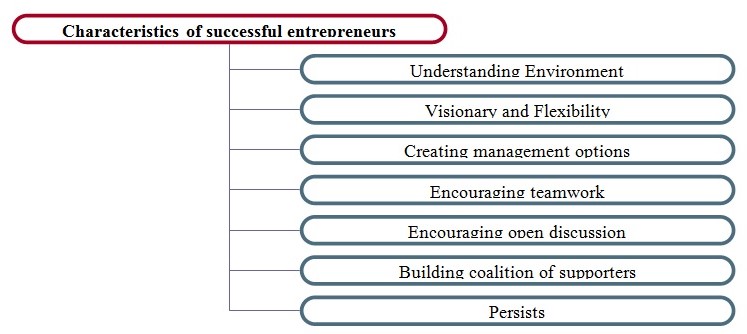 Preparing for Business
For this report, the "Entrepreneurs Alliance (EA)" has been selected, which is an entrepreneurship-based organization in the UK (Cross, 2010, p. 1). It is a community of entrepreneurs, like peers, mentors, and resources, which is serving entrepreneurs in the top 26 countries of Texas Panhandle with 11 resource organizations in Amarillo, Borger, Dumas, Pampa, and Perryton as a non-profit consortium for these organizations. It is also working as financial and consultative business assistance for minimizing risks, maximizing the likelihood of success, and enriching the local economy of its alliances (Entrepreneur Alliance, 2010).
Identifying and recognizing opportunities
The opportunities of this business are enlarging with time for growth possibilities and desirability of entrepreneurs in the market. As EA is involving in risk assessment and profit generation for other entrepreneurs, it has huge opportunities in the competitive market, some of which are:
To assess opportunities of new businesses
To create opportunities for others
To analyze the real and perceived value of opportunities for other businesses
To manage risks and returns
To differentiate opportunities with personal skills and goals of businesses
To stable the competitive environment
Idea generation
EA is a developing and realizing project, which is supportive for other entrepreneurs to work and generate income in the competitive market with local development. The idea of this business is generated for supporting micro-entrepreneurs and building a community of productive groups of entrepreneurs. It is mainly helping low-income communities integrating people and organizations with social and local development (Entrepreneur Alliance, 2010)
Encouraging new ideas
EA is developing its main purpose to encourage new ideas, which would be helpful for other entrepreneurship businesses throughout the UK and other countries considering their cultures (Entrepreneur Alliance, 2010).
Feasibility Analysis
Service
The EA is a service-oriented consortium where different types of services are offered to the companies. This organization will help the entrepreneurial firms to start their business and lead them to the way of success. According to Entrepreneur Alliance (2010), the key services of this organization are:
Starting the business
Buy or sell a business
Manage the business
Train employees
Relocate the business.
Grow and expand the business
Finance a business
Apply for a tax credit
Market the business.
Manufacturing Assistance
Apply for licensee & permits
Export assistance.
All these services are shaping the entrepreneurs' effort to achieve a high return and to continue the business satisfactorily.
Organization
EA is one kind of consortium where different types of organizations are gathered for some mutual benefits. There are ten non-profit resource organizations of EA, among which Amarillo, Borger, Dumas, and Perryton are most significant. The EA is now trying to diversify its target areas in different locations of the world and thus trying to differentiate its services from its core services. EA has some expertise over the consultancy and hence the organization is now getting popularity as a consultancy-based firm as well (Entrepreneurs Alliance, 2010).
Financial
The feasibility of an organization is largely dependent on the financial resources it has. EA has ensured that its financial resources and financial services are feasible with its operations. As an example, the financial resources required and the inflow of funds from different sources must be in a balance. A firm operates within the business only for the financial outcomes.
Putting it on Paper
The business plan
A business plan is a written document, which describes the internal and external elements of any entrepreneurial business, or venture. A successful business plan has many parts, from which, some parts are discussed below:
Environmental and industry analysis: This part is involved in analyzing the external and internal reviews and strategies, which have important aspects in the business. These two dimensions of analysis have various phases, which are: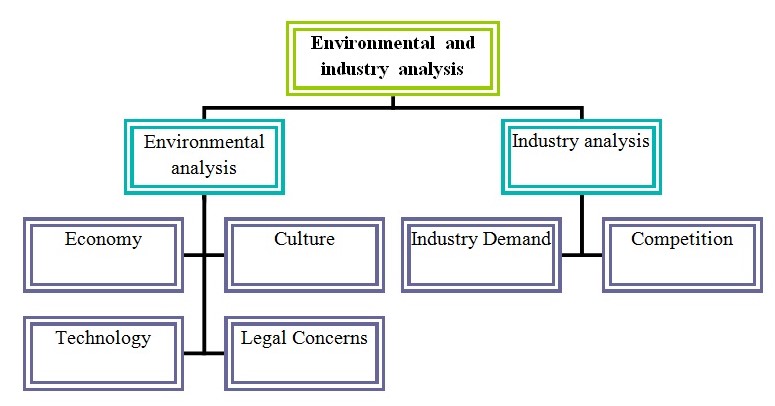 As the economy of EA is concerned in both economic and social context, so, after the recession, the economical development of EA is being downward comparing with records. This organization follows both corporate and entrepreneurial cultures among employees and other parties related to the organization. It requires fast technology is to deliver information about the market, competitors, and financial resources to its community. Finally, environmental analysis is highly concerned about legal issues of EA's services, distributions, prices, and promotional strategies.
On the other hand, as entrepreneurship business has some demand in the industry, so it is helpful to become an alliance of these businesses to maintain market demand. There are also several successful entrepreneurship alliances in the UK market, so the competitive environment is high.
Marketing Plan: A marketing plan describes the market conditions and strategies related to products/ services of the organization, and how the product/ service will be distributed, priced, and promoted. In EA, the services are related to giving proper information and supports for entrepreneurship businesses in its community. The organization is not profit-oriented, so they are taking service charges for its community members. After all, the internet and other business magazines are used as promotional tools for EA's promotional activities.
Risk Assessment: In this plan, EA has to identify the potential hazards and the alternative strategic decisions to meet up its goals and objectives. In this business, the major risk is economic conditions and the loyalty of community members of this organization.
The investor interface
The investors of EA are involved with applications of knowledge and talents as agents of entrepreneurs' changes in a business environment. The investors are mainly supporting in delivering services to micro-entrepreneur groups, training programs, and developing business in a competitive environment. The investor's interface is also related to the following factors:
Reflecting strengths of management, services, and available resources of EA
Evaluating business plan and potential capital of EA
Expecting larger amounts after certain periods from EA
Analyzing needs of external resources to maintain the business of EA
Exploring Business Opportunities
EA can explore its opportunities by forming various types of businesses, which are briefly discussed below:
Start-ups
There are mainly four types of start-ups, which are: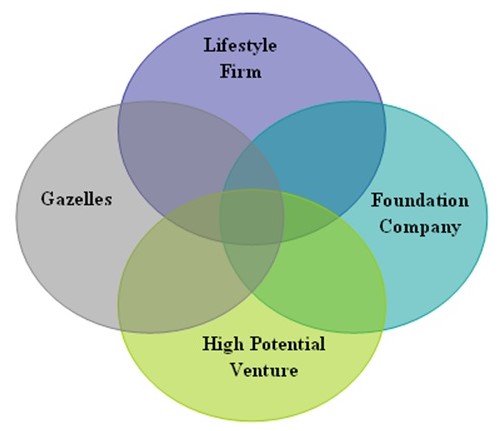 EA can define itself as a "Foundation Company" because it is formed as a small business in the UK and it does not reveal itself in the public market as a profit-generating organization.
Joint ventures
When two or more businesses are jointly combined for business growth and expansion more broadly, it is said to be a joint venture. EA cannot be listed as a joint venture business, because, it has a single owner to continue its business operations.
Franchising
When any business is selling its trademarks to another country's business, but not selling its ownership or other resources, then it is considered franchising. EA is franchising its business to the US, with the same brand name and service to that country. This is expanding EA to the international market, which is increasing its growth opportunities and promoting itself in a globally competitive market.
Developing an Effective Business Model
Business concept and business models
The main business concept of EA is to pass on awareness among entrepreneurs to make them realize that they have a support group to expand their business opportunities with proper communication and effort in the market. On the other side, the business model is describing how EA is creating, delivering, and capturing value, which is a major part of business strategy. A Business model contains some formal and informal descriptions that present the core competencies of business by six components, which are:
Value Proposition: These parts are describing customers' problems, and value the services according to customers' perception. As EA's customers are micro-entrepreneurs, meeting up their financial, operational, and organizational problems is the main value proposition of EA.
Market Segment: market segment can be defined as a mechanism to meet up different needs of target customers according to their tastes. As EA is a non-profit making organization, it is targeting other micro-entrepreneurs as their targeted market segments in the UK
Value Chain Structure: EA is a service organization, and so it is maintaining its value chain by alliance services, collecting supports from sponsors or investors, and delivering these support services to micro-entrepreneurs.
Revenue Generation and Margins: EA is generating revenues from support services provided to other entrepreneurs.
Position in value network: In this part, competitors, complementary parties, and any network effects are identified to deliver more value to EA's customers, the micro-entrepreneurs (Entrepreneur Alliance, 2010)
Competitive Strategy: There are mainly three generic competitive strategies to be developed for EA, which are: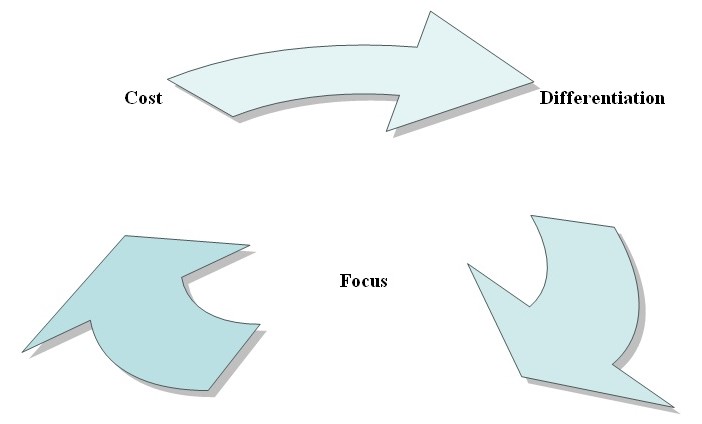 EA is maintaining a service-based organization for micro-entrepreneurs, so it should adopt a "Cost Leadership" competitive strategy, which can attract more entrepreneurs towards its business.
Strategic resources:
EA is adopting an integral support methodology, integration, and strengthening community groups and micro-entrepreneurs related to the organization. EA is maintaining five strategic resources, which are:
Access to Knowledge: EA is supporting its community groups and micro-entrepreneurs by materials, capacity, assistance, workshops, technical visits, etc.
Design and Commercialisation: EA is also maintaining and arranging fairs, catalogs, alliances, stores, spaces, blogs, sites, etc for its support groups.
Capital and Investment: EA is also accessing capital to support groups by microcredit, alliances, etc.
Infrastructure and technology: Micro entrepreneurs and community groups are also supported by machines, tools, and equipment from EA
Citizenship: By this resource, EA is given basic supports for income generation for its support groups and related entrepreneurs.
Partnership network: (Entrepreneurs Alliance)
EA is achieving success by working as a partner with CAV (Volunteer Action Centre of Curitiba), which is a volunteer action group and is benefiting community members by completing specific project works. The partnership has been very effective, mainly because income generation and capital requirements of community groups are met up by HSBC Solidarity Institute.
Customer Interface: (Entrepreneurs Alliance)
EA is participating with customers, as well as micro-entrepreneurs, and community groups in different ways, which are:
Classes and Training programs
Support Programmes
Sales Support
Methodologies
Finding the Financial Resources
Financial planning
Financial planning is a key part of an entrepreneurial organization. In such a plan there are written documents about the resources a firm has and the probable and actual expenditure a firm is going to face. EA also has some financial planning. It is keeping its financial statements like balance sheets, cash flow statements, income statements, and many more. From these statements, the related firms can get a transparent idea about the position of the organization. As an entrepreneurial organization, the financial plan starts with operating and capital budgeting. Besides these budgets, different kinds of analysis have to be done like break-even analysis and many more. These analyses will help to set a target based on some forecast about the inflow and outflow of the financial resources.
Creative sources of funding
A firm may have different ways to get financial resources. As there are many sources, an entrepreneurial organization must seek the creative one, which will give the highest advantage to the firm. EA can get a loan from any financial institute like banks or can use its financial resources or it does both. The basic target will be maximizing the profit.
Equity and business angels
As an entrepreneurial organization, EA has to maintain a balance between its equity and operating expenses. The equity of this firm can be defined from different angles. All these angels will cumulatively give the optimum option, which will give the best possible equity to the firm.
Building and Structuring the Business
The team
The team of EA is developed with the support of different groups of people and parties, which are: (Entrepreneur Alliance)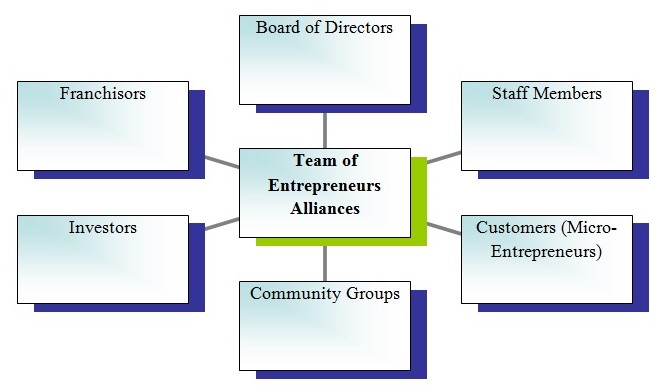 The ownership format
There are mainly four types of ownership format, from which EA is formatted by "Corporation", one of the most common forms of ownership; such organizations are regulated and treated as a separate legal entity for all liabilities and taxes incurred. In this format of ownership, EA has to limit its shareholder's liabilities by the contribution of capital requirement for the organization. The start-up of these businesses is costly, because of regulating articles of incorporation, filling fees, taxes, and fees for states to maintain their services in the UK market. This setup is flexible because shareholders can transfer their ownership by selling their shares. Profit is divided by dividends. As it is a small entrepreneurial organization, so it is maintaining Limited Corporation, only within its community groups (Kotler & Armstrong, 2006).
The organizational structure
The organizational structure of EA is shown below with the help of diagram: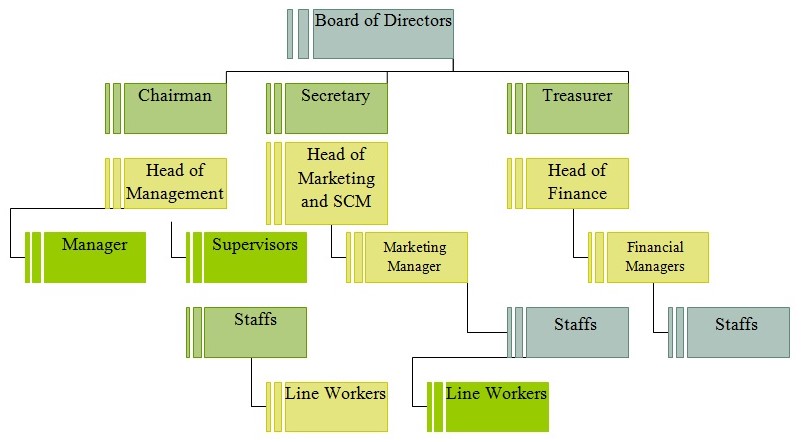 Preparing for Growth
Challenges of growth
In the life cycle of a firm, growth is the most attractive stage. In a growth stage, the firm will enjoy some sort of return, which is more than expected. However, to continue the growth, the firm will have to take some necessary steps. EA is also now in a growth stage. However, the growth of this firm is a matter of concern in the future. To sustain this growth the firm must differentiate its present offering to the customers. New services can also help to make the firm's offers attractive to the customers. Besides, the addition of new promotional activities will also help to sustain the growth in this way.
Managerial capacity
Management is a key issue in this stage. A wrong decision by any manager can harm the growth of EA as well as any other entitled company in these alliances. Therefore, the management has the proper capacity to sustain and enjoy this growth. Besides, the management must have the resource capacity to attain the goals in the growth stage that will ensure the proper use of resources along with the proper findings of sources.
Getting it right
Finally, in a growth stage, a firm needs to get the right benefit according to the anticipation. The challenges of the growth stage can be mixed up with the managerial capacity and the proper mix-up will ensure the right result.
Strategies for Firm Growth
Internal growth
For firms like EA, internal growth is more important than external because the internal attributes will attract the customers to come and get service. It is thus quite important for EA. Internal growth means the improvement of the components of the inner environment. To measure the internal growth or the possibility of growth of a firm there are many tools like SWOT analysis, value chain analysis, and so on (Pearce & Robinson, 2006). Based on these analyses the strategy of the firm is being designed. There can be many strategies a firm can be undertaken as per the findings of these analyses. For example, according to SWOT analysis, there are four strategies, which a firm can take. These are turnaround, aggressive, diversification, and defensive.
External growth
External growth means the growth of the outer environmental components of a firm. Improvements in external factors are related to five different factors associated with EA. These are political factors, economical factors, social factors, technological factors, and ecological factors. Improvements in any of these factors will lead the operational excellence of the firm in a better position. In these factors, many issues have a direct influence on the growth of the firm. Analyzing these factors will depict the right strategy, which will be effective for the firm to cope up with such environmental changes.
Strategic Entrepreneurship
Managing succession planning
To manage the succession of planning of EA, there are some control elements, which should be maintained by organizations like EA:
Inventory Control: EA is s service-based organization, so it should develop maximum services to its customer groups. Faster inventory control can assure faster capital for the firm, which would meet customers' needs more efficiently.
Quality Control: It depends on the type of services delivered to customers, but EA measures its quality by analyzing how effectively and efficiently services are provided to customers.
Disbursements: It measures the control of paid out as costs and expenses of EA.
Strategic leadership in the entrepreneurial business
In entrepreneurship businesses, strategic leaders see themselves as self-employed (Jung, 2009). They have some roles in entrepreneurial businesses, like EA, which are:
To take initiative in the critical role of organization and energize organization's people
To increase creativity and new opportunities for pursuing them
To take risks in new areas according to strategic direction for micro-entrepreneurs
To take responsibility for failure and to take steps to enhance the ultimate success
Consider the role of top-level managers
The role of top managers in EA is spreading in many ways, some of which are enlightened below:
To review operating and capital budgets
To develop long term strategic plans for growth and expansion
To support staff and line workers in day to day activities
To resolve problems of owners, shareholders, and community groups
To ensure proper use of resources
To develop a network of information for the micro-entrepreneurs and community groups
Explore key strategic leadership actions
EA has to develop some strategic leadership actions for the succession of planning and developing its entrepreneurial business in the competitive market, which is: (Ebersole, 2010)
To use strategic thinking in the identification of customers' needs and employees' performances
To develop a strategic action plan and share with organization's staffs
To engage in power and advise from mentor or advisor
To facilitate and celebrate achievements
To honor and acknowledge the value of business, customers, and employees
To empower employees with leadership responsibilities
To promote team of organizations and of EA itself
To focus on measurable goals to be achieved
To foster environment together
To create a compensation system based on performances
To develop commitments with EA's expectations
Consider the impact of culture, resources, and organisational controls
EA is successfully maintaining alliance services to micro-entrepreneurs and community groups, so it must consider the impact of culture, resources, and organizational controls on its business. Cultural aspects are not varied in entrepreneurship business services from country to country, so it can maintain the same service inside and outside of the UK. The resources collected for its customers are outsourced, so it should maintain a good relationship and network with strategic partners. In addition, organizational control on quality, services, and employees is maintained properly by EA.
Assessment Review
Major areas contested in the literature of strategy
Some areas should be a concern of EA as assessment of strategic review of the organization. These areas can be divided into two parts, which are:
Internal Variables
Financial Resources
Management Team
Suppliers
EA's Mission and Objectives
External Variables
Economy
Culture
Technological Adoption
Customers' Demand
Legal Concerns
Raw Materials
Competition
Figure 8: Major Areas in Strategic Approach Development
If these areas are captured and managed by EA, then it would be possible for the organization is a pioneer in alliance services to micro-entrepreneurs and community groups. The growth and expansion will also increase with the success of strategic approaches.
Major strengths and weaknesses of strategic approaches
Strengths:
Contingencies
Flexibilities
Independencies
Weaknesses:
Lack of Reality
Lack of adequate situation analysis
Unrealistic goals
Conclusion
Entrepreneurs Alliances is a successful entrepreneurial business organization in the UK, and the external orientation of market and customer needs would be helpful to expand it's business more effectively. Therefore, the strategic decisions should be flexible enough to be changed more quickly and efficiently according to customers' demands.
Reference
Cross, W. (2010) UK Small Business Directory: Entrepreneurs Alliance. Web.
Ebersole, G. (2010) Twelve Strategic Leadership Actions to Fire up Your Employees During Change. Web.
Entrepreneur Alliance. (2010) Board of Directors. Web.
Entrepreneurs Alliance. (2010) Innovation and Methodology of Entrepreneurs Alliance. Web.
Entrepreneurs Alliance. (2010) Make Economy a Place for all. Web.
Entrepreneur Alliance. (2010) Mission, Vision & Core Purpose. Web.
Entrepreneur Alliance. ( 2010) You Have the Dream. We'll Help You Get There. Web.
Hisrich, R. D., Peters, M. P. & Shepherd, D. A. (2005) Entrepreneurship. 6th ed. McGraw Hill Publishing Company Limited.
Jung, A. (2009) Strategic Leadership. Web.
Kotler, P., & Armstrong, G., (2006) Principles of Marketing. 11th ed. Prentice-Hall of India Private Limited.
Pearce II, J. A & Robinson, R. B., (2006) Strategic Management. 10th ed. New York: McGraw Hill.