Executive Summary
The global fast-food industry is a prominent industry to investors due to its non-intermittent growth. However, the growth rate of the industry has been shrinking for few years, projecting the maturity of the industry. Again, due to the injection of so many players in this industry, the market became saturated and highly competitive. The industry analysis constitutes scrutiny of the dominant economic features, competitive forces, key driving factors, and key success factors of the industry. The industry has been profitable so far, with high chances of competitive rivalry, and has a market size of 90.29 billion consumers. The competitive rivalry, threats of substitute products, and bargaining power of vital suppliers are high. On the other hand, the threats of new entrants, bargaining power of buyers and small suppliers are low. The most imperative drivers of the industry include changes in consumers' preferences and in their lifestyles. The product differentiation and retention of employees would consider as the most fundamental aspects to gain a competitive advantage. Another approach for the new entrants to gain a competitive advantage could be a takeover by any firm. On the other hand, internal management and compliance with market trends are considered critical aspects for existing market players.
Introduction
The fast-food industry has gained more and more consumers from its inception in the early 19th century. It started its journey at the very beginning of the industrial age (Warsi & Nisa 2005, p. 1). From its beginning, fast food has achieved customer appreciation to a greater extent with the birth of various giant players in this restaurant segment. The globalization of the business world encouraged the industry to play the role of an international actor. Warsi & Nisa (2005, p. 1) argued that fast food is made for timesaving i.e., the faster the better. Blanton, et al. (2007, p. 3) stated that four fundamental pillars of the industry, namely, time (quickness), convenience (easily reachable), price (lower price), and taste. There are several types of the store in the industry such as fast-casual restaurants, self-service restaurants, kiosks, etc. Datamonitor (2008, p. 1) stated that in 2007, the global growth of the industry was 4.1%. It further assured that the sales growth has jumped at a sales volume of $106.9 billion constituting almost 81.4 billion transactions. In the following year, the growth was also leaping.
As a result, sales volume has increased so far in this industry. For instance, the sales volume of McDonald's in 2008 was increased by 3.07%, KFC's sales volume also increased by around 10% in 2008, etc. (Workmen, 2009 & Datamonitor, 2008). Since the industry became drenched with a large number of players, the industry turns out to be highly competitive. Furthermore, health issues (e.g. diabetes, heart disease, obesity) have become very important for consumers, lawmakers, and physicists. For instance, the Centre for Science in the Public Interest (CSPI) had filed a lawsuit against KFC because it uses Trans fat oil (Anon. 2009, P. 11).
Industry Background
The global fast-food industry has launched its journey through national, regional, and international chains, franchises, and independent operators. The firms from UK and USA mainly geared the inception and growth of the industry. Warsi & Nisa (2005, p. 3) said that the main proliferation of the industry has seen in the 1950s due to the outbreak of automobile lovers, the development of highways, the development of suburban communities, and the outbreak of the baby boom. This is mainly a labor-intensive industry (Sterling, et al. 2009, p. 4). Several UK and USA-centric companies and brands have been holding major market shares globally. There are several country brands doing very well such as Kungfu Catering Management Co. in China, but they are not strong enough to bit the competition. The prominent players of the global industry are McDonald's, Yum! Brands (KFC, Taco Bell, Pizza hut, etc.), Dominos Pizza, Wendy's, Jack in the Box, Burger King, and many to name. McDonald's is considered the world's largest fast-food restaurant chain, which serves almost 47 million customers in a day through approximately 31,000 restaurants in 119 countries (Abdullah 2009, p. 1). In April 2009, the global sales growth of McDonald's was 6.9%, which was $27.9 billion in value (Brook, 2009, p. 1). On the other hand, the global sales growth of Yum! Brands Inc. in 2009 is 3% along with an escalation rate of 11% in operating profits (Jerzyk 2009, p. 1-2). By the end of 2008, Dominos Pizza's growth rate was 40% in the global retail sales and it has been maintaining a year-to-year growth rate of 6% in this segment (Reuters 2009, p. 1).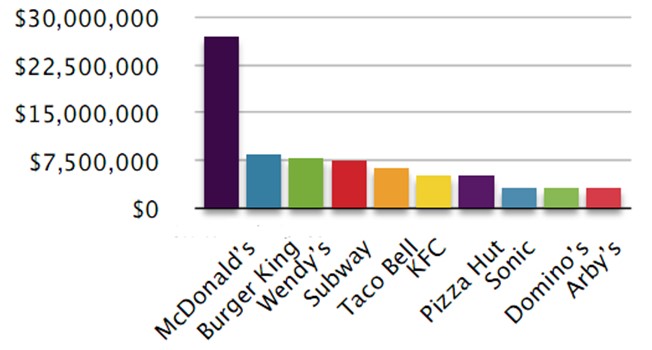 Industry Analysis
Industry analysis helps to know about the economic and competitive conditions of a given industry. Thompson & Strickland (2008, p. 76) provided seven general questions that usually chronologically generate seven categories of industry-based results. This paper is built on four of these seven criteria:
Dominant Economic features
Industries usually differ from one another in terms of their basic criteria, economic determinants. Thompson & Strickland (2008, p. 77) stated several generic key economic determinants as:
Size of the market: the annual sales volume is $106.9 billion, which constituted 81.4 billion of transactions (Datamonitor 2008, p. 1). There are approximately 90.29 billion consumers in the industry.
Chances for competitive rivalry: the firms in the industry need to compete globally with a high level of expertise. The factors those help to gain competitive advantage are convenience, pricing strategy, fastest home delivery, health initiatives, etc.
Growth of the market: growth rate of its market is 4.1% annually (Datamonitor 2008).
Stage in the Product Life Cycle: The growth rate of the industry has seen noteworthy contraction over the past couple of years, which announces the maturity of the fast-food industry (Blanton, et al. 2007, p. 1).
Number of the players in the industry: numerous players with different types of competencies are challenging in the industry. Examples include McDonald's, Yum! Brands, Dominos Pizza, Wendy's, Jack in the Box, Burger King, Barista, etc.
Number of customers: it has numerous customers from all over the world. Almost 70% of adults in the USA like to have fast food (Sterling et al., p. 4). This scenario is also persistent everywhere such as UK, Australia, China, India, etc.
Degree of vertical integration: some major giants such as McDonald's are vertically integrated into their self-controlled operations but it is not persistent in franchise operations. The reason behind the story is having a less effective relationship with franchises around the world (e.g. KFC and McDonald's).
Entry and/or Exit easiness: both entry and exit barriers are prominent in the industry. For example, the entry barriers include brand preferences, product differentiation, learning curve effect, etc. and the exit barriers include psychological costs, fixed costs (e.g. labor payments), etc.
Innovation and development: the competition pressure makes innovation and development a persistent task in the industry. Major brands are trying to distinguish themselves through innovating different new menus, new flavors, etc.

Characteristics of products: several product categories of the industry are quite similar in nature (e.g. burger, fried chicken) but there are also completely differentiated products (e.g. salads, Kid's foods, Adult foods, etc.).
Economies of scale: The top brands enjoy economies of scale due to their ability to select cost-effective smaller suppliers, high utilization of capacity, efficient distribution system, and many to name.
Profitability of the industry: it has been discussed earlier that the industry is one of the most profitable industries with a steady growth rate. For instance, the income growth rates of Jack in the Box, McDonald's, Burger King, and Sonic were 23%, 22.6%, 10.2%, and 47.5% respectively in 2008 (Sterling, et. al., 2009, P. 21).
Competition and Competitive forces
Thompson & Strickland (2008, p. 77) stated that the analysis is required for the firm because without knowing the industry's characters no firm can devise its strategy. The five forces model is persistent in the industry as the following:
Competitive rivalry
In the industry, the cross-company competitive rivalry is very high and dynamic due to the following reasons:
The rivalry deepens when the number of competitors increases (Kotler & Keller 2006, p. 123). In the industry, national and global players are increasing very rapidly. For instance, Barista, an Indian coffee chain, has its business in almost five other countries such as the Middle East. On the other hand, giant global players are operating in more than 50 countries.
The rivalry intensifies when competitors require cutting prices or using other competitive bludgeons to boost sales (Kotler & Armstrong 2006, p. 164). In the global fast-food industry, the competitors are also developing new features to their services to compete. For example, McDonald's builds its restaurants equipped with a playground for children (Abdullah 2009, p-1).
The rivalry further reinforces when there are no or minimal switching costs. The buyers would have the choice to move on to those sellers offering low prices since the offerings of different sellers are quite similar in some segments (e.g. burger, fried chicken, etc.).
The high cost of exiting an industry also increases the rivalry. Such costs include psychological costs, fixed costs for paying out laborers, etc. Since the industry is highly labor-intensive, exiting the industry requires high capital outflow. On the other hand, top players have already made emotional attachments all over the world; hence, it is not easy for them to exit the industry.
The rivalry further increases when competitors of an industry come from different national backgrounds with different competencies, as they usually possess diverse strategic intents and rule-breaking marketing approaches. For instance, Motorola fails due to the aggressive strategic intents of Nokia and Ericsson (e.g. production of both analog and digital wireless phones) (Thompson & Strickland, 2008, p. 84).
The threat of new entrants
The threat of new entrants is relatively low in this industry since the following entry barriers are present in the industry:
Economies of scale: the economies of scale of existing firms make the industry undesirable to new entrants because it forces new entrants either to accept doing a costly and risky move or to accept cost disadvantage with lower profitability.
Disadvantages in case of cost and resource: The existing firms already have access to technology, market leadership in different parts of the world, cheapest access to raw materials, better partners and suppliers, location-based advantages, the experience of years, etc. However, these advantages are not available for a new entrant.
Learning curve effects: if the low-cost operation is a result of learning curve effects either wholly or partly, it is intermittent for new entrants (Besanko, et al. 2007, p. 97). The long-serving firms gain this kind of advantage for their long time experience. For illustration, the advertising philosophy (targeting kids) of McDonald's is the result of their long-term experience.
Brand loyalty: Since building brand loyalty is a slow and time-consuming task, new entrants become helpless in the marketplace. In the industry, major brands have the most portion of market share with a high degree of consumers' brand loyalty.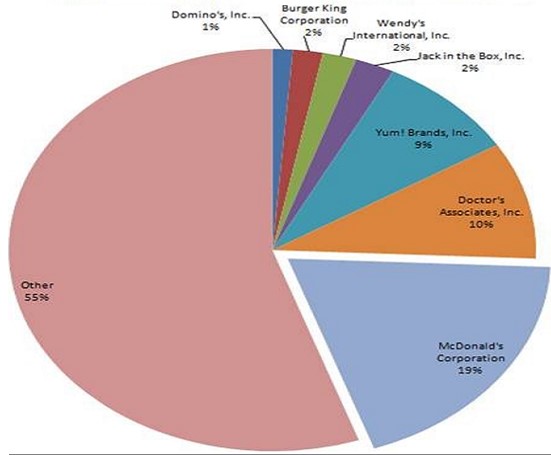 Product differentiation: the global giants found it easy to differentiate their products from others. It has further been examined by the persistent health trends. Hence, new entrants will find it difficult to bit the competition with generic products.
Distribution channels: most giant brands of the industry have their own distribution channels worldwide. These firms have the finest forward (i.e., franchises) and backward (i.e., suppliers of raw materials and complementary good suppliers such as PepsiCo) distribution channels. Therefore, possible new entrants to the firm will get it tough to establish a competitive distribution channel globally in a short span of time.
Regulations: doing business globally requires compliance with different types of host and home countries' regulations such as Environment protection laws, Occupations, Health, and Safety Standards, etc. In Taiwan, every fast-food chain is required to have a suitable throwaway facility for the discarding of recyclables by customers, unless it will face fines up to $8700 (West 2009, p.1).
Threats of substitute products
There are so many sellers of similar types of products with very low switching costs and many options to choose from. The food categories of these firms are the close substitute for each other. For instance, the sandwich segment can be a substitute for the burger segment (Ibrahim 2001, p. 8). Moreover, there are various prominent family restaurants worldwide with a large consumer base. Again, homemade food is still seen as a healthy food option. Hence, the threat of substitute products in the global fast-food industry is high.
Bargaining power of suppliers
David (2008, p. 219) argued that suppliers of a firm are vital for the well functioning of that firm since the quality and availability of the firm's goods are highly dependent on suppliers. There are two tiers of the supplier in the industry, namely, vital suppliers (e.g. Coca-Cola, PepsiCo) and smaller suppliers (e.g. potato suppliers). The bargaining power of vital suppliers in the industry is relatively high. Whereas, the bargaining power of smaller suppliers in the industry is low. Since smaller suppliers are large in number, the giant fast-food chains have numerous options to select.
Bargaining power of buyers
buyers of the industry have high bargaining power when they are small in number. However, the fast-food industry has been experiencing a large consumer base (i.e., 90.29 billion consumers). Since products of the industry are not aimed at a niche market or supplied to meticulous customers, the fast-food chains can easily find their consumers. Hence, the bargaining power of buyers in the industry is low.
Driving forces in the industry
Thompson & Strickland (2008, p. 84) argued that the driving forces can result in changes in the industry and in its competitive conditions. The most prominent driving forces of the industry are:
Globalisation of the industry: the global fast-food industry is a highly globalizing industry. Most of the global giants in this industry have their operations in several continents and in more than fifty countries. For instance, KFC has its operation in almost 109 countries, Pizza hut had its function in 94 countries in 2004, Dominos Pizza has its business in more than 50 countries, etc. (KFC 2009, p.1, McDonald 2009, p.1 & Pizza hut 2009, p.1)
Long-term industry growth rate: the long-term industry growth rate of the industry would be continued but at a slower rate. In 2012, it is forecasted that the transaction volume would be $130 billion in this global industry (Datamonitor, 2008).
Changes in consumers' preferences: though the consumer base of the industry is increasing rapidly they possess preferential changes. At present, consumers are demanding more health-friendly fast foods (Warsi & Nisa 2005, p. 9). For instance, an analysis reveals that 65% of US consumers try to get healthier foods and 33% of US consumers do not (Sengupta & Abrol 2009 P. 3).
Marketing innovation: different firms in the industry have performed a wide range of innovations. Nowadays, firms are spending more on advertising and atmospheric changes of their outlets. The production of new flavors and menus has also been highly adopted.
Changing lifestyles: lifestyles of people are changing across the globe. Most people are joining the workforce. Hence, takeaway foods get more and more familiar. However, a significant part of consumers is concerned with health issues (e.g. obesity) but they are not leaving the industry because of healthy diets innovations. For instance, McDonald's 'Go Active! Happy meals' (Blanton, et. al. 2007, p. 4).
Key factors for competitive success
The key success factors of the industry include
Differentiation: product differentiation has been the prominent key success factor. Now, the players of the industry also have to differentiate themselves in relation to atmospheric, unique flavor, promotion, and menu variation issues i.e., McDonald's 'Go Active! Happy meals' for Kids and Adults, KFC's three different flavor chickens namely pressure-cooked, fried and roasted, etc. (Blanton, et. al. 2007, p. 4).
Competitive prices: since the offerings of fast food sellers are quite analogous to one another in some segments, consumers find it is easier to get some quality foods at a comparable price from any store. Consequently, the firms have to compete on lowering product costs by undertaking price reduction strategies.
Channel of distribution: The firms that have strong channels of distribution (e.g. franchises) across different continents enjoy more sales and a large consumer base, e.g. McDonald's. The short delivery times and low distribution costs are the measures of choosing a channel of distribution.
Convenient locations: Fast food is a takeaway food and hence, consumers usually gather in their convenient fast food stores. Therefore, to perform the detached feat in this industry, firms are supposed to have the advantage of being in convenient locations (i.e., super malls, highways, airports, universities, etc.).
Retention of employees: employee turnover is always detrimental to an organization's progress. The investment in those employees became a costs burden for the firms. Moreover, firms lose their expertise. The employee turnover rate in the industry is almost 85% (Darshan, 2009, p. 24). It is one of the reasons for poor customer service.
Franchise management: since the major portion of giants' profits comes from franchisees, the firms should be effective in maintaining franchises. Darshan, (2009, p. 8) stated that McDonald's is very poor in franchise management. The same is also true for other giants such as KFC, Domino's Pizza, etc.
Recommendation
New entrants
Brand awareness is always a key to gain success in an industry. However, the newborn firm can hardly gain brand awareness in a saturated market. Therefore, the possible entrants should enter into the industry by buying existing firms. It will help the entrants to gain immediate brand awareness and will assist to work effectively with vital suppliers (e.g. soft drinks sellers). The new entrants must invent their products based on market research, seeking what consumers demand. It should be carried out through field research (e.g. by issuing questionnaires) and desk research (by investigating existing information in the market). They must have differentiated products targeting different market segments such as kids, adults, health-conscious, junk food lovers, etc. The promotional activities must also be formulated according to the consumer segments. For instance, cartoon-based advertisements for the kid segment.
Existing firms
The existing players must comply with the following:
Human resource management: before innovating new products, the existing firms must create an employee-oriented job environment. For illustration, firms can comply with occupations, health, and safety standards to motivate their employees.
Product differentiation: the ongoing product differentiation should be continued. The firms should invest more in their research and development activities. For instance, the firms can offer seasonal offerings to freshen up their menu list and to gain consumer preferences.
Franchise management: The proper management of franchises is necessary to gain vertical integration, more sales growth, and an efficient distribution system. For instance, the firms can increase control over franchises.
More healthy options: the growing health consciousness among the community leads to the demand for nutritious foods. Besides, salads and light snacks, for example, firms can reshuffle the menus by introducing dishes that are prepared from organic foods, without artificial flavor or color.
Conclusion
The global fast-food industry remains an attractive investment sector with a steady growth rate of 4.1%. 90.29 billion Consumers have strengthened the foundation of the industry. McDonald's has the most global market share of 19%. The innovation and development of products have been a driver of competitive advantage. The competitive rivalries in the market are very high due to the presence of many actors from different countries, minimal product/brand switching costs, and high exit barriers. The threat of new entrants in the industry is relatively low because of some entry barriers such as consumer preferences, brand loyalty, regulations, giant brand's economies of scale, etc. The intimidation of substitute products is high due to the nature of product categories.
The bargaining power of crucial suppliers appears to be high, whereas smaller suppliers tend to have low bargaining power. On the other hand, the bargaining power of consumers is low because of the existence of a large consumer base. The alterations in lifestyles and consumer preferences have been changing the competitiveness of businesses. Product differentiation, convenience, employee retention, and franchise management have become necessary to gain a competitive advantage. The new competitors should not enter the industry as a newborn firm, rather they should merge with existing firms to gain brand awareness and ease of doing business with vital suppliers, etc. On the other hand, the existing firms must observe the new market trends (i.e., healthy foods) and recommend their internal management (i.e., human resource management and franchise management) accordingly.
References
Abdullah, F. S. M. 2009. Strategic Management Case Study on Mcdonalds. Web.
Anon. 2009. Fast Food Industry. Web.
Besanko, D., Dranove, D., Stanley, M. & Schaefer, S., 2007. Economics of Strategy. 4th ed. John Wiley and Sons.
BIS Foodservice. 2009. Fast Food in Australia. Web.
Blanton, K., et al. 2007. The McModel: Ensuring the future of the fast food industry. Web.
Brook, O., 2009. Financial Press Release: McDonald's Momentum Continues: April Global Comparable Sales Up 6.9%. Web.
Darshan. 2009. Industry: Fast Industry: Fast Food Brand: Mc D Brand: Mc D Competitor: Competitor: KFC. Web.
Datamonitor. 2008. Fast Food: Global Industry Guide. Web.
David, F., 2008. Strategic Management: Concepts and Cases, 12th ed. Prentice Hall.
Ibrahim, N., 2001. KFC and the global fast-food industry. Web.
Jerzyk, T., 2009. Yum! Brands, Inc.: News. Web.
KFC. 2009. About us: Kentucky Fried Chicken. Web.
Kotler, P. & Keller, K. L., 2006. Marketing management. 12th ed. New Jersey: Pearson Prentice Hall.
Kotler, P., & Armstrong, G. 2006. Principles of Marketing. 11th Ed. New Delhi: Prentice-Hall of India Private Limited.
Lycos Inc. 2008. Pizza: Domino's Pizza. Web.
McDonald. 2009, McDonald's Canada: FAQs. Web.
Pizza hut. 2009. Company history of Pizza hut. Web.
Porter, M. E., 2004. Competitive Strategy. Export Edition, New York: The Free Press.
Reuters. 2009. Domino's Pizza Announces 2008. Financial Results and 2009 Outlook. Web.
Sengupta, K. & Abrol, I. 2009. Export of Indian Snack Food Franchise to USA. Web.
Sterling, A., et al. 2009. Industry Analysis: Fast Food Industry. Web.
Thompson A. & Strickland, A. J. 2008. Strategic Management: Concepts and Cases. 13th ed. McGraw-Hill.
Warsi, K. N. & Nisa, S., 2005. Food retailing: fast food industry. Web.
West, L. 2009. Progress is Slow on Reducing, Reusing and Recycling Fast Food Waste. Web.