The importance of accounting
The benefits of accounting (as a career) are numerous when considered critically. Various organizations are in need of accountants to manage their financial obligations, uphold bookkeeping, and help in making prospective financial choices (Rajasekaran 2011, p. 8). Thus, it is important to study accounting (as a profession) due to its unlimited benefits in the society. Contextually, accounting possesses numerous employment opportunities in diverse economic sectors. Jobs are guaranteed in the industry since most organizations rely on the services offered by accountants in order to attain their financial goals. It is important to understand various financial prospects connected to accounting as a credible career. Additionally, it is possible to advance to other sectors in situations where one has strong accounting backgrounds. Accounting acts as a baseline on which other financial disciplines lie with precision. It provides both basic and advanced financial prospects for organizational and personal development. It offers credible opportunities for balancing budgets and checkbooks with accuracy and promptness required.
Another appealing concept in the context of accounting is its relevancy in the current complex regulatory systems. In this context, Roles of financial officers have escalated credibly in the recent past. They must possess the desired competencies meant to assists companies and individuals in diverse financial sectors. This is a vital consideration when judged critically in the context of accounting, financial prospects, and other relevant provisions. Concurrently, experienced and publicly certified accounting professionals are helpful in various organizations and public sectors. Accounting offers an opportunity to establish, ratify, manage, and substantiate financial records helpful in diverse financial situations. Additionally, accounting concepts are universal thus can be applied globally in different economic sectors. Various organizations can adjust their accounting compulsions to meet financial stipulations in the realms of management and other financial obligations. This is a critical provision when scrutinized decisively. Precisely, accounting is important in recording financial transactions systematically for easy references and utilization. It also helps in reporting and analyzing fiscal transactions within an organization for prospective utilizations. The importance of accounting cannot be underrated following its contribution in the financial management of various organizations as indicated earlier. Accounting (based on its principles) helps in communicating financial information regarding an organization to shareholders and other relevant entities.
Objectives of Accounting
Accounting possesses numerous objectives when scrutinized critically in the context of financial and transactional management. The principal objective of accounting is to establish, ratify, validate, and keep financial records with regard to transactions. It is crucial to comprehend these provisions in the context of accounting and other relevant provisions mentioned earlier. From accounting principles, financial records should be precise, comprehensible, and informative. Good financial records (in the realms of transactions) are helpful for any organization in making future business and financial prospects. It is vital to consider such provisions with regard to transactions. Additionally, accounting (as a financial discipline) aims at keeping precise fiscal records emanating from revenues and expenditures. This includes preparation of payrolls and other financial obligations regarding employees.
Another objective of accounting is to enable any given company analyze its financial performances. Accounting provides credible financial statistics helpful in making prospective business decisions. Precisely, its provisions are helpful in knowing the status of the concerned business in the realms of financial performance and other fiscal provisions. Another objective of accounting is to capture and analyze financial transactions as indicated earlier. Evidently, it is through accounting concepts that an organization can analyze its financial status with regard to transactions. Accounting endeavors to unveil or ascertain whether an organization is making a profit or not. This is helpful in making critical business decisions. Precisely, accounting aims at keeping systematic records, protect organizational properties, and provide credible reports on financial matters within an organization. Additionally, it aims at ascertaining financial position of any organization. This is helpful in discerning how an organization is performing business wise. Another objective of accounting is to facilitate rational decision making within an entity. From financial records, one is able to make credible decisions on operations of a business. Accounting is tasked to collect, analyze, and report financial finding to the concerned entities.
The roles of an accountant
An accountant has numerous obligations with regard to his or her duties. Contextually, an accountant is expected to prepare periodic profit and loss statements for the entire organization. Additionally, they are mandated to prepare monthly closing and cost accounting reports (for all departments) for a systemic evaluation. These are critical roles expected in any performing organization. Additionally, accountants are expected to collect, compile, and analyze financial documents. The analyzed financial information can be utilized in the preparation of entries to account for future use. Accountants should also prepare general ledger accounts while recording any business transaction for prospective analysis. These are critical provisions when considered in the business realms. It is important to understand the aspects of bookkeeping when considering the roles of an accountant. Evidently, accountants are subjected to bookkeeping of the company's financial records. This is done periodically in order to unearth financial records.
Accountants are also mandated to institute, uphold, and harmonize the execution of accounting and accounting control measures. These provisions are helpful for a prosperous growth of any given company. Financially, it is crucial to conduct accounting control measure to curb fiscal mishaps that might occur within an organization. In this context, it is agreeable that accountants are used as financial control instruments within organizations. Concurrently, accountants evaluate budgets and expenditures for organizational contracts, grants, and funding. They are also expected to establish and resolve accounting discrepancies faced by an organization. This follows their understanding of financial issues. Accountants are involved in the preparation and evaluation of budgets, proceeds, payrolls, expenditures, invoices, and other accounting records relevant in this context. Additionally, they are mandated to handle financial data with precision for coherency and comprehensibility. Based on their experience and other relevant provisions, they are expected to establish and present comprehensive financial statements to the management for decision making purposes. They prepare financial reports for auditing, interact with auditors, and execute the recommendations made for appropriate improvements.
Roles of AIS (Accounting Information Systems) in supporting achieving the objectives of accounting
Accounting Information Systems gather, store, and process financial and accounting records within an organization. This is a computerized system where all data entries regarding transactions and other financial provisions can be entered and processed automatically for easy comprehensibility and reporting (Hall 2012, p. 361). Consequently, decision makers can use this information for business/prospective purposes. It is crucial to understand the context of these provisions before rendering them futile in the context of accounting. AIS has revolutionized accounting sector through its provisions and reliability in executing accounting duties. This indicates the relationship that exists between accounting and AIS as indicated later in the paper. It is crucial to track accounting activities through a computer-based system as evident in the AIS's context.
This shows the reliability that exists among the mentioned AIS and other considerable financial provisions. Another role of AIS is to produce a statistical report, which the concerned management (of any given organization) can use for decision making purposes. The software used in this context is capable of handling and analyzing all accounting records relevant in this context. AISs also mechanize and streamline reporting procedures with regard to accounting. The system is potentiated to capture, compile, and analyze financial and accounting records as indicated earlier. This is a critical provision when considered critically in the context of financial records and prompt decision making processes. Concurrently, AIS retrieves data from a centralized database and transforms it to produce a synopsis of the financial undertakings executed by an organization. The information produced by AIS (ultimately) can be used easily by business analysts. This is a critical provision in various contexts. It is important to understand various provisions of AIS in the context of its applicability and usability.
The relationship between AIS and Accounting
There is a considerable relationship between AIS and accounting (as a discipline). Evidently, AIS utilizes accounting concepts to collect, process, and present financial and accounting information indicated earlier. Being a computer-based system, the applied software has been generated, customized, and configured to follow accounting principles in the collection, compilation, and analysis of data. Precisely, the usability and applicability of accounting concepts has been configured to concur with accounting obligations in various contexts. This is evident in the preparation and presentation of information as exhibited before. Additionally, AIS has lessened the workload experienced in accounting especially in large organizations where transactions are countless (Hall 2012, p. 39). It has provided precise, reliable, and prompt collection and analysis of financial transactions.
This is a critical provision when scrutinized critically with respect to accounting. It is easy to process financial statements easily using the system compared to other means. Accounting and AIS are connected in numerous ways based on their credibility and other considerable financial concerns. It is important to understand the various aspects of AIS in order to substantiate the relationship amidst the two phenomena. AIS has promoted internal control and financial security procedures with respect to accounting and financial information. Contextually, automating every aspect of accounting has enhanced the credibility of the information attained for plausible decision making. Precisely, AIS has promoted informed decision making procedure using accounting information. This indicates the relationship between the two provisions with respect to financial configuration. Engaging technology in the realms of accounting is a critical provision, which is only provided by AIS. The statistical reports provided by AIS can be utilized by various organizations interested in the financial accounts of the concerned company.
No-Wear Products of Hibbing, Minnesota (Payroll Processing)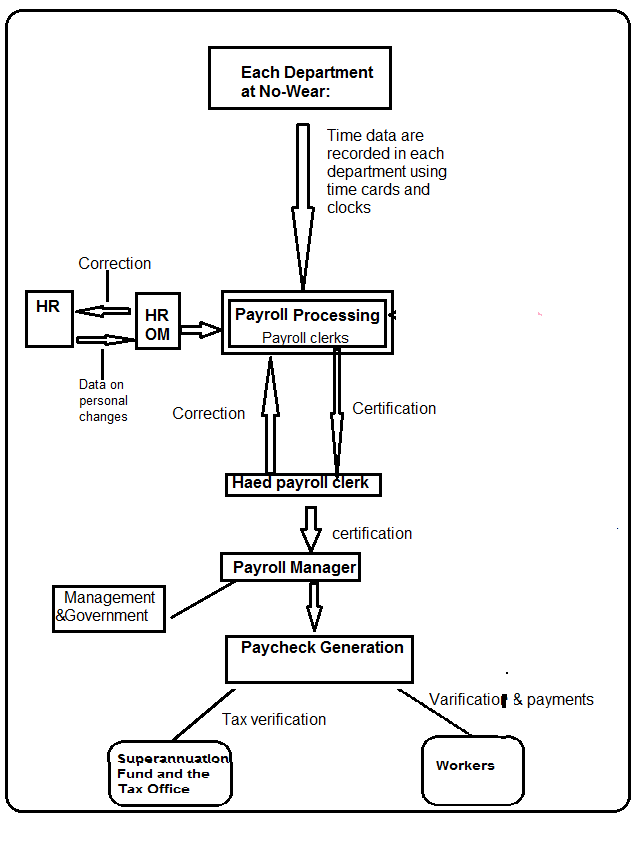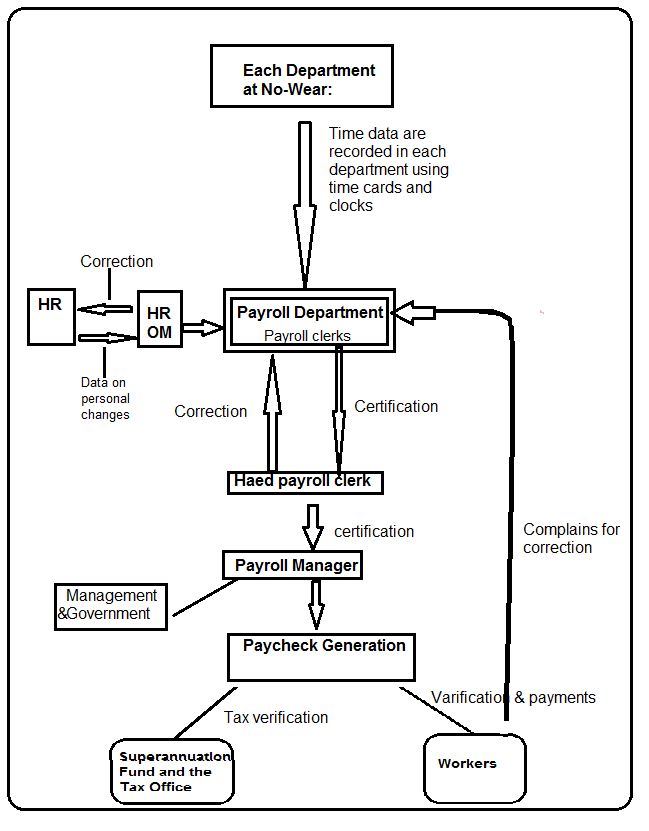 Document/System flowchart documenting payroll processing system at No-Wear Products
In this context, information regarding employees flows from every department in the organization for subsequent compilation (Satzinger, Jackson & Burd 2008, p. 208). Various departments including HR must collaborate to ensure that all information provided are precise and accurate.
List of Reference
Hall, J 2012, Accounting information systems, South-Western Cengage Learning, Mason, OH.
Rajasekaran, V 2011, Finacial Accounting, Pearson Education, New Delhi, India.
Satzinger, J., Jackson, R & Burd, S 2008, Systems analysis and design in a changing world, Course Technology, Cambridge MA.