Executive Summary
Whittard of Chelsea is a British company specializing in fine tea, coffee and cocoa and quality equipment. It is looking into entering the American market, which may be especially attractive due to the growing demand for home consumption supplies amidst the pandemic. Because of the macro-environmental factors, Whittard of Chelsea is better off considering online shopping and delivery rather than opening coffee shops and tea rooms. Catering to the desired segment requires a differentiated marketing strategy and market positioning suggesting high quality and class. The high-risk high-reward venture may be realized using a differentiation generic strategy and following the steps suggested by the Uppsala model.
Introduction: Background, Product Line, Financial Data
Whittard of Chelsea is a British company specializing in coffee, tea and associated products. Founded in 1886, the company had remained a family business until 1973. In the 1990s, Whittard of Chelsea became of interest to investors, which enabled its quick expansion into a chain of about 120 shops and tea rooms. The 2008 financial crisis caused a bankruptcy, after which the chain quickly shrank, and by now, only fifty shops in the United Kingdom and one in Taiwan had stayed in business.
Currently, the Whittard of Chelsea's product line includes tea, coffee, hot chocolate, tableware and equipment, such as coffee grinders, coffee makers, teapots and infusers. In addition, the company sells tableware and offers customizable gift collections. The accessible information about the financial health of the company suggests that in 2020, the revenues reached £34.7 million with net profits of £251,000 ("Annual Financial Report", 2020). There is no data regarding the current market share, but one can infer that the company claims a small share of the UK's specialty market, which, on its own, is a minor segment of the beverage market. The purpose of this report is to critically assess the company's chances in the US market and give recommendations. The report comprises PESTEL-based macro-environmental analysis, market entry modes with the selection of the most appropriate one, STP strategy, and generic entry strategies.
Macroenvironmental Analysis
US Market Overview
The United States remains one of the most desirable markets for foreign business expansion. Since the 2008 crisis, the US economy has been showing a stable growth of around 2-2.5% annually ("GDP growth (annual %) – United States", 2020). The World Bank's Doing Business Index provides objective measures of business regulations in countries around the world. According to the Index that draws on data from two cities – Los Angeles and New York City, the USA belongs to the high-income category and ranks sixth among the other 180 countries (The World Bank, 2020). New York City in particular is a flourishing, multicultural business hub with a customer base that may be accepting of foreign specialty goods.
PESTEL Analysis
The abbreviation PESTEL stands for political, economic, social, technological, environmental and legal which are all elements of the context in which Whittard of Chelsea is running its business operations. From a political perspective, it is estimated that Brexit will not affect business ties between the US and UK (Ellyatt, 2019). If anything, the US priorities making a trade deal that would strengthen the relationships with its longstanding overseas trade and business partner (Ellyatt, 2019).
Economic and social factors are intertwined when it comes to the current external environment. The Covid-19 outbreak has wreaked havoc on the US economy, and the measures aimed at containing the virus spread have significantly hurt the restaurant sector. Compared to Brits, 48% of Americans' tea consumption happens outside the home (Barry, 2020). The same goes for coffee: coffee-to-go is a staple in American culture; however, during the pandemic visits to coffee shops took a nosedive, affecting a quarter of the market ("U.S. coffee shops will only return to pre-pandemic sales", 2021). Even coffee shop giants like Starbucks, JDE Peet's and Dunkin' Brands saw a 24% decrease in sales ("U.S. coffee shops will only return to pre-pandemic sales", 2021). Therefore, the economic decline and the uncertainty and fragility of the restaurant sector make opening new coffee shops under a relatively unknown chain a risky venture.
Moreover, there are legal restrictions in place that prevent restaurants from ramping up their business. Starting March 19, 2021, New York City restaurants are allowed to operate at a 50% capacity (Adams & Warerkar, 2021). Certainly, it is an improvement from a maximum of 35% capacity allowed prior to March 19 (Adams & Warerkar, 2021). Yet, only using half of the seats and still paying salaries and covering the same rent expenses means that restaurants will have a hard time breaking even.
However, the pandemic offers an opportunity to tap into the market for coffee and tea home consumption. As reported by Barry (2020), in the US, tea has been resilient to economic shocks and showed low price elasticity. Certain kinds of tea outperformed others: apparently, during the pandemic, consumers are focusing on their healthy and immune systems and prefer herbal teas (Barry, 2020). Similarly, the Covid-19 changed home coffee consumption in the United States. In 2020, the US at-home coffee market grew by 4.9%, while in the previous six years, it had only increased by 3.9% ("How Covid-19 changed home coffee consumption", 2020). Apparently, people are trying to recreate their beloved beverages at home, which means that they are ready to invest in quality ingredients and equipment ("How Covid-19 changed home coffee consumption", 2020).
Beverage consumption is not only about nourishment and meeting basic needs. Tea and coffee are a part of the culture; both beverages have associated rituals, traditions and assumptions. Ágoston et al. (2018) found that taste was only one of six motives for drinking caffeinated beverages. Other reasons included the desire for alertness, habit, mood, socialization and symptom management (Ágoston et al., 2018). Beverage consumption is embedded in US work culture, which does not change with a major shift toward working from home. It could be that the working-from-home trend is here to stay, and even once the pandemic subdues, many employees will prefer the home office to commute or work remotely at least part-time.
As for the last two aspects of the PESTEL tool, technological and environmental factors also present an opportunity rather than a threat for Whittard of Chelsea. The Covid-19 pandemic provided an impetus for the accelerated development of online shopping. In 2020, the US e-commerce industry grew by 32.4% compared to the previous year (Ali, 2021). If in 2019, the share of e-commerce sales out of all sales was 15%, in 2020, it reached almost 20% (Ali, 2021). From the environmental perspective, making tea and coffee at home is more environmental than using plastic cups and disposable tea bags. According to the Pew Research Center, three-quarters of Americans are concerned about the environment (Anderson, 2017). One-fifth of Americans make a conscious effort to reduce their environmental footprint (Anderson, 2017). Brands can leverage the fact that consumers are becoming more environmentally aware these days and work toward sustainable solutions.
The Chosen Product
The PESTEL analysis has demonstrated that opening a coffee shop chain in New York City amidst the pandemic is not an exactly tangible idea. Legal restrictions low permitted capacity and decreased traffic to coffee shops and tea rooms do not speak in favor of physical outlets. However, building Whittard of Chelsea's presence in the US market may take the form of offering quality tea, coffee and equipment for home consumption, which will be empowered with the use of online technologies.
Market Entry Modes
Different Market Entry Modes
Market entry mode is defined as a manner of a company's expansion into a non-domestic market. There are several modes of market entry, but this section will only concern itself with three. A strategic alliance refers to a mutual effort made by two distinct companies in order to undertake a business project. Unlike a joint venture, a strategic alliance is less binding because the companies do not pool their resources. An international merger or acquisition implies that one or more legal entities under different jurisdictions are dissolved for the sake of their consolidation into a pre-existing business. Foreign direct investment refers to direct investment in facilities in a foreign market, which is done by either establishing a new company or acquiring an existing one.
Previous Market Entry Modes
Whittard of Chelsea is predominantly present in its domestic UK market with only two outlets overseas in Taiwan. The expansion to the Asian market started in 2019 when the UK specialty company opened one coffee shop in Breeze Nanshan's department store and a tea room in Taichung's newly opened Mitsui Mall (Retail Leisure International, 2019). The entry into Taiwan was motivated by the company's efforts to revitalize its brands. Whittard of Chelsea sought to appeal to Asian customers who first became familiar with fine teas, coffee and cocoa in the UK. The available information does not state directly which mode of entry Whittard of Chelsea chose for Taiwan. However, Retail and Leisure International (2019) reports that the stores have been opened in partnership with Ruentex Group. It might be that Whittard of Chelsea in Taiwan is a joint venture or a strategic alliance.
Preferred Market Entry Mode
After the consideration of all relevant factors, one may conclude that foreign direct investment (FDI) is the optimal market entry mode for Whittard of Chelsea. A definite strength of this entry mode lies in the mutual benefits for both the parent company's country and the recipient country. Multinational companies use FDI as a vehicle for expanding their international footprint. Alfaro (2017) argues that "certain assets are worth more under foreign control," which speaks in favor of FDI. Research shows that FDI becomes especially profitable when a recipient country's human capital meets a certain threshold, which is the case for the United States.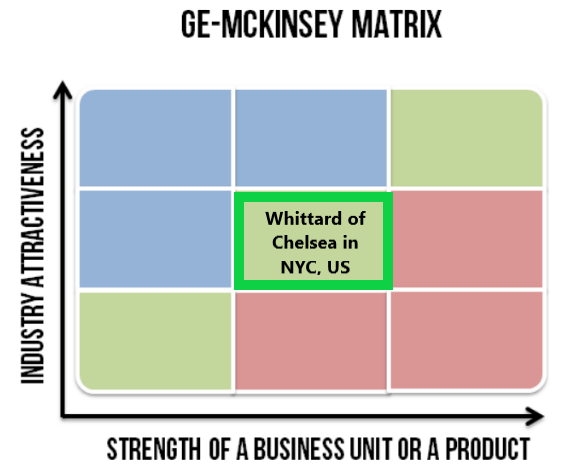 Like any other business, Whittard of Chelsea faces the problem of resource scarcity. McKinsey Matrix is an instrument that helps to manage business portfolios and weigh the pros and cons of investing in a certain product. When it comes to industry attractiveness, the US coffee market is estimated to grow by 6.02% in the next year, while the US tea market will increase by 5.74% ("Coffee", 2021; "Tea", 2021). Macroenvironmental factors, such as a boost in online shopping sales, consumers' preference for homemade beverages and working from home, speak in favor of the industry's attractiveness. At the same time, there are restraining factors, such as economic decline and lockdown-related legal restrictions. As for the competitive strength of a business unit, Whittard of Chelsea does not have a considerable total market share and a market share compared to rivals. However, the company has a distinct brand and a high level of product differentiation. Therefore, Whittard of Chelsea's expansion into the NYC market would score two on the X-axis and the Y-axis, putting the opportunity in the "green" zone.
Segmentation, Targeting and Positioning
Customer Profile for the New Market
Market segmentation refers to a process of aggregating potential buyers based on characteristics that dictate their needs. For Whittard of Chelsea, the said characteristics may include:
Geographic. Region: New York City, US. Density: Urban.
Demographic. Gender and age: Males and females aged 25-40. Occupation: post-graduate students and full-time employees working or studying from home.
Behavioral. Benefits sought: The customer wants to recreate the quality of beverages served at coffee shops and tea rooms, so they look into buying ingredients and equipment from a top-notch brand.
Targeting Strategy
In marketing, targeting refers to reaching out to specific groups of customers. Based on the customer profile, it becomes apparent that the best targeting strategy is differentiated marketing. Differentiated marketing refers to making separate offerings to the selected market segments (Morgan et al., 2019). The chosen strategy is mid-way between mass and niche marketing. Without a doubt, Whittard of Chelsea does not sell staple or commodity goods, but at the same time, its niche on the market is not that narrow to select a concentration strategy. When done right, differentiated marketing creates a strong, entrenched presence; however, the costs of making separate offers and marketing plans may be higher than with other strategies.
Perceptual Map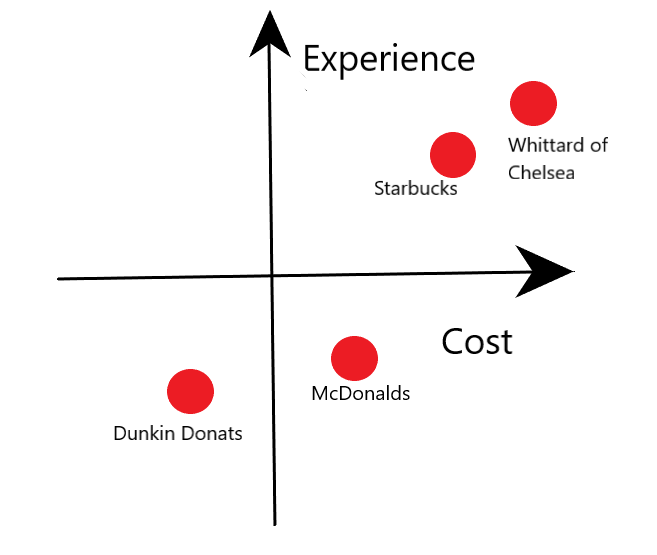 A perceptual map is an instrument that helps to visualize how a customer perceives a brand compared to their perception of the said brand's rivals. Image 2 demonstrates a perceptual map for Whittard of Chelsea and its position against other coffee and tea companies. The graph uses two axes – cost and experience – where the latter refers to the totality of the impact that a product has on a customer at a physical and emotional level.
Whittard of Chelsea specializes in high-end fine teas, coffee, cocoa and equipment, which juxtaposes it against McDonald's and Dunkin Donuts on the map in terms of both cost and quality. Like Whittard of Chelsea, Starbucks appeals to its customers by providing a cozy environment inside its coffee shops. However, the brand is also associated with a fast-paced workflow when the focus of coffee consumption is not on pleasure but on keeping up the optimal levels of energy. In contrast, Whittard of Chelsea markets its coffee and tea experience as something to be savored and enjoyed to the fullest.
Strategy
Porter's Generic Strategy
Whittard of Chelsea is not exactly experienced in international expansion, which presents unique costs and challenges. Therefore, entering a mature and dense market in a developed country will require a comprehensive and thorough strategy. The theory of generic strategies emerged in 1980 and was authored by American academic and economist Porter. Generic strategies reflect the choices made by an MNE regarding both the type of advantage that it wants to use to set itself apart from its contenders and the scope of impact. Porter discovered that there are three main advantages that an MNE might want to pursue – low costs, differentiation and focus (Raksha, 2015). Later, Porter's ideas received criticism because they assumed that a generic strategy had to revolve around only one aspect.
Today, it is suggested that for some MNEs, it is possible to both build cost leadership and differentiate their products or services, or in other words, find a middle ground.
According to Porter, if a company is seeking to sell to its target audience in most or all segments of a market based on offering the most affordable price, its key strategy must be cost leadership (Raksha, 2015). If a company wants to capitalize on attributes other than prices such as higher product quality, service, or unique design, it is employing a differentiation strategy. Because in this way, products or services have a point of difference compared to their counterparts, a higher price may be justified (Raksha, 2015).
Due to the characteristics of the product line, Whittard of Chelsea cannot benefit from cost leadership. The company sells fine coffee and teas, so setting low prices for goods that are worth more may attract customers but will not result in sustainable profitability in the long run. Moreover, cost leadership would contradict the chosen market positioning that indicates that Whittard of Chelsea's products is high-end and high-quality. Therefore, the optimal generic strategy is differentiation according to which the UK-based company should demonstrate that it has something unique to offer to American customers. In particular, the brand needs to market itself as an embodiment of English traditions, class and exquisite experience.
Uppsala Model
The Uppsala Model is one of the most prominent theoretical models emerging from Nordic School and International Business Studies. Developed in the 1970s, the Uppsala Model served as an alternative to existing models that, according to the model's authors, failed to account for cultural differences and obstacles to internationalization (Forsgren & Johanson, 1992). Johanson, Johanson and Vahlne of Uppsala University noticed that companies typically leaned toward expanding into a nearby market and establishing their initial presence through export rather than foreign sales subsidiary or foreign production (Forsgren & Johanson, 1992). Hence, the Uppsala Internalisation Model states that the process comprises four indispensable steps: (1) irregular export activities; (2) export via independent representative; (3) a foreign sales subsidiary and (4) transition to foreign production/manufacturing (Forsgren & Johanson, 1992). It is assumed that taking these steps one by one allows a company to "test the waters" and gradually increases market commitment.
From the standpoint of the Uppsala Model, the USA is not exactly a "nearby market." Surely, the two countries share the language and some cultural attributes, such as individualism and low-context communication. Yet, the US is geographically remote and may not have an established tea culture. Tapping into the North American market is likely to be a high-risk high-reward venture, which is why it only makes sense for Whittard of Chelsea to take steps suggested by the Uppsala Model. The expansion may start with exports to the USA and proceed to open stores and produce goods locally.
Conclusion and Recommendations
Because of the macro-environmental factors, such as the Covid-19 pandemic, legal restrictions and the economic decline, Whittard of Chelsea may find it difficult to open coffee shops and tea rooms right away;
Social and technological trends suggest that Whittard of Chelsea might benefit from focusing on selling coffee, tea, cocoa and equipment for home consumption;
The preferred mode of entry is foreign direct investment, which will allow for keeping certain assets under foreign control and enjoy benefits like exchange rate stability. Though previously, Whittard of Chelsea expanded through a joint venture, doing it again may create issues such as splitting profits and controlling the shares of investment;
The market segment that Whittard of Chelsea should target is males and females aged 25-40 who live in urban areas, work from home and appreciate fine tea and coffee. The best targeting strategy is differentiated marketing, and the optimal market positioning is costly but high-quality.
Whittard of Chelsea is likely to benefit from a differentiation strategy and following the Uppsala Model.
References
Ágoston, C., Urbán, R., Király, O., Griffiths, M. D., Rogers, P. J., & Demetrovics, Z. (2018). Why Do You Drink Caffeine? The Development of the Motives for Caffeine Consumption Questionnaire (MCQ) and Its Relationship with Gender, Age and the Types of Caffeinated Beverages. International journal of mental health and addiction, 16(4), 981–999. Web.
Adams, E. & Warerkar, T. (2021). NYC Restaurants can expand to half capacity indoors starting March 19, Cuomo says. Eater New York, Web.
Alfaro, L. (2017). Gains from foreign direct investment: Macro and micro approaches. The World Bank Economic Review, 30(Supplement_1), S2-S15.
Ali, F. (2021). Data dive: How COVID-19 impacted e-commerce in 2020. Digital Commerce, Web.
Anderson, M. (2017). For Earth Day, here's how Americans view environmental issues. Pew Research, Web.
Annual Financial Report. (2020). London Stock Exchange, Web.
Barry, M. (2020). US tea home consumption increases due to Coronavirus. Euromonitor International, Web.
Coffee. (2021). Statista, Web.
Ellyat, H. (2019). What Brexit could mean for the US economy. CNBC. Web.
Forsgren, M. & Johanson, J. (eds.). (1992). Managing networks in international business. Gordon & Breach.
GDP growth (annual %) – United States. (2020). World Bank. Web.
Morgan, N. A., Whitler, K. A., Feng, H., & Chari, S. (2019). Research in marketing strategy. Journal of the Academy of Marketing Science, 47(1), 4-29.
Raksha, N. (2015). Competitive strategies as an effective instrument of enterprise development, Ebsco Index, 3(4), 69-76.
Retail & Leisure International. (2019). Whittard of Chelsea opens in Taiwan. Web.
Tea. (2021). Statista, Web.
U.S. coffee shops will only return to pre-pandemic sales in 2023 – report. (2021). Reuters Staff. Web.
The World Bank. Economy Profile – United States. Doing Business 2020. Web.