Introduction
Recently, Amazon has declared its intentions to acquire Zoox, a tech company specializing in developing driverless taxis. This report aims to determine Amazon's external and internal environmental forces that affect the conduct of business as well as the profit maximization process. The external analysis will incorporate the Five Forces developed by Porter as well as the Political, Environmental, Socio-cultural, Technological, Economic and Legal (PESTEL) framework, while the internal analysis will use Value Chain and VRIO strategies. In the end, the SAFe structure will be evaluated to determine the viability of Amazon's acquisition strategy uses that directly contributes to its success.
Amazon's Background
Amazon.com, Inc. is a Washington-based company that operates as a multinational entity, while providing cloud computing, digital streaming, e-commerce and artificial intelligence services to local and international clients. Amazon Inc. trades publicly as Amazon and operates in the information technology industry. With the acquisition of Zoox, it will enter into a new industry of driverless cars and self-driving taxis (Hamilton, 2020). Amazon's strategy has been expanded through investment and increasing the product line to provide more services to the potential and existing clientele base.
External Analysis
PESTEL and Five Forces
Political: Amazon operates in the IT industry with its main competitors being Alibaba, Netflix, Apple, Facebook, Microsoft and Google. As an organization operating in the US, Amazon is directly affected by the political activities taking place in the country. Significant political stability in the country allows Amazon to maximize its profit-making abilities since the market can successfully purchase items with little or no obstructions or distractions from government activities. Countries that purchase items from Amazon's political stability influence the ability of the company to generate income (Yadav and Sagar, 2018). With the acquisition of Zoox, Amazon will be more vulnerable to political stability in the state since driverless cars still lack regulation and, in some states, are prohibited from use (Hamilton, 2020). Hence, to operate Zoox and develop this brand, Amazon will require a beneficial political environment, where politicians and lobbyists support the development of driverless cars.
Environmental: as a company, Amazon values the fact that a healthy environment affects all companies since the well-being of customers is directly related to the profits realized at the end of each operating period (Akter et al., 2016). Amazon's ecological interest could be considered an opportunity since its active participation in global factors such as waste management and high sustainability rates would position the firm in the industry as an organization concerned about the welfare of its customers. As for Zoox, this company does not exclusively focus on electric cars. Its technology can be applied to any type of vehicle. However, environmental concerns may revert Zoox to using only electric or alternative fuel cars.
Socio-cultural: factors directly influencing Amazon include the ability of the company to maximize its wealth from a diverse clientele base, the probability of improving buying habits and the potential increment of consumerism in their target markets. Amazon's clients comprise individuals belonging to different social classes whose ability to purchase items is either high or low (Wu and Gereffi, 2018). Socio-cultural factors affecting Amazon are a threat to the company since it has no control over what choices the clients select as they make the purchase decision. As for Zoox, the socio-cultural perception of driverless cars and taxis is still cautious. However, as more of these cars appear on the market, the acceptance of this technology will increase.
Technological: changes in the external environment influence the conclusions chosen and operations at Amazon since the firm operates on online and digital platforms.Amazon must be on the lookout for the changes taking place in the technology industry as it may be both an opportunity and a threat (Amazon, 2020; Winn, 2016). For Zoox, technology is essential, and the developments in the self-driving car industry may help lower the costs of production and focus on innovation, creating an opportunity for lowering the production costs of these cars.
Economic: factors are crucial and relevant to Amazon's management team since the market's buying power is directly affected by their financial strengths or weaknesses. Arguably, economic trends in the world also influence the flow of currency in the economy with business cycles in the local and international market affecting the profits the company generated at the end of each operating period (Aversa, Haefliger, and Reza, 2017). Stable economies are opportunities for growth for Amazon and must be perceived by the marketing department as a potential area for occupancy. Zoox can grow only in a stable economic environment where the consumers have an extra income they can spend on additional comfort and safety of their transportation.
Legal: factors influence Amazon's digital operations as it must follow the legal laws and requirements of the different countries it offers its services. Strict measures against export and import regulations in countries may increase the cost for Amazon and international clients as they move products from the company which is a threat to the growth and expansion of the company. The legal regulation of driverless cars is still under development, and Zoox may face a threat if legislators ban or restrict the use of these vehicles.
Porter's Five Forces
Competitive of rival entities (high): Amazon operates in a highly competitive environment due to the availability of other firms that provide similar products and services. This necessitates the strategic team of the company to extend and increase its product line to ensure it remains profitable as it will be having a large clientele base (Wadhwa, Vashisht, and Phutela, 2020). Competitive rivalry in the industry is high forcing Amazon to charge fair prices and improve the quality of its services to ensure it controls a large market size.
The threat of new entrants (moderate): The threat of new entrants in the industry affects Amazon at a moderate level. Investing in digital platforms is simple due to the spread and accessibility of the internet meaning firms can start offering services to the public. Limited regulations made by the government when allowing new companies to penetrate also encourage more organizations to enter the industry and compete with Amazon. According to Benevides et al. (2018), strong barriers and accompanying limitations may interfere with firms from entering an industry, allowing those that currently exist to enjoy maximized profits and some form of monopolistic power and control.
Supplier power (low): The power of suppliers also influences Amazon's cost of products. Amazon has the comparative advantage of offering a wide variety of commodities to the public, which gives it the opportunity to influence the wholesale price of products and services. The power of suppliers may have a low effect on Amazon's pricing since many firms are able and willing to trade with the company due to the high level of success and penetration the entity has managed to create for itself in the industry (Singireddy and Daim, 2018). As a result, suppliers providing their products and services to Amazon may not have so much control and power over the entity due to the availability of more options for the firm.
The threat of substitutes (high): The threat of substitutes in the industry highly affects Amazon. The availability of alternative digital firms in the industry gives customers the competitive edge of using their mediums to import if Amazon proves too expensive for them. Arguably, Amazon's marketing team understands that the availability of substitute products in other companies allows customers the convenience of purchasing from them, which means they must charge fair prices (Gupta, 2018; Hahn, Kim, and Youn, 2018). For instance, clients have the option of finding a local supplier offering a similar product or service.
Buyer power (high): Combined buyers' power has moderate power and influence over Amazon. The current market is highly informed and knowledgeable about the pricing of different commodities, and it may be almost impossible for Amazon to overcharge them (Shuen, 2018). Additionally, buyers that purchase products in bulk and influence Amazon's profits generated at the end of each operating period may have a significant effect on the pricing models. Amazon has a wide market coverage, which gives the company the comparative advantage of having control over them. This is because it does not depend on a limited number of clients who may have an absolute influence on the decisions the production and marketing team make both in the short-term and in the long-term.
Internal Analysis Resources and Competencies
Strong brand name: Amazon possesses a strong brand name which the firm has managed to create and nurture for itself in the industry. The firm has successfully positioned itself in the market as a provider of all services by convincing the available and potential market that it comprises all products from 'a to z'. This strong position has enabled Amazon to establish itself as an international service company that offers its products to local and global clients. The firm continually invests in its brand image by also taking part in corporate responsibility acts affirming that it is not only concerned with profit maximization but the welfare of the public (Cusumano, 2017; Rossman and Euchner, 2018). Amazon's brand could be perceived as strong as it has become a local name for all its customers.
Customized services for all clients: Amazon's strategy has adopted a customer-oriented approach in that it considers what its clients need and then avails the products and services. This enhances the relationship Amazon has with its customers since they have the assurance that the firm will stock all types of products and charge them fair and affordable prices. Additionally, Amazon becomes a preference compared to the other companies that provide similar products and services and are Amazon's competitors (Reillier and Reillier, 2017). Incorporating the needs and preferences of the customer is a stronghold for the company.
Sophisticated logistics and sophisticated system: Amazon works with sophisticated distribution and logistics systems that allow it to connect and interact with the large clientele base. Customers are assured of fast, timely and secure delivery of commodities irrespective of their locations (Polacco and Backes, 2018). This means customers in developed and developing countries access the same quality of services with no distinction to their designated drop-off points. Fast and effective communication informs customers of the status of their packages.
General supplier of services: As a digital-based company that relies on the internet, Amazon has managed to convince clients that it can successfully supply all types of commodities in their stipulated locations. The online-based store allows its clients to place an order on the digital platform, and specify where they want it delivered and Amazon facilitates the rest of the process (Denning, 2018). The absence of a physical office may be perceived as a weakness or limitation for Amazon.
Strategic approach: Amazon's strategic approach in the industry has contributed to the growth and expansion the firm experiences both in the short term and in the long term. The acquisition strategy allows Amazon to increase its profit maximization process while incorporating the needs and preferences of its clientele base. Acquiring a firm that already exists and experiences financial problems saves Amazon from the problems experienced by start-up companies as they penetrate the market (Nagy et al., 2018). For instance, Amazon has successfully acquired Whole Foods and recently bought Zoox, a self-driving taxi that allows customers the convenience of hiring a private vehicle for their different needs. The acquisition strategy is the strength of Amazon.
VRIO Value, Rarity, Imitation, and Organization
Table 1 is the Value chain analysis of Amazon. Based on this, Amazon delivers value through its competency in the tech industry, aggressive marketing, and outstanding infrastructure and management practices.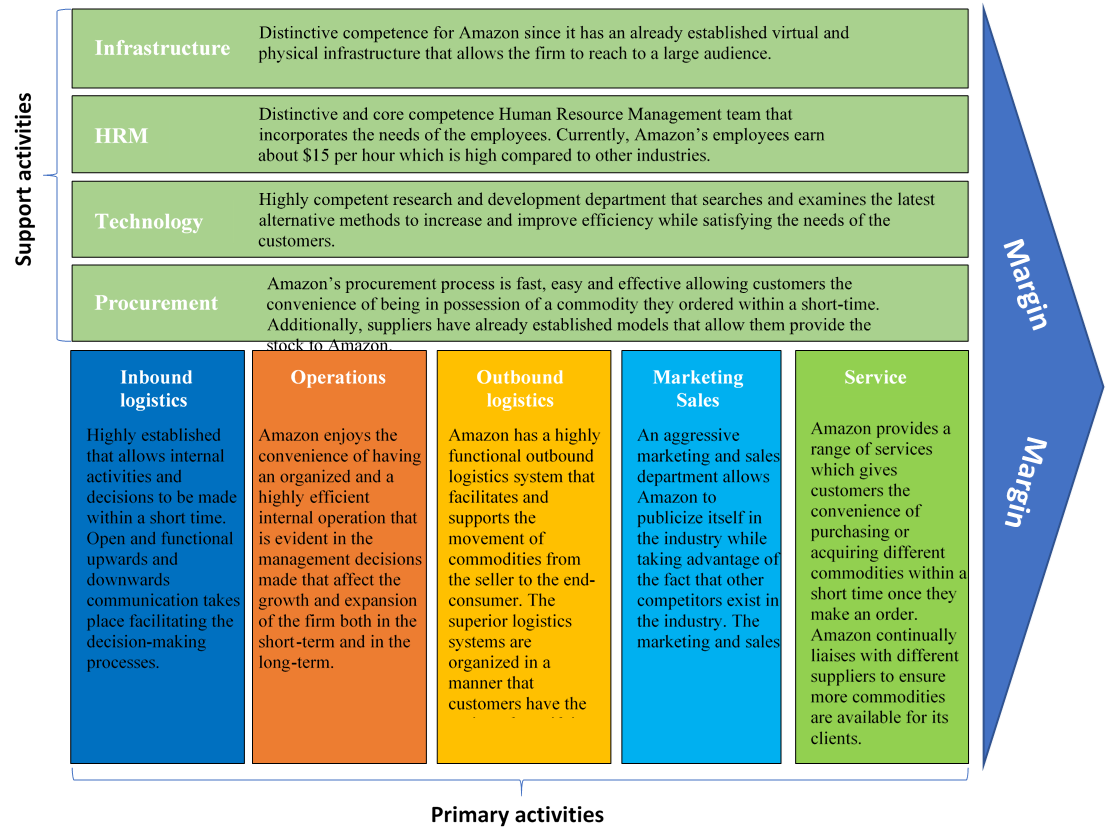 The VRIO framework has been used to analyze whether Amazon has the capability and potential to meet the criteria discussed above to reach its short-term and long-term goals and the following Table 3 is the detailed analysis of the core competencies: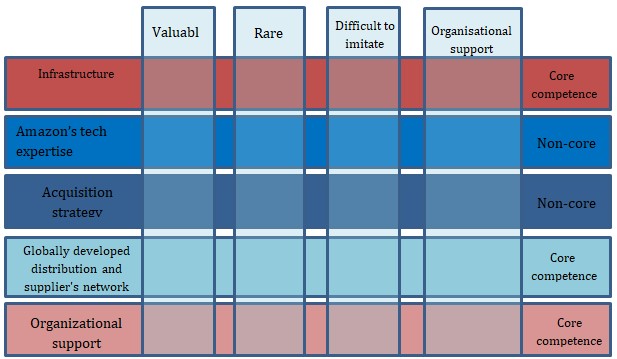 Table 3. VRIO elements analysis.
VRIO element
Competence Level
Infrastructure
Existing infrastructure allows Amazon to add value to the services it provides its customers. The infrastructure is valuable to customers since it allows the order process to be completed within a short time, with delays being eliminated and the probability of having the wrong commodity in quality and quantity being delivered;
Conclusion: Core competence
Tech Expertise
Despite the existence of competitors, it is rare and difficult to imitate the management strategies, knowledge, proficiency and expert level Amazon possesses since the executive allows Amazon to come up with innovative new ideas that enable the firm to generate profits both in the short-term and in the long-term.
Conclusion: Core competence
Organization
All activities taking place in Amazon have organizational support which allows the firm to go through an expansion process.
Conclusion: Core competence
Evaluation TOWS Matrix
Table 2: TOWS Matrix.
TOWS Matrix
External Opportunities (O)
External Threats (T)
Internal Strengths (S)
SO

Acquisition strategy
Diverse products
Sophisticated distribution and logistics systems

ST

Highly competitive environment
Government regulations
Negative publicity

Internal Weaknesses (W)
WO

Pricing model
Expansion of online shopping in the world

WT

Change in management leadership
Suitability: The acquisition strategy makes sense for Amazon since it has the resources to invest in different industries justifying the need for the firm to expand its operations. Amazon's executive team comprises individuals with a high level of knowledge and expertise which allows them to come up with new and innovative ideas that are implemented in the firm, contributing to the significant growth Amazon experiences both in the short-term and in the long-term (Galloway, 2017; Majed, Nuraddin, and Hama, 2018). Amazon's expansion and acquisition strategy allows it to become a household name, with the public being assured of high-quality products due to the positioning the organization has managed to create for itself in the market.
Zoox is a startup company that aims to create products for the self-driving car industry. Self-driving cars, in general, are perceived to be safer when compared to cars with drivers due to the algorithm's ability to detect and address threats that are beyond that of a human, and this acquisition allows Amazon to enter a new and high-perspective industry. In terms of Zoox's acquisition, the suitability of such a decision is high since Amazon will be able to use the developments of this organization to lower its own costs. Hamilton (2020) argues that Amazon will save $20 billion annually on deliveries if it utilizes self-driving cars. Hence, this acquisition will contribute to Amazon's sophisticated logistics system.
Table 3: Acceptability Strategy.
Interest
Power
Keep Satisfied

Stakeholders.
Directors.
Suppliers.
Customers.

Closely manage

Customers.
management.

Minimum effort in managing

Stakeholders.
Government.
Affiliated partners.

Keep informed

Stakeholders.
Shareholders.
Customers.
Financial lending institutions.
Investors.
Acceptability: Amazon's acquisition strategy is acceptable to the stakeholders who include potential investors, the management team and shareholders of the company since Amazon is publicly traded. The existing and potential customers must receive the right form of treatment, with fair prices charged to attract and retain their attention (Ives, Cossick, and Adams, 2019). Directors are also concerned about the acquisition strategy adopted by the management team since they are liable and answerable to the shareholders during annual general meetings. Suppliers are also concerned about the acquisition processes Amazon adopts as they have a right to receive their payments on time and in full. For acceptability, the financial risks of acquiring Zoox are low, considering that Amazon acquired Zoox at a price lower than its market evaluation. Hamilton (2020) argues that after its final fundraiser, Zoox was evaluated at $3.2 billion, while Amazon purchased it for $1 billion. The financial effects of this decision are appropriate since, as was mentioned, the retail giant will be able to leverage Zoox's technology for the advancement of its logistics system. The stakeholders will be affected positively as well since Amazon's customers will benefit from better deliveries, its employees will be aided by technology, and the management will gain access to more funds.
Feasibility: The acquisition strategy can be implemented and it is already functional. Amazon has the necessary financial resources it requires to conduct feasibility studies and processes and evaluate whether an acquisition is viable or not. Finally, the feasibility of implementing self-driving technology into Amazon's current operations is high because this organization is already focused on technology and innovation. Amazon has been a pioneer in the development of drone deliveries and new types of stores without cash registers (Ives et al., 2019). Hence, implementing a new type of technology will not be problematic after the acquisition of Zoox.
Reference List
Akter, S. et al., (2016) 'How to improve firm performance using big data analytics capability and business strategy alignment?'. International Journal of Production Economics, 182, pp.113-131.
Amazon (2020) Amazon.com, Inc. – overview. Web.
Aversa, P., Haefliger, S. and Reza, D. G. (2017) 'Building a winning business model portfolio'. MIT Sloan Management Review, 58(4), pp. 49-54.
Benevides, S. L. M., et al. (2018) 'Social innovation by tourism strategy in the Western Amazon'. International Journal of Advanced Engineering Research and Science, 5(3), p. 237401.
Cusumano, M. A. (2017) 'Amazon and whole foods: follow the strategy (and the money)'. Communications of the ACM, 60(10), pp. 24-26.
Denning, S. (2018) 'The role of the C-suite in agile transformation: the case of Amazon'. Strategy & Leadership, 46(6), pp. 14-21.
Galloway, S. (2017) The four: the hidden DNA of Amazon, Apple, Facebook and Google. New York City: Random House.
Gupta, S. (2018) 'Driving digital strategy: A guide to reimagining your business. Canada: Harvard Business Press.
Hahn, Y., Kim, D. and Youn, M. K. (2018) 'A brief analysis of Amazon and distribution strategy'. The Journal of Distribution Science, 16(4), pp. 17-20.
Hamilton, Isobel Asher. (2020). 'Amazon has agreed to buy Zoox for a reported $1.2 billion, Business Insider. Web.
Ives, B., Cossick, K. and Adams, D. (2019). 'Amazon Go: disrupting retail?'. Journal of Information Technology Teaching Cases, 9(1), pp. 2-12.
Majed, S. Z., Nuraddin, S. H. and Hama, S. V. S. (2018). 'Analyzing the amazon success strategies. Journal of Process Management. New Technologies, 6(4), pp. 65-69.
Nagy, J., et al. (2018) 'The role and impact of Industry 4.0 and the internet of things on the business strategy of the value chain—the case of Hungary'. Sustainability, 10(10), p. 3491.
Polacco, A. and Backes, K. (2018) 'The amazon go concept: implications, applications, and sustainability. Journal of Business and Management, 24(1), pp. 79-92.
Reillier, L. C. and Reillier, B. (2017) Platform strategy: how to unlock the power of communities and networks to grow your business. London: Taylor & Francis.
Rossman, J. and Euchner, J. (2018). 'Innovation the Amazon way: an interview with John Rossman. John Rossman talks with Jim Euchner about how Amazon manages to be both operationally excellent and disruptively innovative'. Research-Technology Management, 61(1), pp. 13-22.
Shuen, A. (2018). Web 2.0: A Strategy Guide: Business thinking and strategies behind successful Web 2.0 implementations. California: O'Reilly Media.
Singireddy, S. R. R. and Daim, T. U. (2018). 'Technology roadmap: drone delivery–Amazon Prime Air'. Infrastructure and Technology Management. New York City: Springer Cham, pp. 387-412.
Wadhwa, B., Vashisht, A. and Phutela, N. (2020). 'Business model of amazon India-a case study'. South Asian Journal of Marketing & Management Research, 10(1), pp. 32-40.
Winn, J. K. (2016). 'The secession of the successful: the rise of Amazon as private global consumer protection regulator', 193, pp. 58.
Wu, X. and Gereffi, G. (2018). 'Amazon and Alibaba: internet governance, business models, and internationalization strategies. International business in the information and digital age. New Delhi: Emerald Publishing Limited.
Yadav, N. and Sagar, M. (2018). Amazon India's "Apni Dukaan": branding strategy. Emerald, New Delhi: Emerging Markets Case Studies.