Markets and Segments
Despite recent challenges experienced in some European economies, the market for WD-40 Company products has remained attractive. European markets still account for a third of WD-40 Company's total global sales. The most lucrative markets are countries within the northern European Market that include the United Kingdom, Germany, France, and Italy. The other countries are less lucrative but still form a significant part of the company's European market share.
On-Time Delivery!
Get your customized and
100% plagiarism-free paper
done in as little as
3 hours
Macro Analysis
Analysis at the macro level involves an in-depth understanding of economic, legal, social, cultural, political, geographic, technological, and/or demographic factors that affect business operations (Iyer et al. 2015, p. 10).
Economic factors, such as the GDP, influence the demand for products in the market. According to Reuters Staff (2012), the sales of WD-40 merchandises in Europe decreased by 17% (p. 13). This decrease was attributed to the tough economic conditions that were experienced in various European countries, like Greece. The poor performance of the economy of these republics, as measured by the GDP, led to a decrease in construction and vehicle manufacturing activities. These are the two main industries where the products of WD-40 Company are most utilised.
Recent political tensions across Europe are also a negative influence on the demand for lubricants and cleaning products produced by WD-40 Company. The demand for lubricants is mostly affected as the political tensions have led to the decline in the growth of the construction and motor industry. This negatively affects the sales of the company's products leading to reduced profit margins.
Micro Analysis
The microanalysis looks at factors within the firm that determines its success or failure. The micro factors that impact on the success of a company are the decisions made by the management of the organisation on various business processes (Birnleitner 2013, p. 6). The micro factors that are relevant to WD-40 Company and that determine its success in the European market include competitors, its consumers, and the market. The WD-40 Company faces competition from top companies such as Church Dwight and Clorox (Birnleitner 2013, p. 10). However, the company has managed to be ahead of the competition because of its unique products that are multifunctional and can be applied to perform different functions both at home and in the industries.
WD-40 Company has a strategy of producing a variety of products that enable it to gain and maintain a large customer base. It manufactures products that can be used at home for cleaning purposes or lubricating works at big industries. The competitive edge of an organisation determines how well or badly it will perform in the market.
Current State of the Market
Although there has been a reduction in the European sales, the company still considers Europe one of its most important markets. The European market is expected to grow but not at the same rate at which the Asian market. The Asian market is expected to grow faster because of the industrialisation that is still taking place in most of the Asian countries. Data reveals that WD-Company does not command a big share of the market. Globally, Companies such as Church and Dwight and Clorox have a bigger market share of 15% and 2 % respectively. This is higher compared to the WD-40 Company's market share of 0.5 %.
Yes, we can!
Our experts can deliver a
custom WD-40 Company Strategic Marketing Analysis
paper
for only

$13.00

$11/page
Market Trends
The positive trends are those that increase the demand for WD-40 Company products while the negative trends are those that derail the demand for the same products. The positive trends in the European market include a steady increase in the number of middle class and the growth in the motor industry. The negative market trends include the growing number of people using public means transport thereby stifling the growth in the motor industry. Another negative trend in the European market is the negative political climate in some European countries.
Marketing Objectives
Creating a successful marketing plan requires that you be aware of your needs, the capital available and the objectives of the marketing plan (Liu 2013, p. 2822). The objectives must be aligned with the strategic goals of the organisation to ensure that they help in achieving the overall objective of the firm (Liu 2013, p. 2825). The main objective of WD-40 Company is to provide products that help in solving both industrial and domestic problems at the same time. It is for that reason that the company produces the multi-purpose WD-40 spray and an array of home cleaning products.
Marketing Strategies
A marketing strategy is the company's strategy that combines its marketing objectives into a consolidated plan that is aimed at promoting the goods and services produced by the company to potential customers. The strategy should be the result of an extensive and comprehensive research of the market so as to come up with the right mix of the products that will appeal to the target population and turn them into customers of the company (Roberts et al. 2010, p. 12). Research reveals that the marketing strategy for WD- Company involves the utilisation of technology to conduct marketing communication (for example the use of social media), the provision of domestic cleaning solutions, provision of highly effective and multi-use lubricants, and to reach global markets.
Porter's Generic Competitive Advantage Grid
For a company to remain competitive in the market, it must adopt a working competitive strategy that will ensure it has a competitive edge over its closest competitors in the industry (Grant 2016, p. 32). There are three strategies for competition namely overall cost leadership, differentiation, and focus. Out of these strategies, research has revealed that WD-40 Company uses the differentiation competition strategy.
The differentiation strategy is the way in which an organisation sets itself apart from the competition by providing a unique package of services that will appeal to the customers (Baker 2014, p. 45). WD-40 Company produces a variety of unique products that help it to beat the competition in the industry. Its unique products such as the multipurpose WD-40 oil spray, Lava which is a unique hand cleaner and the 3 in 1 oil demonstrates the company's commitment to set itself apart from the competition.
Segmentation
Market segmentation involves the division of a broad market of customers or potential customers into smaller units based on common or shared attributes (Park & Jang 2014, p. 160). WD-40's market is divided into geographical and psychographic segments. The attributes of the geographical segmentation include worldwide operations with greater concentration in American and European markets, and operations both in rural and urban regions (Park & Jang 2014, p. 163). On the psychographic segment, the company targets to meet the needs of people who want unique and effective cleaning or lubrication services they can use at home and in the industries.
Targeting
The choice of the target market segment is dependent on the kind of business an organisation is involved in and the strategic long-term goals of its marketing plan (Frambach, Fiss && Ingenbleek 2016, 1429). Because of its differentiation competitive strategy, WD-40 applies the heterogeneous approach to target market segments. The heterogeneous approach involves the efforts put by an organisation to meet the needs of many sub-groups by providing a variety of products and services that are required by various groups of customers (Nagle, Hogan & Zale 2016, p. 120). It is because of this strategy that WD-40 Company manufactures products that can be used at home, in small businesses, and in big factories.
Cut
15% OFF
your first order
We'll deliver a custom
Marketing Strategy
paper tailored to your requirements with a good discount
Differentiation
In the differentiation strategy, a firm ensures that it produces a variety of products with high quality and which are unique in order to attract more customers. The production of high-quality services enables an organisation to command high prices for its products (Chen et al. 2014, p. 5). WD-40 Company has been able to do this by producing unique products that satisfy multiple customer needs (Banterle 2014, p. 114). Its WD-40 oil products are a unique set of products that are manufactured using a special formula that makes them more effective than any other similar products in the market.
Positioning
Positioning is the perception of the brand of the company in the mind of its clients and how the customers can tell it apart from its competitors (Lin & Wu 2014, p. 408). WD-40 Company's products have gained a reputation among its customers because of the high range of effective products that they produce. The company produces cleaning, maintenance and specialty products that are tailored to meet the individual customer needs.
Gap Analysis
Gap analysis refers to the managerial function of comparing the actual performance of a firm and the potential, future or desired level of performance (Wu 2014, p. 540). The analysis must also incorporate the changes that need to be made so as to meet the future or desired position in the market. The analysis is always done with a view to achieving the long-term strategic goals of an organisation (Roy et al. 2015, p. 25). WD-40 Company's gap analysis is presented in the table below.
Product Strategies
A product strategy is a roadmap for a product that is founded on the basis of the analysis of the target market or customers (Spyropoulou et al. 2017). Business managers are tasked with developing clear and objective-oriented product strategies that will allow their organisations to fend off competition from other firms (Spyropoulou et al. 2017). WD-40 Company's product strategy is founded on the production of goods using secret formulas that render the products unique and make them attractive in the market.
Product Management
Product management is a management function within an organisation that monitors the process of product development from the conception of ideas to marketing and post-marketing analysis (Antoncic, Auer Antoncic & Aaltonen 2016, p. 91). The product management lifecycle at the WD-40 Company is undertaken in stages. The first phase involves researching the environment to identify needs for new and improved products. The second phase encompasses testing the product in the market so as to get feedback from the customers and the last phase is the launching of the new product into the market and monitoring and evaluating its performance.
Product Life Cycle
Product life cycle is a marketing tool that portions the marketing of a product into four stages namely introduction, growth, maturity, and decline (Christopher 2016, p. 33). Company deals in many products but all these products undergo the above-outlined life cycle from the time they are introduced until the market is saturated or consumers' tastes change due to technological advancements (Krajňáková, Navikaite & Navickas 2015, p. 327). WD-40 Company products are usually of unique and different varieties but ultimately undergo the above stages.
Boston Consulting Grid
The Boston Consulting Matrix is a marketing strategy that is employed by big companies to help them in the allocation of resources to various investments (Saebi & Foss 2015, p. 210; Park, Kim & Kim 2014, p. 212; Debrecht & Levas 2014, p. 65). The matrix is usually presented on a grid that has four components namely the cash cow, the star, the question mark and the dog. The cash cow is an investment that has an established market and generates money for the company that can be used elsewhere.
Get a custom-written paper
For only
$13.00
$11/page
you can get a
custom-written academic paper
according to your instructions
In the context of WD-40 Company, products such as the WD-40 specialist, X14, 3 in 1, Carpet Fresh, and Spot shot that have a stable market and do not require a lot of cash investment are examples of cash cow products. The rising star is a product that operates in a highly dynamic market but generates cash and also requires frequent injection of cash investment (Saebi & Foss 2015, p. 212). The WD-40 for bikes is an example of such a product.
The question mark represents a product that operates in a highly competitive market and only commands a small share of that market. The Lava hand wash is an example. Finally, the dog is a product that commands a small market share in an industry that is mature and holds up money that can better be used in other investments. WD-40's products such as the 2000 flushes fall into this category.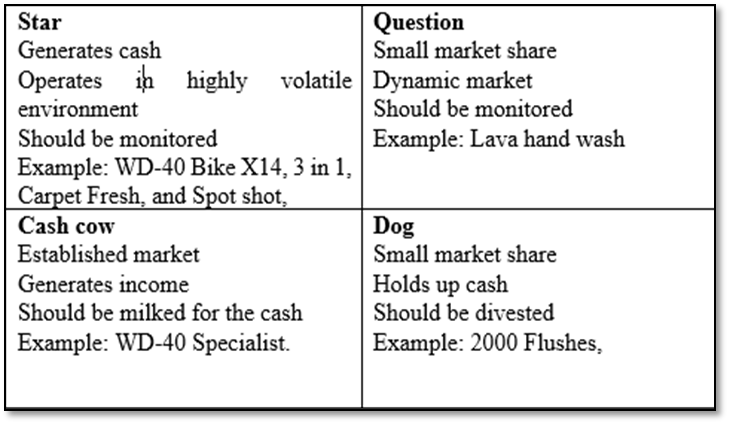 General Electric Matrix
Your text here The GE Matrix analyses the attractiveness of the market as it relates to the strength of a unit of investment. The matrix helps in knowing which markets to invest in so as to gain maximum profits. The following table represents the GE Matrix for WD-40 Company.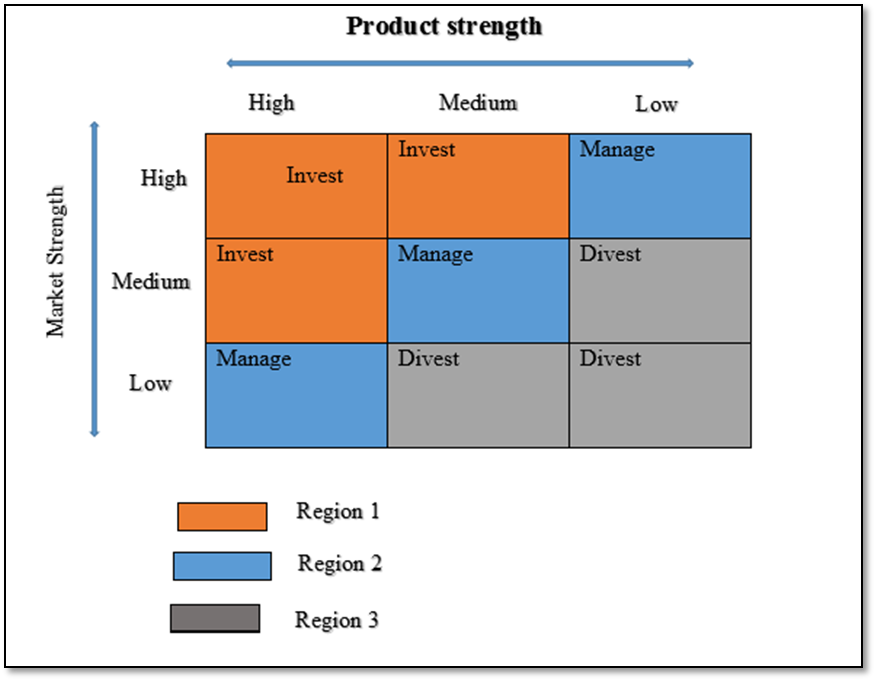 Region 1 indicates that the market is attractive and the product is strong. It implies that an investment decision can be made. This region represents countries such as Germany, United Kingdom, France, Italy, and Russia.
In region 2, the right decision is to manage the investment the company already has and make no further investments. This, in the European context, represent countries such as Spain, Portugal, Belgium, and many other middle economies where the demand for WD-40 Company products is not high. In region 3, the markets are not attractive and the product strength is also low. In this region, the right decision would be to divest any investment the company has. These represent European economies that are experiencing various microenvironment issues such as Greece, Poland, Turkey, Ukraine etc.
Shell Directional Policy Matrix
This matrix is used to analyse the market situation and the performance of products in the less lucrative markets and to determine whether to wind up operations or to continue (Buxel, Esenduran & Griffin 2015, p. 110). The table below represents the matrix for WD-40 Company in the countries that are less productive in terms of profitability and market competition.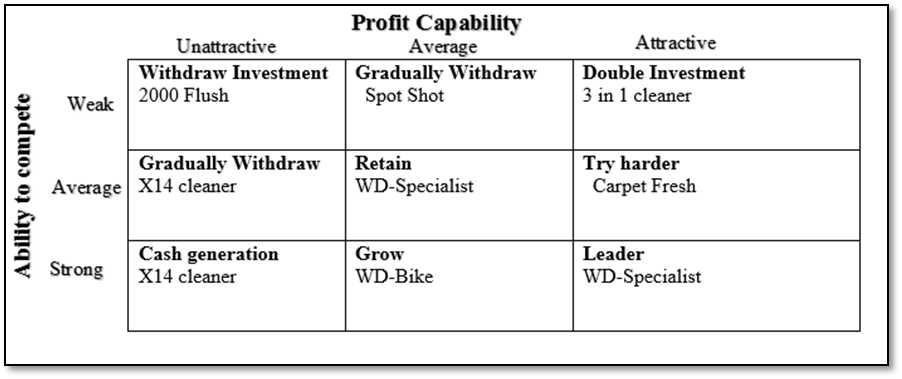 New Product Development
In volatile markets such as the one in which WD-40 operates, the key to remaining in business and even growing is the development of new products. WD-40 Company has shown its commitment to quality development of new products by coming up with new products on a regular basis (Gounaris & Siampos 2015, p. 8). For example in 2016, the company developed a WD-40 specialist lubricant for vertical surfaces that do not move after it is sprayed.
Product Adoption Process
WD-40 appreciates the differences that dictate the demand in the market and has since committed to use innovation to produce products that suit various conditions. An example is the 2016 high performance degreasers that were made to ensure high temperatures, pressure and moisture that allows them to be used to diverse climatic or weather conditions.
Targeting Decision Makers
The process of identification starts when the first marketing strategies are laid down and the success of the marketing campaign depends upon the identification of the right clientele or potential customers. WD-40 being a global organisation has various regional representatives who make the targeting decisions in coordination with the top managers at the San Diego headquarters.
Price Strategies
Some of the factors considered in pricing include production costs, labour costs, costs of raw materials, transport costs and the macroeconomic environment (Skripak 2016, p. 9). The strategy that is employed by WD-40 company to price its products is the value pricing. Value pricing is founded on the consumers' perception of the service or benefits extracted from a product (Waldman & Jensen 2016, p. 23; Ferguson, Ellen & Bearden 2014, p. 217; Töytäri, Keränen & Rajala 2017, p. 238). This allows the company to charge customers due to the value derived from the products.
Place and Customer Relationship Strategies
The physical environment and the customers were mentioned in 1.1 as some of the macro-environmental factors that affect the marketing of products by a business. It is, therefore, imperative that organisations such WD-40 Company put in place strategies that will ensure positive relations with the places it conducts its business and customers.
Marketing Communications Strategies
WD-40 Company uses online means to reach its customers. The company has one website that it uses to promote its products and another site it uses for promotion of its corporate activities. Both of the sites are available globally. The product promotion site also has links that leads to various sites for the different products that the company deals in. this strategy allows the company to give exhaustive information about all of its products so that the customers can make informed choices.
Direct and Interactive Marketing Strategies
WD-40 communicates to its customers via emails and news subscription services to keep their customers updated on various products and activities. The company also maintains social media presence on sites like Facebook, Twitter, and Instagram where they do product promotion and get in direct contact with their customers.
Sales Strategies
The main sale strategies used by WD-40 to conduct its sales are direct sales and online sales. Direct sales are conducted through local dealers and stores. The company also sells its products through online companies such as Amazon, TrueValue, and Grainger.
International Marketing
WD-40 Company has outlets in European countries such as France, Germany and United Kingdom. The opening of outlets in these countries is one of the strategies used by the company to market its products on a global scale. International marketing is also done through its websites that are accessible globally.
Internal Marketing
The WD-40 Company maintains a passionate relationship with their employees to ensure that they are motivated to give their best. Furthermore, the workforce is educated on contemporary marketing to sharpen their skills in promoting the company's products.
Brand Strategy
WD-40 has forged a reputation of producing multi-purpose products that help their customers undertake various tasks. This has become major part of their brand strategy as they have continued to produce such products over the years.
Monitoring and Control
The company places commitment to transparency at the canter of its major operations. It regularly provides timely and accurate financial information which is made public for its investors and customers.
Corporate Social Responsibility
Corporate social responsibility involves the evaluation of the effects the company has on the environment and the social of the people surrounding its place of operation and putting measures in place to make the environment and the social life of those people better (Carroll 2015, p. 87). WD-40 Company believes that what they do does not matter, but how it is done matters. As a result, the company engages in various activities such as protection of the environment, responsible marketing, and philanthropic activities (Tai & Chuang 2014, p. 117). The company has a foundation (The WD-40 Company Foundation) that gives back to the communities in which it operates.
Recommendations Pertaining to the Marketing Strategy
WD-40 Company is a corporate organisation that has continued to grow into the global market since it was founded. However, its market share in Europe is still low and leaves room for improvement. To ensure the company gains an adequate market share in Europe and the world, I recommend the following actions to be taken:
Use technology to manufacture its products.
Conduct an intensive global marketing campaign.
Innovatively improve all its products.
Reference List
Antoncic, B, Auer Antoncic, J & Aaltonen, H 2016, 'Marketing self-efficacy and firm creation', Journal of Small Business and Enterprise Development, vol. 23, no. 1, pp. 90-104.
Baker, M 2014, Marketing strategy and management, Palgrave Macmillan, Basingstoke.
Banterle, A, Cavaliere, A, Carraresi, L & Stranieri, S 2014, 'Food SMEs face increasing competition in the EU market: marketing management capability is a tool for becoming a price maker', Agribusiness, vol. 30, no. 2, pp. 113-131.
Birnleitner, H 2013. Influence of macro-environmental factors to the process of integrating a foreign business entity. Web.
Buxel, H, Esenduran, G & Griffin, S 2015, 'Strategic sustainability: creating business value with life cycle analysis', Business Horizons, vol. 58, no. 1, pp. 109-122.
Carroll, A 2015, 'Corporate social responsibility', Organisational Dynamics, vol. 44, no. 2, pp. 87-96.
Chen, Y, Tang, G, Jin, J, Xie, Q & Li, J 2014, 'CEOs' transformational leadership and product innovation performance: the roles of corporate entrepreneurship and technology orientation', Journal of Product Innovation Management, vol. 31, no. 1, pp. 2-17.
Christopher, M 2016, Logistics & supply chain management, Pearson, London.
Debrecht, D & Levas, M 2014, 'Using the Boston Consulting Group portfolio matrix to analyse management of a business undergraduate student program at a small liberal arts university', Journal of Higher Education Theory and Practice, vol. 14, no. 3, pp. 65.
Ferguson, J, Ellen, P & Bearden, W 2014, 'Procedural and distributive fairness: determinants of overall price fairness', Journal of Business Ethics, vol. 121, no. 2, pp. 217-231.
Frambach, R, Fiss, P & Ingenbleek, P 2016, 'How important is customer orientation for firm performance? A fuzzy set analysis of orientations, strategies, and environments', Journal of Business Research, vol. 69, no. 4, pp. 1428-1436.
Gounaris, S & Siampos, A 2015. Market and entrepreneurial orientation's effect on organisational performance through marketing capabilities. Web.
Grant, R 2016, Contemporary strategy analysis text only, John Wiley & Sons, New Jersey.
Iyer, G, Xiao, S, Sharma, A & Nicholson, M 2015, 'Behavioral issues in price setting in business-to-business marketing: a framework for analysis', Industrial Marketing Management, vol. 47, no. 1, pp. 6-16.
Krajňáková, E, Navikaite, A & Navickas, V 2015, 'Paradigm shift of small and medium-sized enterprises competitive advantage to management of customer satisfaction', Engineering Economics, vol. 26, no. 3, pp. 327-332.
Lin, Y & Wu 2014, 'Exploring the role of dynamic capabilities in firm performance under the resource-based view framework', Journal of Business Research, vol. 67, no. 3, pp. 407-413.
Liu, Y 2013, 'Sustainable competitive advantage in turbulent business environments', International Journal of Production Research, vol. 51, no. 10, pp. 2821-2841.
Nagle, T, Hogan, J & Zale, J 2016, The strategy and tactics of pricing: new international edition, Routledge, London.
Park, C, Kim, H & Kim, Y 2014, 'A study of factors enhancing smart grid consumer engagement', Energy Policy, vol. 72, no. 1, pp. 211-218.
Park, J & Jang, S 2014, 'Why do customers switch? More satiated or less satisfied', International Journal of Hospitality Management, vol. 37, no. 1, pp. 159-170.
Reuters Staff, 2012. WD-40 results lag estimates on lower sales in Europe. Web.
Roberts, J, Silk, A, Urban, G & Wind, J 2010, Kotler on strategic marketing. Web.
Roy, S, Lassar, W, Ganguli, S, Nguyen, B & Yu 2015, 'Measuring service quality: a systematic review of literature', International Journal of Services, Economics and Management, vol. 7, no. 1, pp. 24-52.
Saebi, T & Foss, N 2015, 'Business models for open innovation: matching heterogeneous open innovation strategies with business model dimensions', European Management Journal, vol. 33, no. 3, pp. 201-213.
Skripak, S 2016. Fundamentals of business. Web.
Spyropoulou, S, Katsikeas, C, Skarmeas, D & Morgan, N 2017, 'Strategic goal accomplishment in export ventures: the role of capabilities, knowledge, and environment', Journal of the Academy of Marketing Science, vol. 1, no. 1, pp. 1-21.
Tai, F & Chuang, S 2014, 'Corporate social responsibility', Ibusiness, vol. 6, no. 3, pp. 117.
Töytäri, P, Keränen, J & Rajala, R 2017, 'Barriers to implementing value-based pricing in industrial markets: a micro-foundations perspective', Journal of Business Research, vol. 76, no. 1, pp. 237-246.
Waldman, D & Jensen, E 2016, Industrial organisation: theory and practice, Routledge, London.
Wu, H 2014, 'The effects of customer satisfaction, perceived value, corporate image and service quality on behavioral intentions in gaming establishments', Asia Pacific Journal of Marketing and Logistics, vol. 26, no. 4, pp. 540-565.