Introduction
Sports Equipment Industry
This industry is expanding and flourishing not only locally but internationally as well, particularly in the developing nations. According to a recent survey and study, global sports industry is estimated to be worth US$ 410.6 billion. In the United States alone, the industry is anticipated value is thought to be US$ 213 billion (Adams, 2004).
Nike- Company Profile
A big name in the industry is of Nike which is one of the biggest revenue contributors in sports equipment industry (Rooney, 2011). Nike is considered as a giant in distribution, marketing and designing of sports equipments and accessories.
Brands under NIKE are mainly functioning with a focus on a single industry like footwear, sports wear and accessories. According to Inter-brand for the year 2011, Nike stood at 25 and 17 in best global brand and best global green brand category, respectively.
Market Environment Analysis
Dynamics of Sports Industry
The Sport equipment industry is facing the challenge of high saturation and unpredictability. The key determinants of this industry in its demand are progress and expansion of value, price, use and life cycle of the equipments (Andreff & Szymanski, 2005, p.27). Changing social trends and awareness have led to more advanced equipments and gears especially because of the developing interest in Winter Sports, not only in US and Europe but also globally (Jenkins, 2003, p.327).
Micro Environment Analysis
Customers: Nike has always kept its customers closer. It involves its customers in its value creation chain. It offers its customers websites, where not only customers have easy access to its products, but they can also share their experience and interactions.
Employees: Nike is constantly focusing on its internal practices such as monitoring to ensure and promote professional and good working environment for its employees. Nike has established internal and external codes for its employees in order to facilitate its employees globally.
Shareholders: Nike with its commitments and practices has always provided its shareholders with value. It's flexibility among ever changing environment with continuation in providing innovative products are unmatched. Its record earnings and revenue in 2011 are testaments of the value it provides its share holders.
Competition: Nike's has always set standards within the industry by providing innovative products and maintaining its quality. In recent times, it has faced challenges from brands like Adidas, but due to its cost effective strategies and out of the box approach towards its products, it remains a dominant force within the industry.
Nike- Pest Analysis
Political: In every industry, the Government is required or expected to form up policies that are business friendly. Nike is fortunate in the political aspect that is it is assisted by the Government policies which facilitate it to move forward with its merchandises (Aruvian, 2011). Globally, Nike is accepted throughout as it is one of the leading brands and is looked upon as an opportunity for investment in the country, more jobs that help Nike to expand (Aruvian, 2011). In 2010 NIKE announced that it plans to increase its sales figures up to $27 billion that is around 40% growth in the upcoming five years, as quoted in Market Watch. NIKE also plans to expand its sales in growing markets such as China (Cheng, 2010).
Economic: Currently, the biggest problem for Nike would be the repercussion of the economic recession. The economies are facing a downhill which is impacting the consumer buying power (Shankar et al, 2007). Nike is affected globally, with its sales at stake in Europe and Asia due to recession (Shankar et al, 2007). This trend was clearly witnessed in the third quarter of 2009. According to the blogging stocks and Daily Finance, the last quarter of 2009 depicted that the shoe earnings fell around 14.1% as compared to the previous year to 79 cents per share. Not only that the sales were also thought of to be declined up to a surprising $ 4.5 billion. For the fourth quarter than analysts expected the earning to grow at $1.03 per share while the overall sales were expected to decline over the year to $4.9 billion. Hence it could be said that NIKE was also being affected by the prevailing market recession (Thoelcke, 2009).
Society: As time is progressing, so are people. With more knowledge, awareness in hand, consumers are becoming more and more health conscious nowadays. Priorities towards diet food and healthy activities are growing. As a result, more people are joining health related activities in clubs, programs etc. Consequently there is a sharp rise in demand of fitness equipment, clothing and other accessories (Siemers, 2011). The conditions, in which these workers work in Asia, is quite concerning, and in today's age of ever growing media, these issues are thought to be sensitive and scrutinized by the public (Siemers, 2011. The sports industry is quickly turning into a fashion industry. This fact cannot be denied that the market not able to purchase the new fashion trends in the market opt for counterfeit products. US customs depicted statistics seizures in 1994, which showed that counterfeit sport goods accounted for an ever increasing 10 percent of all goods that were seized that year (OECD, 1998).
Technology: The advanced infrastructure of Nike provides it an edge over competitors and helps it to further expand its activities without losing control over its operations (Cuizon, 2009). NIKE's start with the amazing "Waffle Trainer" to the ultimate "Shox" columns which was introduced in 2001 it totally justifies saying that some technological advancements and unique products can only be found at NIKE shoes. NIKE has always taken its research and development very seriously. It's research facilities have now grown up to a magnanimous 13000 sqft vicinity which only focuses on research divided into three main lines; Bio mechanics, Physiology and Sensory and Perception (Shoes News Update, 2008).
Environmental: Nike's carries out extensive public relations for its image. Recently Nike has been acknowledged for its green practices and was ranked 17th by interbrand for best global green brand category. Since Nike is working globally, climatic issues are given a lot of consideration as they are constantly monitored and scrutinized by different agencies (Angwin et al, 2006).NIKE's sales were going down; the revenues fell by 2% in 2009-10. In May 2009, NIKE laid off around 5 percent of its employees across the world. It was then that NIKE decided to go GREEN. It expected the amount of waste material to go down by an amazing 17% in the upcoming decade by going Green (Jana, 2009).
It was only after 14 years of hard work that NKE finally came up with the sneakers free of greenhouse gas. Ever since this technology was introduced NIKE sells 200 million shoes every year (Azam, 1999).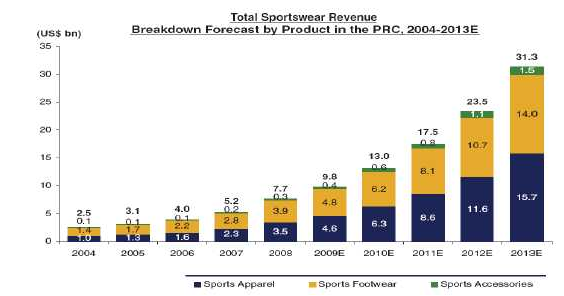 Sporting Equipment Sales
Wholesale Revenues, U.S. Sporting Goods Manufacturers*
74.2
Bil. US$
2010
SGMA
Retail Sporting Equipment Sales
40
Bil. US$
2011
PRE
Sports Equipment Company Strategic Analysis
Michael Porter's National Diamond framework for Nike Company
Under Porter's National diamond model, Nike within the USA utilizes factors such as demand of quality sports equipment and accessories, combination of skilled and linguistic employees, world class infrastructure of related industries such as ports technology etc. Factors such as Government policies, regarding the industry and trading, also provide ample support for companies like Nike to enjoy competitive advantages and a frame work to move internationally as well. However, factors such as labor cost and cost effective raw material have led Nike to outsource manufacturing services from other countries.
Porter Five Forces Model
Rivalry (high)
The US sports industry is highly saturated industry. New products formation, at varying price levels is required to gain access and tap into different sections of the market (Kiley, 2005). Price parity is similar in the industry for the big names, so Nike is required to constantly come up with new products and focus towards further strengthening its brand name and image (Kotler et al, 1999). Mergers and accusations are further saturating the market. Local competitors are aware of the cultures and are already functioning with respect to that. A very good example here can be the merger of Adidas and Reebok. The German firm announced a $3.8 billion deal of merger with Reebok, which brought together two of the world's top sports equipment brands (JustMean, 2010). This conglomerate built a much stronger confrontation to Nike, predominantly on the prime North American market that accounts for half of the category's sales worldwide. This actually shows one of the leading rivals of NIKE. Adidas is reported to have a capitalization in the market of about $8.4 billion and a net reported revenue generation of $423 million last year with a sales figure amounting to $8.4 billion (Kiley, 2005). On the other hand, Reebok reported net revenue of $209 million on a sales figure of around $4 billion. These stats show how much competition was NIKE about to face with this merger (Kiley, 2005).
Threats of New Entrants: (Low)
The sport equipment industry is extremely capital intensive industry. It would be tough for a new entrant to enter the already saturated market, competing among the biggest brand names in the world. With such enormous brand loyalty and customer base, it further complicates matters for new entrants. Companies like Nike enjoy economies of scale, even if a company enters the market it would be difficult for a company to cater the already existing advantage that is withhold by industry leaders like Nike which produces products at a substantially lower cost. The strong economies of scale along with lower rates of labor wages etc put forward a powerful factor in front of any new entrant (Madura, 2008).
Substitutes: (Low)
The products within the industry are not general and have unique functions. Sports equipment industry for image and trend building other clothing can also be taken as an alternate. Within the same line, products such as sport shoes can be replaced by slippers or other shoe. Athletic shoes are becoming trendier and can become an alternate for sport shoes. Limitations of sports equipments at a lower cost can pose a threat (Adams, 2004)
Supplier Power: (Low)
Nike being such a powerful brand name in the industry suppliers poses little power over Nike. Since most of the products are commodity goods, suppliers lose the power of bargaining as there is a vast presence of suppliers of these raw materials. NIKE has its suppliers spread all over the world including China, Indonesia, Vietnam and Thailand with total NIKE brand footwear with a share of 36%, 33%, 36% and 6% respectively(Petkova & Pattabiraman, 2010).
One of the most important essentials of NIKE's CSR strategy is integrating knowledge and values across the organization. It is reported that NIKE spends approximately $25 Million annually on CSR activities (Petkova & Pattabiraman, 2010).
One example of integration is the Global Procurement. Hence the non-dependency of a constant suppliers frees NIKE from any pressures that otherwise businesses based on suppliers normally face (Zack, 1998).
Buyer Power: (Very High)
Retailers and end users are the customers or end-users within this industry (Kotler et al., 1999) NIKE launched a sub brand Nike ID that allows consumers to design and even personalize their footwear (Shoes News Update, 2008).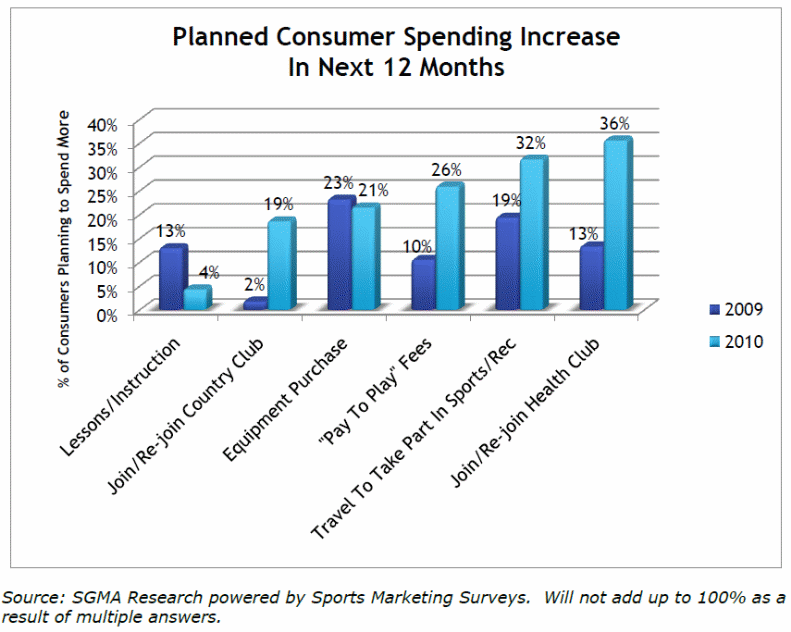 SWOT Analysis
Current Strategic Strategy in Nike
The core strategy followed by NIKE is "differentiation". They are focused on coming up with new products every time whether it is for a common individual or for a professional athlete. Nike is not only portrayed as a brand with a certain image but also emphasizes a status symbol of its clientele. Nike focuses on both tangible and un-tangible brand special features. It has not only made use of athlete endorsements but since its introduction of Nike Shox Nike has been introducing products with differentiation via segments like Nike iD, Nike Free, Nike Women etc (Petkova & Pattabiraman, 2010).
Current- Long Term Strategic Concerns in Nike
Nike, recently, announced its investor meeting in New York, where it announced a target of $27billion by the end of 2015 fiscal year (Brilliant, n.d.). Nike will also focus on building further transaction possible with customer directly. For this purpose, they plan to open up 250-300 branded stores all over the world to enhance the one to one customer experience, and even focusing on e-retailing with an emphasis on the expansion of its unique project Nike ID (Cheng et al., 2005).
Nike, Inc.
SWOT Analysis
Strengths
Nike's foremost strength lies within its brand name. Its brand name is associated with sports equipments and accessories which gives it an edge over others in the industry. NIKE has a very hale and hearty dislike of its competitors, which actually depicts that the brand is doing well. Unlike Reebok, NIKE did not invest in sponsoring the games of Atlanta Olympics (Kiley, 2005). Nike used up a probable $255 million to $260 million on advertisements in 2008, that showed increase from $240 million to $245 million in 2007, according to IEG, a research firm (NY Times, 2009).
Furthermore NIKE has no factories. It is known for not tying up cash in building assets and hence the fact that NIKE has all its labor out-sourced. This makes NIKE the amazing lean organization that it is today (NikeBiz, n.d).
Followed by that NIKE remains focused on its research and development side which is an added advantage that differentiates NIKE from all other competitors. Diversification in its product line and business is an added positive that Nike enjoys over its competitors (Brilliant, n.d.) NIKE rotates its production to places wherever lower cost can be incurred. Hence effective management results in lower production costs and higher returns (Zack, 1998).
Weakness
As Nike is a premier class product, its products are a little expensive within an industry which is price sensitive and where consumers are constantly losing buying power. The perception of NIKE as an expensive product is a considerable weakness that draws away the many potential customers who might believe that its expensive and not even approach a NIKE store. Too many star endorsements has made NIKE's marketing framework too expensive to be carried on forever (Aruvian, 2011) NIKE has a diversified product portfolio. Though it is good but it poses some issues as well. It makes the entire distribution network of NIKE very complicated. The retailers require deliveries of 300,000 pairs of shoes which involve a good 50 different models. These are then shipped to over 100 countries (GSBAPPS, 2000).
Another weakness is to control and implement labor laws at its manufacturing sites which are operating within developing nations. NIKE has already been accused of labor law violence regarding child labor used in manufacturing soccer balls. Another issue actively highlighted is that of the wages given to workers. In Indonesia basic shoe manufacturing workers are women of ages 17 to 30 years old. The daily inhabitable wage in Indonesia is at least $4 while NIKE only pays these women $2.5 (Feizhou, 2006).
Opportunities
Unexplored and untapped markets or countries within the developing economies as discussed in Nike's future strategy are a very big pool of business generation for Nike (Aruvian, 2011). The child labor issues and unfair wages associated to NIKE have been farfetched. It is said that though NIKE spends $25 million on CSR activities it refused to pay $2.2 Million for taking apart Honduran Garment workers (Cheng, 2010) Such issues should be solved so that they don't hamper the company image (JustMean, 2010).
Threats
Overall industry is saturating and becoming mature. Dependence over contractual suppliers' is a major threat in a saturated industry. Sports equipment is also a seasonal business, which hampers the turnovers every now and then. Cheap imitations are available at low cost (NY Times, 2009). Change is extremely difficult to achieve because of heritage and culture within the organization and because of that the local businesses already operating within developing nations having cultural knowledge of the markets is a substantial threat for entering a new market (Whittington et al, 2008). NIKE's excessive advertising budgets are also a threat since Nike can then not focus on other more important issues like resolving CSR problems. Nike spent around $1 billion on advertising and other promotional activities (123HelpMe, 2009).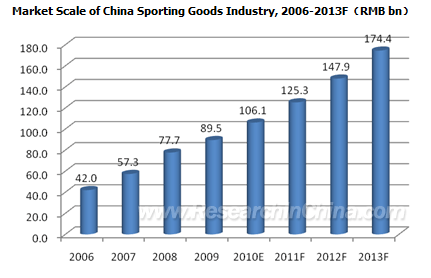 Conclusion
It's not easy for to maintain industry level position within the changing and sensitive industry. Every other company wants to replace Nike and take hold of its industry leadership position. With mergers and acquisition such as of Adidad-Reebok, arrival of new competitors from such as Li-Ning it would be difficult to retain leadership within the sport equipment industry for Nike. However, there are few areas where it can further concentrate and sustain its edge within the industry.
We can draw from all the analysis above that yes NIKE has its core strengths in the research and development wing, customer loyalty factor and the strong hold in the market. Even the association with the world's biggest sports men is an added advantage for NIKE since other brands cannot think of a good brand ambassador.
Nike is a giant and with such experienced professionals, Nike can easily strategize these areas. Nike has resources available in terms of capital, men-power and technology. If they can deal with the above mentioned areas of concern, they can sustain their edge for a long time to come.
Recommendations
Nike in sports equipment industry can further expand in unexplored economies in the developing world. These markets can be extremely lucrative, if substantial investment is made into these markets in areas such as awareness and quality standards. Nike can develop a product range which is of low cost for these untapped segments. As markets in the developed world become more and more saturated, it is the call of the day to look for new markets within these economies.
Another area where Nike can improve is within the areas of its manufacturing units in developing or under developed economies. Since these are extremely effective in terms of labor, Nike has to improve its working standards by either strictly monitor its facilities or by relocating a team of its professional to ensure strict conformity to labor laws. As these manufacturers are themselves looking to cut costs, they do not adhere to strict criteria and always look for ways to save costs. Strict monitoring and action is, therefore, required in this regard.
Price sensitivity is another issue in the ever changing market. As recession has taken its tale on the industry, the loyalty of Nike consumers has also suffered. Its premiums pricing may lead them to substitutes or other cheaper brands. Nike should take these sensitivities into account and introduce some relaxations for its customers.
Imitations not only bring substandard repute but also pose a threat to sales. Nike should cater this problem especially in developing or emerging markets. It should introduce awareness programs, and educate consumers regarding this issue.
Its heavy reliance on retailers such as Wal-Mart and other prominent retailers who exercise a lot of bargaining power over the pricing, is another issue that needs to taken into consideration.
Another area where Nike can take advantage is in environment sustaining products. Since Nike is a giant, it can set industry wide standards by adopting environmental friendly practices.
References
123HelpMe, 2009. Threats to Nike. Web.
Adams, S, 2004. Sports League Economic Structure And Fiscal Focus: Page One. Web.
All Business, n.d. Nike puts foot down on sales of imitations: Shoemaker helps police bust stores selling counterfeits. Web.
Aruvian, 2011. Pub ID: ARVN6187391 Analysis of Nike Inc. Research Report. United States.
Azam, F, 1999. TED Case Studies. Web.
Brilliant, J, n.d. Nike Raises Revenue Target To $28-30 Billion By 2015, Stock Soars Over 10 Percent Today. Web.
Cheng, A, 2010. Nike sets growth goal of $27 billion sales in 5 years. Web.
Cheng, J.M.-S, Blankson, C, Wu, P.C.S. & Chen, S.S.M, 2005. A Stage Model of International Brand Development: The perspectives of manufacturer from two newly industrilized economies-South Korea and Taiwan. Industrial Marketing Management, 34, pp.504-14.
Feizhou, L, 2006. SWOT Analysis of China's Sporting Business and Its Brand Building. Web.
GSBAPPS, 2000. Nike-Channel Conflict. Web.
Jana, R, 2009. Nike Quietly Goes Green. Web.
JustMean, 2010. Nike Spends $25 Million On CSR Annually; Refuses To Pay $2.2 Million In Severance To Honduran Garment Workers. Web.
Kiley, D, 2005. Reebok and Adidas: A Good Fit. Web.
Kotler, P, Armstrong, G, Saunder, J. & Wong, V, 1999. Principles of Marketing. 2nd ed. New Jersey: Prentice.
Lussier, R.N. & Kimball, D.C, n.d. Five competitive forces in sport business environments. Web.
NikeBiz, n.d. A New Model and Shift to Sustainable Business and Innovation. Web.
NY Times, 2009. In recession, Nike is likely to cut marketing. Web.
OECD, 1998. The Economic Impact of Counterfeiting. Web.
Petkova, P. & Pattabiraman, S, 2010. Nike, Inc. and the Athletic Footwear Industry Strategy and Competition Analysis. Web.
Plunkett Research, 2011. Sports Industry Trends Analyzed in Online and Print Editions. Web.
Porter, M.E, 1980. Competitive Strategy: Techniques for Analyzing Industries and Competitors. Free Pr.
Research China. China Sporting Goods Industry Report, 2010-2011. Web.
Rooney, J, 2011. Brand Power To The People: J&J Takes Lead In Forbes Ranking. Web.
SGMA, 2011. SGMA Research powered by Sports Marketing Surveys. Web.
Shoes News Update, 2008. Nike Technologies. Web.
TDC Trade, 2007. Profiles of Hong Kong Major Manufacturing Industries. Web.
Thoelcke, T, 2009. Earnings preview: Is the recession catching up with Nike? Web.
Zack, M.H, 1998. Developing a Knowledge Strategy. College of Business Administration.