Introduction
In today's business environment, one of the most critical areas of a company's operational activity is strategic management. It is the quality of prepared, implemented, and executed strategic management that determines the potential for business development in a competitive industry market. Managing operational strategies in this way is of paramount importance for any company because it fulfills a structuring, administrative, and foresight role. It is therefore crucial for the company to invest in strategic development and to implement practices that can determine its financial, professional, and reputational success.
On-Time Delivery!
Get your customized and
100% plagiarism-free paper
done in as little as
3 hours
From a theoretical point of view, however, it is essential to note that there is no single paradigm that unites all the many existing practices, methods, and approaches used by leaders for effective management. Therefore, it is essential for those interested in exploring the vast possibilities of strategic analysis not to stop to obtain relevant information regarding organizational development opportunities, even after the actual training has ended.
Strategic analysis is extremely useful for any business because it allows for achieving goals in a variety of ways. In particular, it is often said that a sound strategic analysis allows a company to become more productive, but it is clear that productivity is not the only metric a medium- or small-sized business in a sector market should have. In fact, strategic management has much more specific objectives. On the non-obvious side, it allows companies to get to know each other better and measure the alignment between the initial mission and standards of the business and the current agenda.
The strategic analysis then acts as a researcher's tool, with aspects of which it is possible to create a unified image of the company in light of external and internal pressures. On the more obvious side, in the context of local and global competition for customers' money, which is acquiring increasingly fierce forms in contemporary years, strategic analysis is a tool that allows to measure and foresee the development of the industry market in a more profound way. In this case, it is correct to say that the company with the best quality strategic management has the guarantee of tremendous success over others. In this statement, it can be seen that the foundation that determines the opportunities for success is a comprehensive strategy as a formalized vision of development that takes into account all possible risks.
In this report, the focus is on the strategic analysis of the medium-sized firm as part of overall strategic management to enable the firm to maintain viability and competitive advantage even in the context of economic globalization. This will use the external and internal factors of the firm as facets of strategic analysis, so it is first necessary to outline what is meant terminologically by the two concepts. Firstly, the analysis of the internal structure of the company allows to systematize knowledge about the "skeleton" of a particular business and study its forms such as image, reputation, weaknesses, strengths, and opportunities for development.
Second is the company's external environment, which assesses any aspects excluded by the internal sphere that hinder the company's growth. In perspective, it is believed that a company can have unlimited development and expansion, just as Hardy-Weinberg's ecological law postulates the development of an infinite population in the absence of external pressures (Sun et al., 2020). In the real-world business case, however, external pressures provide an essential stimulus for the commercial development of an enterprise, as their effect creates barriers. Examples of such forms of the external environment that are studied in the current work are the structure of market functioning, geopolitical and economic constraints, customer demand, a measure of customer satisfaction, and competitive analysis. Regardless of the area being analyzed, the central mission of the strategic analysis is the same — to identify growth opportunities in a comprehensive and critical manner and to make all possible efforts to achieve professional progress for the company.
Thus, the overall objective of this paper is to conduct a strategic analysis of the selected company. It is proposed to use the American engineering company John Deere as the company to be monitored. The report provides the reader with valuable and relevant information to consider John Deere from a strategic positioning perspective. The paper consistently discusses the key features of the company's external environment and internal analysis adaptations to these pressures, the potential for strategic solutions, and growth opportunities. The entire paper follows the standards of critical appraisal, allowing John Deere to be viewed in isolation from bias and subjectivity.
Yes, we can!
Our experts can deliver a
custom The John Deere Firm's Strategic Analysis
paper
for only

$13.00

$11/page
John Deere: Brief Background Information
John Deere is a typical mid-sized company with a presence in various major foreign markets. The company specialises in agricultural, machinery and logging products, which is why John Deere can be partly described as a group. Some examples of the essential products are construction and agricultural machinery, diesel engines, gearboxes and transmissions. John Deere has a long history: it first started as a small tool and repair shop opened by John Deere in 1837 (Haralayya, 2021).
It is believed that one of the keys to the success of the American company at the height of industrialisation was the display of the finished product in the shop window as an alternative to point work on each order: therefore, consumers could see what they were buying and receive the products they had already made, saving time. The company's professional direction only shifted in 1912, when the son-in-law of the business's ancestor, William Butterworth, provided the company with established tractor production (Moran, 2017). Thus, from a historical perspective, John Deere is a company with a long history and family tradition, but not conservative and rigid but capable of changing and adapting to the spirit of the age.

Researching the 'About Us' section of the company's official website allows the brand to be positioned as sustainable and confident, precisely understanding and holding an industry niche. John Deere's slogan states that We Run So Life Can Leap Forward, hinting at the brand's progressiveness, traditionality and strength (We Run Like No Other, 2021). This mantra itself shows that if John Deere is gone, life will end, which is quite a bold statement for today's market.
Furthermore, John Deere refers to life as part of environmental sustainability and responsible business: this is not surprising, as close interaction with the agricultural sector is impossible without a strong focus on caring for the environment. The company, if one continues to explore the website, invests in sustainability and innovation with the aim of making safer but more productive use of the earth's resources for business.
From an economic perspective, John Deere is in a strong position in the stock market with apparent economic growth over the last year. Since the last significant drop in March 2020, John Deere has gained more than 3.19 times its share price, a solid indication of sound business management, a comprehensive operating strategy, and the proper handling of consumer demand (Deere & Company, 2021). At the same time, the six-month yield is -2.9%, which, given general investment principles, is not a problem for long-term accumulation.
According to the company's official LinkedIn profile, it has more than 10,001 employees working in different parts of the world. The company has nine approved headquarters and factories, six of which are in Eurasia and three in North America, as shown in Figure 3. Consequently, in a general sense, John Deere should be classified as a global mid-sized business whose scope of influence, and scope of pressure, respectively, extends beyond a single region.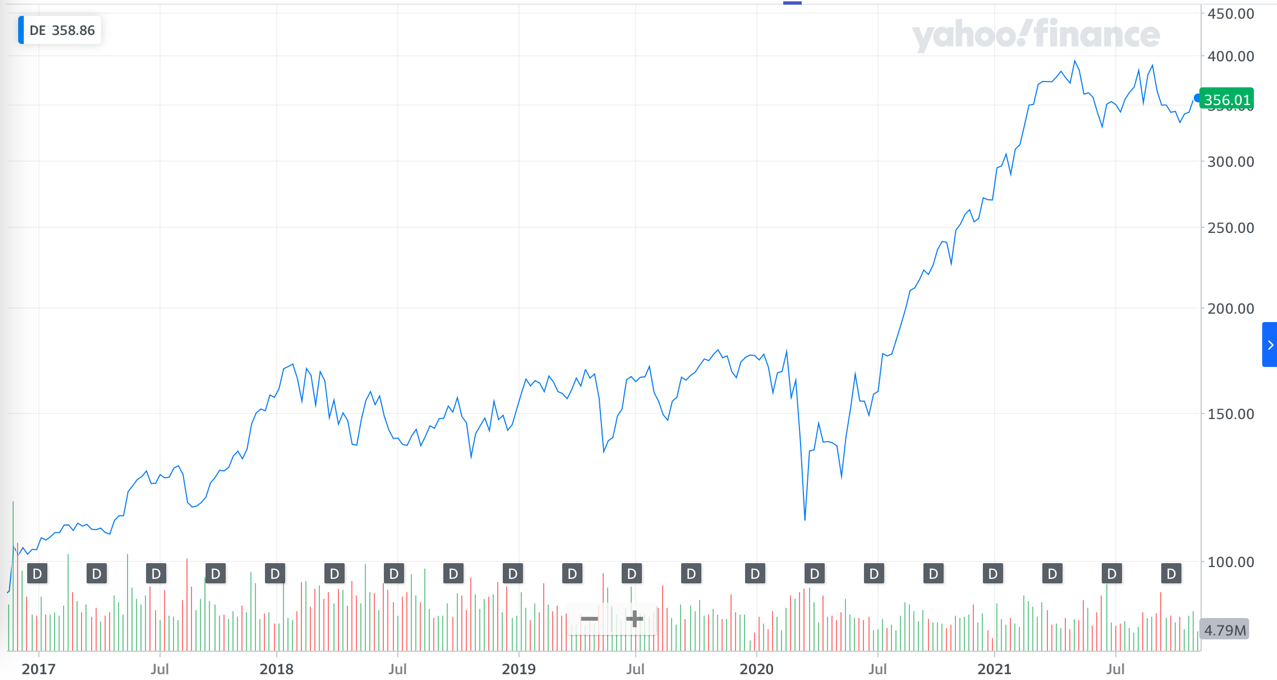 Key Features of the External Environment
The external environment is dynamic, and so it is good practice for any business to use all available resources — within a code of ethics — to adapt quickly to changes. The external environment should be viewed as synonymous with organisational change management because both are designed to achieve the same goal — utilisation of internal and external environmental resources to deliver intended results such as competitive advantage, improved customer experience and improved profitability. With this in mind, it is critical that operational strategies are implemented wisely to achieve these outcomes — otherwise, the company is unable to withstand external pressures.
Cut
15% OFF
your first order
We'll deliver a custom
Strategic Management
paper tailored to your requirements with a good discount
Because of the crippling effects of competitive forces, political and economic threats, combined with a general decline in customer demand, any company, including John Deere, can be at a disadvantage. Hence at this stage of the research, it is essential to point out that the external business environment is dynamic and complex and includes many factors, which will be discussed in the following paragraphs. In addition, to create a more formatted and digestible report, each of the sections below includes relevant internal John Deere operating strategies that address a specific factor in the external environment.
Total Customer Demand
A fundamental pillar for the financial performance of any business is consumer demand. Generally speaking, demand should be understood to be the willingness and ability of people to purchase goods in the marketplace. From what has been said, it is evident that a company can produce products and services that will not be in demand because customers may not be interested in buying them — in which case the business is unprofitable and in short supply.
Demand is thus an important predictor of a company's success, and its fluctuations have a significant impact on profitability. One of the most significant events that has influenced aggregate demand in recent years has been the COVID-19 pandemic. It is a well-known fact that the pandemic has caused severe economic, political and social damage mainly because of the unpreparedness of national health systems for such a dramatic surge in incidence and the consequent governmental restrictions (Ozili and Arun, 2020). National authorities almost universally have rapidly introduced bans, social distancing and remote working requirements to reduce the number of new infections.
While a critique of these actions and modelling of alternative scenarios is not part of this paper, the only relevant conclusion is the pressure these measures are likely to have on businesses of all types. Previously established economic bridges, supply chains, and factory operations have been compromised, with a direct impact on the profitability of businesses. It is important to note that COVID-19 has become one of the most dangerous threats to business, as standard operating strategy models such as forecasting and planning have become meaningless and time-consuming.
The parallel between falling supply and demand and hence low economic efficiency for companies is not difficult to draw. As a result of the reduced capacity of companies to operate (supply shock), a demand shock occurred, with consumers finding themselves cash-strapped. Thousands and millions of workers in the machine industry around the world found themselves with no means of survival, which had a noticeable impact on the consumer basket. Communities can no longer afford to spend money on the kind of products and services they used to buy while inflation continues to rise. The result is a demand shock where consumers cannot afford non-essential purchases.
While it would appear that the engineering industry, which includes John Deere, is an area of non-essential purchases, the data shows the opposite. There is evidence that this sector of the market has not undergone any supply and demand shock, as even during the pandemic, people continued to buy goods for the agricultural industry. Figure 4 reflects this: the zero meridians of the diagram shows the industry under interest. Accordingly, extrapolating these data to John Deere, del Rio-Chanona et al. (2020) indicate that there is no significant damage to the company.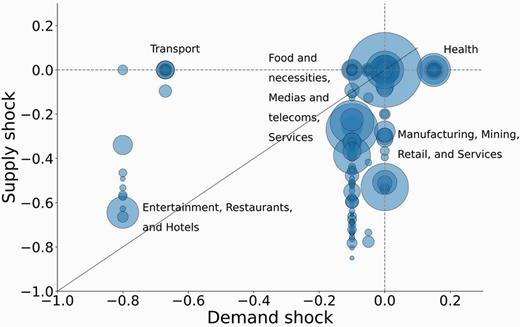 It is interesting that John Deere's share price rose by about 235.63 per cent during the pandemic, suggesting a favourable outcome of COVID-19 on the company's economic growth. It is likely that the agricultural sector has become one of the areas of the economy that is paramount to human survival — the very reason why agro-industrial farms could not be shut down and suspended. On the other hand, it is highly probable that some entrepreneurs were interested in developing such a business and were therefore forced to invest in the purchase of agricultural machinery. In this sense, it is essential to emphasise that a crucial operational strategy of John Deere was to provide the safest environment for employees rather than suspending operations (Singh, 2020).
Get a custom-written paper
For only
$13.00
$11/page
you can get a
custom-written academic paper
according to your instructions
This decision may have been the reason for maintaining a competitive advantage over closed plants, which has allowed the company to increase its profitability qualitatively. This is noteworthy because, in the fiscal year 2020 annual report, John Deere indicates that 85% of its global employees worked from home, which contradicts the ideas Singh (2020) wrote about, as shown in Figure 5. There is no paradox in this: even in the report itself, management indicates that only workers not essential to stay in the factories were moved to a remote format at will, while for everyone else, personal safety measures against infectious diseases were strengthened.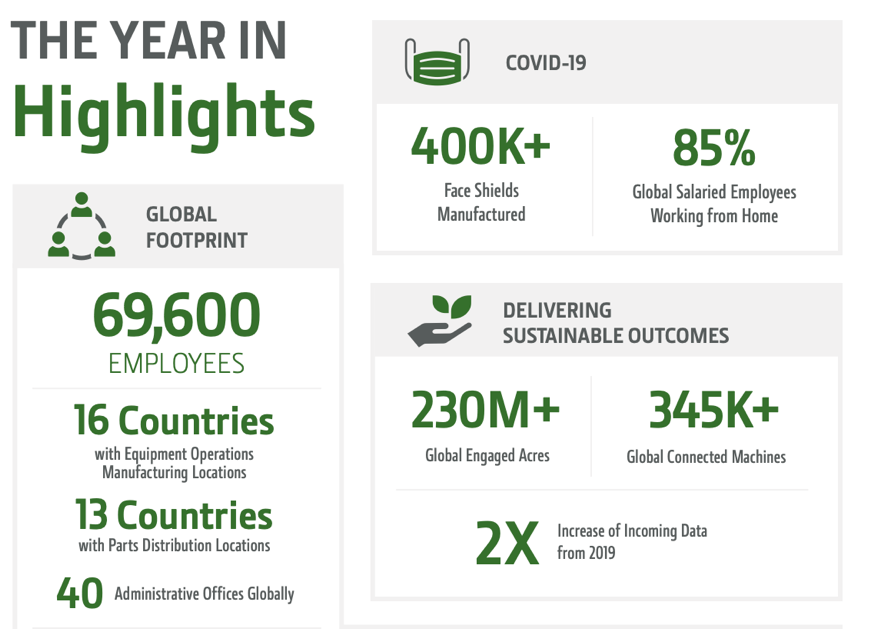 Technology Factor
Another critical factor within which John Deere shows good adaptive performance is technology. Technological progress is notoriously endless: society is constantly investing in the development of technologies that optimise and simplify life. To a noticeable extent, this creates some external challenges for companies: if technology advances faster than the intellectual pace of business, such an enterprise will seem old-fashioned and irrelevant to the current agenda. For this reason, companies must invest in technological development and maintain an R&D philosophy.
The technology challenge is one area at John Deere with which management has no significant problem. With a long history of development from a small American shop to an internationally renowned chain, the company has consistently demonstrated a willingness to embrace new technologies and incorporate them into production lines. John Deere is no longer called an ordinary machine-building company but a brilliant and computerised titan (Bedord, 2019).
This is a legitimate slogan, given the company's main R&D thrusts full electrification, automation, precision, and integrativeness. The company's current innovation vectors are aimed at combining unique features to create the most optimal machine that performs advanced functionality. For 2020, among others, more than $4 million was spent on innovation at John Deere, and 21 new programs were launched (John Deere, 2020). All of this leads to the conclusion that the company is coping well with this external environment and is able to withstand the pressure of technological progress by leveraging it.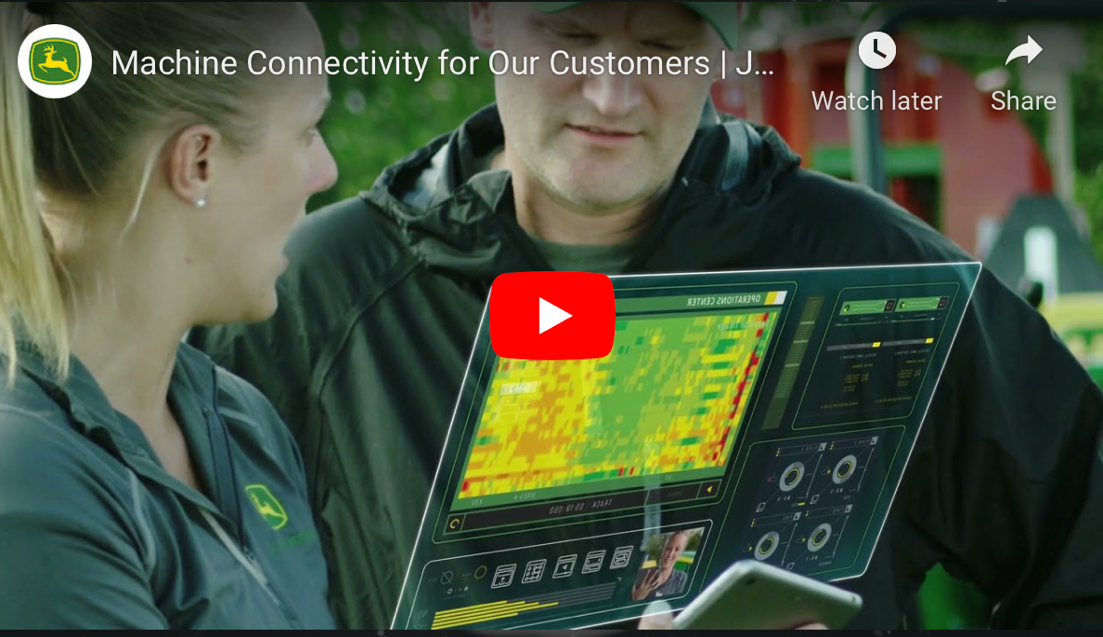 Social Factors
Another important environmental factor that appears to be a priority for multinational companies is ensuring that employees are highly adaptable to a common business mission from different regions and cultural and ethnic groups. In the era of globalisation, hiring remote employees in order to save money or in an effort to fill the workforce with employees with better KPIs, building an ethnically diverse workforce is not surprising. Moreover, the lack of a culture of inclusion is not encouraged by society, so situations, where short-sighted firm managers are accused of racism and ethnic discrimination are not uncommon. The social factor, however, is not limited to addressing only the racial issue but includes providing a favourable environment for the growth and development of all employees and their families.
John Deere again excels in this area through a uniquely designed volunteer program. One of the goals of such a programme is to make positive changes in the communities in which employees live for the sake of increased emotional and physical well-being. The company aims to increase the number of volunteer hours spent to 1 million by 2022 (Breaking down, 2020). Volunteering includes covering food security: according to the annual report, thanks to the efforts of employees at the height of the pandemic, John Deere was able to donate food packs to more than 23,000 people in various communities in different countries (John Deere, 2020).
Furthermore, during COVID-19, John Deere, concerned about the social welfare of employees, did not seek to move all employees to remote work drastically and cut their salaries but instead was able to ensure that factories were fully functional while complying with all government regulations. Even this fact in isolation shows that the company is interested in addressing the social issue as an environmental factor.
Competition
As is well known, an efficient business cannot exist in isolation from the competition. Just as it works for natural selection in evolutionary biology, competition is crucial for companies to evolve (or perish) in the face of external pressures. In the absence of competition, a business can become monopolistic, which has a number of negative consequences for all concerned. In particular, when a company does not have to fight for the finances of the consumer, a situation of lower quality products arises in order to save money. Thus, competition qualitatively helps communities and companies by working to achieve economic and reputational benefits.
For a company with over 180 years of history, the tools of competition are something understood. To date, John Deere's key competitors include Caterpillar Inc., AGCO, The Toro Company, Mahindra and several other engineering companies (WCS, 2021). To compete effectively with them for a strong niche position in the industry market, John Deere has developed an excellent marketing network and distribution channels (Dickson, 2017).
In addition, the company actively invests in quality and proves this with its products: including through regular YouTube videos comparing John Deere tractors and competitors, which clearly demonstrate the difference in quality, form factor and design (John Deere, 2017). On the integration of competitive and social issues, John Deere solves the problem of attracting talent (which affects the overall intellectual level of the company) through competitive compensation and benefits (John Deere, 2020). This encourages job seekers to join John Deere, which in turn improves the company's HR agenda. Thus, John Deere is working correctly with the perception of competitive advantage in the minds of its customers, and the opportunities described in the previous sections give the company a leadership position among competitors in the industry market.
Environmental Impact
It is critical for a company in the agricultural sector to provide a long-term perspective, as unilateral use of land without compensation for environmental damage will ultimately have a detrimental effect on the producer. Operating in such an industry, John Deere must be an example of a company with a high level of environmental responsibility and awareness, engaging in the restoration and reclamation of the resources used. In fact, this is the case: John Deere has developed a set of positive measures to address this issue. Specifically, the company aims to reduce its greenhouse gas emissions by 15 per cent by 2018 and to recycle up to 75 per cent of all waste produced (Taking a closer look, 2020). In addition, the sustainability programme includes adequate water consumption, as shown in Figure 7.
Ultimately, John Deere leverages available resources and opportunities to not only create the right brand perception as environmentally responsible but also to implement tangible actions to improve environmental protection.

Evaluation of Strategic Decisions
As was shown in the previous sections, it is fair to say for John Deere that it is using its available resources and capabilities wisely to achieve a competitive advantage. The most important areas of the external environment, be they competitive forces, environmental awareness, social issues or technological advances, are adequately reflected in the company's internal operating strategy. However, it should be understood that the external and internal environments are dynamic and not conservative: the market structure rarely remains stable. This is particularly evident in COVID-19, which was able to dramatically change the social, political and economic order in just two short years (Ozili and Arun, 2020).
For this reason, as part of its strategic analysis, the company should use the evaluation of available solutions that enable John Deere to achieve better results consistently, the discussion of which forms the basis of this section.
One strategic decision that makes sense for John Deere is to establish an influential corporate culture. The company already has several divisions across North America and Eurasia and using a holistic corporate culture could allow these factories to be integrated into a unified corporate network. This could be implemented, for example, through common software adapted to local employee settings or joint events, conferences and fairs. In addition, John Deere must continually use different competitive analysis models to assess its own strengths and learn about the abilities of other industry players. These include competitive analyses of SWOT, Porter, SGA, and perceptual mapping. Including to stimulate independence, John Deere may hire a third-party audit to properly assess its own resources, which makes sense for competitive research.
An important strategic decision is the use of integration technologies that can qualitatively improve the company's competitive advantage. One such example is the use of unmanned drones for agricultural mapping, which makes sense for monitoring livestock, grazing, wildfires and other aspects of environmental safety in the fields (Krishnan and Swarna, 2020). This could be a breakthrough service for the company, further linking John Deere's image with innovation and technology, although obviously, any such innovation will require a major financial and intellectual investment.
Finally, one of the most effective methods of improving business sustainability is a direct measurement of the customer experience. Companies often use questionnaires, surveys, email correspondence and calls to their current customers to gauge customer satisfaction. Since no evidence of such communication between John Deere and its customers has been found, it seems that this solution is appropriate for the company to use. John Deere could, however, use more resources and conduct product satisfaction testing after six months and a year of operation, which would allow the company to accumulate a sufficient database of these satisfaction dynamics. Among others, such practices would be useful for marketing campaigns as evidence that John Deere products last a long time.
Critical Evaluation of the Strategy
The final part of the current report is to provide a critical assessment of the operational strategy that is being implemented at John Deere. The overall strategy, as the previous sections make clear, is built around the integration of four organisational pillars: technology, quality, innovation and care. John Deere tries to use all available resources to achieve a competitive advantage. It is a formalised, good and positive strategy that proves beneficial to all stakeholders.
Management, customers, employees, investors and suppliers all get involved in John Deere's corporate culture, which has a positive impact on results. The company has separate ethical codes of engagement with investors and suppliers, which helps delegate responsibility and manage expectations. It was probably this coherent mechanism that kick-started the creation of healthy strategic management at John Deere.
However, there is no such thing as a completely perfect strategy, as dynamic external and internal environments create opportunities for problems in any case. For John Deere, there are problems with supply chain disruptions and employee strikes due to wage delays and plant downtime, which is an obvious operational strategy problem (McCausland, 2021). The company does not always go along with the unions, and this creates an occasion for conflicts between management and employees.
This may become an indication of a lack of management awareness of the problems of conveyor line employees in order to address them preventively: in other words, there is probably a power gap. In addition, the supply chain problem reflects the company's low ability to anticipate and manage risk, which is also a weakness in current strategic management. Thus, the analysis showed that John Deere has a good and solid operational strategy, which is nevertheless not without flaws.
Reference List
Bedord, L. (2019) John Deere transforming from a machinery company to a smart technology company. Web.
Breaking down John Deere's responsibility to corporate citizenship (2020). Web.
Deere & Company (2021). Web.
del Rio-Chanona, R.M., Mealy, P., Pichler, A., Lafond, F. and Farmer, J.D. (2020) 'Supply and demand shocks in the COVID-19 pandemic: An industry and occupation perspective,' Oxford Review of Economic Policy, 36(1), pp. 94-137.
Dickson, A. (2017) How is John Deere different to its competitors? Web.
Haralayya, B. (2021) 'Study on trend analysis at John Deere,' IRE Journals, 5(1), pp. 171-181.
John Deere (2017) John Deere 5E series vs. Kubota MX video. Web.
John Deere (2020) Sustainability report. Web.
John Deere (2021). Web.
John Deere (2021) Machine connectivity for our customers | John Deere innovation & technology. Web.
John Deere LinkedIn (2021). Web.
Krishnan, A. and Swarna, S. (2020) 'Robotics, IoT, and AI in the automation of agricultural industry: a review,' 2020 IEEE Bangalore Humanitarian Technology Conference proceedings. IEEE, Vijayapur, India. IEEE, pp. 1-6.
McCausland, P. (2021) Farm equipment is scarce and pricey. The John Deere strike has farmers worried. Web.
Moran, M. (2017) 'Not your grandfather's tractor company — transformation of the John Deere enterprise,' Journal of Enterprise Transformation, 7(1-2), pp. 40-73.
Ozili, P.K. and Arun, T. (2020) 'Spillover of COVID-19: impact on the Global Economy,' Munich Personal RePEc Archive, 99850, pp. 1-27.
Singh, R. K. (2020) How Deere, Caterpillar kept plants running during the coronavirus outbreak. Web.
Sun, L., Gan, J., Jiang, L. and Wu, R. (2020) 'Recursive test of hardy-weinberg equilibrium in tetraploids,' Trends in Genetics, 37(6), pp. 504-513.
Taking a closer look at John Deere's environmental impact (2020). Web.
WCS (2021) Top 7 john deere competitors in 2021. Web.
We Run Like No Other (2021). Web.