Introduction
This essay reports on Dell Inc strategic analysis. It addresses Dell Inc internal strategic analysis through internal Dell Inc business environment that would be delivered through use of SWOT analysis and external business environment that will be conducted through use of PEST analysis. The essay looks into Dell Inc core competencies and sustainability of Dell Inc competitive advantage.
History of Dell Inc
Dell Inc (Ajula, 2009) began its business operations in 1984 under management of Michael Dell. The Dell business philosophy was structured on provision of superior customer value through adoption and implementation of latest technological development and innovation. The Dell brand architecture was built on a customer driven innovation approach that provided basis for Dell competitive advantage.
The architecture of Dell business model
Dell (2009b) claims that the Dell business model is structured on a Direct Model that is driven by customer engagement strategy. Through Dell Direct model, dell has been able to interact with customers directly which has created foundation for customer trust on Dell brand (United States Securities and Exchange Commission, 2010, unpaged, p 6). Through customer engagement and interaction, Dell has been able to build exploit the values of Lean manufacturing principles with regard to manufacture-to-order, that has contributed into Dell capacity to gain from sustainable control of inventory build up, improvement of production cycle times and capacity to gain from Just-In-Time strategic tools1 (Dell, 2010). Dell business model has played a great role in reduction of intermediary margins that influence on costs of business.
Dell business investments
Dell Inc specializes in computer hardware and software, smart phones and personal computers (Norman, 2010). Dell market share has increased that has improved Dell market positioning. Dell currently operates in more than 190 countries and has manufacturing industries in 9 countries with its latest manufacturing, research and development centre in India, one of its leading global markets.
The reasons of Dell's Growth
Dell began its operations in India through opening of contact centre. The India Customer contact centre was set up in order to make to establish an international business customer care outsourcing unit (Dell, 2009a). The second phase of Dell Inc market growth involved investment in sales of personal computers that bore Dell Trade Mark, sales of servers for network, Ethernet, intranet and internet that were exported from Dell's Chinese manufacturing facility (Dell India, 2010). The second phase of Dell economic growth involved opening of a Research and Development centre in India which further improved her human capital, intellectual capital, customer capital, relational capital and organizational capital.
Target customers and stakeholders
The primary target customers for dell are large business enterprises, governments, non-governmental parastatal bodies, and individual consumers.
Future prospects based on current growth
Dell is currently leading personal computer producer and marketer after Acer and HP (Kutty, 2009; Dell, 2009c; Norman, 2010). Dell Inc envisions India to become a leading international market after US market. In 2010, Dell emerged as a market leader in sales of personal computers in India. The rate of sales of Dell in India has been projected to 81%.
The market reputation of Dell
The market reputation of Dell Inc is built on its business philosophy and architecture "Direct Method". Allison (2008) argues that the dell direct method business model has brought forth two distinct economic advantages namely reduction of marketing and sales costs which has reduced supply chain of Dell through non-use of distributors and retailers.
The direct method model provided basis for implementation of Dell exploitation of lean production principles namely make-to-order hence reduction of buildup of inventory hence reduction of risks associated with retention of inventory and threats minimization of buildup of capital (Dell, 2009a). The direct method model has also contributed into increased customer interaction, involvement and participation in innovation which has made Dell to gain from its customer driven innovation and customer engagement strategies.
Mission and vision statement
Dell (2010) indicates that the Dell mission statement is based on values of "bringing the best personal computing experience to its target customer's namely corporate users, students, professionals, educators and creative industry players". This is structured based on capabilities of Dell hardware, and software. Dell mission statement is categorical and assumes three directions of Dell value investment. The Dell mission statement integrates customer satisfaction through customer engagement "dell is a company that seeks to deliver customer value through satisfying customer expectations for quality, responsiveness and competitive pricing policy".
The mission statement further recognizes the essence of team spirit through dell's "management commitment and employee commitment towards a cooperative framework that could enhance or create value to Dell business operations and processes". The Dell mission statement recognizes community and societal values hence environmental concerns through "working in clean and safe environments that provide sound atmosphere and enhance community participation and engagement". The Dell mission statement incorporates its value statement. The growth of Dell has been driven by its mission and vision statement (figure 1).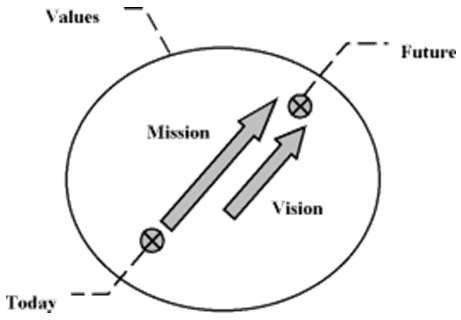 As a result, Dell mission and vision statements have internal and external dimensions. The mission statement defines clearly the description of products that Dell offers her target market "bringing the best personal computing experience to its target customers" and delivers external dimension through identifying its target markets "students, educators, creative professionals and consumers around the world". The mission statement also lists the functionality of the Dell Inc "Bringing" to her target market "innovative hardware, software and Internet offerings" (Rebecca, 2009).
External business anslysis of Dell Inc
Dell Inc External business analysis
External business analysis has capacity to provide knowledge on Dell Inc business potential, future market positioning and facilitate development of a framework that could direct Dell Inc future operations (Hall, 1980). External business environment of Dell Inc influences on its capacity to outsource components and human capital.
Political influence on Dell Inc
Dell Inc is affected by political factors. Political factors have contributed into increased Dell Inc profitability. Dell Inc in 2010 achieved 43% of her sales from sales in Indian market (dqindia.ciol.com, 2010a). Political factors however have affected Dell Inc expansion for instance war, terrorism, geopolitical risks and geopolitical uncertainties and public health issues. The high sales turnover from external markets to US market are mainly products for education, consumer market, creative industry, business and government and non-governmental organizations (Porter, 1985). Increased Dell diversity of her product, market segmentation has affected her bottom line and future growth prospects.
Economic influence on Dell Inc
Dell Inc has continued to open increasing number of research and development centers that are targeted towards improving customer relationships and bringing technology closer to targeted market. In addition, online sales have affected profitability of reseller businesses and decreased their chances of competing in the market (Cuizon, 2009).
Social influence on Dell Inc
Social factors have affected liquidity of Dell Inc (Ajula, 2009). Dell Inc has upheld her capital which demonstrates incapacity of Dell Inc to invest and allocate her resources. Upheld capital in reserves might be illustrative of projected future risks and uncertainties that might affect Dell Inc investment (Fredman, 2000) for instance failure to manage global financial crisis. This reduces her profit margins and index in capital exchange and stock market.
Technological influence on Dell Inc
Dell Inc is a market leader in technology and this is dependent on the Dell executive management (Fredman, 2000). Dell has demonstrated technological strengths through her investment in research and development as well as diversification into investment in smart phones (Menn, 2009)
Internal business analysis of Dell Inc
Dell internal strategic analysis
Dell market share is driven by strategies that are based on adoption of a low cost strategy and cost differentiation strategy that is supported by superiority of dell product performance which reduces opportunity for consumer perception of low quality. Dell sales of direct customer contact through use of integrated marketing communication and electronic sales have provided primary strength that has increased Dell competitive advantage. Dell designs her products based on value expectations of the customer.
As a result, the system requirements are structured to satisfy customer demands which drive Dell strategy of "manufacturing to customer specification". The make-to-order business process has increased customer value and confidence hence Dell's capability to gain advantage of sustainable customer and brand loyalty. Dell through it cooperative approach, community integration and customer value creation has resulted into manufacturing of products that satisfy target markets which has distinguished Dell from its direct competitors in market positioning.
Dimension of Dell competitive advantage
Cuizon (2009) claims competitive advantage of Dell is based on value that Dell creates on its target market. The values that Dell creates to her target market include high level of technological innovation, delivery of aesthetic designs that conform to superior product technology, performance of the products and reliability of Dell technical support. Dell has adopted a low cost strategy for quality products which has resulted into Dell competitive pricing policy.
The price structure of Dell products is dependent on the market conditions which are meant to create positive impression for sustainability of customer loyalty. Business-Standard.com (2010) indicates Dell competencies are derived from pricing structure, product differentiation and cost differentiation that enable Dell to enjoy economies of scale and economies of scope that are not emulatable by other industry players. This has relied on Dell use of direct-to-customer- model, strengthened quality performance and updating of its technological development which are structured on capacity to sustain customer interaction.
Dell success factors to market competitiveness that form basis for her market strengths
Use of the direct method business model
Norman (2010) argues that through use of direct method model, Dell has been able to achieve direct customer relationship that has no distribution chain. The Dell website has been designed such that it facilitates engagement, markets Dell products on the internet and provides customers with capabilities for product customization and provision of customer product specification. The customization is structured on market needs for product performance (David, 2005).
Dell Integrated process management system
Dell employs integrated process management system towards its capacity to coordinate its business processes. The Dell integrated process management system is structured towards management of procurement processes, and technical support. This ensures capability to create value to customer is achieved. The integrated process management system ensures Dell adopts standardized policies which are instrumental in managing economies of scope, economies of scale and cost complementariness.
The savings that are achieved through use of integrated process management system ensures the costs are transferred to the consumer through discounted prices which contributes into lower pricing policy that is adopted by Dell Inc (Dell, 2009b).
Customization criteria for Dell
Dell provided personalization of her products. Through product customization, a customer is free to make a choice of hardware or software that they require their personal computers to have. Through product customization, a customer personal computer system specification are selected by the customer for instance the hard disk capacity for storage, the processor speed, amount of RAM and other system specification that are compatible to motherboard BIOS.
Dell framework for reliability, service and customer support
Suite101.com (2010) claims Dell has differentiation its core competencies from her competitors by structuring her customer service structure to deliver reliability, consistency, trust, customer confidence and positive customer encounter. The differentiation further is structured towards fast customer feedback management which has contributed into development of Dell unique values that have improved and strengthened dell brand perception.
Market Opportunities of Dell
The demand for laptops has been rising compared to demand for the desktops which present a business opportunity that Dell can exploit and invest in. internet presents opportunity for restructuring direct method approach. This could be achieved through development of customer interface where customer logs on and makes an order based on her personal computer system specifications. The Dell online store could gain from dell failure to invest in offline stores. Online shopping could ensure customers achieve convenience as opposed to traveling to the retail centers to make a purchase.
Dell could exploit values of untapped markets through investment in smartphones, developing mobile electronic shopping for personal computers and exploiting demand for laptops through mobile telephony. The Dell should invest and diversify into the internet through use of personalized applications, capability for user to download applications and software for different user needs which would ensure dell exploits core competencies of Apple Inc and dominates markets that Apple Inc is targeting through its internet customized mobiles and smartphones.
Weaknesses of Dell
The greatest weakness that Dell Inc suffers is capacity to attract the largest consumer of personal computers namely the students, colleges and universities that offer electronic learning. Dell commercialized in building stable relationships with government agencies and corporate sector without focusing on a future growing market of the educational sector. The student purchase computers through colleges and universities in order to gain from a lower market price owing to quantity discount.
There is a problem on household consumers that may fail to access Dell personal computers due to lack of access to a distribution centre. This is subject to dell Inc business model and integrated process management system that eliminates use of distribution chain. The problem of custom manufacturing of personal computers poses a threat that takes time to deliver. Thus, Dell Inc loses on its business direct method approach of relying on corporate and institutional sales. The company lacks retail trade that is vital in establishing relationship with target market. Threat of variability of consumer needs poses a possible change in market share as consumer needs and expectations change. The merger of HP and Compaq presents a strategic, technical and market based threat to dell.
Threats of Dell
Rebecca (2009) argues that Dell faces challenges of volatility of the personal computer market due to improved competitiveness of her competitors especially Apple Inc. the volatility of the personal computer market has been triggered by launch of new hardware, software, operating systems that incorporate other standard software, and increased access to computer accessories that could constrict the market share of dell. This demands increased investment in research to identify emerging opportunities for creating more advanced customer value and delivering to customer quality and technical expectations.
There is threat of price war (Siliconindia.com, 2001). Homogeneity of the personal computer and laptop market demands introduction of high quality but low priced products (Menn, 2009). The price difference between brands as a result has been growing smaller which could expose threat of brand parity and increased brand switch due to cost based factors. This became a threat to dell Inc since Dell had exploited values of low price strategy as part of her competitive advantage hence leading into loss of value of Dell direct method approach.
Due to low margins of price difference, and the incapacity to manage Just-In-time strategic tool owning to time spend in assembling of the computers, dell could lose her market share and follow a market exit strategy for instance mergers and acquisition. Dell market share is threatened by technological development. Technology as a competitive advantage presents an opportunity to differentiate as well as a threat to lose target market.
Popularity is the key driver to sustaining market share which demands Dell to identify rationale for managing threats of technology that provided foundation for its own growth. Dell suffers the challenges of emergence of China and Indian Information technology companies which has resulted into cheaper personal computers. As a result of market congestion, Dell further is faced by challenge of a slowly and gradually decreasing economic growth rate, which is threatened by global financial crisis and increasing volatility of markets.
Managing Dell market opportunities
Dell Inc should employ the following proposed components towards management of her marketing opportunities. The proposed methods have capacity to manage threats that Dell faces.
The BCG Matrix
Dell Inc needs to identify positive correlation between market growth opportunities and market share (Allison, 2008). This could be achieved through use of a BCG matrix. According to Norman (2010) BCG matrix has been identified to provide foundation for building positive relationship between the market growth and market share. Dell could gain from growth opportunities of BCG matrix that could result into diversification and balancing of her portfolio (Menn, 2009). Dell Inc has not been able to gain sustainable value from BCG because organizational strength of Dell Inc is dependent on market share alone (Parnell, 2006).
Dell Inc market strength requires use of other factors that influence on market share like financial strength, brand equity, distribution channels and uniqueness of product features. The Dell Inc high capital in reserve is meant to manage incidents of cash flow problems. This implies, Dell Inc has moderately utilized BCG matrix to manage element of market growth. This has been brought about by Dell Inc managerial talent, competitive skilled labor and flexibility of her organizational structure.
Challenges associated with utility of BCG matrix
Ajula (2009) claims that even though competencies of BCG matrix have been exploited in developing and designing of Dell five year market position, it has little capacity to sustain the market position. Cuizon (2009) similarly claims that Dell has used BCG matrix to form framework for its market position as a function of profitability, bottom line and debt capacity determination. Rebbeca (2009) further documented that Dell has utilized BCG matrix to develop her five yea market position as a function of market growth subject to projections of dividend growth and stability of market competitiveness. Application of BCG matrix were found to have zero market growth and market positioning gin the long term by Parnell (1997).
Dell Inc operates in products whose market value changes with improvement of functioning of the products. Launch of new products by rivals has capacity to change the market competitiveness of Dell Inc and negatively affect market share which could make projection on Dell Inc profitability void. The growth of Dell Inc market share has been rising which makes BCG analysis and forecast unreliable. Dell Inc is not able to manage her product range through use of BCG since this requires use of unit strategy as opposed to individual strategy. These make possibilities of exploiting values of balanced portfolio hard to be applied in the SBU matrix (Pearson, 1999).
Deficiencies in Dell Inc use of BCG matrix
The Dell Inc use of BCG matrix could result into competitors understanding strategies that Dell Inc employs. This is brought about by public knowledge of Dell Inc annual reports and market share which would make it possible for competitors to develop Dell Inc BCG analysis and be in apposition to determine Dell Inc future strategies (Wright et al, 1990). This could result into loss of competitive advantage of Dell Inc and loss of market share and market growth constriction in the long term.
Sustainability of Dell Inc in exploiting values of BCG matrix
Dell Inc should utilize BCG matrix as a decision tool. As a result, Dell Inc should not project its future market positioning on BCG or base future strategic position of BCG on SBU. Dell should not rely on BCG as the only approach to her future market position decisions or influence on Dell Inc SBU (Norman, 2010).
Porter's Generic Strategies
Dell Inc could differentiate her products, thus realize competitive advantage through low cost leadership (Porter, 1980). Dell Inc could exploit values of Porter's generic strategies in order to target her products to key stakeholders and markets which could be achieved through cost leadership, differentiation and focus of market needs that are not satisfied by competitors (figure 2).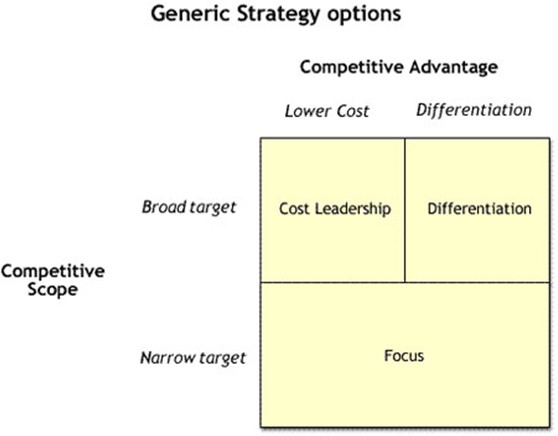 Cost leadership strategy
Dell Inc has not adopted cost leadership strategy that could complement capability for being a low cost producer (Datamonitor.com, 2008) as competitors implement low cost strategy. As a result, Dell should adopt cost leadership strategy through cost reduction in her supply chain and value chain. Cost leadership doesn't imply low cost products hence precautionary measures ought to be adopted to manage bottom line and profitability (Allison, 2008).
Dell capabilities from market differentiation strategy and market segmentation
Dell has not used differentiation strategy to segment her target market which could have resulted into use of premium price for segmented markets. Dell could implement differentiation through improved service levels to customers and improved her product performance compared to competing firms (dqindia.ciol.com, 2010a). In order to achieve competitive advantage of differentiation, Dell Inc would need to invest in advertising and product awareness although differentiation poses risks of attracting competitor to emulate differentiated products.
Focus strategy and niche markets
Dell Inc has not identified markets that have least competition which could contribute into development of a focus strategy for a specific market niche (BBC News, 2009). Dell Inc could gain value from niche strategy by integrating differentiation approach and cost leadership into niche strategy (Lynch, 2009). This has capacity to contribute into cost advantage, via exploitation of cost leadership strategies hence be able to implement differentiation strategy and segment the market based on price sensitivities.
The Ansoff Matrix application by Dell
Dell Inc has not exploited the values of Ansoff matrix towards evaluation of her corporate portfolio. Ansoff matrix is based on a product-market growth matrix. Through Ansoff matrix, Dell Inc could become positioned to achieve stability and sustainability of her market position through ongoing continuous business growth and change based on market trends (Businessweek.com, 2010). Dell Inc should identify inter-relationship between market penetration, product development, market development and diversification in order to determine her market strengths and competitive position which could form basis for BCG market growth-market share growth models (Kotler & Armstrong, 2003).
Generation of Strategic Options
Dell Inc should exploit the values on a predatory approach which involves exploiting values of opportunities and embarking on entrepreneurial strategy (figure 3)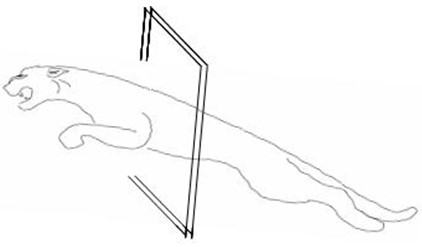 In exploiting the values of predatory approach, Dell Inc should employ three elements of innovation namely Independence, Influence and Initiatives. This implies, first, Dell Inc strategies should be structured on technical independence through independent communication of technical decisions (Dell, 2009d). The Dell Inc management ought to demonstrate ownership to technical decisions and be responsible for technical decisions that are achieved via brainstorming. Dell Inc should demonstrate Technical influence through technological creation and delivery that could contribute into achievement of Dell personal technology brand (dqindia.ciol.com, 2010b). Dell Inc should invest in building her technical brand in order to achieve market place for her brands. Influence of Dell technology should be demonstrated through influence on technological standards. Dell Inc should develop and implement strategies meant to reward technological initiatives through setting up more centers of technological excellence and sponsoring and executing technological initiatives.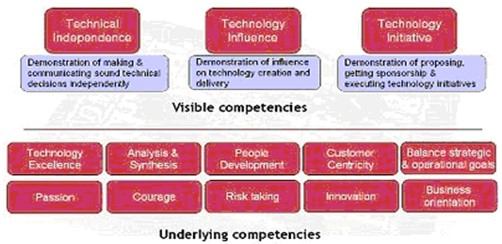 Impacts of failure to manage Dell Inc 3-I's
Failure of Dell Inc to manage 3I's could result into loss of competitive advantage, market growth and construction of market share. This could result into decline of her bottom line (Kutty, 2009). A major characteristic of Dell current decline of bottom line is evident in its disinvestment and launch of new product lines. This demonstrates lack of Dell Inc predetermined success strategy that could manage disruptive market forces (Ajula, 2009).
Dell strategic change to manage market forces
Dell Inc has demonstrated capacity to shift its market strategy through remodeling of its business model and architecture (Siliconindia. 2001). This has made Dell to compete in different product categories.
The challenges of loss of competitive advantage
Competitors have exploited core competencies of Dell (Kutty, 2009) through adoption of its business model and architecture on direct method approach. Dell has failed to identify market opportunities that could contribute into sustainability of its core competencies. Dell has therefore failed to maintain its competitiveness of macro-business environment. This loss of competitive advantage has been stimulated by competitor adoption of direct method approach through use of electronic commerce and improvement of customer interaction. Dell has therefore failed to protect her market share to competitors like HP, Compaq, IBM, Apple and Acer (Ajula, 2009).
Future focus for Dell competitive advantage
Adoption of e-commerce by competitors of dell has resulted into homogeneous market for the personal computers and congestion in the computing industry. Dell need to shift its focus from red ocean strategies where every competitor understands the rule of the game into blue ocean strategy where competitors don't understand rationale that could be adopted to achieve competitive advantage. Through green ocean strategies, Dell could develop new demand and capitalize on development of a market share that is not affected by market trends since use of green ocean strategies results into making competition irrelevant.
Mechanism Dell could implement green ocean strategy
Dell could gain its market share by exploiting new aspects that are unique to the computing industry and form basis for market differentiation. This could be achieved through getting patents for her research and development in various research and development centers. This could protect her product from adoption by competitors and protect her market. Getting patents has capacity to make it rigid for competitors to adopt dell strategies for competitiveness. Dell should also limit on her use of outsourcing strategy.
This could result into capability of dell to provide real innovative product designs as opposed to relying on parts that are outsourced from the competitors. This has effect of making Dell to further improve on its lower cost strategy and increase level of market rivalry. Loss of competitive advantage arose from competitor selling parts to other competitors and emerging secondary companies (Cuizon, 2009). Dell should reconsider production of software to eliminate reliance on proprietary software. This will align Dell to adopt strategy that is equivalent to Apple but with a competitive strategy of own.
Appendixes
References
AJULA. (2009). Comparative Analysis of PC Market Leader.
Allison, K. (2008). Analysts assess Dell's new strategic thinking Financial Times. Web.
BBC NEWS (2009). Dell gives upbeat sales outlook. Web.
Busienss-standard. (2010). Dell to effect leadership changes in India. Web.
Businessweek. (2010). Dell Says India May Become New Manufacturing Hub. Web.
Cuizon, G. (2009). Strategic Options for Dell Computer: How Dell can Address Challenges and Threats. Web.
Datamonitor. (2008). Datamonitor Asia Pacific, India- Computer Hardware. Web.
David, F. R. (2005). Strategic Management Eight Edition. USA: Pearson.
Dell (2009a). Dell Product Red | Dell. Web.
Dell (2009b). Dell – Customer-Driven. Web.
Dell (2009c). Dell Award winning Support site. Web.
Dell (2010e). Dell's Global Commercial Strength Drives Second Quarter Financial Results. Web.
Dell. (2009). Dell Computer Corporate Global Strategies. Web.
Dell. (2010). Dell Mission Statement. Web.
dqindia.ciol. (2010a). Industry PC industry grow 43%. Web.
dqindia.ciol. (2010b). Dell India: Game Changer. Web.
Fredman, C. (2000). Direct from Dell. London: Harper Collins Business.
Hall, W. K. (1980). Survival strategies in a hostile environment, Harvard Business Review.
Kotler, P., and Armstrong. (2003). Principles of Marketing. USA: Pearson.
Kutty, D. (2009). Acer set to edge out Dell to be the second largest computer manufacturer in the world. Web.
Lynch, R. (2009). Strategic Management, Pearson Education, Harlow.
Menn, J. (2009). Dell enters smartphone market. Financial Times. Web.
Norman, D. A. (2010). The Life Cycle of Technology. Web.
Parnell, J. A. (2006). Generic strategies after two decades: a re-conceptualization of competitive strategy, Management Decision, Vol. 44, No. 8, p. 1139-1154.
Parnell, J.A. (1997). New evidence in the generic strategy and business performance debate: A research note, British Journal of Management, Vol. 8, p. 175-181.
Pearson, G. (1999). Strategy in Action, Prentice Hall Financial Times.
Porter, M. E. (1980). Competitive Strategy, The Free Press, New York.
Porter, M. E. (1985). Competitive Advantage, The Free Press, New York.
Rebecca, S. (2000). Business the Dell way: 10 secrets of the world's best computer business. Oxford: Capstone.
Siliconindia. (2001). Dell unveils fresh Inspiron models in India. Web.
SUITE101. (2010). Dell SWOT. Web.
timesofindia.indiatimes. (2010). Dell India becomes No. 1. topples HP. Web.
Wright, Peter, Kroll, Mark, Kedia, Ben, and Pringle, Charles (1990). Strategic Profiles, Market Share, and Business Performance. Industrial Management, pp23-28.
WordPress. (n. d) "Dell's Value Model". Web.
United States Securities and Exchange Commission. Form 10-K, Dell Inc. Web.
Footnotes
Please refer to the Appendix to see the business model of Dell.