Introduction
Talent Management has become a dominant theme driving strategic HRM over the recent past. According to a study conducted by Sandler (2006, p. 13), over three-quarters of the respondents identified talent management as a top subject in HRM today. Organizations are increasingly becoming aware of the fact that they are likely to experience massive loss as a result of losing their crème de la crème talent (Foster, 2005, p. 28) since most of their senior executives are bound to retire in less than ten years. Combined with the diminishing number of the younger generation in the industrialized nations, there is a probable shortage of talents in the near future.
On-Time Delivery!
Get your customized and
100% plagiarism-free paper
done in as little as
3 hours
This shift in population is transforming the nature of the psychological contract, such that employees are becoming more aware and are able to choose companies based on subjects such as policy diversity, life balance, and the degree of freedom (Foster, 2005, p. 29). Highly talented individuals are a less malleable resource for an organization and are mobile investors in terms of intellectual, social and emotional capital. Therefore, highly educated professional employees view themselves as investors and not assets in a company (Gratton & Ghoshal, 2003, p. 3).
This is a massive change from the state of affairs twenty years ago when there were a considerable downsizing, redundancy reduction and removal of some departments to enhance efficiency. This was followed by the renegotiation of the psychological contract away from the concept of job security and symbiotic work relationships to the idea of maintaining employability and effectively managing personal profiles to develop individual careers. Having changed the nature of their relationships with the employees to a weaker bond, companies are now striving to reverse this situation. On the other hand, having tasted this kind of relationship, are workers willing to revert back to a stronger bond? The future labour market is likely to favour the employee over the employer. Therefore, understanding and efficiently managing employee contracts will enhance organization's sustainability and profitability, but there is need for open agreement on the contribution of each party (Gratton &Ghoshal, 2003, p. 4). Opportunities and promises related to careers, development and how to manage competencies will be more or less significant in the future.
Background to the study
In business, they are owing to the present focus on intangible assets more than before. The platforms at present cater to organizations that can reap the potential of their principal resources (Schweyer, 2004, p. 6). This is what makes the organization to be referred to as "good" regardless of the industry's situation. Companies beyond this level are defined as "great". These companies have the right people in the right positions and are able to achieve beyond their competitors (Decenzo & Robbins, 2002, p. 3). Other studies have taken further steps and argue that in order for a company to be successful, it is not only important to have the right employees in the right job, but it should also establish high performers for every job (Hoogheimstra, 1992, p. 30). As a matter of fact, these studies emphasize that organization's vision and strategies are as significant as the individuals that will push the company forward (Decenzo & Robbins, 2002, p. 4; Schweyer, 2004, p. 6).
Since even the recruitment of the most subordinate employee is costly, the supposition that this cost rises when it comes to important positions in the organization does not appear impracticable. The cost factor favours internal recruitment especial of key positions when possible. Numerous HRM theories emphasize the significance of human capital in the sustainability and prosperity of the company (Gratton &Ghoshal, 2003, p. 4; Schweyer, 2004, p. 8). Add to this that the likelihood for an individual to have a job and progress in an organization is a motivating factor (Gratton &Ghoshal, 2003, p. 5). This necessitates a framework that can assist these processes in materializing, that is to say, Talent Management.
Attracting, locating and identifying key individuals that exemplify the core competences of the company, regularly achieving beyond expectation while at the same time acting as a motivational factor to their fellow workers, is identified as critical for any sustainable organization (Berger and Berger, 2004, p. 12). By locating and developing talent, an organization will have the upper hand over its rivals in terms of market shares, profitability and long-standing values (Branham, 2000, p. 16).
Business executives are always under pressure from the shareholders to enhance their values, and from the workers and workers' unions to offer a sound and inspiring work environment. At the same time, pressure on the workers and departmental/section managers are also increasing for efficiency, quality and cost-cutting (Farley, 2005, p. 55). Furthermore, every individual in an organization must be capable of transforming and allowing for entrepreneurship, novelty and expansion (Decenzo & Robbins, 2002, p. 7). More and more of the company's competitive advantage depends on the intangible assets, for instance, employees knowledge. Every activities and operation in the organizations have trade-offs and must be handled cautiously.
Yes, we can!
Our experts can deliver a
custom How Recruitment and Selection Affect Organisational Performance
paper
for only

$13.00

$11/page
Problem Statement
Currently, the labour market in the US and Europe is experiencing a scarcity of qualified personnel (Benjamin, 2003, p. 43). Therefore, organizations will have to strive to hold on to their key talents because finding a replacement is not easy. According to Deloitte (2007, p. 3), the biggest challenge facing most US companies today besides healthcare benefits is how to draw and keep hold of talent. Another challenge is how to make utilize the available resources to achieve optimal results that can satisfy all the stakeholders. Ordonez de Pablos (2004, p. 474) states that, by capitalizing on HR and incorporating it into the organization's strategy, as posited by theories of Talent Management, a company can gain a competitive advantage as well as satisfy it, employees. There are some researches that point out and link HR process and performance (Michael, 2006, p. 10; Cheatle, 2001, p. 6; Schweyer, 2004, p. 39). However, these studies are still not able to identify the hidden HRM content that is significant when examining HR's impact on the company's invisible assets (Fleet & Hesketh, 2006, p. 1978; Keegan & Boselie, 2006, p. 1493).
HRM studies, in general, have been criticized (Keegan & Boselie, 2006, p. 1494; Frazee, 1997, p.19). According to Legge (in Storey, 2001, p. 14), HR studies are confusing, and most of them are highly flawed. She states that most of the HR authors always force a positive correlation between HR practices and organizational results. Berger and Berger (2004, p.15) point out that for almost a century, no common HRM approach has been identified to meet the present and upcoming needs in terms of locating, appraising and developing talent. As a result of this, Talent Management has been conjured up. Another problem with HR studies is that different countries have different laws and labour practices, and therefore it is hard to generalize results.
With HRM being such a multifaceted and pondered subject entrenched in the organization, a number of questions crop up; will talent also follow similarly but hasten approach to leadership development, or will it follow an expert direction? Where is the emphasis of the firms' development strategies? Do they emphasize the strengths or individual weaknesses? What has the study established in the area of talent management, and how does it relate to the companies in the UK at the moment?
Aim of the study
To establish how well organizations manage their talents, especially during the recruitment and selection process, and the implication of their practices.
An overview of Talent Management
As an individual concept, talent management is essentially hard to define. It can be viewed from different angles, all of which provide diverse interpretations to the equivalent activities within different companies. The implication of each viewpoint on the development of the upcoming leaders could be relatively bleak. The table below sums up how five different standpoints are incorporated differently in HR practices.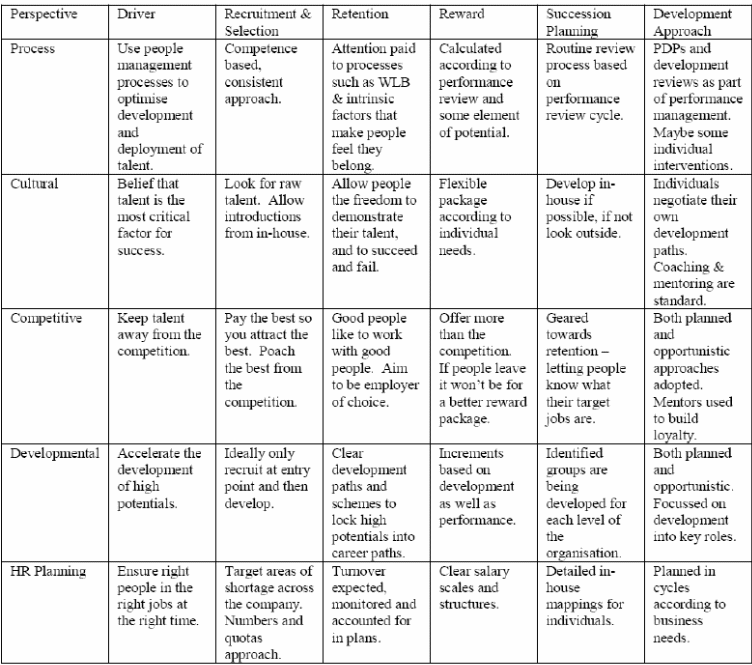 The process perspective is where the management is required to optimize individuals with the organization (Farley, 2005, p. 55). Process perspective puts all the systems in place to allow individuals with high potential to carve out their career and achieve something in the organization. As long as they meet the process requirements, they will move ahead. In this case, individuals are expected to discover the best opportunities on their own. The process perspective is supported by the ICT systems which open up non-reward competition among employees and various departments that silo mindset would have kept concealed.
A cultural perspective, on the other hand, holds the view that talent management is a mentality where talent is considered to be very important for organizational success (Michael, 2006, p. 6). Here talent is paramount and talented individuals can flourish or falter on their own doing. The prospects are greater for the high achievers. There are no strict rules and processes for promotions like in-process perspective. It is regarded as the least structured approach and suites the nonconformists in the organization. Competitive perspective is where more emphasis is on the identification of the talented individuals, discovering what they want and giving them if not, the rival's will (Woodruffe, 2003, p. 20). This is the dominant perspective among the consultants or outsourcers. This approach suits the most ambitious individuals or those who consider rewards as a measure of their achievement.
Cut
15% OFF
your first order
We'll deliver a custom
Human Resource Management
paper tailored to your requirements with a good discount
Developmental perspective claims that talent management is an accelerated development route for the highly proficient individuals (Wilcox, 2005, p. 100). Here the organization pays a lot of attention during the recruitment process so as to acquire the best talent in the market. They are then developed and promoted from within to make the most of the available opportunities for highly promising individuals. Lastly, the HR planning perspective suggests that talent management is about identifying the right individuals for the right job at the right time and performing the appropriate task (Mucha, 2004, p. 96). Mucha (2004, p. 98) argues that this is supported by advanced ICT systems which outline various diverse scenarios and prospects for individuals that move in and out of the organization similar to a game of Chess.
Definition of talent
Irrespective of the perspective chosen, the most important question of what is and what should not be regarded as talent must be tackled. According to Tansley et al. (2006, p. 3), talent management needs HR experts and their customers to understand and know how to define talent, which they consider as talented and how their profiles should look like. Chowdhury (2002, p. 5) defines talent as an enterprise spirit, temperament, creativity, breaking of rules and initiation of change. Using this description, it is highly doubtful if any organization would want more than 5% of this category of employees in their company. Bowen, Carmen and Rajnandini (2002, p. 103) describe talent as individual skills or competencies that enable them to perform their tasks at a high level.
According to the case study, the organization considered everyone to be talented in accordance with its egalitarian culture that aims at providing equal opportunities and benefits to all without any discrimination. Most managers emphasized that the organization did not look at certain individuals as more talented than others since everybody passed through a similar process of talent identification. This is one of the bases for arguments around talent management, i.e., the degree to which it is regarded as inclusive or exclusive. Considering an exclusive approach poses a danger of discriminatory tendency of making sure that future leadership is replicated from the present leadership. At the same time, considering the inclusive approach will pose a danger of maintaining the status quo, which could be disadvantageous to the very ambitious, reward and goal-driven members of the organization.
Since most of the organizations that use explicit talents management system exist in national capitalist cultures, the discriminative capitalist principle is likely to have some appeal. However, in this context, "all-inclusive" approach to talent management is expected to be successful in motivating and keeping hold of the most talented individuals in the organization. Like Bryan et al. (2006, p. 2) believes, talent marketplace is not for all employees.
There is always a risk that, if the talent management systems become exceedingly focused on the description of talent and segmentation processes, the company may lose its distinctive leadership feeling in diverse areas. Therefore, each department of the organization should be treated in a manner that is in line with their needs. Therefore, the big question here is the extent to which human capital is exchangeable like other material assets of the organization. Even though some organizations have been successful in employing this approach, it is unlikely to work in the current dynamic environment where employees view themselves as volunteers or investors and not assets of the organization. Employees are likely to feel dehumanized if treated this way.
Literature Review
Introduction
This chapter explores relevant literatures that are related to the study. This section will introduce and explain most relevant and coherent ideas that are related to talent management.
Talent Management
Human resource management in all its forms in the past and present has always emphasized on the management of people in the organization. Unlike other resources, human resource is far more composite and changing and has evolved considerably over the last three decades (Cheatle, 2001, p. 4). Initially, human resource management (personnel management), was regarded as an administrative subject and measurement were only worker turnover rate, non-attendance and parallel measurements (Michael, 2006, p. 12; Phillips, 2005, p. 5).
Get a custom-written paper
For only
$13.00
$11/page
you can get a
custom-written academic paper
according to your instructions
At the present, Human resource management in its most basic form emphasizes on building of company's competitive advantage through strategic use of contemporary HRM techniques to develop capable and committed workforce (Phillips, 2005, p. 7). This characterization aims to sum up the view of the present companies subscribing to the idea of people being one of their most significant possessions. This has resulted to an increase in the significance of HRM and its development as a strategic partner in various organizations. Currently HRM is recognised as an imperative part of an organization's ability to meet their goals and objectives (Decenzo & Robbins, 2002, p. 6).
Nevertheless, there have been numerous criticisms from different quarters regarding the ambiguity and contradictions of HRM; although the authors of such literatures do not refute the belief that having the right people in the organization promotes success. However, the authors of these texts have contributed significantly to the present debates surrounding the HRM discipline (Story, 2001, p. 3). The HRM concept that has received a lot of attention over the recent past is Talent Management (Sandler, 2005, p. 13).
According to Hansen (2007, p. 12), talent in the organization denotes the core employees and leaders that propel the business forward. These employees and leaders comprise of the top achievers and inspire the rest of the staff to superior performance. Talents are the fundamental capacity of the organization and correspond to a small fraction of the employees (Berger and Berger, 2004, p. 19). According to Laff (2006, p. 43) talent management is more than just finding and developing employees. Talent management calls upon a logical view that entails active interaction between numerous functions and processes (Schweyer, 2004, p. 35).
Talent management is a continuous and upbeat process. It entails attraction, identification, recruitment, development, motivation, promotion and retention of staff that have the potential to succeed in the organization (Berger and Berger, 2004, p. 22). Nevertheless, all these activities must be connected and integrated to the context of the business and its strategy (Farley, 2005, p. 56). Even though talent management requires a holistic systemic approach, numerous studies define it using different concepts and dimensions. However, this study will distinguish and be built upon four fundamental parts of the talent management process; discovering/locating, appraising, developing and keeping hold of talent.
Talent management requires a sustainable commitment from all levels of the organization and should not be limited to the HR department (Laff, 2006, p. 45). Talent management that is restricted to the HR department is normally cut off from the market and is incapable of responding to the market dynamics. There have been numerous debates among researchers concerning who should manage talents in the organization (Laff, 2006, p. 47). Some researchers argue that HR department is in danger of extinction since most of its work is being outsourced or moved to procurement department (Donkin, 2007, p. 20; Ulrich, 1997, p. 175). A number of organizations have training and talent development departments separated from the HR department (Laff, 2006, p. 45). These organizations have the view that the human resource should be changed into expert strategic partners (Lawler, 2005, p. 166). They have managed the overwhelming task of developing an integrated approach with joint collaboration between the HR department, management and other departments/sections (Laff, 2006, p. 45).
Integrating HR in the strategic process
As a result of the significance of human capital in the implementation of corporate strategy, a rational role of HR is to be part of the development and carrying out of the strategic process. Therefore, the HR department should act as a strategic partner to the organization and not a mere administrative service provider as being experienced in many organizations presently (Ulrich, 1997, p. 176). Donkin (2007, p. 22) describes corporate strategy as the company's targets and how they are to be achieved, and it is the latter part that the HR department should put emphasis on. He argues that the role of the HR department should be ensuring that the company has enough capabilities to effectively carry out its strategies. However, this calls for the reorganization of the company than reorganization of the HR as an administrative function (Lawler, 2005, p. 167).
Lawler (2005, p. 167) views the HR department as a business within the company with different product lines where the clients are the different components within the company. The first product line is the usual administrative HR functions (hiring, staffing, compensating and training). Secondly, the HR department is regarded as a business partner operating side by side to assist in developing a successful HR systems and aid in the implementation of business strategies and talent management. This can be achieved through the establishment of senior HR manager in the principal business units who acts as a go-between business units and the HR department, assisting in the implementation of talent management, and offering HR counsel directly associated with changes in business environment.
Nonetheless, this is a difficult task with dual responsibilities and this demands a lot of resources and extensive knowledge of the business. The third and the last product line is the strategic associate that should contribute to strategy based on the human resource deliberations, for instance, organizational competencies and preparedness (Lawler, 2005, p. 168). Human resource can probably contribute by making unequivocal the human capital resources required and creating the capacity needed to implement strategies or other organizational plans (Lawler & Mohrman, 2003, p. 17).
In addition, Lawler and Mohrman (2003, p. 18) emphasizes that it is through this role that human resource can be made into a strategic differentiator. The client in this case is the planner, characteristically senior executives, and offer input to the implementation and formulation of strategy. Human resource management should detach its reporting links between the administrative business functions and a strategic unit affecting the formulation and development of strategy (Lawler, 2005, p. 169). The improved decision about human capital is what Boudreau and Ramstad (2005, p.18) refer to as Talentship.
Talentship in HR
Business functions, for instance, sales and accounting make their decisions based on marketing and accounting principles. In other words, the department of marketing is the strategic function resulting up to, influencing and assessing further operational sales. This assists enhances the strategic partnership of the marketing and finance department and improves the strategic rigidness of decisions made within these two different fields (Boudreau & Ramstad, 2005, p.20). This should also apply to HR department to make it a strategic partner as well (Lawler, 2005, p. 169).
Boudreau and Ramstad (2005, p.18) argue that similar to other decisions made in many organizations, the decision on human capital still lacks quality at the moment, but will be improved through further advancement in Talentship. At the centre of Talentship lies the HC Bridge model (Shown in the figure 2 below). HC Bridge model is a framework to coerce decision makers in the company to raise the right HR questions. HC Bridge model integrate impact, success and efficiency and aspires to connect Human Resource, Talent and strategic success; giving experts more consistent and universal language to communicate company's Talent decisions. Without this kind of framework, the amount of data and opinions could easily cloud main decisions (Boudreau & Ramstad, 2005, p.21).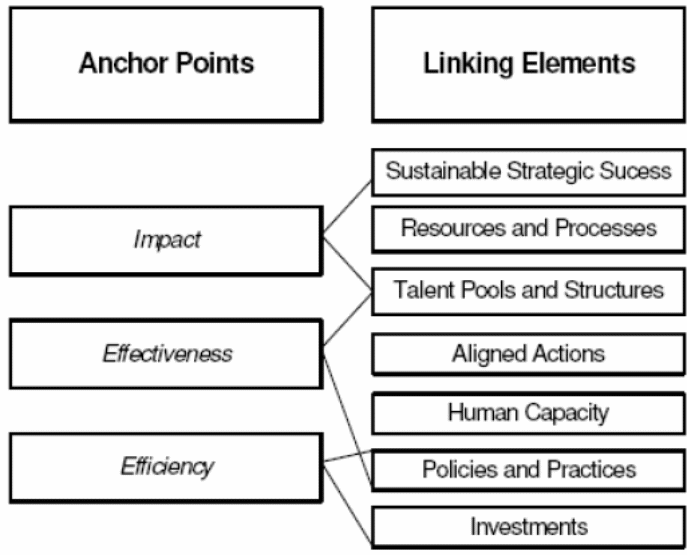 Boudreau and Ramstad (2005, p.22) equated the HC Bridge model to other models, for instance, the finance's EVA (Economic Value Added) models which have become crucial components for accountancy decisions. This is because EVA models and tools exhibit different aspects of calculations and ways of combining them. This helps to identify elements with missing data, hence makes it easier to make decisions related to actions aimed at filling these gaps.
In the HC Bridge model, the linking elements define the three anchor points. Impact as one of the anchor point reflects the most difficult questions since it poses inquisitions regarding the difference in quality and availability of diverse pool of talent in relation to the strategy that can be measure up to the market segmentation, if we go on with marketing comparison. Effectiveness is the anchor point that compares HR development or motivation with sales volume. In other words, if training and incentives enhances sales. Last but not least, efficiency organizes for the resource-based information that are hidden and need to be exposed, for instance, time spent in a given position or the cost incurred per given service hired.
However, the model does not specify some actions, nor does it explain some particular situations. The model extends across numerous situations, classify information, develop extensive understanding and enhance decisions (Boudreau & Ramstad, 2005, p.23). The main objective of integrating HRM and business strategy is to enhance performance and as mentioned above, to make HR a strategic differentiator. According to the study conducted by Laff (2006, p. 47), a number of CEOs concurred that Talent Management is the most appropriate way in securing a completive advantage.
Competitive advantage and Talent Management
Almost all management experts have agreed that sustainable competitive advantage originates from interior qualities that are very difficult to duplicate, for instance, the company's product position in the market. Therefore, human capital is a major resource for any company or organization. The resource and knowledge based models recognize the company's knowledge resources as fundamental device for attaining sustainable competitive advantage (Heinen & O'Neil, 2004, p.67).
Heinen and O'Neil (2004, p.68) emphasizes that Talent Management is one of the best approach in developing lasting sustainable competitive advantage. Long-term sustainable advantage springs from priceless company resources that can not be substituted or emulated by other companies. According to Hatch and Dyer (2004, p.1155), sustainability of the competitive advantage is based on separating mechanisms such as social intricacies and company specificity. An instance of isolating mechanism is when a resource or knowledge based sustainable competitive advantage is entrench in the company and not bound to an individual employee.
Studies related to intellectual capital emphasizes on the knowledge stock of organizations. Knowledge stocks are normally present at various levels of an organization; individual, team/group and organizational level At an individual level, knowledge stock is generally referred to as human capital and it consists of knowledge, competency, skills, experience and work/organizational commitments of the individual employees in an organization (Ordonez de Pablos, 2004, p. 474). At a team/group level, knowledge stocks are normally referred to as relational capital and is linked to the knowledge entrenched in the affairs between the organization and its stakeholders. As a result, knowledge stock at a group level can further be divided into internal rational capital and external rational capital. The former is concerned with the values that results from strategic relationships among the company employees and latter deals with the relationship between the company and various external stakeholders. Lastly, knowledge stock at a firm level, also known as structural capital, is the knowledge from the above two levels that has been entrenched in the structures of the organization and are noticeable in the culture, routines, procedures and policies of the organization (Ordonez de Pablos, 2004, p. 475).
Knowledge is created and conveyed to different organizational level through process such as combination, internalization, externalization, and socialization (Nonaka and Toyama, 2005, p.419). Socialization is the initial step and involves gathering and sharing of information before it is made public in the externalization stage. In the combination stage, internal or external overt knowledge are picked, merged and processed to come up with an n organized, elaborate set of knowledge. The new set of complex knowledge transforms into a novel tacit knowledge in the internalization phase and the process take place over and over again as it created more and more knowledge (Nonaka and Toyama, 2005, p.420). Knowledge at all levels of the organization can be source of long ran competitive advantage but the most important evidence favours knowledge at the individual level/human capital (Ordonez de Pablos, 2004, p. 476).
Hatch and Dyer (2004, p.1155) argue that competitive advantage derived from human capital can easily be lost with increased employees turnover rate. However, when human capital is gained from another organization, fine-tuned and integrated into the new organization, only a small portion of its knowledge is recognized instantly. In order for human capital to become part o f the company's competitive advantage it has to be conveyed and entrenched in the entire organization (Ordonez de Pablos, 2004, p. 477). The time taken for human capital to be fine-tuned and integrated into the new environment is a cost and the outcome is not always that the knowledge is entirely dispensed into the new surrounding (Hatch & Dyer, 2004, p.1156). A research conducted on an investment bank found out that high performing employees of one organization rarely sustain their level of performance in an environment/organization (Deloitte, 2007, p.6). This means that even though human capital is a fundamental source of competitive advantage it produces optimal results its original system where it is unmatched (Hatch & Dyer, 2004, p.1156). This relates to Talent Management that has to be company specific to produce the best results. It has to be adapted to the company's business and human capital environment (Heinen & O'Neil (2004, p.72).
Identifying talent
One of the main objectives of HRM is locating the right talent at the right time to fill a given vacancy (Sandler, 2005, p. 12). However, with the current scarcity of competent labour, the shortage of real talent, and the rising employee's requirement, achieving this objective has become very difficult (Pollitt, 2004, p. 24). In the field of Talent Management, talent identification also involves indentifying individuals with the likelihood of turning out to be a real talent (Sandler, 2005, p. 14).
Employer branding theory
In order to attract the best talent with limited resources an organization must be as striking and hospitable as possible (Sandler, 2005, p. 13). Even though the study has opted to present employer branding theory as a concept under talent identification, it should be noted that this theory also strengthens a company's capacity to keep hold of its talent (Backhous & Tikoo, 2004, p. 502). A company needs to have the attractiveness to lure candidates that can give it more competitive edge over its rivals and provide them with apparent view of the competencies that are vital and values they can identify with (Sandler, 2005, p. 14). Schweyer (2004, p. 38) revealed that a company's job site is one of the most visited and therefore is a very significant tool to communicate employer brand.
According to Backhous and Tikoo (2004, p. 502), employer branding process comprises of three main parts. The first part is the value proposition that is to be reflected in the brand. This entrenches definite cultural elements, images, styles of management and concept which are very significant to the company. In addition, employee branding also act as an external tool for marketing since they expose the company's softer requirements to the future employees. Lastly, employee branding has an internal influence when it becomes a promise from the organization to the worker. It provides a touch for workers to relate to and rally around.
Identifying crucial talents
According to Von Seldeneck's (2004) theory of branding, the first step in locating key individuals in the organization lies in the company's ability to ascertain the profiles that matches with the organizational culture and requirements. This enables the company to equate candidates' background, job experience and individual qualities to develop an excellent organizational fit. In addition, it is improbable that all key individuals would come from within the company or are out of work.
A study carried out by Shweyer (2004, p. 50) established that most companies prefer to recruit from within before going for outside talent. This could be as a result of certain factors, for instance, corporate culture and the need to retain the best talents in the organization. Nonetheless, the Talent Managing organizations normally track the capacity of its employees and their job aspirations to promote internal career mobility. These organizations also do keep an eye on companies with comparable cultures and methodologies so as to identify talents that match their needs (Shweyer, 2004, p. 50). According to Von Seldeneck's (2004), search for external talents should not only focus on well established professionals; outstanding performers and upcoming talents should also be given a chance.
Though unreasonable to a number of people, Von Seldeneck's (2004) asserts that, for the recruitment of key personnel, economic crisis usually offer perfect opportunities. Since talented individuals are predisposed to manage their environment, a company can take advantage of this by providing challenges, opportunities and rewards that match the preference of the key talents when most of the companies are reluctant or less aggressive in their search for key talents because of the economic situation. The support of individuals within the organization that have enthusiasm, vision, integrity and capacity to develop a favourable environment that can draw people in, is needed when attracting new talent from a competitive market. This point is supported by Frank and Taylor (2004, p. 34) who witnesses massive difficulties among American companies in retaining their workers during the economic slump of 2002.
The recruitment process is very expensive and therefore it is very important for companies to keep their employees for a long period of time (Backhous & Tikoo, 2004, p. 503). One of the noted failures related to the recruitment process is recruitment based on qualifications which is regarded by Branham (2000, p. 65) as poor performance predictor. According to Branham (2000, p. 66), a superior recipe for successful recruitment is recruitment based on competencies which is a fundamental aspect of Talent Management.
Transparency in Talent Management
Many organizations tend to be very secretive on what they consider to be talented. A study conducted by Branham (2000, p. 68) found out that most employees who felt that the company they were working for could not meet their long term career objective thought of leaving. In addition, the study also found out that excellent opportunity for continuous learning was likely to minimize this mentality among the employees. This implies that even employees consider talent to be advantageous and it is not always about opportunities. A Similar study conducted by Branham (2005, p. 72) concluded that the uttermost drivers of workers commitment and retention are indefinable, mostly linked to the manner in which departmental/section managers handles their reports. Therefore, most employees are most likely to stay with the organization if they feel they are appreciated or when the managers assure them that they are talented and useful to the organization. In contrast, motivating employees who perform below par can also be detrimental to the organization. Depending on how the organization constructs high performing employees, these could have a negative effect on them especially when they witness low performers accessing development opportunities in the organization.
Lack of transparent talent management could at times be fairly subversive. This means that a company could be scheme an individual's career and future without considering his/her plans. In addition, there are a number of individuals who may offer additional individual effort in their duties in the false belief that they are considered talented, while some do not buy that idea. This is the reason why a bold conversation is very significant in any talent management system. Bold conversation is a straight and discreet conversation that inquires into what the workers desire to invest on and what the organization is offering.
According to Tice and Wallace (2003), people tend to see themselves as they believe others view them; they refer to this concept as reflected self. People normally observe how others view them and then incorporate those views in their own concepts, to a degree that they keenly attempt to develop required impressions or assessments of themselves in the minds of the public. Most organizations always keep employees profile secret, only a few of them are open about where employees stood in the public domain. This is generally influenced by factors such as organizational culture. In a culture where Talent Management takes a developmental approach, revealing to the employees their transient position on a talent map is considered to digress from the primary intention of the talent management philosophy: to provide development opportunities that would enable the organization achieve its short term and long term objectives. This philosophy within the egalitarian culture, has led many organizations opting not to discuss the position of their employees openly instead using feedback discussions (Tice &Wallace, 2003).
According to Conger and Fulmer (2003, p. 11), the succession planning systems have conventionally been enveloped in secrecy in an effort to refrain from weakening the motivation of employees who are not on the fast track, based on the notion that when an employees doesn't know his/her stand he/she will endeavour to climb the ladder. However, given the fact that most contracts nowadays are based on performance and not seniority or loyalty, employees are likely to pull up their socks if they know their positions.
Companies can also borrow the 'segmentation' idea from marketing. The concept of segmentation as used in marketing treats every targeted segment differently but this does not mean they are more or less significant. However, the big question is how the organization and the people within each segment can optimally benefit from this approach. The idea of responsive segmentation is mainly useful in case an organization is experiencing difficulty in the implementation of a talent management tentative proposal that would recognize the talent of every employee. As a result, a number of organizations have resorted to customizing learning and career development opportunities to match the requirements and would-be contributions of different clusters of employees. The impetus behind this kind of segmentation is to enable the organization to be receptive to the needs of different groups of employees in the organization and the changes in those needs. Nevertheless, this necessitates a segmentation process that is more complex than what has been used on performance and potential.
Hiring for competency
According to Hoogheimstra (1992, p. 30), it is easier to hire a squirrel to climb a tree than teach a turkey. He used this phrase to demonstrate competency based recruitment practices. In other words, organizations should hire based on individual traits and characteristics that are hard to be taught or changed. He argues that individuals with the right competency can effortlessly perform certain tasks and are cheaper to educate. He defines competency as a principal characteristic of a person that fundamentally linked to effective or excellent performance at work (Hoogheimstra, 1992, p. 27). Therefore, competency is any individual characteristic that is assessable and can be used to differentiate a poor performer and greater performer.
Pollitt (2004, p. 25) identified the core competencies recognized by most organizations globally to be; the capability of an individual to acclimatize promptly to external and internal changes, the ability to successfully influence and work through others, the ability to change mind-sets and behaviours, leadership abilities, and the capacity to work with others. Hoogheimstra (1992, p. 32) presents other examples of competencies; they include objectivity, traits, personality concepts, content knowledge, cognitive skills and behavioural skills. Objectivity refers to desire for success which drives an individual to perform.
Traits are individual attributes that determines how an individual reacts or behave, for instance, ability to resist stress, self control, and self confidence. Traits should not be confused with self concept that is personal mind-set and values that are very difficult to change. Content knowledge is basically grasping facts and procedures. That is, understanding how to execute tasks or where and who to ask for assistance. Cognitive and behavioural skills are personal characteristics that are either observable or hidden, for instance, reasoning ability and listening skills. A number of these competencies are simple to teach while others are more complex. Even though, changing individual's motives are achievable, the procedure is thorny, costly and consumes a lot of time. Therefore, companies should focus on motives and traits first before developing necessary knowledge and skills (Hoogheimstra, 1992, p. 33).
Cunningham (2007, p. 4) recognized two common strategic choices to take into consideration when hiring, aligning individuals with responsibilities or aligning responsibilities with individuals. Aligning individuals with responsibilities can summarily be described as aligning individuals with roles where there are previously established job roles. In contrary, aligning responsibilities with individuals focuses on individuals and the responsibilities or roles are adjusted in accordance to their specific characteristics. When emphasis is on alignment of people with roles then factors affecting performance are numerous.
Selection, hiring, appointment and promotion are simply to identify the right person, recruit them, assign them to the right position and soon after promote them. The decision to promote employees is a strategic choice related to training and development. If the right competencies are not available in the labour market, or within the organization, the dilemma is always whether to promote less competent employees who are good learners that can be trained and developed to perform well (Cunningham, 2007, p. 4). An additional strategic choice spotted by Cunningham (2007, p. 5), aligning role with individuals, has another strategic platform of talent management. It is all about bending the roles in the workplace to improve performance among employees. The role should not be confused with job description, it encompasses more aspects. Besides the list of responsibilities, or tasks, it also encompasses interpersonal relationships within the organization. This is linked to the workplace where, in the pre-eminent of cases, employees can without difficulty interact with each others, share information, and improve their competencies through on-the-job learning. Organizations have to be very supportive and should offer opportunities to their key employees in order to retain them.
Various forms of rewards, not essentially money, are also supportive factors and even the applied working technique affects development. An individual who has limited responsibilities because of being constrained to working on a confined part of the process is less likely to view the organization in a bigger picture. Therefore, such people are not likely to contribute more than what is expected of them and this slows up development.
Developing high potential employees
Whether the emphasis is on personal competence or organizational competence, their development is fundamental in creating a talent management system. Berger (2004, p. 4) asserts that it is important for organizations to develop a list of core competencies and measurement tools to assess them; develop training and solutions to support them, appraise all employees against these core competencies and predict potential; and lastly set up a action plan to make sure that the core competencies are covered. Some scholars believe that the emphasis should be on the competencies instead of potential as such, in an attempt to locate individuals who can brilliantly perform a given task (Redford, 2005, p. 22).
Romans (2005, p. 16) restructured an organization using the human capital pipeline system model. His model was based totally on a role competencies system instead of personal competency. As a result, this led to the separation of competency from individuals and dehumanized the work environment, such that employees (both talented and non-talented) are considered to be simply carrying out their roles rather than engaging in their work.
According to Clark (2001, p. 4), to achieve sustainability talent management requires organizational commitment to progressive professional development. This will be evident through various development experiences provided in the organization, deviating from the conventional classroom training based approaches, taking into account an array of significant experiences to build character. These may include coaching, meetings dealing with issue development, work rotation, provisional and emergency duties, team assignments, extramural activities and many more (Krewson, 2004, p. 12). Phillips, (2005, p. 7) argue that corporate institutions of high learning can assist by connecting learning and strategy, and preparing individuals for upcoming challenges.
Many organizations tend to focus on employee weaknesses instead of their strengths. As a result, there come up with plans to address these weaknesses instead of combining employees with opposite strengths and weaknesses to work in groups (Digeorgio, 2004, p. 75). Digeorgio (2004, p. 76) argues that while emphasizing on weaknesses may help to thwart failure, emphasizing on strengths results in optimal success, and employees may feel motivated, and discover novel ways of utilizing their strengths for the benefit of the organization. Goodman (2000, p. 47) also holds the opinion that organizations at this moment need to be organizing in order to develop the existing talents and competencies within the organization, to buoy up employees to take initiative, and to provide them with a chance to demonstrate their capabilities, and a range within which to grow. He views this as a change from management to controlling, the nuance of which changes the focus from a leading development perspective control to an empowering development stance (Goodman, 2000, p. 48).
Much of the talent management process is focused on the development of the concerned individuals. In order for these individuals to advance through the organization to realize their own personal and organizational goals, they are required to have an array of learning and development experiences to enable them carry out their roles. The primary question here is where the emphasis of the organization's developmental operations lies: is it on handling limitations that individuals and organization have, or is it on development of strengths that are illustrated to improve them more?
In one of the organizational case studies carried out by the researcher, he established that the organization was playing to individuals strengths letting them to become masters in their job and in some way specialists. A different organization had three descriptions of talented persons: professional talent, entrepreneurial talent and headship/ leadership talent. This once more permits individuals to specialize on areas where they have strengths instead of being a great leader or expert. However, many organizations have a tendency to lay down development goals that restrict employees on areas where they should improve on instead of playing to personal strength to make the employee 'better' in all perspective. Another issue that arises is what 'development path' to work out for those individuals already identified as talented. One of the solutions to this quandary is 'accelerated path' where talented individuals are allowed to follow the same path as others but faster. After this they proceed to a differentiated customized occupation path that is mapped out to meet a particular demand.
Graduate trainee programs to a given level is an example of accelerated path, while customized paths are found in most organizations that are going through rapid growth (Tice & Wallace, 2003, p. 92). To a certain level, talented persons are highly likely to be self directed learners. They are highly motivated to learn and develop through positive experience rather than negative experience (Tice & Wallace, 2003, p. 93). Tice and Wallace claims that this is the best way to sort the talent from the rest of the employees without providing any formal training.
A lot of caution should be taken when handling development paths. Inadvertent consequences of an accelerated path in talent management could be the obstructed moral development of the talented person being developed. Glover et al (1997, p.1320) established that the level of work experience of a person is correlated with the level of his/her ethical behaviour. In other words, the more experienced an individual is, the higher the level of his/her ethical behaviour. According to Ford and Richardson (1994, p. 206), most senior personnel have lover levels of ethical decision. Considering these two findings simultaneously it apparent that to extent talent management can result in the development of less ethical managers in the future.
If an organization embraces accelerated talent management path which results in employees being moved swiftly through the promotion ranks, they are likely to enhance their level of seniority while reducing the level of experience in each rank. This can contribute to a descending trend in ethical consideration and decision-making at all levels.
Challenging high potential assumptions
There are some implied conjectures in talent management systems that begin with the assumption that talented persons essentially want to be managed, and goes ahead to include the supposition that talented persons can in fact be managed. According to Tansley et al. (2006, p. 4) individual values and job preference are also very important. Even though talent may be defined as an intricate combination of individual's skills, knowledge, cognitive capacity and potential, if an individual lacks motivation, ambition or is not contented with work and only works because he/she has to earn a living, then it may not matter how much they are regard as talented because he/she will not change his/her behaviour, nor meet the expectations.
Regarding whether talented or non-talented individuals can in fact be managed, Casse (1994, p.2) claims that the descriptions of humans a mere resource is archaic, undignified and disproportionate with sociological evolution. Many companies fail to recognize that the individuals who work in the organization must be appreciated and valued for who they are, or else they can lose their trust on the company's top hierarchy. Casse (1994, p.4) also argues that HRM as a word is foreign most European nations, morally wrong and ineffective, and that shifting from HRM approach to Talent Management theories entails three main management challenges: recognizing the availability of talent for current and future needs, effective use of talent; and further development of talent. Effective use of talent involve three specific leadership characteristics: an affirmative and encouraging attitude based on the principle that the success of the organizations or colleagues is also your success; the capacity to devolve and empower; and a compelling thoughts that can enrich each individual's job.
Outsourcing Human Resource functions
Over the recent past most companies have resorted to use special recruitment agencies to help in carrying out HR functions. This is also known as Recruitment Process Outsourcing (Lawler, 2005, p. 172). Recruitment Process Outsourcing (RPO) refers to the practice of outsourcing part or the whole recruitment and selection process to private agencies. RPO is a cost effective recruitment practice since it gives HR department to focus on other important tasks, for instance, Talent Management (Lawler, 2005, p. 173). Hansen (2007, p. 14) established that the underlying reason for outsourcing HR functions in most organizations is gain proficiency, followed by saving costs, accessing technology and lastly allowing the HR department to concentrate on other important issues. Nonetheless, RPO can not entirely replace in-house HR department but can offer wide-ranging outsourcing advantage of being able to concentrate on the company's principle functions (Lawler, 2005, p. 172). Hansen (2007, p. 15) stressed that the in-house HR department should also have the expertise in the outsourced functions so as to evaluate the performance of the outsourced private agency. However, he argues that employees' welfare and other 'soft' HR matters can not be outsourced.
Many organizations are currently becoming increasingly confident in the private recruiting agencies and are signing big contracts even before entrusting them with small responsibilities, for instance screening CVs and checking references. Nevertheless, it is important for the recruiting agency to establish close contact and comprehensive understanding of the outsourcing company and vice versa. A long and flexible partnership between the two will help the recruiting agency to scale up or down according to the demands of the outsourcing company in addition to having pre-determined performance gauge.
To guarantee quality in the recruitment, the company can include a retention clause in the contract to act as a cover against increased employee turnover. A close working relationship between the outsourcing company and the recruiting agency is important since it ensures cultural fit and full understanding of the recruitment requirements (Lawler, 2005, p. 173). A number of the recruitment agencies normally operate within the clients premises to ensure close partnership. Although outsourcing has commonly been about volume recruitment (temporary and lowly ranked staff), more and more companies are outsourcing this service for executive positions (Lawler, 2005, p. 173).
Executive search/headhunting
When the top executives in an organization retire or leave the organization they always leave a very big gap (Rogers & Smith, 2004, p. 53). The recruitment outsourcing at the top level is what is referred to as executive search or headhunting (Cheatle, 2001, p. 4). According to Cheatle (2001, p. 4), headhunting is all about locating and selecting high performers at the executive level. However, there is always a 0.5 probability of failure when external search is carried out. Therefore, the best option is to identify executive potential within the existing pool of human resource (Rogers & Smith, 2004, p. 54). Nonetheless, the most important point, whether recruitment is done internally or externally, is to pick the most qualified individual or a person who has the potential to perform well (Cheatle, 2001, p. 6).
Talent management is about attracting, hiring, choosing and positioning key workforce and persons with the prospect of becoming talents. As a result of the rapid changing environment, competencies such as ability to adjust, interpersonal skills and desire to achieve something, are more significant credentials when recruiting new employees. When a proposition is made to the HRM become further strategic, one way of freeing essential resources is to outsource non-core recruitment functions. The next research question in this case will be how companies in the UK locate key talent.
Measuring talent
According to Neely, Gregory and Platts (2005, p.1228) in their expanded literature review of performance appraisal, the significance of measurement has been acknowledged for a very long period of time by both academic researchers and other practitioners. In addition, there is a definite steadfastness and safety in the ability to quantify and scale different variables as well as we-based technologies that can facilitate storage and use of enormous amount of information. A Talent Management system, using the current information communication technologies, presents HR professional with necessary tools to gather, analyze and measure enormous amount of data related to Talents and other HR issues (Schweyer, 2004, p. 39). Hustand and Munkvold (2005, p. 79) recognizes the significance of information technology system in the support and improvement of strategic competency management, which is synonymous with talent management, in their case study of Ericson company in UK.
Laff (2006, p. 49) explains that all the current technologies, strategic proficiency management is no longer reserved only for the top leadership. Therefore, with these technologies organizations can assess all of its workers to unearth talent. Another dilemma related to Talent Management is whether or not to make the selection of talented individuals public. Laff (2006, p. 46) argues that it is significant to inform the talented individuals but not making it public. Two central concepts in talent assessment are performance management and performance appraisal where performance appraisal is the practical and nominal task of measuring performance and the former is the wider concept making use of the outcome of the assessment (Michael, 2006, p. 10).
Management of performance
To enhance organization culture, systems and processes and to lay down performance objects in addition to assistance in the prioritization of resources, performance management refers to the overseeing performance appraisal so as to make precise use of the received information (Michael, 2006, p. 10). Performance management systems must give employees autonomy within their control area, manifest cause and effect relationships, give more authority to the employees, develop a basis for dialogue thus enhancing steady progress and support decision making process. Therefore, performance appraisal and performance management have a mutual relationship and can not be disconnected, heightening the responsibility of the manager in charge of talent relationships (Michael, 2006, p. 11). In addition, some studies have demonstrated that the best success in the organization is the relationship between the executives and the employees, which unsurprisingly entails the key talents as well (Cheatle, 2001, p. 6). Nonetheless, Schweyer (2004, p. 39) explains that the diverse environments in different organizations and human complication tally up to a volatile blend that is very hard to predict.
Performance appraisal
According to Neely, Gregory and Platts (2005, p. 1229), performance measurement is the "process of computing the efficiency and effectiveness of the precedent achievements through acquisition, composition, cataloguing, examination, interpretation and diffusion of suitable data. Phillips (2005, p. 10) provides a list of some of the measures used by some of the leading organizations and this is shown in the table below. Although these measures are not easy to grasp, they reflect the prospective success factors and challenges facing may organization at the moment.
These measures, or the core HR issues touching on individual employees, is capable of contributing to growth, development and the sustainability of the companies at all level by providing better information about the employees which helps in making improved decisions. In addition, Phillips (2005, p. 12) also observed that, even though a number of these measures are relatively old and obsolete, they all represent significant measures that can steer actions that generate new prospects and resolve problems.
The measurement of human capital shown in the table below will afterwards be compared to the measurements reported by the top employers in United Kingdom.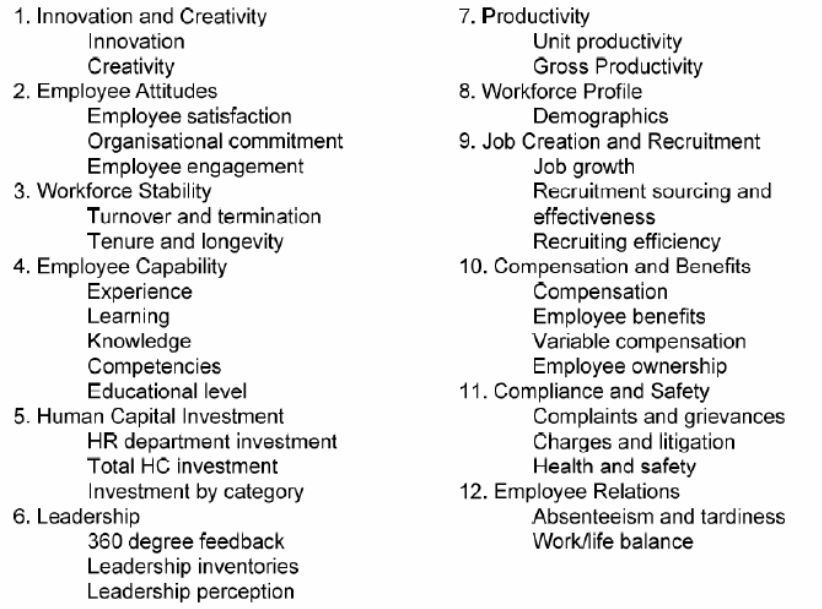 Scorecard approach
Some experts have criticized performance measurement as lacking connection to strategy, hence giving too much emphasis on internal processes (Neely, Gregory and Platts, 2005, p. 1229). Phillips (2005, p. 16) commented on the development of talent, and noted that it is becoming a more strategic decision when examining cost to be incurred in training and development. He further argues that the most useful talent should be allocated the largest share in the training budget. In addition, he recognizes the insignificance of these statements if the company has no means of gauging their workers, and suggests a scorecard approach.
Scorecard approach offers both, qualitative and quantitative measurements of contribution, and supply very important information (Phillips, 2005, p. 22). Scorecards can take different shapes and forms, yet they have attracted a wide range of users across the board. This is because they allow for an immediate evaluation of key measures and the appraisal of individual status in an organization. Thus, scorecard has become a significant component in shaping the direction of the HR investment, performance enhancement or making use of preventative programs to sustain good results (Phillips, 2005, p. 25).
According to Neely, Gregory and Platts (2005, p. 1230), employee's scorecard has three leading to employee's success; the attitude and culture, the abilities and the leadership and employees behaviour. The success statement in this case is based on the three elements and is directly correlated to the implementation of the company's strategy and employee's skills and efforts. The important point is identifying the measures that are actually drive the strategy, which also results in better understanding of the principle components of the most crucial positions in the organization.
Phillips (2005, p. 26) highlights the significance of differentiating job positions and human capital and term it as one of the significant characteristics in workforce management. This is the same as workers segmentation of talent fronted by Berger and Berger (2004, p. 25). Organizations can use position "A" to refer to the right position in terms of employees' performance and should encourage all its workers to aim at this position. However, one of the difficulties in the implementation of talent management is the evaluation and differentiation that cause conflicts among employees especially in social democratic or liberal environment.
Employees' assessment has proved to be immense and extensively researched area. However, the face value of practices, for instance, linking individual performance to a number of measurable variables, may seem out-of-date; practices such as developing score cards have once more caught the attention of analysts and professionals alike. Therefore, it is more significant to ask: How do companies in United Kingdom assess key talent?
Talent developing
Talent development which is defined as training and improving performance of the employees is a very significant component of Talent Management (Frank and Taylor, 2004, p. 37). According to Ordonez de Pablos (2004, p. 476), companies can safeguard their human capital from erosion by creating knowledge, skills and competencies which are more unique and valuable through a internal system, which consist of all-inclusive training, promotions development- geared performance assessment process, and talent based remuneration. Still on performance management systems, Frank and Taylor (2004, p. 38) portend that in the coming years, workers will receive bespoken responses to task or proficiency weaknesses regularly.
Even though every individual can not achieve top most performance, they can still push the limits of what they can achieve (Michael, 2006, p. 12).Therefore, companies that entrench development in their core activities can draw more talent, minimise turnover rate and maintain better performance in the long ran. However, there are some researchers who think otherwise (Ordonez de Pablos, 2004, p. 475). Most organizations bring forth poor development options, however the novel approaches on development simplifies this by utilizing existing tolls, for instance, work experience, coaching and mentoring (Michaels et al., 2001, p. 34). The table below show the change in approach vis-à-vis development.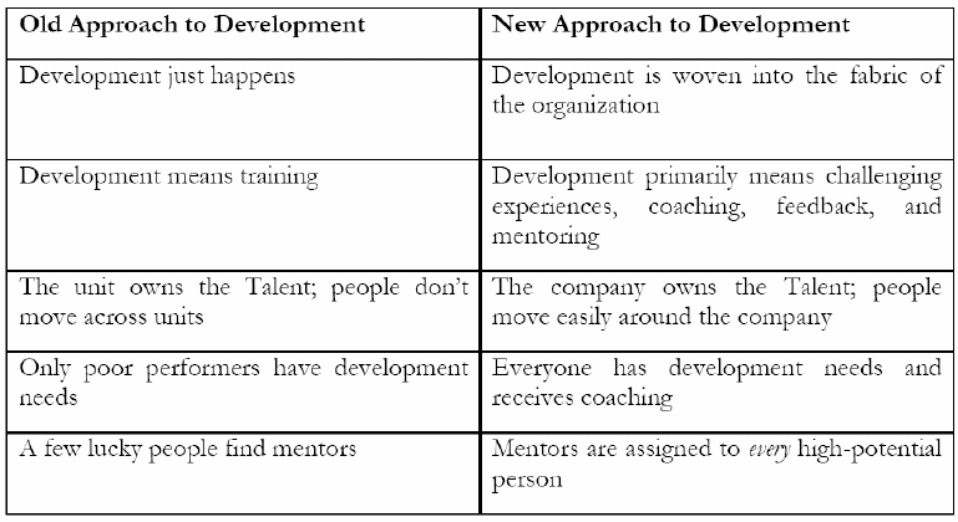 Work experience
As a component of the new development approaches, it is acknowledged that employees require challenges and experience to develop and this is [particularly true for higher achievers (Michaels et al., 2001, p. 45). In addition, they emphasize on the significance of stretching the capabilities and being bold in promoting and assigning projects to individuals without relevant experience. However, timing is more important because moving employees at a high-speed will weaken their ability to realize better results and wither the learning process. Michaels et al. (2001, p. 47) put more weight, not only on motivating employees through promotion, but also stress that employees needs different challenges, for instance, some companies start projects from scratch and also fix them in case of any eventuality. This offers different challenges to the pool of talents available in these organizations throughout their careers.
Coaching employees
Michaels et al. (2001, p. 47) lay more significance to coaching as a component of the new approach of development and they have received a lot of support from many researchers who acknowledges coaching as an immense improver of success. They argue that most employees need knowledge of their strengths and weaknesses to enable them improve in the best possible way. In addition, there is also a possibility of upsetting higher performers if feedback is not given, thus harmful to the business. Feed back is very important in helping people to identify areas they should improve on.
Coaching helps in building knowledge and provides directions, guidance and support to enable individuals act on the feedback they are given. The process should be built on the experiences of the coaches and be expressed through narration. This only makes the management to look more benevolent but also directs and comforts (Michaels et al., 2001, p. 48). Additionally, Michaels et al. (2001, p. 48) explains managers who are outstanding at providing significant development tools, for instance, feedback and coaching, have to do so regularly in unwritten and written form. This should include pronouncements and provision of direction on how the workers can mature and improve.
Mentoring high potential employees
According to Friday and Friday (2002, p. 153) mentoring is another important way of developing talent. In addition, Michaels et al. (2001, p. 50) point out that, a leader develops confidence in high-performing employees by paying tribute, encouragement and support by trusting in their ability to achieve beyond expectation. Nonetheless, the role of the mentor also calls for the communication of excruciating feedback, but from the mentor's perspective a bigger picture should be discernible with the intention that additional encouragement and counsel on how to develop talent from the feedback source van be initiated. Friday and Friday (2002, p. 153) seconds this statement by emphasizing that workers involvement in the mentoring experience enhances their job satisfaction and work commitment.
Similar to other Talent Management concepts, mentoring should be integrated and entrenched in the organization's strategy in order to reap full benefits of the company. Michaels et al. (2001, p. 50) labels it 'institutionalization' of mentoring and mention that even though there might periodic cases of mentoring for a few employees, who have found mentors on their own, there are very few organizations that have assigned mentors to their high potential employees. Nonetheless, studies show that mentoring is a very important component in developing talent.
Training employees
According to Frank and Taylor (2004, p. 40), even though development is no longer one and the same as training, it is still the most dominant approach and is regards it as baseless without talent. Particularly management development can be improved through basic managerial training and effective leadership development. High impact leadership development can be delivered in a head to head environment where the trainer is an esteemed senior manager in the organization. Thus, training acts as a platform for development aimed at solving real and crucial business challenges.
Foundational managerial training is the knowledge acquired through academic disciplines taught in executive scholarly programs or M.B.A. which is very important for individuals encountering transition in their professions. This is how training is incorporated into work which is the main aim of most of the approaches.
Training programs have a number of things in common: they introduce novel skills, concepts and knowledge (Michaels et al., 2001, p. 45). The high impact leadership approach also offers a strong action learning layout. In addition, this approach to employees' development engrosses individuals in the management principals and values of the organization, and also promotes the development of trust-based links and impulsive mentoring interpersonal relationships. It is also significant to execute this development approach because it enables employees to learn first hand on what it takes to effectively run the organization.
Since training is a high cost activity, Daniels, (2003, p. 40) evaluates training and the significance of assessing its impact on the organization. Training must never be viewed as a universal solution because it does not get rid of main organizational challenges however, it can offer immense improvement. Frank and Taylor (2004, p. 42) offers a divergent view in their investigation of upcoming trend within Talent Management. They argue that the increased adoption of ICT technology will provide a better solution to the training needs.
Planning succession
According Grubs (2004, p. 200), many companies have ignored succession planning. This is becoming a subject of great concern given the fact that crème de la crème of the organization are increasingly departing and are leaving a very big space behind. Succession planning can be implemented with numerous goals in mind, and it is significant for a company to spot these. This is because internal development of individuals or possible heir to the executive seats has different requirements and the targeted group have to be determined.
Programs geared towards critical positions are very important for the success of any business. Individual based programs emphasizes on particular employees that have significant potential for prospective development while team-based programs are formed to assist in the move of individuals who could fill various positions within the organization. After this they can now establish leadership qualities or competencies that are desirable for candidates seeking to fill those positions. The process is integral such that the future plans of the organization can be developed and supported by the HR practices (Grubs, 2004, p. 201).
It is very costly to lose key talents and hire new ones, thus companies must make necessary efforts to retain them (Sandler, 2005, p. 13). Due to such incidents, it is very important for companies to have a succession plan. Succession plan entails knowing who will leave the company and who will take his place however, besides retirement cases, it is very difficult to predict who will leave the company. Cunningham (2007, p. 8) states that companies must be proactive and must attract a pool of individuals who can be promoted into leadership roles. This is achievable through investment in the development of young graduate managers.
Some of the solutions provided above are not so much into succession plan nonetheless; they are aimed at succession development that recognizes the need for a company to be flexible enough and capable of providing alternatives when an employee leaves. However, such plans also have their flaws, for instance, a planned successor leaving first. Another risk with succession plan is that leaders may appoint his own people to succeed him/her, thus discriminates against other candidates who may more talented Cunningham (2007, p. 9).
Managing career
Career development is a complete contrast to succession development. Cunningham (2007, p. 11) describes career development as a focus on individuals' choices and development rather than the position to be filled. The contemporary dynamic environment increased diffusion in the corporate ladder and professional moves are not vertically tied. Future development opportunities are becoming more significant than the vertical promotion devoid of it. Herman (2005, p. 3) accedes and asserts that development is not tantamount with promotion in the olden days. However, lack of promotion is presented in his study as one of the principal reasons behind the increased turnover rates in many organizations. The increased complexity has made career choice more tricky and career guidance is appreciated by many. This is because it offers youthful employees with numerous paths for the future, at the same time improving communication.
Talent retention
Talent retention and development can not be isolated even though the structure of this study may suggest so. This is only done for the readers to follow a comprehensible structure when exploring the wide concept of Talent Management. In fact, identifying, appraising, developing and retaining talent all should, in reality, be totally interlocked under the confines of the concept. Retention of the employees can simply be defines as the employers efforts to keep hold of the most important employees in order to achieve the objectives of the organization (Frank &Taylor, 2004, p. 42).
Employee retention also assists in averting unnecessary loss of human and intellectual capital, minimising the cost of employee turnover and enhances the HR stability and commitment (Herman, 2005, p. 4). Herman (2005, p. 5) gives five reasons why individuals leave organizations, which all apart from compensation with is lowly ranked, is tied to cultural and communication matters, for instance, the perceived feeling of the organizational culture and reputation, lack of support and support from the leadership or deficiency of feedback that makes workers consider themselves insignificant. This point is also seconded by Frank and Taylor (2004, p. 42) who identifies poor management as the fundamental reason behind employee turnover. Hi study highlights the correlation between culture and communication. According to Roehling et al. (2005, p. 208), there is a high degree mutual relationship between HRM and organizational culture which Frank and Taylor (2004, p. 42) considers as a strong success factor.
Staff engagement
Employee engagement is a concept within talent management which is directly linked to retention. Low engagement leads to increased employee turnover, thus organizations that strive to develop a highly committed staff have a very minimal employee turnover rate (Roehling et al., 2005, p. 209). Uren (2007, p. 32) stressed on the creation of a conducive work environment that engages employees to carry out duties at their best. According to Frank et al. (2004, p. 15) employee engagement is a discretionary effort at work inform of additional time, mental power and energy.
Even though employee engagement is a cognitive construct which difficult to define and measure, it is all about how the workers feel, intent behind their actions, and the additional efforts exerted. Employee engagement has been openly linked to better financial performance in addition to client relationships. Majority of the employees are not always engaged and this is very costly to the organization. This gives an additional link to Talent Management where most of the employees who are regarded as talented are naturally engaged.
Employee engagement was build up from classical motivation models. Intrinsic motivation aims at making individuals perform duties on their own discretion and not to receive reward, which is alignment with engagement (Frank et al., 2004, p. 16). Motivation is also a component in numerous definitions of Talent Management (Schweyer, 2004, p. 38).
Employee Motivation
Underneath any individual's motivation is the action engine-social motivation. Personal motives are very significant since they affect and direct professional behaviour. An individual's motivation determines his/her weak or strong points when dealing with competencies. The level of motivation of an individual determines how an individual utilizes and displays competencies (Hill, 2008, p. 75).
Hill (2008, p. 75) describes motivation as a blend of three social motives that are part of an individual's motivation profile: the aspiration for achievement, the desire to up hold cordial relationship with others, and the hunger for power. The aspiration for achievement exemplifies itself through a predisposition to take considerable risks and the urge to take responsibility for results, and a long-term concern for personal growth and development. The desire to up hold cordial relationship makes individuals to put a lot of effort on establishing and maintaining relationships at the workplace and are extra sensitive to factors that affects these relationships. Lastly, hunger for power is concerned with the need to sway and influence others, develop reputation and to instinctively provide support and advice.
According to Holden (1999, p 222), empowerment is another motivational factor. Employees' empowerment can reduce cost, enhance productivity, and improve business performance and creation of knowledge, thus results in efficient use of workforce. It is a shift from the traditional direct control, and instead enhances employee commitment to the goals of the organization thus improves quality of products and services. Therefore, workers involvement could help in unleashing creativity and knowledge creation (Holden, 1999, p 223). He also mentions that employee involvement varies in strength and in national contexts owing to legal compositions and business practices. His research on empowerment in UK banks established that employees are more vibrant and active with strong legal and union support. He ranks motivation and commitment on a lower scale. However, he notes that rewards are significant factor in talent management practices. This is seconded by Hill (2008, p. 75) who claims that rewards linked to performance are strong motivators for individuals with high potential.
Evading retaining the wrong individuals
After examining the significance of identifying, appraising, developing and retaining talented persons, it is equally important to discuss how organizations should tackle the problem of unsatisfactory individuals. According to Berger and Berger (2004, p. 56), employees who do not live up to the company's expectation, do not cooperate with others, or do not meet the competency requirements, can be referred as misfits. This category of employees requires exceptional development programs with personal supervision, or if the problem is in the job role, he/she can be reassigned to a different job to improve his/her performance, or completely removed from work. Even though it is very hard to terminate individuals' contract, it is sometimes important since they can negatively impact the morale of others. Organizations that tolerate such type of employees are likely to face, poor service delivery, less investor confidence, dented reputation and difficulties in recruiting and retaining competent employees.
However, it should be noted that in the UK it is next to impossible to lay off workers. UK laws, workers unions and the country's collectivistic thinking protect employees more than any other country in the world (Frazee, 1997, p.20). According to these laws, incompetence, misappropriation or alcoholism is a not a reason enough to dismiss an employee. Therefore, the UK laws gives workers more freedom that employers.
A study conducted by Branham (2000, p. 85) established that managers have the greatest say on whether an employ should stay or leave. Therefore, managers have a big influence on their subordinates and there interactions must always remain as positive as possible. A number of studies have established that managers with offensive behaviours against their juniors are likely to impact on their job satisfaction, psychological well- being, performance as well as their turnover rate (Branham, 2000, p. 87; Holden, 1999, p 223). The managers' conduct irrespective of their performance is paramount and can cost the organization more than they are worth themselves. The costs can be in form of law suites or underperformance as a result of a go slow. Therefore, employees' performance is highly correlated with how the managers treat their subordinates.
Reflecting on the theories
According to Keegan and Boselie (2006, p. 1492), the consensus approach to HRM studies have greatly contributed to lack of vital information on the subject matter. In addition, they reviewed a number of HRM studies for over six years and came up with an aversion to some of the HRM theories and standard assumptions derived from a number of specialized journals. This has serious implications on the theoretical research frameworks of the emerging HRM practices. Furthermore, HRM practices related to performance have been rigorously criticized for lacking conclusive research results owing to unsuitable research techniques (Keegan & Boselie, 2006, p. 1493) and lope-sided motives (Fleet & Hesketh, 2006, p. 1978).
It should be noted that most of the HRM articles are written by consultants, thus have a commercial value attached to them. The ability to take a broad view of across different disciplines is normally a question in research. Different states have different regulations and practises related to HRM. Nonetheless, this is taken very serious in this research and will be discussed in the analysis stage. Frazee (1997, p.21) claims that UK has adopted many American policies and laws than any other EU member state and suggests that American studies, except a few, are applicable in UK. This focuses on the methodological issues that are discussed at length in the following chapters.
Research Methodology
Introduction
Methodology is the process of instructing the ways to do the research. It is, therefore, convenient for conducting the research and for analyzing the research questions (Easterby, Thorp & Lowe, 2008, p. 67; Saunders, Lewis & Thornhill, 2009, p. 87). The process of methodology insists that much care should be given to the kinds and nature of procedures to be adhered to in accomplishing a given set of procedures or an objective.
Research philosophy
For this part, choosing a philosophy of research design is the choice between the positivist and the social constructionist (Easterby, Thorp & Lowe, 2008, p. 67). The positivist view shows that social worlds exist externally, and its properties are supposed to be measured objectively, rather than being inferred subjectively through feelings, intuition, or reflection. The basic beliefs for positivist view are that the observer is independent, and science is free of value. The researchers should always concentrate on facts, look for causality and basic laws, reduce phenomenon to simplest elements, and form hypotheses and test them.
Preferred methods for positivism consist of making concepts operational and taking large samples. The view of the social constructionists is that reality is a one-sided phenomenon and can be constructed socially in order to gain a new significance to the people. The researchers should concentrate on meaning, look for understanding for what really happened and develop ideas with regard to the data. Preferred methods for the social constructionists include using different approaches to establish different views of phenomenon and small samples evaluated in depth or over time (Saunders, Lewis & Thornhill, 2009, p. 87). For the case of analyzing how recruitment and selection affect organization performance, the philosophy of the social constructionists was used for carrying out the research. Because it tends to produce qualitative data, and the data are subjective since the gathering process would also be subjective due to the involvement of the researcher.
Research methodology
Human resource management has multifaceted subjects. Any researcher can centre on distinct areas, for instance, safety of the workers, remuneration procedures or hiring new staff members. This paper mainly focuses on talent management because it entails evaluation of the staff, localization, tapping up and retaining new talents that are essential for the growth of the business.
This research will manly use the qualitative methodological approach as it describes the precise behaviours of companies. Qualitative methodological approach enabled the researcher to point out clearly the values that drive the strategies of the research (Easterby, Thorp & Lowe, 2008, p. 67; Saunders, Lewis & Thornhill, 2009, p. 87). Qualitative methodological approach is preferred over quantitative methodological approach as the latter does not capture all the variables, thus, producing unreliable results. Quantitative analysis and quantitative analysis serve as the two central methodologies of a research.
Qualitative research is a way of research question captured in various academic fields of study, conventionally used in the social sciences, but also in research on market and other areas (Saunders, Lewis & Thornhill, 2009, p. 89). Exhaustive apprehensions of human demeanour with regard to qualitative researchers are being carried out with an aim to assess the causes that relate to such demeanour. The qualitative method investigates the question as to how and why decision making is carried out; hence, focused and smaller samples are more frequently preferred to huge samples. Quantitative methods on the other hand verified the validity and truthfulness of the hypotheses; qualitative methods can be explained as a source of data or an explanation based on the dimensions of the graph or a non-mathematical data collection (Easterby, Thorp & Lowe, 2008, p. 67; Saunders, Lewis & Thornhill, 2009, p. 87).
Nonetheless, the most customary demarcation between the uses of quantitative and qualitative research especially in the social sciences is that qualitative procedures are employed for illustrating confounding quantitative outcomes or for exploration (i.e., conjecture-engendering). On the contrary, quantitative methods are being employed to evaluate theories. This has been demonstrated as one of the fundamentals of qualitative research. Some critics think that quantitative method of analysis purposes to offer many illustrations, precise and reliable evaluation mainly through centered conjectures, applied mathematics and evaluation tools (Saunders, Lewis & Thornhill, 2009, p. 89). On the other hand, qualitative data is normally tedious to display or graph in mathematical terms.
Qualitative research is mostly accepted as the best technique for evaluating policies and research programs. Qualitative research provides clarifications to the various issues arising in a unique way that is dissimilar to the quantitative approach. This is especially the case for comprehending why and how some results were accomplished (not just what was accomplished) and also for replying some significant queries about pertinence, unplanned effects and impact of processes such as: were anticipations justifiable; did procedures function as anticipated; were chief policy makers able to do their jobs; did the program create any unintended impacts; and so on.
Case study
Case study is an approach of methodology that is applied when a comprehensive research or investigation is required. Case study is widely applied in sociological studies, but of late it is commonly applied in research institutions (Saunders, Lewis & Thornhill, 2009, p. 89). Case study approach has procedures to be followed; hence, the researcher is required to stick to the guiding rules and principles so as to produce the best results. Through case study approach, the researcher has access to a wide range of data sources; as a result of this, case study results are always very comprehensive and in-depth (Saunders, Lewis & Thornhill, 2009, p.242).
Case study research does not entail sampling; hence it is beneficial to select the cases in a relevant manner in order to maximize on what should be learnt. Through case study approach, relevant issues that form the basis of the study are thoroughly exploited. In addition, issues that appear to be more complex are brought to light through the use of case study as a research approach. The basic steps to be followed when structuring a case study approach are: (a) the research questions should be clearly stated and defined; (b) choose the cases and the data collection and analysis techniques; (c) arrange to gather data; (d) process and analyze the collected data; (d) make a report with regard to the analyzed data.
There are three types of case studies. The first one is the intrinsic study which is carried out when the expected results are supposed to elaborate clearly on the case. The second type is the instrumental case in which the case acts as a fountain of knowledge to support the research. The third type of case study is the collective approach in which the phenomenon is explained by a surplus of independent case studies. Actually, the latter type of case study was used in this research since it is the sensation of talent management in the United Kingdom that is open to investigations.
Case design
This study consisted of two cases, for instance, how and why recruitment and selection influence the performance of the organization. The most essential exercise when carrying out a case study survey is to clearly spell out the actual cases. When conducting this research, the researcher conducted an interview for managers who were chosen from seven companies; the manager's practices in this scenario are considered as discrete cases. It carries much weight to formulate the cases to centre on concrete issues like the organization's department or the manager. Multiple cases are normally expensive to carry out just as they consume a lot of time to carry out. Multiple-case designs are normally more realistic that single-case designs. Due to the fact that this research mainly focused to point out the conducts of the best employers in the United Kingdom, it was very essential to explore on at least one human resource department, thus, justifying the collective case study approach.
The replication logic of the cases forms the basis of the case selection (Saunders, Lewis & Thornhill, 2009, p. 92). There exist two different approaches in literature that assist in the selection of the cases. The literal replication is the first approach. It entails that regardless of the large number of cases that the researcher predicts, the results will remain similar. The second approach is the theoretical replication; it is actually the opposite of literal replication as large number of cases predicted produces different results. In this research, theoretical replication was adopted.
A list of United Kingdom's best employers was used to select the companies that were to be interviewed in this research. The main underlying assumption for the selection of these companies was based on the performance of the employees with regard to their recruitment and selection. Appendix 1 shows the short survey that was issued to respondents from 30 companies. The survey was very necessary as it confirmed whether the companies were well versed with the theories of recruiting and selecting employees. Approximately, there was a 40% rate of response from the short survey.
After conducting one or two interviews, some companies preferred to be anonymous, thus, all the names of the companies and the interviewees were kept secret. To further maintain the anonymity of the companies and the interviewees, the companies were renamed using an alphabetical range of letters; the names given to the companies tallied with the names of the corresponding interviewees, for example, Mr. A at Company A.
Management of empirical material
Qualitative research is normally characterized by a great abundance of risks. Some of these risks include false impression and making invalid or unreliable inferences. Easterby, Thorp and Lowe (2008) pointed out that "qualitative research is rigid in nature and cannot be characterized by weak or unreliable inferences" (p. 382). In order to avoid these risks in qualitative research, it is essential that the data is extensively and impartially recorded by precise means like using tape recorders.
Gathering of empirical information
In line with the methodological approaches that have been described above, a total of 9 interviews were conducted orally in the 7 companies that were used in this research. Originally, 8 companies were arranged to be contacted, but because of unavoidable circumstances that involved limited time and resources, only 7 companies were available at the time of research, i.e. companies A to G. The interviews of companies A, B and G were carried out over the phone and the phone calls were recorded in order to hinder any information loss. At company A, 2 interviews were carried out, i.e. one interview with the Workforce Administrator and another interview with the Talent Manager. Moreover, at company B, the Talent and Leadership Manager was interviewed. Consequently, the Human Resource Manager was interviewed at company G. all these interviews were conducted as per the interview guide in Appendix 2. The interviewees were encouraged to expound on their answers and elaborate further by giving illustrations. Each interview lasted for approximately one hour.
At company C, two interviews were conducted (each interview lasting for one hour); one interview with the Regional Manager, and the other interview with the Human Resource Manager. To conclude the interview process, one face-to-face interview was conducted each at company D, E and F. each interview lasted for one hour. The Human Resource Manager was interviewed at company D, the Head of Recruitment was interviewed at company E, and the Management Head was interviewed at company F.
In all these interviews, an interview framework was used and the timeframe was also observed. The information by the interviewees was very important, thus, a tape recorder was used so as to effectively capture the relevant information. When conducting the phone interview and face-to-face interview, no significant quality difference was felt. As a matter of fact several literatures have pointed out that face-to-face interview generates more information since it is possible to note and judge the reactions of the interviewee.
Interview is the major source of information for a case study research; many cases in the case study research focus on the affairs of the interviewee, thus, it becomes difficult to deliver the information on behalf of the interviewee. Interviewing consists of two schools, namely: oral interview and written interview (Easterby, Thorp & Lowe, 2008, p. 72). Oral interview is more advantageous because of its flexible nature; the questions can be reformulated or twisted to fit the understanding of the interviewee. Oral interview also allows for a bond or a connection to build up between the interviewer and the interviewee, thus, easing the flow of information between the parties. Written interviews on the other hand have an advantage in that they are cheaper to conduct and can be circulated easily in large quantities to many respondents at the same time. The major limitation of a written interview is that the respondents may give unsatisfactory answers or ignore some questions, hence, interfering with the research.
The structure of the interview can either be open-ended or closed ended (Easterby, Thorp & Lowe, 2008, p. 72). Open ended interviews do not limit the interviewees in giving their answers. Similarly, closed ended interviews are easier to interpret and they save time. When it comes to case study researches, open ended interviews are more preferred because it makes it easy for the values and ideas of the research to be communicated. In addition, through open ended interviews, it is possible for the interviewees to provide additional information which can be relevant to the research. Open ended interviews are normally used to research deeply while closed ended interviews are relevant for broader studies.
Analysis and interpretations
Many people still doubt the effectiveness of qualitative research because it is rigid in nature. However, there are some criterions that are under consideration to correct this fault. These criterions include: credibility, transferability, dependability and conformability. Credibility enables the researcher to display the real circumstance that is under investigation. Transferability provides the reader with many details concerning the circumstances in which the research can be applied. Dependability enables the authors to make a duplicate of the study. Finally, conformability proves that the results of the study stem from the analysis of the data, rather than from the imaginations of the author (Saunders, Lewis & Thornhill, 2009, p. 89).
Empirical findings
The experiential materials gathered from the companies in the United Kingdom are presented in this section. All the respondents agreed in uniformity during the short pre-study. All the companies that were contacted confirmed that they were familiar with the term 'Talent Management' and they used it on a day to day basis. In addition, all the companies utilised the criterion of succession planning apart from outsourcing during hiring of employees.
Definition of talent management by the UK companies
During the interview session with the Talent Manager at Company A (Mrs. A2), talent management refers to the process of developing the competence of the worker in line with the focus of the organisation. At Company A, the quantity of resources that are required to perform the various organisational processes is determined by the management. Talent management is an ongoing process that focuses on reviewing and pointing out the major posts in the organisation and who holds the posts. With this framework in place, it now becomes easier to assess the performance of the organisation and point out areas that need further improvements. Company A has been operating under this framework since the year 2005. Moreover, Mrs. A2 pointed out that the board is mainly worried about where the managers of the company will come from in future, thus, talent management is beneficial for Company A to gain a competitive advantage position.
The Talent and Leadership Manager at Company B, Mr. B said that he feels so shy to use the word 'Talent' because it is inculcated in the values of the organization. Mr. B, therefore, defined talent as an individual who demonstrates excess capabilities, stance and motivation. Talent management according to him meant the hiring, maturity and close of service of highly performing employees. There is no well established talent management system at Company B as it is still in the process of formulation. Moreover, Mr. B indicated that the employees at the company worked in line with the company's strategies, thus, granting the company a competitive advantage. The nature of service delivery is the key element at Company B.
At Company C, talent management was defined by both the Regional Manager, (Ms C2) and the Human Resource Manager (Ms C1). Ms C2 said that talent management referred to the process by which the company captures employees who demonstrate great leadership skills or qualities. Moreover, Ms C1 defined talent management as the process of discovering and nurturing the precise employees who are destined to manage the company in future. Company C, being an agency for the government still lacks the capacity to compete for quality workers, thus, it experiences inadequacy of talents.
At Company D, the Human Resource Manager, Ms D, was interviewed and she defined talent management as the process of preserving and nurturing of talents. She further stated that the term 'Talent Management' is not commonly used in the company, even though it is tied to the strategies of the company as the company gains competitive advantage. At Company E, the Head of Recruitment, Ms E, was interviewed and she defined talent management as the capacity of the company to pull and capture the needed workers who are incorporated in the long term objective of the company. Employees are considered to be the major assets that the company has, thus, more priority is given to their retention in the company. The Management Head was interviewed at Company F, and talent management was defined as finding people with great potential and positioning them in the correct places in the company. Company F strives to retain its employees, thus, talent management is given much consideration so as to gain a competitive advantage. At Company G, the Human Resource Manager, Ms G, was interviewed. Talent management is undertaken in line with the objectives and the strategies of the business and it is meant to point out the leaders who will take over the company in future. The company sets goals and targets every year which they purpose to achieve
Locating talents by the UK companies
Company A does not have the overall control as far as identification of talents is concerned. Ms A2 confirmed that there is a new process that they have employed in the company in order to capture new talents and it has contributed to the positive growth of the company. In addition, the process has contributed to the improvement of the company's process of internal recruitment. Further, there exist various guidelines internally that advocate for 90% of the recruitments to occur internally within the company. The main focus of Company A when they are searching for talents is the capabilities of the individual; this is viewed in line with his personal achievements, motivation, attitudes and dedication. The employees are allowed to exercise their roles freely, thus, giving them an opportunity to use their strengths. Company A aims at making talent management a continuous process which is reviewed constantly. Consequently, Company A believes that it can make its own future leaders, thus, the idea of outsourcing is not welcome.
In Company B, there is no clearly defined framework for identifying talents but they still succeed to manage the existing talents. Mr B, who was the contact person at the company, stated that Company B knows its position and the exact voids that have been left to be filled up. The company knows the kind of person they are looking for and the level of competency that the individual should have. Thus, the level of competence is the most outstanding feature that the company goes for when identifying talents. The company also seeks the support of recruiting agencies to outsource various talents.
Company C knows the kind of talents that they need and they are identified every year after making reviews. The preferred individual is required to have excellent communication skills in addition to his/her level of technical experience. Company C targets universities to recruit fresh talents. In addition, the company has launched a management trainee program that helps to build the talents. The main aim of recruitment at Company C is not just to get good leaders but also excellent employees. When conducting recruitment exercises, the company mainly focuses on two main factors: leadership ability, which is a necessity for managerial posts, and level of cooperation, which determines if the individual can make good judgments. Internal employee search is greatly emphasized in order to encourage the existing employees that for sure many opportunities await them.
At Company D, there is no well defined framework for locating or identifying talents. However, the company has launched a management trainee program that aims at training future managers or leaders of the company. The company has also established a plan for management process that aims at identifying the future company managers. Company D has formed a culture of first recruiting employees from within the company before recruiting from outside. The company pays keen interest to leadership skills when looking for a potential manager. Job rotation is carried out in the company so as to identify the strengths or weaknesses of the employees. The company also liaises with recruitment agencies to help to identify talents, especially when they need specialists.
Company E has specific requirements concerning the potential individual that they want to recruit; this has been the tradition of the company for many years. The requirements of the individual stem from the personal attributes and the level of the performance. The company always makes sure that the individual whom they are recruiting has to meet all the specific requirements. Moreover, Company E has a program meant to recruit from within the company. It is always a very competitive process, thus, all the employees need to give their all in order to meet the recruitment criteria. Company E also performs outsourcing duties, whereby other companies recruit trained people from Company E; this however does not prevent Company E to outsource for employees from elsewhere.
Company F maintains a database of highly experienced and highly prospective workers, which is reviewed constantly to aid in locating viable talents. When it comes to filling up of top positions, Company F always uses the services of an outsourcing agency in order to get people from outside to fill up those positions. Mr. F who was the contact person at Company F, confirmed that at least 70% of the company's recruitments occur internally. Employees are only recruited from outside when the company has failed to find a suitable candidate internally.
Company G also maintains a database of highly potential workers. The line managers always give constant reports regarding the available potential talents in order to aid in the recruitment process. The database is normally reviewed annually and the line managers do categorize the workers in various groups, for instance, 'Great Potentials', who are expected to occupy bigger positions in the short run; 'Potentials', who are expected to take quite some time before assuming bigger positions; and 'Major Position Holders', who are very important to the company and can be assigned a utility role. Company G locates many of its talents internally based on the individual characteristics and performance. However, when there is no suitable internal candidate, the Company is forced to outsource externally.
Employer Branding
At Company A, employer branding is viewed as the capacity of the company to capture and retain talents from outside. Employer branding is therefore related to talent management as it builds a base for provision of talents in the future. In contrast, Company B sill lacks an employer brand. Instead, the company emphasizes on internal development of its workers so that they can assume a sense of pride. Even though the company lacks an employer brand, it has not been hindered in the pursuit for new employees. Company C also has no well defined employer brand. The company puts much effort in defining the nature of work for the employees. The company also focuses on employee empowerment and development so that they can act as the company's ambassadors.
Employer branding is utilised so much at Company D. the company has a program in place that facilitates trips from nursery school children, high school children with the aim of having them develop interest in the company. In addition, the company offers internship opportunities for college or university students so as to stimulate their interests. Through all these, the company builds a brand for itself. Company E values employer branding. It is a company which has reputation internationally, thus, the stakes have to be higher. The company has a well established culture of performance that makes people want to identify with it. Company F enhances its employer branding by engaging in corporate social responsibility in order to reach out to the society through involving the employees. At Company G, employer branding is a step-by-step process that occurs both internally and externally. Externally, employer branding occurs through selling the company as the main place for future employment in schools and colleges. Internally, it offers a competitive field for the employees to battle out for the top positions.
Assessing talents by the UK companies
Company A maintains a record of the employees, where their performances are tracked and evaluated. During the evaluation process, the strengths and the weaknesses of the employees are identified, thus, it will be easier to point out areas to improve on. The same applies to Company B that groups its workers into various segments depending on their level of performance. Assessment is carried out on a quarterly basis. At Company C, the assessment is carried out with regard to the speed and precision of executing the assigned tasks. The supervisor plays a major role during the assessment period. The performance assessment is carried out quarterly. More training is conducted for the employees who perform poorly. In Company D, the evaluation process is carried out once in every year. The supervisors normally play the role of assessing the employees.
At Company E, yearly goals and targets are set, and the yearly performance is based on the achievements of the goals or targets. In addition, feedbacks from the clients are also used to evaluate and rate the employees. The employees are rewarded salary increments or bonuses based on their yearly performance. At Company F, employee assessment is very important as they are rewarded bonuses based on their performances. The essential elements that are paid attention to during the assessment process are: the leadership capabilities, and communication skills. At Company G, assessment takes place over a period of three years and it is based on the level of integrity, competence and commitment of the employee.
Developing talents by the UK companies
Company A offers constant on-job trainings for the employees in addition to giving them extended assignments. Moreover, the company has a well established succession planning process which enables them to train the right employees for the right positions. Company B always arranges for mentorship classes for the employees, where they get a chance to interact with their role models. Also the company organises for on-job trainings and workshops or seminars for more training of the employees.
At Company C, a training program on leadership is conducted to employees who are aged below 35 years. This is done to expose the employees to the leadership roles and to give a chance to the HR to spot the future leaders of the organisation. Seminars, coaching and mentorship classes are also carried out in the company to help the employees strengthen their networks. At Company D, selected employees are sponsored to further their education. The selection is done in accordance with the performance of the employees. In addition, job rotation is carried out in the company so as to expose everybody to the various positions of the company.
At Company E, training programs are conducted to the employees so as to enhance their talents. Moreover, the company also organises for mentorship programs aimed at building the talents of the employees. The mentors are always internal. Company F operates the same way as Company E to develop talents. They too give much emphasis on mentorship and training. At Company G, there is a succession planning that is in place. The succession planning projects the future needs of the organisation with regard to management and leadership. Those who have been identified as potential leaders are trained and mentored in the relevant manner.
Retention of talents by the UK companies
Company A has developed a culture of retaining internal workers to safeguard the future of the organisation. This is due to the fact that when the older workers retire, the younger ones are poised to assume their positions. Company A is, therefore, keen enough to identify the potential future managers and leaders and strive to retain them. They do this by offering them competitive remuneration and huge allowances to entice them. At Company B, retention of the employee is very important. The company achieves this by dialoguing with the employees in order to be familiar with their expectations. Company B does not entice employee by giving them promotions or huge allowances.
At Company C, retention of the employees is very automatic. This is because of the fact that an individual is given the chance to shift from one department to another when he/she is not comfortable at the current position; thus, there is no big reason for an employee to leave the company. The spirit of unity is fostered among the workers as all of them work towards achieving the overall goals and objectives of the company. Company C has many high status jobs besides the managerial positions. So an employee cannot be persuaded to leave the company. Company D retains its employees due to the high cost it incurs during the training of the workforce. Employees who have stayed in the company for a longer period of time are offered promotions in order to reward them for their loyalty.
Company E retains its employees because of the fact that they have already adapted to the cultures and norms of the company. It takes quite a longer time for the employs to embrace the cultures of the company in their daily lives. The company, therefore, rewards the employees with promotions or huge bonuses and allowances as incentive to keep them in the company. Company F retains its employees through creating a favourable working environment. This environment is created through the company's culture and morals. This will result in more job creations both horizontally and vertically. At Company G, employees are retained through involving them in the major decision making process of the company. The employees are given a chance to take part in setting of the annual goals and targets. Through involvement of all the employees in decision making, a lot of jobs are created both vertically and horizontally.
Data Analysis and Interpretation
Introduction
This section covers the analysis of the data with regard to the empirical findings and the theoretical framework of the study. The data analysis is in line with the broad objective of the study that analyses how recruitment and selection affect the performance of the organization.
As indicated in the study, all the contacted companies were familiar with the term talent management, even though not all the companies use the term in their daily operations as they have adopted alternative dialects. The results of all the interviews confirmed that talent management is concerned with recruiting of high potential employees and retaining them to safeguard the future of the company; this is in conformity with the findings of Laff (2006) and Farley (2005). Almost all the companies tied talent to individuals with potential leadership qualities for the future take over of the organization. It is however noted that not all the employees who perform excellently are destined for leadership or top positions.
Due to the fact that the top management positions are very limited as compared to the large number of employees in contention, all the companies strive to create more lucrative positions horizontally, rather than vertically. Talent management, therefore, focuses on training internal future leaders and managers. As a result of this, a wide range of career paths is built in the company, thus, excellent workers find a place to fit into rather than scrambling for the limited top positions.
All the companies agree in uniformity that management of talents enabled them to gain competitive advantage over their rivals. This finding was in conformity with the findings of Heinen and O'Neill (2004) which stated that management of talent is the most appropriate way in which a company can gain sustainable advantage with regard to the human resource management. Companies that are very successful usually are up to date when it comes to issues dealing with talent management. All the companies that were contacted confirmed that the process of talent management is tied to the strategies of the company.
Location of talents
Many firms have a culture of recruiting internally so as to maintain continuity of the firms. Some firms have set standards of internal recruitment of up to 60% of the employees. This finding is in contrary with the findings of Schweyer (2004) who found out in their studies that "many companies give preferred attention to external recruitment before considering the talents available internally" (p. 38). This study found out that only two companies (C and F) have established a logical way of finding talents.
The companies also agreed that the competencies of an individual matters more than his/her values, thus, when recruiting employees, much focus is given to the level of competency of the individual. Company A considers the commitment of the individual in addition to his/her job attitudes and achievements. Company C considers the abilities and the level of success of the individual; elements such as ability to cooperate and the ability to grasp new ideas are also considered by the company. The other remaining companies emphasized on leadership skills, communication skills and the personal attributes of the individual.
The results also found out that companies tend to fit their employees to the relevant job positions or to fit the job positions with matching characteristics of the employees. With this regard, employees who are at the lower level of the organisation's hierarchy normally have a fixed job description, while at the higher levels of the hierarchy the employees have more flexible jobs. It was only Company E that had well defined job descriptions for the various levels of the organisation's hierarchy. In huge organisations, there are many job positions, thus, the employees cannot lack a place to fit in.
Because of the large size of the companies, internal recruitment was highly preferred to outsourcing from recruitment agencies, especially when it comes to senior positions in the company. The idea behind this is because of the fact that these companies spend so many resources in training their employees and they also desire to maintain continuity in the organisation. In his study, Hansen (2007) found out that "a company will only outsource when it wants to recruit experts or when there are no internal talents to match the specifications of the job" (p. 14). However, the current trend in the job market shows that many companies are leaning towards external recruitment of their employees as a way of refurbishing the company and capturing new talents.
Employer branding is one idea that is emphasized by almost all the companies that were contacted. They are in constant contact with schools, colleges and universities with the aim of stimulating the students' interests to work for them. However, Company B confirmed that there was little or no effect of employer branding, as opposed to Company D which confirmed that the effects of employer branding can be seen. Employer branding provides a sense of pride and motivation to the employees internally in addition to making them to be ambassadors of the company (Beckhaus & Tikoo's, 2004, p. 510).
Assessing of talents
The findings of the study revealed that employee assessment was conducted in all the companies. This was in conformity with the findings of Heinen and O'Neill (2004) who conducted a research focusing on the measurement of the performance of the employees. The UK companies have been greatly reluctant to define the performance cultures for their employees. Both Company A and Company F had already formulated a well established process of assessing the performance of the employees. The assessment process of the companies enabled them to capture all the employees in the company, both on contract and on permanent basis. Company B is yet to implement the new outlook of the assessment process.
In all the companies, assessment of the performances of the employees was carried out with the aim of pointing out areas that required urgent development and making plans to develop those areas. Company E is an organisation known for its high level of performance, thus the results of the assessment process will dictate on how to remunerate the employees or offer them promotions. This was in conformity with the findings of Berger and Berger (2004), who found out that highly performing employees were rewarded generously by an organisation.
Another main aim of assessing the employees in the UK companies was to know the individual employee on a one-on-one basis. This gives a company the chance to initiate programs aimed at developing or empowering the employees, for instance more training activities for them. Company B, being a service oriented company, gives great emphasis on performance assessment. Much of the assessment is done by the feedback they receive from their customers, which gives them the chance to improve or upgrade their services to satisfy the customers in a greater way. This is in conformity with the findings of Casse (1994), who found out that service companies carry out a performance assessment with the aim of improving their services to satisfy their clientele.
During the assessment process, one of the most outstanding elements to be measured is the drive of the employee. The employee's drive is regarded to be an essential requirement for the employee to be competent, as it defines the commitment and motivation of the employee to fulfil his/her duties. The companies have designed scorecards to help in assessing their performances. Assessment helps a company to distribute its resources equally to all the areas of the company. In addition, it gives the company a chance to categorize the employees according to their performance so that when opportunities occur, the company will know who to place where.
Company D, however, did not assess the employees using the scorecard technique. They use a new system which they were too reluctant to disclose. But this does not mean that employee assessment is poorly done since the annual reports and reviews of Company D is the same as of the other companies that were also under investigation. Company F uses a scorecard, but it is differently formatted from the ones of the other companies. In their assessment, they dwell much on the leadership skills, communication skills, level of competence, and the managers' comments concerning the employee. So much of the assessment entirely relies on the feedbacks from other people concerning the employee.
One outstanding reason for using scorecards is that they help in the division of the employees according to their level of performance. Therefore, it is easy to identify the group that is poised for succession in the company. It is only at Company A where the group of low performing workers is revealed. The company, therefore, commits many resources in order to develop this group. This contradicted the statement made by Berger and Berger (2004) that only top performing employees are allocated many resources for their further development. It is a culture in the UK companies that instead of firing the employees, they should help them to reach the required standards of the company. In addition, the Labour Laws in the UK really safeguard the welfare of the employees (Laff, 2006, p. 44). All the companies confirmed this, except for Company E, which does not give a preferential treatment to low performers.
Developing of the talents
Development of talents is a very wide field and it varies from one company to another. Some companies have a more advanced perception of talent development than other companies. Such firms normally offer the employees new challenging experiences instead of relying on the old format of training. The results of the study indicated that many companies carried out job rotations internally, which was supplemented by more training on leadership skills. The contacted companies had various programs to coach and mentor the employees. In addition, the supervisors issued constant instructions to the employees so that they can be at par with the organisation's missions and objectives.
Senior employees were assigned to mentor the newly recruited employees; this kind of mentorship necessitated the development of both parties. The company availed all the relevant resources to support the mentorship and coaching programs. The responsibility of the employee was a key determinant to his/her development. The results of employee assessments lead to the formation of segments or groups based on the performance. Each group or segment is developed in a different way as they require different inputs. Many resources are given towards the development of talents that mostly contribute to the success of the company.
Company A confirmed that the most important thing was to develop the low performing employees. The resources committed for development were determined by the development plans of the employee in collaboration with the line supervisors. It is not only the vertical promotion opportunities that motivated the employees, but also the horizontal job opportunities that exist in the company. The nature of succession plans varied from one company to the other and the level of its strictness also differed. In the companies, an individual who was considered to be the main successor was identified; in addition to him or her, a pool of potential successors was also identified for preparation purposes. In real sense, the employees were not told whether they have been identified as the potential successor so as not to influence their level of performance. Other reasons attributed to this were to avoid giving the employee much hope, and to keep the position open the other employees too.
Retaining the talents
One of the most outstanding reasons for a company to retain its talents is to save costs, for instance, costs of training new recruits. A company will therefore strive to retain the internally available talents as a strategy of cost cutting (Branham, 2000, p. 62; Herman, 2005, p. 6). The results of this study in line with the companies that were investigated showed that employee retention is connected to their personal developments. Even though there are differences with regard to the cultures of the company, monetary returns are not perceived to be in line with the employee retention strategies. Instead, the companies give much focus on individual credit, positive feedbacks about the individual, and the personal development records; an employee will leave the company when he/she lacks these aspects.
All the companies that were contacted are big companies which have big reputation, not only in the UK, but also beyond the boarders. It is therefore because of this status that the companies have the ability to attract and retain the best talents in the job market. This finding is in conformity with the findings of Digeorgio (2004), who carried out an assessment of talent management in one of the UK's companies. Many respondents confirmed that the managers play a greater role towards retaining them in terms of his ability to support and recognise their efforts. Employees expressed that one of the main reasons why some of them resign is attributed to poor management.
Both Company F and Company G have established a competent Human Resource Department which spells out sound and healthy ethical practices to the employees. The HR department is a strong department as it looks into the welfare of all the employees. A stable HR department offers motivation to all the employees in the company (Cheatle, 2001, p. 78). The motivation is essential in establishing the employee's drive, which is a major element for talent identification.
All the companies except for Company E reward the employees according to how long they have been in the company and how much they have contributed to the company. Remuneration levels are always meant to motivate and retain the employees, and they are also linked to the performance of the individuals. Both Company A and Company F do not consider monetary rewards as the best way to retain the employees, instead, they reward the employees with other lucrative non-monetary rewards for their talents.
At Company F, the managers were unwilling to let the employees leave and encouraged them to consider job rotation. Job rotation enhances the mobility of skills across the various departments of the company (Daniels, 2003, p. 40). In order to enhance job rotation, more lucrative jobs are created horizontally, thus, employees won't have to compete for the scarce vertical positions. At Company A, more resources are committed towards upgrading the employees who have been branded as low performers; this is in line with their pursuit to retain the employees. Other researchers pointed out that the employees who do not perform well should be eliminated from the organisation (Berger & Berger, 2004, p. 32). Company E does not tolerate poor performers as they are not given any chance. Companies C and G still have a compassion for the poor performers as they strive to upgrade them.
Conclusions and Recommendations
Introduction
This chapter provides the answers to the research questions, thereby, answering the main aim of this study. The conclusion contains discussions of the findings that are significant to the aim of this study but are not included in the research hypotheses.
The companies that were under investigations gave enough proof to link the processes of human resource to the strategies of the companies. It is very evident from the findings that talent management is a term that is largely understood and utilised by these companies. The results further are in line with the practices that have been well elaborated in the literature review section. The literature review goes to the extent of describing the cultures of the American companies. However, it is noted that the culture in the UK based companies are very different from the ones of the American companies, as the latter companies are more concerned with performance of the employees an realisation of results.
The companies largely prefer to recruit talents internally when it comes to key positions in the company. But sometimes, the companies are forced by circumstances to outsource from an agency particularly when the employees are aging or when there is no one competent enough to fill up the position.
All the companies carry out assessment or evaluation of the employee performance. In many cases, the performance of the employee is linked with the development plans of the individual employees. High performing employees are rewarded in various ways, for instance, high salaries, bonuses, or promotions. Resources are devoted towards bringing back on track poor performing employees.
Talent development in the companies was performed through on-job trainings and experience. Much attention is also given to job rotations and creating of horizontal employment opportunities to capture the internal talents. Vertical movement is very minimal as the opportunities are very scarce as compared to the large number of employees. The youthful employees have different job demands than the older generation employees who believed in vertical climbing of the corporate ladder as the climax of their careers.
Employee creation fosters continuity and helps the company to gain a competitive advantage. Retention of employee is mostly based on the performance of the individuals, rather than the level of merit. The companies confirmed that it is very motivating to let an employee know that his/her talents are highly valuable. This will help them to work with more enthusiasm.
Management of diversified talents
Many companies face the challenge of how to manage the various types of talents that exist within the set up of the company. Gratton and Ghoshal (2003) found that "many workers are forced to quit their jobs because of lack of proper management in the company, many of whom are women" (p. 13). With regard to this, many women have opened up many new businesses. Other reasons that made the women to quit were: poor organisational culture, inability to develop in terms of career, and inability to balance between career and family. The company managers ought to have created a flexible environment for the employees and also planned the careers effectively.
Women and other minorities find it very hard to move up the organisational ladder because of the fact that many white male managers control the companies. The managers are the ones who determine the working conditions, who to employ, who to promote, and so on. Managing a company with diversified talents needs a very competent manager who neither fears nor favours anybody. As a result of poor management, a majority of talents have not been capture as they originate from women or from the minorities.
How talent management enhances leadership qualities
The organisation's culture greatly impacts the way in which talent management is carried out. Individuals who are highly talented greatly prefer to work in companies with cultures that correspond to their individual talents. When a company wants to choose the suitable approach to manage the talents, it should have in mind the leadership style that it anticipates to adopt in future, thus, talent management should be in line with this vision. The process of managing talents will define what kind of a leader is in the making. Therefore, the talent management approach should be in line with the kind of leader that the organisation is expected to have in future.
In some cases, the organisation's culture demands for talent management. With the recent ongoing global trend whereby organisations are applying total quality management approaches like laying down incompetent employees, the need for young and fresh talents has arose. Talent management enables the company to build a reserve army that is expected to take over after the older generation have been wiped out. Companies have also done away with job security and retention of the employees is entirely based on competence and merit. Hardworking employees are highly rewarded to motivate them to remain in the organisation and also to enhance their level of loyalty
Overall talent management
The business world has changed as it is now a world wide competition. Companies, therefore, strive to be at the top so as to maintain a higher status or reputation. In order to achieve this goal, the companies have to employ individuals who are very competent to live the dream of the companies. A higher level performance is what is expected from the employees. The talented employees carry on with the mission and the vision of the company. The ability of a company to recruit and retain talents is the top priority for company managers. Figure 5.1 is the matrix that defines the major business processes of a company.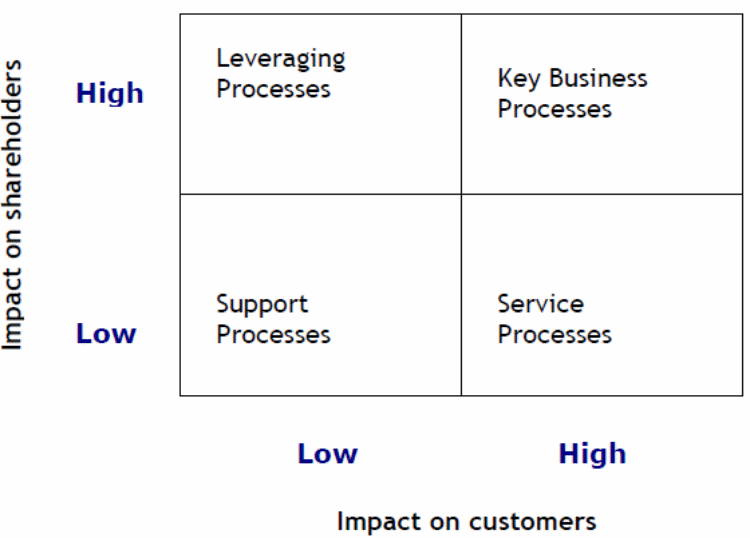 Just like any other business process, talent management takes in inputs and produces outputs. Figure 5.2 summarises the talent management process.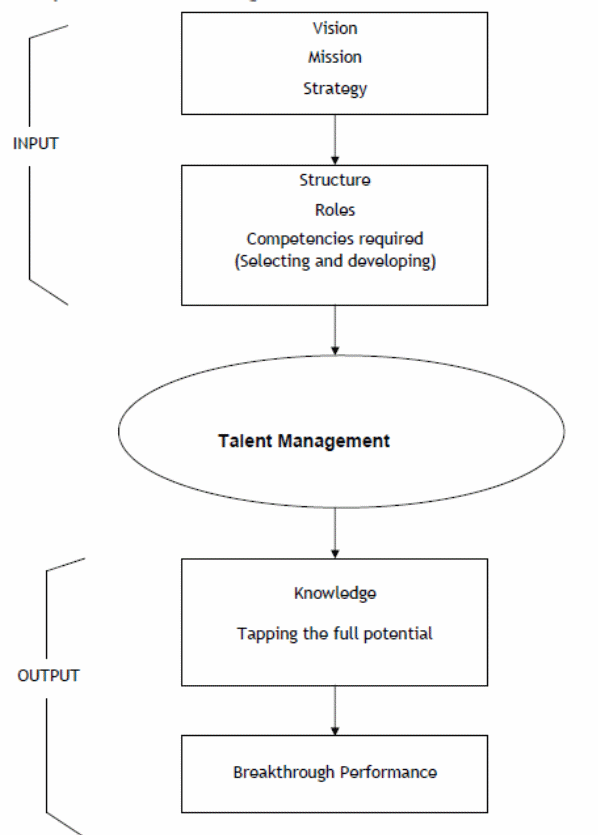 Talent management focus
Talent management enhances the development of the individual in various aspects. The first development is the ability of the individual to learn. This is measured through the individual's intelligence quotient. The ability of the individual to learn helps in raising his/her level of awareness. The person has the ability to learn about other areas. The ability to learn is developed through extensive education and subjecting the individual to a good environment for mentorship. The ability of the individual to learn involves the acceptance of the individual to learn from past mistakes after identifying the areas to improve on; the ability of the individual to understand his/her own thoughts after identifying on how to improve them; and the ability to accept and embrace change.
The second development is the ability of the individual to think, which is measured by the individual's capacity quotient. This ability enables the individual to know more, thus, developing his/her level of creativity. The ability of the individual to think encompasses: the assessment of asking the relevant questions at the right time; having an inventive and creative mindset; and the ability to make the correct judgments.
The third development is the ability of the individual to relate with his intellect, which is measured by the individual's relationship quotient. This has an effect on how the individual relates with his/her counterparts. It helps in fostering a sense of unity and teamwork both individually and within the organisation. The ability of the individual to relate encompasses: excellent listening skills that enables the individual to evaluate concepts; the ability to adopt a sense of empathy to others, which enables the individual to share their pain; and the ability to trust and believe in others.
The fourth and the last development is the ability of the individual to act, which is measured by the individual's action quotient. Through action, the three abilities that have been discussed above are noticeable. Acting is the process by which the individual puts his/her plans into practice. The ability of the individual to act encompasses: the ability to manage time and other resources; the ability to select the right channels to put his/her intent into reality; and the ability to execute tasks under pressure from within and without.
Recommendations and managerial implications
Talent management is a very broad subject. It determines the fate of the company with regard to whether the company is destined for greatness or failure. The study has pointed out on how various companies handle the matter of talent management. High performing companies have a specific organization culture in place that is in line with the missions and the vision of the company. Employees cannot work well when they are not rewarded for their excellent performance. The reward system acts as an incentive or a motivating factor for the further development of the employees.
Managers are advised to allow a favourable atmosphere to exist in the working area. They should be of sound mind and should make their decisions without fear or favour. Women and minorities should be given a chance to exercise their talents rather than being prejudiced or undermined. Employees of a company act as its ambassadors as they are the window through which other people see the organisation. Failure to fulfil the desires of the employees will result to a massive exodus from the company.
Companies should come up with a well defined mode of assessing the performances of the employees. Employee assessment is very necessary as it helps to point out the weak areas that need further development. Promotions should be done based on the outcome of the assessment. In addition, the managers or the supervisors should not prejudice the weak performers; instead, they should devote adequate resources for empowering them.
Appendices
Appendix 1 – Pre-study
Dear Sir,
My name is XXXX, a postgraduate student at XXX University, majoring in XXXX. The aim of the survey is to comprehend on how recruitment and selection affect the performance of the organisation. This is an academic research study and your participation is voluntary. Information provided will be confidential and individual data will be reported. Thank you
Is there any strategy you have to be UK's best employer?
Are you familiar with the term 'Talent Management'?
Do you often use the term 'Talent Management'?
Is there any long term plan for the supply of key competencies?
Do you carry out recruitment internally?
Are you willing to participate in one hour long interview regarding Human Resource Management?
If No, may you recommend us to speak to somebody else?
No matter your previous answer are you interested in knowing the findings of this study upon completion?
Thank you very much for your time.
Appendix 2 – Interview Questions
Definition
What does Talent Management mean to you?

How do you use it?
How long have you been familiar with Talent Management and why did you decide to use it?

Is the practice of Talent Management connected to the company's strategies?

Does it enable the company to gain a competitive advantage? (Give an example).
Locate
Are you aware of whom your Talents are?
How do you locate and recruit your key employees?

Internally recruitment or external recruitment – explain?
Recruitment with regard to performance, merit, achievements or competencies?
Do you employ a person based on how his/her credentials meet the job description? What are the opportunities and challenges?
Are the individuals' level of competencies connected to the job role? What are the opportunities and challenges?

What criteria do your company employ to define what skills are required for an individual to fill up very important positions?
Does your company outsource the HR tasks?

Illustrate.
Why?

How do you perceive the concept of employer branding?

Does your company have an employer brand? Elaborate.
How did the company build it, and how is it preserved?
Assess
Does your company find it important to assess the performance of the employees?
How does the company achieve this (performance assessment)?

Do you group your employees according to their levels of performance or any other variable?
Development
How do you develop your employees?

Do you locate the same amount of resources to each employee; is there any criterion for resource allocation?

How will you get your future supply of key competences?

Have you recognized potential successors?
If "yes" have you informed them?
Is there any problem with this?

How do you handle poor performers?
Are there any UK Laws that influence how the company treats the employees?
Retain
Is it really important to you to keep your key employees?

How do you keep your important employees in the company?
Illustrate.
References
Backhous, K. & Tikoo, S. (2004). Conceptualizing and researching employer branding. Career Development International, 9(5), 501-517.
Benjamin, L. (2003). Keeping Good People in Today's Labour Market. Journal of Housing & Community Development, 60(5), 42-45.
Berger, L. A. & Berger, D. R. (2004). The Talent Management Handbook: Creating Organisational Excellence by Identifying, Developing and Promoting Your Best People. New York: McGraw-Hill.
Berger, L. A. (2004). Four steps to creating a talent management system. In D. R. Berger & L.A. Berger (Eds.), The Talent Management Handbook, 2, 3-8. New York: McGraw Hill.
Boudreau, J. W. & Ramstad, P. M. (2005). Talentship and the New Paradigm for Human Resource Management: From Professional Practises to Strategic Talent Decision Science. Human Resource Planning, 28(2), 17-26.
Bowen, D. E., Carmen G. & Rajnandini, P. (2002). The Role of Human Resource Management: An Exploratory Study of Cross-Country Variance. Human Resource Management Spring, 1, 103-122.
Branham, F.L. (2000). Keeping the people who keep you in business: 24 ways to hang on to your most valuable talent. New York: AMACOM.
Branham, L. (2005). Planning to Become and Employer of Choice. Journal of Organizational Excellence, 24(3), 57-68.
Bryan, L., Joyce, C. & Weiss, L. (2006). Making a market in talent. McKinsey Quarterly, 2(1), 1-2.
Casse, P. 1994. People are not resources. Journal of European Industrial Training, 18(5), 23-26.
Cheatle, K. (2001) Mastering Human Resource Management. New York: Palgrave Publishing LLC.
Cheatle, K. (2001). Mastering Human Resource Management. New York: Palgrave Publishing LLC.
Chowdhury, S. (2002). The Talent Era: Achieving a High Return on Talent. New Jersey: FT/Prentice Hall.
Clarke, R. L. (2001). Talent Management nurtures future healthcare leaders. Healthcare Financial Management, 16, 1-10.
Conger, J. A. & Fulmer, R. M. (2003). Developing your Leadership Pipeline. Harvard Business Review, 10-15.
Cunningham, I. (2007). Talent Management: making it real. Development and Learning in Organisations, 21(2), 4-6.
Daniels, S. (2003). Employee training: a strategic approach to better return on investment. Journal of Business Strategy, 24(5), 39-42.
Decenzo, D. A. & Robbins, S. P. (2002). Human Resource Management (7th ed.). New York: John Wiley & Sons, Inc.
Deloitte. (2007). It is 2008: do you know where your talent is? Why acquisition and retention strategies don't work. Web.
Digeorgio, R. (2004). Winning with your strengths: an interview with Ken Tucker of the Gallop Organisation. Journal of Change Management, 4(1), 75-81.
Donkin, R. (2007). Don't let them steal the HR silver. Human Resources Journal, 2, 20-25.
Easterby, M., Thorp, R. & Lowe, A. (2008). Management Research (3rd ed.). New York: Sage.
Farley, C. (2005). HR's role in talent management and driving business results. Employment Relations Today, 32(1), 55-61.
Fleetwood, S. & Hesketh, A. (2006). HRM-performance research: under-theorized and lacking explanatory power. International Journal of Human Resource Management, 17(12), 1977-1993.
Ford, R. C. & Richardson, W. D. (1994). Ethical Decision Making: A Review of the Empirical Literature. Journal of Business Ethics, 13(3), 205-221.
Foster, L. 2005. Confronting the Global Brain Drain. Knowledge Management Review, 8(5), 28-31.
Frank, F.D. & Taylor, C.R. (2004). Talent Management: Trends that Will Shape the Future. HR. Human Resource Planning, 27(1), 15-42.
Frazee, V. (1997). Building relationships in UK. Workforce, 2(4), 19-21.
Friday, E. & Friday, S. S. (2002). Formal mentoring: is there a strategic fit? Management Decision, 40(2), 152-157.
Glover, S. H., Bumpus, M. A., Logan, J. E. & Ciesla, J. R. (1997). Re-examining the Influence of Individual Values on Ethical Decision Making. Journal of Business Ethics, 16(12/13), 1319-1329.
Goodman, M. R. V. (2000). The Frustration of Talent: A Study in Scarlet. Creativity and Innovation Management, 9(1), 46-53.
Gratton, L. & Ghoshal, S. 2003. Managing Personal Human Capital: New Ethos for the 'Volunteer' Employee. European Management Journal, 21(1), 1-10.
Grubs, L. (2004). Achieving Organizational Excellence Through Talent Planning and Development in L. A. Berger & D. R. Berger (Eds.). The Talent Management Handbook: Creating Organisational Excellence by Identifying, Developing and Promoting Your Best People (p. 199-252). New York: McGraw-Hill.
Hansen, F. (2007). What is 'talent'? Workforce Management, 86(1), 12-15.
Hatch, N.W. & Dyer, J.H. (2004). Human capital and learning as a source of sustainable competitive advantage. Strategic Management Journal, 25(12), 1155-1179.
Heinen, J. S. & O'Neill, C. (2004). Managing Talent to Maximize Performance. Employment Relations Today, 31(2), 67-82.
Herman, R. E. (2005). HR Managers as Employee-Retention Specialists. Employment Relations Today, 32(2). 1-7.
Hill, J. (2008). Principles of Management. New York: McGraw Hill.
Holden, L. (1999). The perception gap in employee empowerment: a comparative study of banks in Sweden and Britain. Personnel Review, 28(3), 222-224.
Hoogheimstra, T. (1992). Integrated Management of Human Resources. In A. Mitrani, M. Dalziel & D. Fitt (Eds.), Competency Based Human Resource Management. London: Kogan Page Limited.
Keegan, A. & Boselie, P. (2006). The Lack of Impact of Dissensus Inspired Analysis on Developments in the Field of Human Resource Management. Journal of Management Studies, 43(7), 1491-1511.
Krewson, H. (2004). Integrating Coaching, Training and Development with Talent Management. In D. R. Berger & L. A. Berger (Eds.), The Talent Management Handbook. New York: McGraw-Hill.
Laff, M. (2006). Talent Management: From Hire to Retire. Training and Development, 60(11), 42-50.
Lawler, E.E. & Mohrman, S.A. (2003). HR as a strategic partner: What does it take to make it happen? Human Resource Planning, 26(3), 15-29.
Lawler, E.E. (2005). From human resource management to organisational effectiveness. Human Resource Management, 44(2), 165-175.
Michael, G. (2006). Consistently Acquiring and Retaining Top Talent. Workforce Management, 85(19), 6-12.
Michaels, E., Handfield-Jones, H. & Axelrod, B. (2001). The War for Talent. Boston: Harvard Business School Publishing.
Mucha, R. T. (2004). The Art and Science of Talent Management. Organization Development Journal, 22(4), 96-100.
Neely, A., Gregory, M. & Platts, K. (2005). Performance measurement system design: A literature review and research agenda. International Journal of Operations & Production Management, 25(12), 1228-1263.
Nonaka, I. & Toyama, R. (2005). The theory of the knowledge creating firm: subjectivity, objectivity and synresearch. Industrial and Corporate Change, 14(3), 419-436.
Ordonez de Pablos, P. (2004). Human resource management systems and their role in the development of strategic resources: empirical evidence. Journal of European Industrial Training, 28(6/7), 474-489.
Phillips, J. J. (2005). Investing in Your Company's Human Capital. New York: AMACOM.
Pollitt, D. (2004). Recruiting for success: challenges and solutions. Human Resource Management International Digest, 12(7), 24-28.
Redford, K. (2005). Shedding light on talent tactics. Personnel Today, 2, 21-22.
Roehling, M. V., Boswell, W. R, Caligiuri, P., Feldman, D., Graham, M. E., Guthrie, J. P., Morishima, M. & Tansky, J. W. (2005). The future of HR management: Research needs and directions. Human Resource Management, 44(2), 207-216.
Rogers, R.W. & Smith, A.B. (2004). Spotting executive potential and future senior leaders. Employment Relations Today, 31(1), 51-61.
Romans, J. (2005). Integrated talent management at BD Japan. Strategic HR Review, 4(5), 16- 20.
Sandler, S. (2005). The top HR issues for 2005. HR focus, 82(1), 12-14.
Sandler, S. F. (2006). Critical Issues in HR Drive 2006 Priorities: #1 is Talent Management. HR Focus, 83(1), 1 & 13-15.
Saunders, M., Lewis, P. & Thornhill, R. (2009). Research Methods for Business Students (5th ed.). New York: Prentice Hall.
Schweyer, A. (2004). Talent Management Systems: best practises in technology solutions for recruitment, retention and workforce planning. Canada: Tri-Graphic Printing.
Storey, J. (2001). Human Resource Management: A Critical Text (2nd ed.). Cornwall: Thomson Learning.
Tansley, C., Harris, L., Stewart, J. & Turner, P. (2006). Talent Management: Understanding the Dimensions. In CIPD (Ed.), Change Agenda (p.1-16). London: CIPD.
Tice, D. M. & Wallace, H. M. (2003). The Reflected Self: Creating yourself as (you think) others see you. In M. R. Leary & J. P. Tangney (Eds.), Handbook of Self and Identity, 91- 105. New York: The Guildford Press.
Ulrich, D. (1997). HR of the Future: Conclusions and Observations. Human Resource Management, 36(1), 175-180.
Uren, L. (2007). From talent compliance to talent commitment. Strategic HR Review, 6(3), 32-35.
Von Seldeneck, M. J. (2004). Finding a Hiring Fast-Track Talent, In L. A. Berger & D. R. Berger (Eds.). The Talent Management Handbook: Creating Organizational Excellence by Identifying, Developing and Promoting Your Best People. New York: McGraw-Hill.
Wilcox, I. (2005). Raising Renaissance Managers. Pharmaceutical Executive Journal, 25 (6), 94-99.
Woodruffe, C. (2003). To have and to hold: Getting your organisation onto talented people CVs. Training Journal, 1, 20-24.