Business Model
A business model defines the processes adopted by a company in developing its services and delivering value to its customers. As part of a company's core profit-making plan, a business model forms a critical part of corporate strategy development (Mazzarol & Reboud, 2019a). Our proposed business model is based on the business model canvas and has seven distinct parts, including customer segmentation, value proposition, marketing channels, customer relationships, revenue streams, key activities, and key partnerships. These basic tenets of the business model are further detailed as follows.
Customer Segments
The customer segment will be categorized according to income and gender. Given the nature of the product sold in the proposed plan, women will be the main target market. There is no distinguishing feature in the type of client that can seek the company's services because people of all ages will be allowed to participate in the study. It is assumed that few men would be interested in nail polishing services; therefore, there will be a minimal emphasis on this target group. The second category of customers will be defined by income whereby three categories will emerge. The first segment will be comprised of the premium customer group, which is the highest category of the market. This population will mainly be made up of high-income customers with an annual income of $250,000 and above. The second category will be the middle-income market, which will be comprised of clients who have a standard income of between $30,000 and $250,000 annually. The main type of service offered to this demographic will be a mixture of standard and comfort. The last group of customers will be the low-income group, which has an income of less than $30,000 annually. The underlying assumption of their customer service requirement is that they are not keen on luxury but rather on expediency. Therefore, the main type of service offered to this group will be "basic," meaning that there will be no emphasis on luxury or pampering services.
Value Proposition
The value proposition of a business relates to inherent benefits associated with consuming a product or service. The main value proposition that Nail Zone will offer the market is superior customer services aided by the use of the latest technology in offering nail enhancement services. Given that Nail Zone will focus exclusively on the nail enhancement business, we will be offering our customers specialized services. This will be a differentiating attribute for the business because many competitors offer multiple services, such as hair, massage, waxing, and facial treatment services. Therefore, we intend to provide specialized services and are targeting customers who have a keen eye for detail. These customers will be identified using proposed marketing strategies that will be highlighted in subsequent sections of this document. Overall, the value proposition plan is set to be the main basis for developing a niche marketing strategy that will address the needs of specific customer groups.
Marketing Channels
The marketing channels adopted by a business refer to the communication platforms that will be used by the business to reach its customers. Given the specialized nature of services that will be offered at Nails Zone, we intend to acquire new customers by using word-of-mouth communication and digital marketing platforms, such as social media and email marketing. This strategy means that the proposed channel of communication will be a blend of both offline and online methods. Word-of-mouth communication is expected to be the official channel of communication in the initial phases of business development. However, after six months, interest in the business is expected to spill over into the digital marketing platform, such as through social media networking sites. The buzz created through digital marketing is expected to support the overall business model by creating client interest and developing the opportunity to scale. Nonetheless, it is important to recognize the power that digital communication tools have given customers in shaping their purchasing experiences (Dodson, 2016). Particularly, digital marketing tools such as social media, have the potential of spreading positive messages about a business in real-time, but they also can spread falsehoods and negative views in a similar fashion. Therefore, it is important to maintain a robust digital marketing plan with safeguards to control for negative messages or misinformation.
Customer Relationships
Customer relationships will be crucial in implementing the proposed business plan because Nails Zone is a service-based enterprise and the relationships nurtured between employees and clients is integral for the sustainability of the business. In the context of this review, customer relationships will refer to the quality of the relationship between the business and its customers. To maintain healthy customer relationships, we expect to demonstrate consistent timing when delivering our services, especially in the home-based care division, and shape our client's expectations by providing accurate data about the quality of services we offer. We also seek to establish trust with our customers and enhance loyalty standards through consistent email communications. Additionally, on our company website, we will have a customer care representative available in real-time to address all business concerns from customers. In this regard, service promotion will play a critical role in ensuring the development of positive customer relationships. At the same time, balancing promotional and customer needs will be critical in making sure that the commercial and intuitive aspects of customer relationships are addressed.
Revenue Streams
The main revenue stream for the company will be client fees that will be charged for services offered. Given that our business will focus exclusively on the provision of nail polishing services, this will be the main revenue stream. Most nail salons charge between $15 and $25 for a standard job and at Nail Zone, we expect to charge $14 for the Bronze package, $20 for the Silver package, and $30 for the Gold package. The latter will be tailored for the high-income group, while the Bronze package will be associated with customers who want basic services. Using the above pricing model, we expect to generate significant revenue that will cover the operating costs of the business and create a sufficient margin for profits. The profitability plan is based on a high-frequency and low-cost business model where home-based care will account for a significant reduction in operating costs for the business because the services will be provided at the client's residence. The home-based business model will be an additional revenue stream and has the potential of increasing the company's revenue because it allows for business operations beyond the conventional office hours. Based on this strategy, we estimate that the home-based service category will account for at least 5% of our initial sales within the first month and increase by a factor of 2 in the first year of operation. By the end of the second year of operation, we expect that the home-based service model will account for 25% of the revenue and 50% by the fourth year. We intend to build on this model because of its associated cost-cutting measures because it takes fewer resources to provide nail services online as opposed to offline.
Key Resources
The key resources of a business relate to factors of production that support key business operations. In the context of Nails Zone's operations, key resources will be people and equipment. Employees are critical to the functioning of the business as well because it is a service-centered enterprise. They are responsible for making sure clients are happy and satisfied as well as meeting acceptable quality standards set in their employment contracts. The physical location of the store as well as the equipment, motor vehicles, and goodwill will also form part of the company's key resources because they are critical in facilitating the delivery of services to customers.
Key Activities
Nail salons offer different types of services to varying groups of clients depending on their unique needs and preferences. For Nails Zone, its key activities will be based on functionality as the main criterion of analysis. In line with this approach, the main activities of the business will be marketing, sales, and design, as shown below.
Marketing: Given that Nails Zone is a service-oriented business, marketing will be an important business function because it creates awareness regarding the business and the services it offers. This function is associated with the development of the right or appropriate strategies to follow in availing the right products to groups of customers that need it. Marketing initiatives to be undertaken by the firm will mainly be centered on promoting its manicures and pedicure services, which will form the bulk of services offered at the nail salon. Thus, marketing activities will be important in generating the demand for services and play a vital role in nurturing good client relationships between the staff and customers.
Sales: Sales is an important function for Nails Zone because it affects the company's revenue. Therefore, coming up with the right strategy for increasing sales will be a core activity for the organization. This activity is linked to the marketing function highlighted above, but the sales function will be more centered on looking for ways of nurturing client relationships as opposed to devising new strategies for reaching a wider demographic of customers. However, both activities complement one another in the sense that sales are a subset of the overall marketing function of the business. In line with this function, the main activities that will be involved in this aspect of planning will include discussions about the best-selling strategy to use in targeting customers. In this analysis, we will consider, available options, such as direct selling, word-of-mouth communications, or the likes to generate clients' interest, based on the demographic profile of the target market. The goal will be to identify customer needs and seek effective ways of meeting them. Developing solutions and closing the sales will also be part of the process to fulfill clients' needs.
Design: In the context of this analysis, design refers to a broad concept that explains the business model used to create value for customers and the types of products that can be developed from it. Given that our proposed business will be to offer nail services, the design process will be a critical part of the overall service experience because it will influence the aesthetic value of the final product and the demand for services. For example, customers will be offered different nail designs to choose from and all our staff will be trained on how to develop them. The multiplicity of nail design options will likely improve customer experience because they will have more options standing out from the competition.
Key Partnerships
Partnerships are important for the survival of businesses because they help businesses to leverage their knowledge in the provision of quality services. In the context of the operations of Nails Zone, key partnerships with be sought from relevant authorities and suppliers. Authorities will be viewed as partners because they enforce compliance laws and standards of operation. Partnerships will also form part of the supplier group because they are an important part of providing logistical support for the business to aid in service delivery. Key partnerships will also be sought with service providers, especially as it relates to the provision of technology services as they relate to software development and application use. These services will be provided by third-party suppliers and outsourced for purposes of cost reduction and protection of intellectual property associated with the use of technology. Therefore, developing key partnerships with third-party entities will be a critical function of the business.
Cost Structure
The cost structure outlined in the table 1below represents cost items relating to Nails Zone based on whether they are fixed or variable costs.
Table 1. Cost structure
| | | | |
| --- | --- | --- | --- |
| | Fixed Costs | Variable Costs | Cost |
| Key Resources | Leasehold property | | 50,000 |
| | Equipment | | 500,000 |
| | | Employee salaries | 250,000 |
| Key Activities | | Design | 50,000 |
| | | Marketing | 150,000 |
| | | Sales | 100,000 |
| Total | | | 1,100,000 |
As highlighted above, the key resources for the business will be leasehold property, equipment, and employee salaries. Leasehold property and equipment are fixed costs and collectively are projected to cost $550,000. Employee salaries also belong to the key resource segment of the analysis and it is estimated to cost the company $250,000 annually. Key activities relating to the business include design, marketing, and sales. As highlighted in this paper, the marketing function will be the most important one and it is expected to cost $150,000 annually. Design functions are expected to cost $50,000, while sales, functions are projected to cost $100,000. Collectively, these cost estimates amount to $1.1 million.
Business Plan
Executive Summary
Nail Zone is a full-service nail business salon that is dedicated to providing quality customer services in a calm and relaxing setting. This business plan outlines details for setting up the business to provide nail care services in offline and offline modes. The online platform is associated with the home-based care plan where a nail technician will drive to the client's premise and the offline model is linked to the traditional business model where customers make actual physical visits to the shop. This presentation presents important details relating to the overall plan, including the planned organizational structure, marketing strategies to be adopted, description of services to be offered, an analysis of the business environment, a review of the competitive environment, management plan, plan of operation, and projected financial statements. The last section of this report will use the information provided in these analyses to justify an investment proposal for funding. Stated differently, to achieve the company's objectives, the investment proposal will provide the basis for a loan facility, which will be paid from the revenues of the business. Similarly, the company's assets will be provided as collateral to guarantee the credit facility.
Mission and Vision Statement
We believe the time is right for setting up a new business because we have been looking for a location in the central business district and we are currently in the process of completing a lease agreement for the business. After six months of searching, we believe that the business is poised to be centrally located at a point where most people would find it accessible. drive to see the business succeed, and the recent recruitment of highly skilled staff increase the potential of the proposed business to succeed. The vision and mission statements of Nails Zone outline the direction and focus of the firm's activities.
Vision Statement: To provide premium and all-rounded nail care services
Mission: To provide our clients with services that promote beauty and mental relaxation
Description of Services
Nails Zone will be a full-service and upscale nail and salon business. The services to be offered at the facility include those that relate to the provision of nail services. They include manicures and pedicures, as described below.
Manicures
Manicures are among the most sought-after services in nail salons. Therefore, they will form a critical part of the overall services offered at the facility. The service will focus on the fingernails and it will involve different activities, such as clipping and shaping nails as well as pampering clients. The basic services offered in this segment will involve attending to the client's nails and cuticles. The skin around the nails will also be maintained in the same phase. The beautician will apply lotion around the nail area to sooth the skin and identify any hanging appendages for removal. In the process, the service provider will assess the best kind of services to offer in consultation with the client. Therefore, in this stage of engagement, customer loyalty can be nurtured through positive interactions between the customers and service providers. Given that manicures are one of the most sought after services in nail salons, we may need to schedule different sessions in a day.
Pedicures
Pedicures are similar to manicures in the approach taken to manage nails, except for the fact that they focus on the toes as opposed to nails. The pedicures will be designed to start by first soothing the skin of the feet and soaking them in warm water. The goal is to make them ready for scrubbing, pumicing and massaging. The toenails may also be cut or shaped according to the client's demands and the cuticles trimmed or pushed back according to client's advisement as well. Most men do not wish to have their toenails colored but we assume that most women will request this service at the end of the pedicure process.
Business and Industry Profile
This business plan is for a nail shop located in Riyadh, Saudi Arabia. Upon commencement of the business, the enterprise will provide one service and that is nail polishing. The main distinguishing feature of the business is its ability to provide all nail-related services in one shop. Therefore, the business will benefit from specialization advantages, which emerge when customers frequent a business because of their perceived level of attention to a specific area of beauty. The business will be located in a retail strip mall and will occupy a radius of about 2,300 square feet. The business location is in a major part of town with high foot traffic. Therefore, it is assumed that customers would find the location convenient for them.
Major players in the industry are Base and Boon, Anamil Spa, and Moonlight Salon. Due to the ravaging effects of the COVID-19 pandemic on the business environment, a new trend has emerged of home-based nail care where clients order for home services as opposed to physically going to the shop. This trend has been reported in many parts of Riyadh and is expected to continue in the near future. The proposed business will contribute to the growth of the industry because it will tap into this new business model with multiple options for receiving nail care. Stated differently, customers will receive both on-site and offs-te services from many of the trained company representatives. This strategy is in line with a personalized marketing strategy where clients' needs will be paired with a customer representative that best meets them. However, Nails zone will also contribute to the death of the industry by accelerating the death of the brick-and-mortar business model. Indeed, proposing the adopting of a home-based service solution will aid in the death of this segment of the market because many customers would choose convenience over the hassle of making a physical commute to the physical store (Dodson, 2016).
Industry Attractiveness Analysis – Porter's Five Forces
A firm's business environment of a firm plays a key role in determining its success. In this regard, it is important to analyze Nail Zone's cosmetics industry as a function of its operational success. To analyze the industry environment, Porter's five Force analysis will be used. It analyzes the macro-environment from the perspective of supplier bargaining power, threat of substitutes, customer bargaining power, competitive rivalry, and barriers to business entry. These forces are explained below.
Customer Bargaining Power: Customer bargaining power refers to the influence of customers on the business's operations. A high customer bargaining power implies that clients can influence significant parts of a company's marketing strategy, such as its price or distribution strategy. Relative to these dynamics, there is a high customer bargaining power in the cosmetics industry because of the relatively high number of options for customers to choose from the list of available options. Scarborough and Cornwall (2018) say that a high customer bargaining buyer is undesirable for many business owners because it makes it difficult to predict future demand. This is because a high customer bargaining power means that consumers can significantly change demand due to slight changes in prices or service quality. Therefore, businesses in this industry have to pay a keen attention to the kinds of services they offer to their customers.
Supplier Bargaining Power: Supplier bargaining power refers to the ability of third parties who supply the business with goods and services in influencing the price of services offered by a firm. Supplier bargaining power can also influence other aspects of a business's operations, including price, quality, and availability of products. Given that these influences are mostly relevant to a firm that produces products. Nails Zone is a service-oriented enterprise and thus has a low supplier bargaining power because of the multiplicity of players in the market. Therefore, they are easily substituted and cannot affect the operations of a business significantly.
Threat of Substitute Products: The threat of substitute products refers to the presence of alternative goods or services in the market, which could serve the same needs as the original product. In this regard the threat of substitute products should be taken seriously because it could affect a company's market share. Given the presence of a high number of competitors in the market, there is a high threat of substitute products in the market. It means that the services offered by the business are elective and can therefore be absconded for others of value. This statement means that customers could still live without doing their nails because the service is not important to their survival. This situation may prompt companies to look for innovative ways to remain relevant.
Barriers to Entry: The ease in which new companies can enter into a market is assessed through a review of the barriers to entry. A high barrier to entry means that customers can hold on to their market share without worrying about the effects of competitors but a low barrier to entry presupposes that new entrants could enter the market anytime, thereby increasing the threat of competitive rivalry. Based on this classification of the barriers to entry, there is a low barrier to entry in the cosmetics industry because of the relatively low capital needed in starting a business and the relatively inexpensive way of getting skills to do the job. Therefore, many people could start a similar business and compete for the same customers as Nail Zone does.
Competitive Rivalry: Competitive rivalry in business is a natural progression of market advancement because many players come into the market to fulfill a market gap that may not necessarily be fulfilled by one company. However, the intensity of rivalry often varies with various consequences on businesses. In the context of this review, the intensity of competitive rivalry is viewed in the context of its ability to influence one's market share. Relative to this definition, the competitive rivalry in the cosmetics industry is high because of the relatively high number of players in the market. Furthermore, businesses are aggressively implementing new strategies to dominate the market and win over new customers, thereby leading to an increase in innovation in both marketing and product development. The high number of players in the market means that competitive rivalry is strong and it negatively affects the profitability of firms as well because the high number of participants means that they will be having low margins to make profit. This situation means that businesses have to consider the threat of rivals when formulating their marketing plans. Table 2 below summarizes the intensity of Porter's five forces on Nail Zone's business environment.
Table 2. Porter's Five-Force Analysis
| | |
| --- | --- |
| Porter's Five Force | Intensity |
| Threat of Substitute Product | High |
| Competitive Rivalry | High |
| Consumer Bargaining Power | High |
| Supplier Bargaining Power | Moderate |
| Barriers to Entry | Low |
Competitor Analysis
A competitive analysis is important for businesses that want to remain competitive and dominate their markets. It helps to identify rivals who have the highest impact on the business and thus providing a basis for developing effective strategies for countering their influence. In the context of this review, the competitor analysis will be done by identifying direct and indirect competitors of Nails Zone. Direct competitors are beauticians who operate individually and provide home-based services. Comparatively, indirect competitors are hair and beauty salons that offer multiple services, including nail polishing and care.
Although these establishments do not pride themselves in offering one type of service, our proposed business will specialize in nail care, thereby creating a niche market within the wider one enjoyed by contemporary nail and beauty salons. Significant competition is expected to come from established brands in the industry. As highlighted in this study, the major competitors include Base and Boon and Anamil Spa. For purposes of this review, the influence of the two companies on the operations of Nails Zone will be done by evaluating their operations based on seven critical success factors, which include marketing, brand reputation, location, service quality, customer service, customer loyalty, and service range. The competitive profile matrix outlined in table 3 below compares critical success factors for the industry and the performance of the two competitors.
Table 3. Competitive Profile Matrix
| | | | | | | | |
| --- | --- | --- | --- | --- | --- | --- | --- |
| | | Nail | Zone | Base and | Boon | Anamil | Spa |
| Critical Success Factor | Weight | Score | Weighted Score | Score | Weighted Score | Score | Weighted Score |
| Marketing | 0.25 | 4 | 1.00 | 4 | 1.00 | 1 | 0.25 |
| Brand Reputation | 0.1 | 3 | 0.75 | 4 | 1.00 | 4 | 1 |
| Location | 0.2 | 2 | 0.10 | 1 | 0.05 | 1 | 0.05 |
| Service Quality | 0.25 | 1 | 0.10 | 4 | 0.40 | 3 | 0.3 |
| Customer Service | 0.05 | 1 | 0.20 | 4 | 0.80 | 1 | 0.2 |
| Customer Loyalty | 0.1 | 1 | 0.05 | 3 | 0.15 | 1 | 0.05 |
| Service Range | 0.25 | 3 | 0.3 | 1 | 0.10 | 3 | 0.3 |
| Total Score | 1 | | 2.50 | | 3.5 | | 2.15 |
As highlighted in table 3 above, Base and Boom emerges as having the highest weighted score of 3.5, while Anamil Spa has a weighted score of 2.15, meaning that it poses the least threat. This is the lowest score compared to the performance of our proposed business and that of base and Boon, which had scores of 2.5 and 3.5, respectively. Therefore, the main competitor watch for is Base and Boom and part of the plan for countering its influence lies in understanding our key competencies as described below.
Core Competencies
Core competencies refer to an organization's resources or capabilities that they can deploy to outwit the competition. In this regard, core competencies define a company's ability to affect the outcomes of a business. For purposes of this investigation, the core competencies of Nails Zone include a high level of technology adoption, home-based care, and specialized services. The latter is associated with having a highly trained and skilled staff that will be responsible for the provision of the company's services. It is expected that the highly skilled nature of the professionals would make customers want to come back to get the same quality of services and care that other businesses do not offer. The home-based care business model is relatively new in the market but it is premised on years of research which has demonstrated its success in various business sectors (Mazzarol & Reboud, 2019b). Therefore, this plan of service is a differentiating factor for Nails Zone and one of its core competencies. Technology adoption is another core competency mentioned in this review because Nails Zone will pride itself in having the latest technology in nail management. This statement is applicable to its purchase of equipment and the utility of the same because the company intends to use technology to provide the best nail care to its clients.
Key Success Factors
Key success factors are attributes of a business that are responsible for its success. Subject to this definition, four key success factors will be relevant to the proposed business. The first one is the business location because it is strategically located in an area that is easily accessible to customers. The second one is the type of environment that characterized the nail salon. The goal is to provide customers with quality services in an environment that is relaxing and professional at the same time. Convenience is the third key success factor and it refers to the ability to provide a central location for all services, including extending business hours to accommodate clients who cannot make it to the facility during normal business hours. The reputation of the business owner and that of employees will also be critical success factors for the business because trust and interpersonal relationships between beauticians and their clients are responsible for business success. Therefore, a negative reputation could significantly affect the success of the business.
Marketing Strategies
A company's marketing strategies refers to plans of actions that it intends to take to gain market share. In this regard, it defines the reach or means that a company could use to get to its target market and convert them into paying customers. For purposes of this investigation, four marketing strategies are proposed for use by Nail Zone in no particular order of importance.
Strategy 1
The first marketing strategy will be based on word-of-mouth communication, which entails one client sharing their experiences with another and influencing them to try the company's services as well. In this plan, a chain of interlinking information pattern is formed among groups of people who share their experiences and, by doing so, influence others into wanting to try as well. This marketing plan is selected for Nails Zone because it is a relatively inexpensive way of disseminating information because it does not require direct investments from the company. Instead, information flows organically from one person to another, thereby providing a firm foundation for the development of other marketing techniques. In this regard, clients who receive quality services offer free marketing for the company because people will ask where they got their services from and the respondents would direct them to the business. While this marketing approach is unique in reaching hard-to-reach populations, it is limited by scalability challenges. Therefore, owing to the high number of competitors in the industry, we will seek to promote customer loyalty as a first line of action when marketing the business's services. This strategy will ensure that even though new entrants are venturing into the industry, the business' market share will be unaffected because of their faith in the services we offer.
Strategy 2
Innovation refers to the use of creative techniques to overcome market challenges and convert potential customers into paying ones. In the context of Nails Zone operations, innovation will be used to sustain demand by expanding the breadth of services available to clients. The creativity will be partly done by introducing new pattern designs, colors, and nail treatment options that have not been launched in the market yet. The goal is to have "first-mover" advantages and capture the market before rivals do, such that customers associate the latest use of technology to the business enterprise. Already, the innovative strategy is being implemented in by Nails Zone through the development of the home-based care solutions, which is a relatively new area of service provision. Given that few businesses offer the same service in the industry, Nails Zone stands a chance of capturing the market for being innovative. This will be done by purchasing the latest equipment used in offering nail services and providing the highest possible service. Additionally, to improve the business setting, tweaking the service setting for better ambiance and comfort will suffice. Innovation will also be implemented in the recruitment and training policies for the company. We have plans of differentiating our services from others in the market by adopting progressive recruitment practices, such as adhering to diversity and inclusivity principles in recruitment staff to meet more customer needs because each employee comes with unique experiences and skills that could be useful to the organization.
Strategy 3
As highlighted in this study, Nail Zone will offer its services to customers on two basic platforms – online and offline modes. The offline mode refers to the getting services in any of the physical locations of the business. Comparatively, the online mode is relevant to the home-based care plan where customers order for services via an app and a nail technician shows up at their doorstep. In this regard, a combination of conventional and digital marketing strategies will be adopted in the organization to communicate with customers in both market segments. This strategy means that the marketing strategy will involve the promotion of the company's physical store and have a strong online market presence as well. The physical store will serve two purposes. The first one will be a service center where customers can simply walk in and get the services they need and secondly, it will be a distribution and logistics center where most of the firm's e-commerce operations will be planned and executed.
Strategy 4
Given that Nails Zone will be targeting its customers using digital means, social media marketing will be come a critical part of the firm's marketing strategy. Particularly the company will focus on using brand influencers from popular social media marketing platforms, such as Facebook and Instagram to promote the brand. This marketing strategy is selected for use because it is assumed that the current clientele is tech-savvy and would be accessible via such a marketing tool. The brand influencer to be selected should be a female with social clout and who can influence new buyers to try the services offered by the company. Therefore, the brand ambassador needs to simply make a video of her doing her nails in the nail salon and share the same on her social media handles. Multiple personalities could be consulted to participate in this marketing strategy.
Management Plan
The management plan for the proposed business will be designed in an effective manner that allows for the highest level of customer satisfaction to be offered. The management plan is also designed to create a conducive environment for employees to develop their careers and benefit from economic utility at the same time. In the context of this review, Nail Zone's management plan will be discussed based on its organizational structure, ownership format, employment plan, Board of Directors and Skill gap analysis. The organizational structure is defined below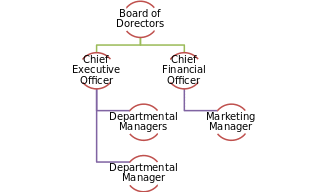 According to figure 1 above, the highest level of the organizational structure will be made up of the company's Board of Directors. Three people will report to them and they include the Chief Executive Officer (CEO), Marketing manager, and Chief Financial Officer (CFO). The CEO will have additional duties of running two service level divisions headed by departmental managers. These professionals will be in charge of the home-based and offline service plans. The roles of these players in the organization is critical in its proper functioning and dictates the manner other stakeholders, such as community members and government agencies will interact with the business.
Ownership format
The ownership format of a business refers to the legal entity controlling a business's operations and decision-making processes. According to Scarborough and Cornwall (2018), there are four main types of ownership structures for businesses and they include sole proprietorship, limited liability corporations and partnerships. The partnership structure will be the preferred ownership structure for the proposed business because members of our group on an equal partnership basis will wholly own it. This ownership structure is preferred for the current business because we have made equal contributions to the development of the business. The partnership ownership structure has been associated with few business legal obligations compare to other ownership structures, such as a limited liability company (Scarborough & Cornwall, 2018).
Employment plan
The employment plan refers to the type of employees that will be recruited and the tasks they are expected to perform in the business. In lien with this focus, a receptionist will be hired to receive payments and welcome clients into the business premise. In sum, we expect to hire five nail technicians who will work on a contractual basis where they will receive a base salary and commission based on the extent of business they bring to the firm. Plans include hiring more nail technicians especially on the home-service division, but this is dependent on the uptake of the company's services. In the first year of operation, we anticipate that we will only need three nail technicians and the additional two will be recruited as people understand or know of the business.
Board of directors
A Board of Directors that represent different interests in the company will oversee the activities of the proposed business. This board will be meeting at least once a month and their duty will be to set policies and address governance issues affecting the business. The Board will be comprised of six individuals who will represent different interest of the business. Important decisions that will be made by this Board include hiring and firing of employees, development of organizational policies, and development of rewards and compensation benefits.
Skill gap analysis
The objective of conducting skill gap analysis is to determine the gap between the current and desired skill set in the organization. The goal is to determine whether training may be required to bridge the current skills set. To come up with accurate findings a survey will be conducted on important skill areas and the performance of employees measured against key performance indicators to estimate their value or contributions to the organization. A holistic feedback process will also be completed where information will be sought from everyone who encounters an employee undergoing assessment. This analysis may involve one-on-one deliberations with employees to understand their position within the skill gaps analysis model and their ability to get along with other team members when carrying out group functions. The skills gaps analysis will play a critical role in determining the organization's position as it regards to unavailable skills. Eventually, the findings will be put into action by taking appropriate actions on the relevant areas requiring additional support, such as through training. Therefore, the skill gap analysis will be important in maintaining the healthy functioning of the business.
Plan of Operation
A business's plan of operations refers to activities that will be conducted to provide value to its customers. For purpose soft hi investigation, the plan of operations for Nails Zone will contain details relating to the proposed facilities, technology infrastructure and logistical requirements. The main business operations to be undertaken by the enterprise will also be an important part of the overall plan of operation for the proposed business.
Facilities
As detailed in this report, the services offered by Nails Zone will be provided on two platforms – Brick and Mortar and Home-based services. Therefore, the main facility will be a physical store where customers can physically walk-in and have their nails done. The alternative will be the home-based plan where a nail technician will drive to the client's home and provide the requested services.
Technology infrastructure
Given that part of Nails Zone's services will be home-based, the importance of having a robust digital plan is critical to the business's success. Particularly, the technology infrastructure set by the company to support its digital activities will play an important role in influencing the overall customer experience. This will be felt from the onset of the purchasing process where the customer's login to the customer's portal on the website and the actual time the nail technician shows up at their doorstep to provide the requested services. To support these operations, a company website will be set up. Its role will be to act as the main digital control center where both staff and customers can log-in and get the required support they need. All employees will be provided with a smartphone that they will use for communication and planning purposes. The property will be registered to the company but will be in the possession of the nail technician at all times. The purpose of providing them with this device is to facilitate their work.
Logistics and distribution
A customer care representative will be available online during business hours to address all inquiries from customers or business partners. Their job will also involve coordinating logistical functions of the business especially as they relate to the delivery of equipment to client's homes. The company's services will mainly be provided within the central business district and the satellite towns that surround it. This scope of distribution will be communicated to the customers before any purchase is made to specific the areas that home-based nail services are available.
Main business operations
As highlighted in this paper, the main business operations for the proposed business will be nail treatment. Here, it is important to note that most of Nail Zone's competitors provide multiple products and services including hair cutting waxing, tanning, massages, and other kinds of services. Therefore, the nail treatment services offered by the enterprise will be unique because of its ability to provide specialized services to clients.
Projected Financial Statements
We expect to be profitable in the first year of operation based on the expected revenue and projected business expenses. The first group of customers are expected to come from the nail technician's existing client list and the second batch is expected to come from those who will have heard of the business through word-of-moth communications.
Table 3. Income Statement
| | | | | | |
| --- | --- | --- | --- | --- | --- |
| Revenues | 2022 | 2023 | 2024 | 2025 | 2026 |
| Net Sales | 4,000,000 | 4,500,000 | 5,000,000 | 5,500,000 | 6,000,000 |
| Cost of Sales | (2,500,000) | (2,000,000) | (2,000,000) | (1,500,000) | (1,500,000) |
| Gross Profit | 1,500,000 | 2,500,000 | 3,000,000 | 4,000,000 | 4,500,000 |
| Administrative and Selling Expenses | (150,000) | (120,000) | (100,000) | (100,000) | (100,000) |
| Operating Income | 1,350,000 | 2,380,000 | 2,900,000 | 3,900,000 | 4,400,000 |
| Interest Expense | 50,000 | 80,000 | 100,000 | 100,000 | 100,000 |
| Income before taxes | 1,300,000 | 2,300,000 | 2,800,000 | 3,800,000 | 4,300,000 |
| Net Income | 1,260,000 | 1,610,000 | 1,960,000 | 2,660,000 | 3,010,000 |
Table 3 above shows the five-year financial projections for Nails Zone and it contains details relating to projected sales, cost of operation, and impact of taxes on the overall revenue. It is projected that the company will be able to service its debts because the net income is upwards of a million each year after accounting for all expenses and taxes. Therefore, the company will be able to service its debts within two years. In developing the above-mentioned income statement, a number of assumptions were developed. The first one was that revenues will increase by 10% annually and that the income tax is computed at 30% of the total revenue. It is expected that the current period demand will be sustained until next year as businesses continue to reopen after the COVID-19 pandemic and clients become more assured of their safety in visiting physical store locations. The estimates for revenue are also supressed while those of expenditures are emphasized to account for worst-case scenarios. Our computations also excluded the cost of goods used to provide nail services but included all associated expenses such as salaries and supplies in the expenditure section of the income statement. The estimated sales figures are the only direct form of sales for the business. Given that pedicures and manicures are the main services to be offered in the business, they have been priced at $1,500 per month to account for their high frequency. The demand for other nail services offered in the business is still unknown. This is why they have been set at $800 per month to account for this uncertainty.
Investment Proposal
To execute this business plan, we are requesting a loan facility that will be serviced from business revenues. The business's assets will also be used as collateral for the loan facility. In this investment proposal plan, the purpose for the financing, requested amount, and exit strategy of the business will be detailed as follows.
Purpose of financing
The funds will be used to develop the business design, make leasehold improvements and buy equipment for the enterprise. The leasehold property will cost an estimated $40,000 annually, while the equipment is expected to cost $500,000. Administrative costs are expected to be $10,000, while employee salaries are expected to cost the company $200,000. The projected budget for miscellaneous expenses is $5,000. Additionally, we expect to spend $5,000 of our private cash on the starting day of the business. These figures form the basis for the requested amount as described below.
Requested amount
Based on our projections of business activities and plans associated with the proposed business plan, we estimate that the project will cost $1,755,000. Based on the estimates provided above, the cost breakdown for this projection is provided below.
| | |
| --- | --- |
| Activity | Cost (Figures are in USD) |
| Leasehold property | 240,000 |
| Equipment | 1,000,000 |
| Salaries | 300,000 |
| Administrative costs | 10,000 |
| Miscellaneous | 5,000 |
| Total | 1,755,000 |
Exit strategy
We estimate that after ten years of operation, we should be able to sell the business to a suitable investor who will safeguard the organization's vision and improve its market appeal. Therefore, a strategic investor could be sought to acquire the enterprise at a cost that is agreeable to all parties involved. All commitments to shareholders, creditors and lenders will be honored in the transfer process. Overall, there is an increased sense of appreciation for promoting a positive self-image and being mindful of one's presentation. This trend is likely to support the proposed business plan because it will help customers to promote the desired self-image.
Reference List
Dodson, I. (2016). The art of digital marketing: The definitive guide to creating strategic, targeted, and measurable online campaigns. London: John Wiley & Sons.
Mazzarol, T., & Reboud, S. (2019a). Small business management: Theory and practice (2nd ed.). New York, NY: Springer Nature.
Mazzarol, T., & Reboud, S. (2019b). Entrepreneurship and innovation: Theory, practice and context (4th ed.). New York, NY: Springer Nature.
Scarborough, N., & Cornwall, J. R. (2018). Essentials of entrepreneurship and small business management (9th ed.). London: Pearson Education.