Business Overview of Barnes and Noble
In 1986, Barnes & Noble stated its journey incorporating under the US Company Act as a bookseller dealing with academic, commercial, and technological books along with newspapers, magazines, and other entertainment serials. Its online marketplace coordinated with a multi-channel distribution platform to address the needs of a diversified customer base. According to company statistics, B&N operates 1,357 bookstalls in 50 US states.
Among them, at least 637 bookstalls are located on the academic campus, and the others are in airports, rail stations, terminals as well as public gathering places. The most remarkable online presence of B&N is concerned with an e-commerce site with a B2C model, which is linked with a number of affiliated sites and well-organized search engine optimization along with digital content products and software (Reuters, 2010).
The company's prime business is the sale of books and journals with wide varieties starting from entertainment to post-graduation research and has channeled with a few alignments such as Barnes & Noble Stores, BarnesandNoblecom, Barnes & Noble Affiliated websites, and Barnes & Noble University websites while each of the channels has its own customer base and sales generation. Barnes and Noble serve almost four million students and faculty members at colleges and universities across the United States, while its website is one of the best e-commerce sites with top-class bookstall software such as eBookstore, and eReader those deliver a user-friendly environment for the shoppers.
Overall Position in the Industry
According to Barnes & Noble (2010, p.10), B&N is one of the largest bookstore businesses in the industry and the biggest online bookseller throughout the world; Bestsellers (the top ten maximum selling hardcover novel and hardcover non-fiction) characteristically embody between three percent and five percent of Barnes & Noble store sales annually. However, despite such a good rank in bookstores and the e-commerce industry, B&N has been seriously affected by the global financial downturn; it made a hundred employees redundant in its NY headquarters because of its declining sales figure; its holiday-store sales in the nine-week period were down 5.2% from the previous year, and online sales were down 11% during the same period.
The company decreased its profit estimations in expectation of feeble holiday-sales and due to the high-costs of creating its electronic-book-reader, the Nook; in addition, the company's shares fell by $1.27 (5.4%) to $22.25; all these factors acted collectively to deteriorate the company's overall performance in the context of the global industry. The figure-4 shows how the stock prices fell during the recessionary period; it is noticeable that the prices have started to recover by the beginning of 2010 as B&N started to recover (Yahoo Finance, 2010).
Domestic vs. Foreign Operations and Revenues
In 2010, the business ran 717 libraries in fifty states and in the District of Columbia; in addition, B&N College Booksellers run 633 college bookstores at colleges and universities across the US. It is important to note that the company has no outlets outside the US and has no plans to expand globally as well; during this financial year, the business engaged about 40,000 full-time and part-time workers to carry out its overall operations throughout the domestic market. On the other hand, B&N's foreign operations comprise of e-bookstore, e-commerce site, and other online library facilities. The following table shows the comparison of B&N's performance in the domestic and foreign markets (Yahoo Finance, 2010):
Domestic Market
B&N Retail Sector Revenue
$930.8m
B&N College-Sector Revenue
$798.1m
Total Revenue
$1728.9m
International Market as a Whole
Total Revenue
$ 1,396,570m
Table 1: B&N's Revenues.
Market Share
The company currently holds twenty-five percent shares of the e-bookstore market in the global context, and the CEO of the company expressed that it could have acquired a larger part of the market shares with the Nook if the recession was not hesitating economic environment. However, the company has revealed that its share of the digital market now went above its share of the retail book market, given that it had to compete against Amazon and Sony this year (Borders and Apple have only entered the market very recently).
In addition, although the market share of its e-based business vacillated quite badly during the financial crisis because of the presence of many other giant players in the international market, the company remained the United State's largest seller of books when it comes to store-based sales. The most selling books of B&N has illustrated in the figure below: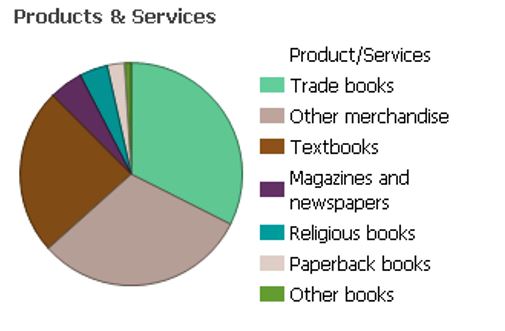 Sales and Profits
During the global financial crisis, Barnes & Noble have reported losses and have forced to cut e-reader charges; however, even after such big losses incurred upon its income statement, the company has successfully entered the e-book market in that financial year and expended a huge sum of money for advertising purposes of the software in order to create public awareness.
Nonetheless, the statement of the CEO of the company that B&N's e-based business is performing well then its general bookstores has been supported by the idea that whilst sales of its substantial retail-outlet locations fell by 4.8 percent in 2009, its online sales have been augmented by 24 percent. LiVolsi (2009, p12) argued that the overall sales figure of B&N remained above all its competitors in the US market:
| | |
| --- | --- |
| Organizations | Financial Year 2009: North American Sales of Textbooks, Magazines, Newspaper, and Others |
| Barnes and Noble / B. Dalton | $4.30 b (excluding $836 m from the recently obtained college bookstore segment) |
| Borders/Waldenbooks | $2.65 b (fell 15 percent from 2009, not including global sales) |
| Amazon-Media (excluding hi-tech equipment, services, textbooks, and comprising storybooks, music, DVDs, etc.) | $5.96 b (the company's global bookstores sold $6.81 b in FY2009 with a more swift growth rate than North America) |
| BN.com | $573 m (increased from $466 m in FY2008) |
| Total | $13.483 b |
Table 2: B&N's Sales Figure in the US Market.
IBISWorld (2010) suggested that businesses like B&N would very soon observe raising sales because it has expected that public demand for new technologies like e-readers would rise by a higher degree in the next few years; however, competitive pressure from online retailers will continue to grow as individuals increasingly value convenience; nonetheless, these are positive-trends for industrial benefits.
New Products or Markets
Barnes & Noble has recently entered the e-book reader market with its latest device and is applying dominance over the crowded market of Kindle (the e-book reader of Amazon); this new product of the company, called the Nook, has launched after a long period of hindrance and research and development. The gadget features color touch screen controls and a gray-and-white reading display that has a price of $259, similar to Amazon's most recent price cut for the latest edition of Kindle; in addition, according to an advertisement that B&N placed in NY Times Book Review, Nook will allow readers to lend their digital-books to friends and download with wireless connectivity. Some more features of this award-winning gadget have outlined in the table below:
Type of E-book reader of B&N
Outer Appearance
Type of Connectivity
Heaviness
NOOK Wi-Fi
White back-panel
Unites through Wi-Fi
11.6oz
(or 328-grams)
NOOK 3G + Wi-Fi
Gray back-panel
Unites anyplace through complimentary 3G plus Wi-Fi
12.1oz
(or 343-grams)
Table 3: Features of Nook
Corporate Image, Objectives, and Others:
Barnes and Noble are one of the most prestigious, prominent, and publicly known booksellers of the world, selling hundreds of thousands of books every day to its billions of customers internationally. It is important to note that a corporation with such a strong brand image and reputation must possess a very bold combination of aims and objectives that assists the company to adhere with carrying out such successful business operations. Amongst many values, principles, and future visions, the main objective of B&N is to run the best specialty retail business in the US, regardless of goods it sells, because its aspirations are consistent with the promises and the principles of the volumes that line its shelves; this means that B&N demean the significance and the distinction of being booksellers.
As booksellers, B&N is strong-minded to be paramount in the industry notwithstanding the size or proclivities of rivals; it aims to continue bringing its industry-gradations of manners and approaches to bookselling; above all, it expects to be a credit to the societies, a precious resource to consumers, and a place where its devoted booksellers can develop and flourish.
Financial Strength
Being such a giant player in the global e-bookstore industry, Barnes and Noble has a strong financial position that is well built enough to contend with the market leaders of the industry. However, Bloomberg Businessweek (2010) suggests that year over year, Barnes & Noble has observed revenues shrivel from $5.3 billion to $5.1billion, along with the rise in SGA-expenditure and reduction in bottom-line from $135.8m to $75.8m; reduction in percentage sold, general, and administrative costs from 17.48-11.46% was a key component in the bottom-line reduction in the pace of falling revenues.
Table-4 shows the four years financial review of the company for a better understanding of B&N's financial strength. In the financial year 2009, the company's total revenues was $5,121, cost of goods sold was $3,225, gross profit was $1,896, and net income was $75; on the other hand, in FY 2008, the company's total revenues was $5,286, cost of goods sold was $3,209, gross profit was $1,893, and net income was $135.
On the other hand, increasing taxation rates fluctuated global demand for books and gadgets, and rising competitive pressure through domestic production intensity, recession's effects, and the economic conditions of the e-bookstores industry as a whole are not able to put external impact over the financial position of Barnes and Noble. During the global financial downturn, the company suffered significant losses and carried out numerous job cuts; the company cut salaried employment costs by seven percent by lowering compensations of the white-collar employees.
According to Yahoo Finance (2010), such adverse impacts of the recession were clearly visible in the revenue of the company, consequently on its share prices; the following figure (five years stock price graph) gives a perceptible idea of how the external economic environment of the industry affected the stock prices and financial strength of B&N in 2008 to 2009 period: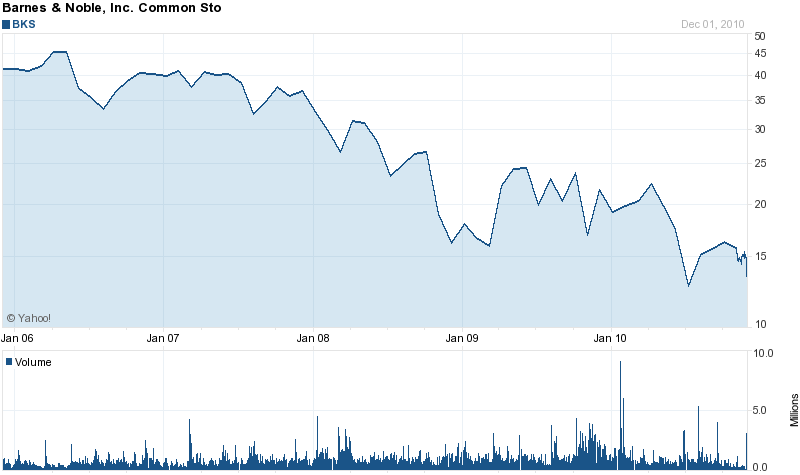 Table 5 outlines the major stock market issues of Barnes and Noble Corporation, which provides a better idea about the company's most recent financial conditions.
Distinctive competencies
Being a business that possesses a long chronological scenario of operating successfully throughout the US, it has not only contributed significantly to the American GDP but has also given a lot to the US education system as a whole. Today, a large portion of the country's colleges is dependent on the book supplies of this company. This has been made possible only because B&N has many distinctive competencies in terms of logistics, research, and distribution. B&N appears to possess several core competencies; firstly, it has strong brand recognition- the corporation leads book retailing with a "community store" model that offers an all-inclusive title base, cafe, kid's segment, music department, and continuing events as well as author appearances and children's activities; moreover, it emphasizes books published by small and independent publishers and university presses.
The tremendous selection of books, including many hard-to-find titles, builds the customer loyalty for the company; in addition, it actively serves customers via the Internet with the help of its website that assists extending some extraordinary services; the store design and ambiance of the firm have become its trademark rather. The infrastructure of the business entails knowledge related to publishers, wholesalers, and the appropriate information systems together with the implementation of just-in-time replenishment of books, which has resulted in higher in-stock positions; additionally, increased use of its distribution center enables Barnes & Noble to maximize available discounts and enhance its aptitude to construct customized marketing programs with many of its vendors.
Whilst the online business has been able to leverage the existing "back end" operations and avert extraordinary start-up investment, the distribution network provided a significant competitive advantage for B&N's e-commerce site; by stocking nearly 750,000 titles, it is currently in a position to provide overnight delivery service to online consumers at gross margins allowing the website to offer great discounts.
Capabilities, Scale Economies, and Other Company Attributes
The capabilities, together with numerous resources, provide B&N with the foundation of competitive advantages through which it has directed itself to the path of constant growth and popularity among clients; by means of its business management skills, efficient staff, and existing resources, it can offer diverse sales opportunities and allow clients with ultimate flexibility. Barnes & Noble has depth in their inventory and a capability to ensure the quality of distribution; the company has garnered strength in procurement and logistics; moreover, both of its online and traditional stores rely on a concentrated distribution center in New Jersey.
Some of its technical systems, like the extensive bookstore database, were developed for the traditional business, but it has been instrumental in the online business, too; it is arguable that this database can be accessed electronically to get real-time queries for inventory checks with book suppliers as well as getting weekly updates to the B&N website servers. The company has been operating for many years and has established a culture that supports sociable, cordial, and knowledgeable booksellers; additionally, one of the key competencies of B&N is its strong leadership that provides strong management along with appropriate direction for the business; B&N also maintains strong relationships with all its stakeholders that allow cross-marketing and cooperation.
Products, Process Technologies, Brands, and Other Elements
In defining differentiation strategies of the B&N, it is important to address that it has dynamic strategic changes and business repositioning; one of the groundbreaking gadgets of B&N's digital platform was the NOOK launched during 2009; the company's innovative executive team defines their differentiation strategies as the "digital strategy of the B&N" comprising of four major issues. Firstly, utilization of digital delivery contents towards consumers through wireless or online modes; secondly, promoting B&N's strong brand image and retail footprints throughout its multi-channel platform; thirdly, the establishment of the innovative technologies to progress the retail bookselling industry, and finally, to build a strong partnership with suppliers to expand and enrich their distribution and logistic supply chain models.
Porter's Five Forces Analysis of Barnes and Noble:
Barnes and Noble is a competitor of an industry where the threats of new entrants are considerably high, bargaining power of suppliers is at an average level, whereas bargaining power of buyers, the threat of substitute products, and rivalry among existing firms are quite high: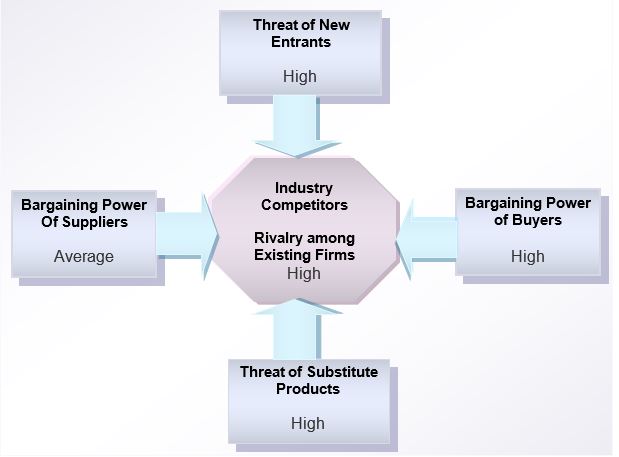 Threats from new entrants
The retail book industry has very high barriers to entry due to various obstacles to enter the market; new entrants lack sufficient funds, expertise, adequate knowledge about specialized book management and supply-chain techniques, and skilled personnel; moreover, once established, it gets difficult for new players to sustain in the highly competitive business environment and to join in price competitions with industry-giants. Capital requirements essential to set up stonework of the bookstore and construct an online library with e-bookstore and e-book reader facilities would be practically unfeasible for beginners; on the other hand, large chains like Barnes & Noble, Borders, and the giant non-bookstore retailers like Wal-Mart and Costco, situated in attractive locations will be providing customers with the highest level of service.
If the newcomer were an internet-only bookseller, it would need fewer capital expenses, but at this point, well-known firms, for instance, Amazon.com, will have the first-mover advantage; another problem for the new entrants is that the consumers recognize the branded players; besides, large marketing budgets will make it very hard for new entrants to sustain into this industry. This is the reason why sales at autonomous bookstores and small chains are gradually diminishing from the early 1990s; consequently, the retail book industry is no more very attractive and fruitful industry for new businesses.
Threats of substitute products
All the products offered by B&N need to compete with numerous similar products from the rival firms; for example, the substitutes of books are easily available from local book suppliers and many other large organizations from the international level. In addition, excluding books, a number of B&N items like gadgets, e-bookstores, Wi-Fi, etc., confronts strong competition as well. The recently launched gadget, Nook, for example, has subjected to competition from other e-book readers like Kindle, iPad, Sony 350 Reader, Kobo Wireless eReader, FnacBook, Cybook Orizon, jetBook, Alex eReader, Pocket eDGe, and so on; however, despite so many e-readers, Nook still remains people's favorite because the special qualities and features that Nook possess are not available in others.
Apart from different substitutes from the direct competitors, B&N's books have to face stiff competition from some other indirect alternatives because people more often find it more interesting to watch television, chat on the internet, go to movies, and listen to mp3 during their leisure rather than reading books.
Bargaining power of buyers
Owing to the incidence of innumerable booksellers, the switching costs of the buyers are comparatively high than in any other industry sector; furthermore, customer loyalty is also not appreciably perceptible. Companies like Amazon, Border, etc., offer the books and gadgets approximately at the same price level, for which it gets easier for the clients to pick their preferred piece of item from any one of them. Nevertheless, the purchasing power of the consumers diminished during the global financial downturn for which there was a lack of consumer confidence, consequently leading to lower sales at the companies. This, in turn, has led to lower annual sales at large corporations. However, the consumers are gaining back their confidence now because of the improvements in the economic environment causing the companies like B&N to raise their profit levels.
Bargaining power of suppliers
Numerous suppliers exist in the industry, along with abundant supplies of books and other technical instruments. Their bargaining powers, therefore, are at a moderate level putting an insignificant impact on B&N's operations.
Rivalry among existing firms
The industry is highly competitive because of the occurrence of a huge number of players along with their plentiful offerings; in addition, B&N confronts many smaller and larger competitors at both domestic and international levels. However, potential competitors of the company are Amazon com Inc, Books-A-Million Inc, Borders Group Inc, Sony, Kobo Books, Fnac, Condor Technology Associates, and Samsung when it comes to competition in the e-bookstore or technological gadgets sector. The main problem, which arises from the presence of such an intense level of competition, is that because of so many other bookstores, the annual profit margin of Barnes and Noble gets lower than expectations. However, the performance of B&N remains quite impressive while comparing between the top three competitors and B&N itself:
| | | | | |
| --- | --- | --- | --- | --- |
| Performance Determinants | Barnes and Noble | Books A Million Inc | Borders-Group Inc | Amazon Com Inc |
| Volume (2010) | 695320 | 20438 | 609718 | 4.90million |
| Revenue (2010) | 5.81billion | 508.67million | 2.82billion | 24.51billion |
| Operating-Margin | 1.76percent | 4.47percent | -2.55percent | 4.6 percent |
| Profit Margin (2010) | 0.61percent | 2.72percent | -3.87percent | 3.68percent |
| Gross-Profit Margin | 25.28percent | 27.10percent | 22.40percent | 22.37percent |
| Net-Income | 35.39million | 13.83million | -110.20million | 902.00million |
Table 5: Comparison between Performances of Major Players
Source: Self-generated
The Domestic Environmental Trends Affecting the Industry and Firm
Several domestic environmental trends are affecting Barnes and Noble in different ways; however, this paper will focus on two of them. Firstly, it is arguable that the most alarming domestic environmental trends affecting the firm like Barnes and Noble are the security concerns of identity theft for their online sales while the hackers collecting the credit and debit card numbers of the customers from the domestic market and selling that information through to other criminals through the internet. Such frauds seriously influenced the customer base, reputation as well as cash flow of Barnes and Noble while the company continuously cooperated with the law enforcement authorities and IT consultants to persistently upgrade its security measures, including integration of social security numbers (USSS, 2008).
Secondly, NCHRP (2008) pointed out another domestic environmental trend affecting the firms like Barnes and Noble is the quick-shifting new role for warehouses for customer service while most retailers and manufacturers urged for timesaving packing and delivery.
To respond to such domestic environmental trends, warehouses and distribution centers of Barnes and Noble are now becoming fulfillment centers to handle the online and mail-order operations. For instance, the B&N distribution center at Jamesburg in New Jersey has the facility to handle around 16 million books and furnish the replacement services for all of its outlets in the US market along with supporting the Internet operation of B&N. Books on the best-seller list may move from the warehouse to the stores in full-pallet loads. Other fast-moving books may be transported to the stores in full of cartons. B&N has developed its system in such a way that the best selling books are moving promptly and slow-moving books are identifying robotic that all the stores can view the whole process from their computers
B&N's Global Strategy and Responses to the Global Challenges
Barnes & Noble (1997) pointed out that its lengthened global strategy has driven it to turn into the world's major bookseller as well as a most prevailing global brand, while the global strategy aligned with its innovative products and services those B&N offers would represent most substantial value for customers for which customers would willing to pay. Technical and physical infrastructure along with a collaborating network of partners would be ITC integrated, which would generate value for customers as well as a strong customer base. Strapping customer relationship management of B&N has aimed to retain them and to generate elevated revenue while the above-mentioned components are just means of cost-saving and foundation of financial aspects as well as revenue structures to sustain the company's market leader position in the global bookselling market.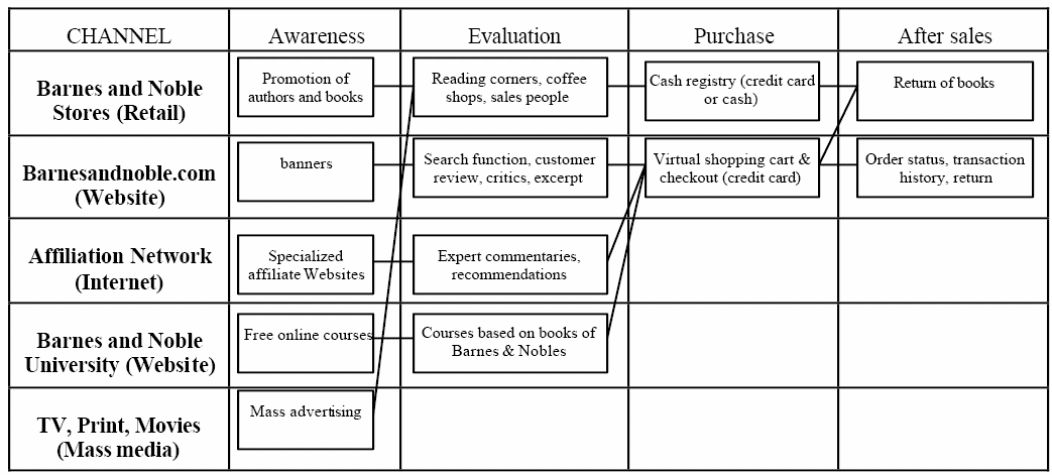 Bled (2002) identified that the global strategy of B&N has strongly integrated with its Channel Grid, where the retailing channel at Barnes and Noble Stores keeps full awareness of the promotion of authors and books. Retailing grid emphasis on evaluation of "Reading Corners" and Coffee Parlors as well as salespeople, commence purchase on cash or credit card through the cash register and after-sales returning opportunity. Online channel grid concerned at Barnesandnoble.com generate awareness from banner advertising with evaluation from a search engine, customer review, and critics, and generate a purchase through virtual shopping carts through credit card processing. At the Affiliate Network Channel Grid, focused affiliate websites represent professional commentaries and recommendations that drive the customers to links to virtual shopping carts.
The rising challenges towards the bookstores are associated with rising competition, product diversification, lead generation, and online transaction as well as security, while the global strategy of B&N is ready to face all challenges to keep its position at the top. B&N responded to these challenges by mailing fifteen million catalogs per year in 149 countries where all customers have online access to the order site from their home country.
For the last decade, B&N has been struggling to amplify its consumer base occupying online delivery modules, but in recent years, its market growth has fallen remarkably, according to the statistics of the retail bookstores. Consequently, B&N has reduced its aggregate store size to 0.10 million square feet, and this reduction has continued yearly by 1.5% from the 2008 financial year. B&N has symbolized its global business strategy in terms of trouble-free delivery and operation such as direct shipment aid as well as online retailing with other circumstances.
Merchandising programs and the promotional phases of B&N have available in both of their bookstores as well as on the bn.com websites. For instance, annually, 450 million visitors visit the websites of B&N that are operated for retailing. For the global clients, B&N has equipped most of its bookstores with a store operating system named the BookMaster that has user-friendly potential for clients, and B&N is under the process of integrating the BookMaster system with the rest of its retail stores in addition to facilitating the sheared vision of the company. Alternatively, NOOK has won the award for its prompt download efficiency.
More specifically, the global strategies of B&N have operated millions of consumers every day consistent with cross-cultural promotional tools to address every customer's particular needs. To generate success in terms of revenue growth, the management of B&N organized a successful global strategy which to take the challenge of competitors. Moreover, B&N has executed several significant acquisitions. Firstly, at the beginning of March 2009, B&N has acquired Fictionwise, which has a leading market position in the e-Book industry, and by this integration, B&N has enabled to boost their customer base as well as profit margin.
Secondly, at the end of September 2009, B&N acquired Tikatok and turned it into another online platform for its online store. The final evidence of acquisition was with Sterling Publishing, which is a leading player of non-fiction trade books; since 1949, enriched with almost 500 titles, Sterling Publishing joined with the B&N and thus has enriched the Essential Reading series of the B&N library.
Threats
While operating in the retail bookstore and online library industry, there are always numerous external threats present that exert pressures over B&N's business operations, creating troubles in the true sense. One such hampering external influence that posed a major threat for the business was the global financial downturn. During the recessionary period, it went difficult for B&N to cope with the adverse economic environment, which led the company to suffer from falling stock prices. The most alarming issue of the financial crisis was that the customers, due to their poor income levels, lost consumer confidence and led to falling sales for B&N.
Another concern that tends to be a major threat for the business is other industry giants. The competitors in the bookstore market seem to be very antagonistic when it comes to implementing competitive pricing strategies; most of the players participate in aggressive prices war to gain a competitive advantage over each other and attract customers towards themselves. On the other hand, in the e-bookstore industry, the major threats for B&N are coming from hackers. In recent years, the disturbances from different hacker groups have increased who are imposing tremendous operational hindrances.
Opportunities
The business has a prospect to increase its technological infrastructure with the help of which it will upgrade its e-commerce sites, e-bookstores, and e-book readers. B&N will have good prospects if they open retail stores outside of the US. Moreover, due to the generation of the high level of public awareness with the use of the internet, there is an opportunity for B&N to increase its target market as more people will be able to catch B&N's e-based offerings.
Strategies
B&N undertakes many strategies as outlined below, which helps the company to prevent the threats and create the scope of taking full advantage of the prospective opportunities carrying out an overall successful business throughout the world.
Business Level Strategy
In 2010, B&N's net income was $ 35.39 million, and total revenue was $5.81billion; this indicates B&N's strong industry position. In achieving such a good position in the industry, the company has all throughout adopted several business-level strategies as illustrated in the following figure: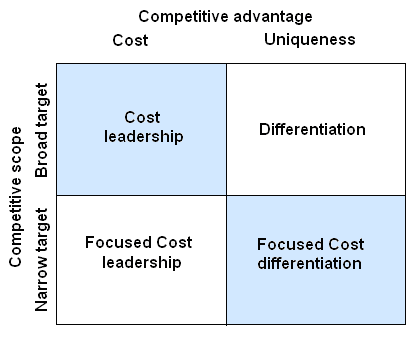 Through the cost leadership strategy, B&N offers a low price for its products in order to maximize its profits and sustain in the market in adverse economic conditions as the retail book market is too competitive. Furthermore, the company increases sales revenue and saves its other business units by minimizing the price of the products, whereas the CEO of the company mainly focuses on divestiture strategy, diversification, and retrenchment strategy to enhance its financial position. In the focus strategy, the company concentrated on its core business for further expansion of retail stores in the US, but this strategic decision created some barriers for further development.
Nevertheless, it would very soon reallocate all its business units besides operating core units to lessen the threats of market risks. On the other hand, by adopting a differentiation strategy from the beginning of its operation, B&N followed a very high level of diversification plan by an extended product line with high quality and superior features that are truly unique from the offerings of its competitors.
Competitive Level Strategy
At this level, B&N accomplishes competitive dynamics by a series of competitive actions and antagonistic responses towards the competitors of the industry by analyzing a number of factors such as market cohesion, resource similarity, market dependency, own size, technological advancement, and characteristics of the products offered.
International Strategy
B&N is operating and distributing its services all over the world, and in so doing, it needs to undertake many international level strategies that concern the features of production and distribution, demand conditions, consideration of the supporting and related industries, and finally, examining B&N's plans and policies in the context of the international market structure and competition.
Market Positioning Strategy
Positioning is an essential feature of a company's strategy, which shows its main advantages in association with competitive offerings.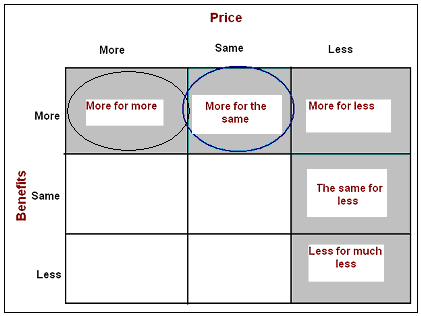 Barnes and Noble pursue a "more for more" or "more for same" strategy because it is indeed a very renowned firm with a strong financial position and large organizational structure.
Brand Positioning Map of B&N
B&N is a giant player in the US retail bookstore industry and the global e-bookstore market; therefore, the brand positioning of the company will look like something illustrated in figure 6. Although there are many established brands in the entire US industry, the brand-positioning map of B&N will still occupy one of the major parts of the market. Amongst some other brands positioned in the market, Amazon Inc, Books-A-Million Inc, Borders Group Inc, Sony, Kobo Books, Fnac, Condor Technology Associates, and Samsung are significant ones.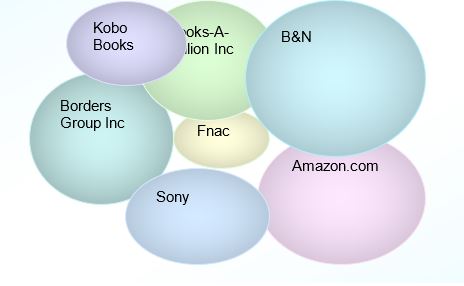 Promotional Strategy
The promotional strategy of the B&N varies accordingly with changing consumer trends, demands, and other external circumstances. The company plans the promotional packages depending on the factors such as different seasons, New Year festivals, Christmas Eve, occasions like Valentines Day, Easter Sunday, Mother's Day, Father's Day, Halloween, etc. The reason for these strategies lies behind the fact that most of the customer groups of B&N will be having a fluctuation in demand for the products offered by the company depending on these specific periods of the year.
The customers more often like to buy more books during festive events for giving gifts to friends and families. During New Year, Christmas, Mother's Day, Father's Day, the number of people visiting bookstores or e-bookstores raises for which reason depending on the type of festival or occasion, B&N sets special offers; for instance, special promotional packages that include discount-vouchers, B&N promotional-codes, money-off coupon codes for great discounts, and many other packages for clients as well. These offers will help the company to gain a competitive advantage over the competitors by augmenting sales during these special periods of the year.
The discount vouchers offered on the books or gadgets will vary according to their original prices, for example, for less costly items, there would be 15% off, whereas, for expensive ones, the discounts will be about 25% to 35%. The discount vouchers offered also vary for different customers because B&N always tries to satisfy the US students more than the general customers. This strategy benefits the company by generating interest among the new B&N customers for being loyal in order to gain full advantage of the promotional packages, which in turn, would raise the profit margins of the company together with the advertising campaigns.
Reference List
Barnes & Noble (1997) Annual Report 1997. Web.
Barnes & Noble. (2010) Barnes & Noble Annual Report 2010. Web.
Bled, S. (2002) An e-Business Model Ontology for Modeling e-Business. Web.
Bloomberg Businessweek (2010) Barnes & Noble Inc. Web.
IBISWorld (2010) Book Stores. Web.
LiVolsi, B. (2009) Digital Book 2009 IDPF Forum. Web.
NCHRP (2008) Transportation Implications of Emerging Economic Development Trends. Web.
Reuters (2010) Barnes & Noble, Inc. (BKS). Web.
USSS (2008) Additional Indictments Announced In Ongoing Secret Service Network Intrusion Investigation. Web.
Yahoo Finance (2010) Basic Chart. Web.
Yahoo Finance (2010) Income Statement. Web.