Executive summary
This business plan is going to be prepared on a combined flower shop and coffee house known as "Florist Boutique + Café". A number of integrated issues will be discussed and analyzed throughout this plan starting from an exploratory vision of company background. Formed by 3 people as the owners, the venture will be established at a central location of Saudi Arabia where the entrepreneurs will deeply focus on environmental sophistication surrounded by beautiful flower garden and musical mantra. Industry analysis will elaborate different industrial variables affecting the company in terms of SWOT, PEST and Porter's 5 forces model of competition and so on. The organizational plan will state the formulation basis of the company while the marketing part will similarly elaborate the company's position in BCG matrix with a contextual discussion over pricing policy, STP strategy, etc. The financial part will verify the overall capital of SR 1300000 regarding the projected income statement, cash flows, balance sheet and break- even analysis. Finally, the risk assessment section will state some associated risks influencing the venture in future.
Company description
Florist Boutique + Café is a Saudi Arabia based diversified flower boutique which will going to be decorated with a new theme of integrated environment where the customers would enjoy duel benefits of having a preferred meal with nice melodious music like a sophisticated café and purchase fresh flowers for all occasions. The boutique house is going to be established in Saudi Arabia at the famous Al- Khobar city where the specific location has been chosen as in front of Saad hospital or nearer to Prince Faisal Bin Fahad Street. The basic purpose of forming such kind of business is to offer full effort in pleasing the customers with various beautiful cut flowers with additional specialized advices regarding soils, plant nutrition and light and temperature management. All of such tasks will be offered in a nicely decorated arena festooned by a flowerer garden while an extra ordinary attraction will be created through the delivery of actual service within a food servicing criteria. It will involve serving various delicious dishes regarding coffee, sandwiches, deserts, salads and other items which are generally loved by them. Encompassing with such vision of operating the desired products, this new venture is widely targeting single women, housewives and husbands, students, medium along with high income segment of the society. The pointed location has been chosen by the company for some specific reasons.
Though it wants to deliver flowers at all seasons and all occasions, being closer to a renowned hospital would give it an extra advantage of inclining those people for purchasing flowers who tend to come to the hospital for visiting their close associates and relatives. Similarly, as a café, the boutique would be able to gain an extra advantage of being closer to such busy street which is situated at the middle place of Al- Khobar as is the passing point of a lot of people who are also included in its potential group of target customers. Thus, the company will be initiated by three young entrepreneurs on the basis of partnership agreement while they will invest 40% of total projected capital of SR 1300000 as the remaining 60% will be paid by the recognized Saudi ABC Bank in order to run the business for approximately 5 years. Being well- furnished by several sorts of operational necessities, this shop will also be in need of PCs, internet access, sign up agreements and contacts with local transportation for delivering flower orders to various places.
Mission
"Florist Boutique + Café" aimed to support the health conscious middle and high-class society at Prince Faisal Bin Fahad Street putting major emphasis on females and students to refresh them with coffee, salads, sandwiches, good flower boutique to share their feelings in a romantic atmosphere and its mission would argue to more outlets in the aristocratic areas of Saudi Capital Riyadh. "Florist Boutique + Café's" mission also deliberated to make its outlets for the community beside their work and home and facilitating exceptional edge in the coffee market.
Vision
As "Florist Boutique + Café" would start its journey from Saudi Arabia, but its ultimate goal is to be the leader of Coffee market of Gulf region and to drive for global expansion with outstanding edge in the coffee industry. "Florist Boutique + Café" plans to go ahead with its strategic collaborates those who are in a position to share the same vision and values to escalating and promoting the brand globally.
Industry analysis
Industry size, growth rate, and sales projections: The flower and café industry generated $7496.4 million in the year of 2008 and total gross product from this industry was $1837.4 million, which contributes a small portion of the national revenues. However, the industry is still growing and a lot of opportunity is present here for future advancement and it shows 38.5% profit in the same year as an indication of growth trend. The projected sales of Florist boutique + café are 1,740,000 SR in which the profit is 494,200 SR.
Industry structure: The industry structure consists of the flowers shops who are the retailer in the supply chain and fast food and coffee shops who directly serve the customers in the market (Rikken 2007, p.1). The flowers directly come from the cultivators to the wholesalers who again supply it to the retailers or exporters in the various countries and the importers of the respective countries receive it and pass it to the retail stores. On the other hand, the coffee shops collect coffee and other materials form the suppliers, prepare it in the store, and deliver to the customers.
Nature of participants: The participants in the industry are mainly the retail boutique shops of flowers and the coffee shops and restaurant in various corners of the city. Any persons ranging from homemakers to middle aged to old persons can purchase flowers. On the other hand, the customers of coffee are the people ageing from 25 to 55.
Key success factors: The key success factor of the industry is the quality given to the customers. Asseeri (2009, p. 5) argued that Saudi Arabia is a country of strong economy and the per capita income of the country is $23,814. Here, price is not a matter at all, as customers will pay a price demanded by the shops in exchange of the quality products. Florist boutique + café also plan to set a shop, which directly work with customers to make it customer oriented through improving the services.
Industry trends: The current industry trend shows an upward drift in flower market and coffee shop. A survey found that more than 60% people now purchase flower for their own pleasure and the excessiveness of festival also increase the demand of flower. The coffee shops are also very popular in Al-Khobar as it is a commercial city and people now take coffee during their breakfast. Through out the day many people visits around the city for various purposes who take coffee for energize themselves.
Long-term prospects: The flower and coffee shop industry is in its growth stage as customers for these products are increasing day by day. The use of flower and its appeal to the people is unique as there is no alternative to flowers. People in Arab are also accustomed to the fragrance of the hot coffee and are attracted by it. As a result, in future the industry will be more mature and generate a good amount of income, which will contribute to the national economy besides of oil.
Environmental Analysis
Saudi Arabia is one of the most resourceful countries in Arab and is renowned for its mineral resources such as oil. The total population of the country is approximately 28,686,633 and most of them are Muslim. From about 23% of the total population of the country, nearly 5.5 million are foreigners, mainly from south Asia and from some other African countries. In the oil industry, there are some expatriate workings from the west. Al-Khobar is a big city of Dammam metropolitan region and it is situated in the Eastern Province of Saudi Arabia. The total population of Al-Khobar is 0.4 million and the city is on the Persian Gulf.
Economy: In a mineral resource based economy, Seventy-five percent of the total revenue for implementing the national budget comes from the petroleum industry and it is responsible for approximately ninety percent of the export income. Beside this, the gross domestic product of the country generated from oil is forty-five percent whereas other private sectors gradually generate only forty percent of it. Total GDP of the country is approximately $592.886 billion and the per capita income is $23,814. In Al-Khobar, the world's biggest oil company Saudi Aramco and other latest shopping malls, luxurious hotels, restaurants etc run their businesses. In the city, there are some well-known international food chains like KFC, Pizza Hut, and McDonald etc.
Legal concern: Saudi Arabia governed by the rules and regulation of Islam and the monarchy system is prevailing in the government system. The king of the country holds the major power and exerts his power in regulating the state. The holy book for Muslim the Quran serves as the constitution of the country and the law governs the country is Islamic Law.
Industry Demand: The flower industry consists of the cultivators who grow the flowers, deliver it to the suppliers and wholesaler who brings these flowers in the boutique shop from them in Saudi Arabia. Alongside this, some importers are there who import flower form countries like Thailand, Colombia, and Netherlands etc. The customers consist of young people, mid age women, students and people of medium to high-income range. On the other hand, the local shops as well as the multination food chain like McDonald, Pizza Hut etc, mainly dominate the café industry. People ageing from 25-55 are fond of coffee and first foods when outside of the home.
Competition: In the flower industry of Saudi Arabia, the competition is based on the quality of the flowers as these are perishable product and customers always want good featured ones from the shops. The major players in the market of Al-Khobar are Nareena Flowers, Azhar Alroshd, chain stores, drug stores and grocery shops who keep flowers beside other merchandise in the shop. The café industry is very competitive in Al-Khobar as a lot of competition present in the market. The quality is the main theme of competition than price.
Market Analysis
Product description
As mentioned earlier, "Florist Boutique + Café" is going to introduce 2 types of products regarding fresh flower and food. Some integral information about those offers are:
Flower: Various types of local and foreign flowers with different colors and different odors will be offered in both smaller and larger quantities naming as tulip, rose, and tube rose, chrysanthemum, gladiolus, jarbara, orchid and other seasonal ones. So, there will be single sticks, bunch or bouquet of selling items among which the customers can chose (Florals 2009, p.1). Those items are sold for individual purpose along with in decorative mode arranged by the company regarding special occasions involving marriage ceremony, birthday, home- party, anniversary and the like. Additionally, the shop will also provide home delivery opportunity according to the customers' requirement. Regarding sourcing strategy, the shop will mostly relies on import mostly from India, China and Indonesia etc. countries. Since Saudi government is liberal enough in import policies and trade restrictions regarding flower business, it will gain adequate duty- free advantage under the modified GSP rules for importing from certain nations. For preservation and maintaining of freshness of flowers, the shop will implement several technological processes ranging from chemical medicines to handy equipments. Finally, the owners are also committed for offering more new and seasonal flowers imported from other parts of the world.
Food: In terms of delivering café services, Florist Boutique will arrange different kinds of food items over the day including morning breakfast along with tea, coffee, scones, sandwiches, desert, salads, juice and other delicious. For giving day round food services, it will employ professional cook, sheaf and waiter who would be efficient enough from preparation to serving of meals.
Market segmentation
Kotler & Amstrong (2006) states that segmentation is the process by separating a market into distinct groups of consumers with considering different needs, personality, or behavior, so, the management team of this café survey on customer behavior and find outs that:
Cautious: More than 16% of customers are health conscious and when they buy foods they consider food values, environment of the production sectors, quality of the products and they never compromise with quality but they have no interest to spend more money for flower and food items;
Practical: they only consider their needs as they have limited resources;
Brand oriented: this group of customers avoid the cheapest products and have a low opinion of retailer brands, and think to get high quality at a high price considering brand awareness;
Apathetic: it is really difficult to understand the mind of this group as they are complicated and take long time to make any decision.
The management team recommends that it should follow the different market segments and it will be better to try to capture cautious and brand oriented customer as they want high quality products.
Target market
The café sector is targeting mostly female, couples, students (teenagers), medium and high income people who like good environment, working people who need food in break time, parents who want quality foods for Tiffin of their children and people who come from different cultures.
On the other hand, the flowers segment is targeting people who have occasions like wedding parties, couples who like flowers, medium and high income people, creative customer who like variation in designing and the customer who only love flowers.
Competitor analysis
In flower industry of Saudi Arabia, the competition is on the quality as flowers are perishable product and customers always want good quality flowers from the sellers. The major players in the market of Al-Khobar are Nareena Flowers, Azhar Alroshd, chain stores, drug stores and grocery shops who keep flowers beside other merchandise in the shop. The café industry is very competitive in Al-Khobar as a lot of competition present in the market. The quality is the main theme of competition than price and here the key competitors are:
Acoustic: It's a quite coffee shop with a nice atmosphere, which offer special food items for different range of customer;
Gelato Café's: the main strength of this café shop is it offers services for working people, who will come in for breaks, and come in with their children when they are not working;
Le caffee: it has long experience and it offers high quality food items but the target customer's are those people who come in market for shopping;
Azhar Alroshd: it has ability to arrange high profile parties and weddings but overpricing the products many help our company to get more customer;
Nareena Flowers: It has maintained strong relationships with its customers by using the creativeness and the quality of work but the repetition of many of its flower arrangements and the high pricing of their products reduce the customer range;
Besides the national competitors, it has many direct and indirect international competitors such as star Burks, McDonald, Pizza hut, Burger King and other company those have business operation in Saudi Arab with outstanding brand awareness , e-business facilities and quality image.
Marketing Plan
The marketing portion of the plan is an integrated framework of various marketing strategies adopted by the company.
SWOT analysis
Through such analysis several stronger, weaker, scoping and challenging issues of the boutique will be exposed (Hitt, Ireland & Hoskisson 2001), such as: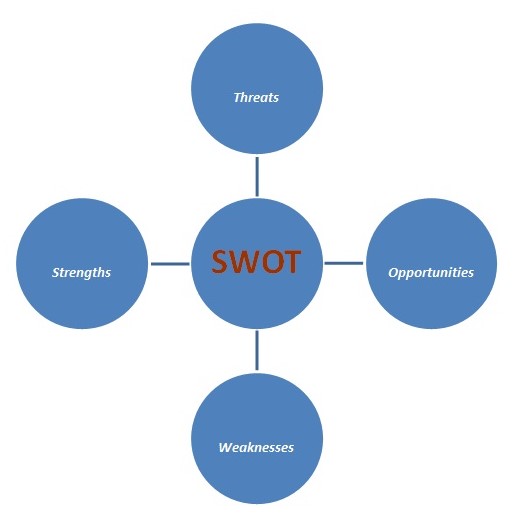 Figure: SWOT analysis of Florist Boutique + Café
Strengths
Some stronger issues of the new venture are:
Integration of duel operations will be helpful in attracting customers of such duel segments.
Placement of the shop would be effective in generating huge customer traffic.
Association of floriculture specialists as a part of offering customer service would be helpful in creating log- run customer satisfaction.
Engagement of experienced and skilled professionals in food designing and delivering unique flowers would generate competitive advantage rather better than others.
Weaknesses
Some weaker issues are:
Exclusion of e- commerce operation in delivering flowers would miss many people who want such product but can not manage adequate time for coming to the store.
Inadequate capital structure for spending on marketing.
Opportunities
Some optimistic reasoning are:
Increasing trend of open- minded customers who love to purchase flowers for both own as well as others.
Adequacy of both Saudi and foreign customers at the selected location who intend to pay for getting fresh flowers along with tasty foods in a good place.
Targeting people regardless age and income restriction would enhance the company's operational potential.
The operational environment would be helpful to offer competitive advantage to the company.
Threats
Several challenging situations are:
The boutique would have to face both direct and indirect competition by considering general coffee shops and cafes, super shops, variety, drug, department stores, groceries, home improvement centers and traditional retail florists from where customers can easily get both the flower and meal.
Huge expenditure for shop decoration would make the company less- efficient for the short- run by decreasing profit margin.
Initial operation with single entity without any additional branch would create operational limitation.
BCG matrix
With such portfolio – planning technique, this new flower boutique can be evaluated in terms of its relative market growth and rate and relative market share. Since it has 4 different criteria, by considering the overall projection, Florist boutique's position can be shown (Kotler & Armstrong, 2006), as:
Stars: Stars are high- growth, high- share businesses or products;
Question marks: Question marks are low- share business units in high- growth markets.
Dogs: Dogs are low- growth, low- share businesses and products;
Cash cows: Florist Boutique has been placed in the cash cow segment of the matrix pretend that the business will be able to gain comparatively high market- share at a lower growth potential than the existing competitors. In this regard, it would produce a lot of cash for paying its regular bills and other expenditures from a closer period of time within the operational edge.
PEST analysis
Political factors: In Saudi Arabia, the tax policy of the government is slightly relaxed for the citizens and they only need to pay a tax named Zakat of 2.5% (Chemingui & Lofgren 2004). However, the taxation rates for companies like florist boutique + café is about 20 per cent over the total revenue. According to the law of the country, however, duty of custom in the country is very high. The government of the country imposes a labor law, which abides florist boutique + café. The workers of the company are paid with a minimum wage, and in case of daily wage, the payment are made once a week in the workplace.
Economic factors: "Florist boutique + Café" is financially and economically a sound company which had total revenue of SR 1850000 and SR 2050000 in last two consecutive years for instance. The major contributing sector in the company is the floral boutique with revenue of SR 1400000 and SR 1500000 in those years, whereas the revenue of the Café was SR 450000 and SR 550000 respectively. The operating expense in those years was SR 1769000 and SR 1939000, generating a profit of SR 81000 and SR 111000 correspondingly.
Socio-cultural factors: Saudi peoples are so much health conscious that the government has strong rules against any act go against the public health. In case of flower and café, the low quality products are not only rejected by the customers but are also penalized by the government. The population growth rate is positive in the country as the birth rate is higher than the rate of mortality, showing an increasing trend on population. The safety of the labors in the industry is an important issue and in the labor law, there are strong rules regarding the safety. The culture of Arab is very distinct than the other parts of the world. They do not allow the culture of others in the country and their dress, music, dance and literature is quite dissimilar. Their eating habits are also different as they use to take bread in their meal and they eat a special bread name Khobuj and grill chicken mostly. Arabian people are also very fond of drinks.
Technological factors: Previously florist boutique + café lagged behind in terms of technologies compared to its rivals in the industry; however, nowadays it has immensely improved its expertise in this sector. The penetration of countless analogous cafés through out the Saudi Arabian industry and the use of innovative technologies in their operations made the company to dawdle in the market initially. Nevertheless, many national and international business organizations in the country use to provide latest technological support to companies like florist boutique + café. With the help of such a business, it is now fully equipped with contemporary technologies.
Porter 5 forces
Threats of New Entrants: In flower and café industry, the main problem of entrance is the size of the market and the number of competitors. Some well-known fast food and coffee shops has already established their brand in the market. In café and flower shop, customers are actually wants quality service rather than the price. Shops like McDonald, Pizza Hut, Dominos Pizza, and KFC have a well set-up and finely trained personnel providing quality service to their customers. The initial set-up cost for café and flower boutique is very high which deters the new entrants from entering the market. However, the high profit margin and continuously growing level of customer entry attract the new entrants to penetrate in the market. The government of the country does not create any barrier to start a shop and above all, the high-income level people ensure the success of the shop. Location is another factor in the market as places near to the office, malls, and other infrastructures is not easily available, and the costs are very high as well.
Bargaining power of suppliers: In café and flower boutique, suppliers are very important because most of the flowers are imported from countries like Netherlands, Colombia, and Vietnam etc. and there are a few numbers of suppliers in the market. Therefore, boutiques are largely dependant on the suppliers for the products and the suppliers have more power in this industry. In case of café industry, the main items are coffee associated with the snacks like burger, sandwich, rolls etc. The shops can prepare the food in kitchen or collect it from selected suppliers. Most of the big chain stores own suppliers who provide quality materials to the shops. Whatever the way is, the quality of the product must be there and the suppliers should enjoy less power then the shops as the shops carefully select the suppliers in the market. A good numbers of suppliers are also available in the market. On the other hand, tea and cold drinks are good substitutes to the coffee so that the suppliers of coffee have weak bargaining power over the buyer or shop owner.
Bargaining power of buyers: In flower industry, the buyer does not bargain on the price, rather, they conscious about the quality such as the freshness and life span of the flowers etc. Although in the western world people buy flower for their own enjoyment, but in Arab most of the time people buy flower for special purpose like birthday, reception etc. There is no alternative to flower and buyer tries to acquire the best trait ones with exceptional bloom. Therefore, the bargaining power is high in terms of quality and not in terms of price. In case of coffee shop, there are numerous of them at Al-Khobar and many people moving around the city visit the cafés. Here, the bargaining power of the customer is very low and brand value or goodwill plays the main role in choosing the shop.
Threats of substitute products: There are some artificial flowers in the market, which never able to substitutes the real fresh flowers. The appeal of fresh flower is universal to the people ranging from child to adult and every one loves flower. On the other hand, tea and cold drinks plays the role of substitutes to the coffee and in a market like Saudi Arabia where the temperature is very high, and Coca-Cola, Pepsi and other cold drinks have a good chance to substitute coffee as it's main feature is hot aroma. The price of cold drinks is also lower than the price of coffee.
Intensity of rivalry among competitors: In flower industry, the number of competitors is very limited as in Al-Khobar there are only some stores like Nareena Flowers, Azhar Alroshd etc. Therefore, the rivalry among the competitors is not that much intense as the price is more or less stable. The rivalry among the coffee shops is intense and various shops try to hold market share through price reduction and promotional offer with gift items. Old shops and big chains can replenish the price cut through their large volume of sale and operation in other regions, but local competitors cannot. Pizza Hut, McDonalds, Lee Caffee, Dominance Pizza, KFC etc initiate frequent price reduction and extensive advertisement to compete with one another.
Market testing
Market testing refers to the examination of the market demand before the firm actually starts their business. Firms can execute it through the direct contact with the prospective buyers and receiving their judgment about the products or services. In case of Florist boutique + café, they can test the market through a number of ways, which are as follows:
They can carry out a market survey to assess the total customers of coffee and flower and determine the age groups of the customer (for example, the customer aged 25 to 55 takes more coffee than the other age groups).
They can voluntarily supply flowers to the hospital and in some occasions to the customers. They also can provide complimentary flower to the target customer groups and take feedback from them.
Florist boutique + café can invite their friends to taste their different food items and take their comment about the foodstuffs.
Before finally starting the business, it can set a temporary booth from where it could sell flowers and coffees to interact directly to the customers.
Competitive Advantages
Competitive advantages are those advantages, which a firm enjoys over the rivals in the market to compete with them. To sustain in the market every firm must have some distinct set of advantages over the competitors (TDP 2009, p.1). In flower and café industry, the competition is mainly on quality, which indicates that cost advantages do not work well there. Nevertheless, product differentiation works on a kind of market, which is the main target of florist boutique + café. Here is a list of some distinctive advantages florist boutique + café has over the rivals.
The location of Florist boutique + café is very important as it selects a position where Sadd hospital is located and the place is very near to the king Fiasal Bin Fahad Street that is one of the busiest street not only in Dammam but also in Saudi Arabia. Al-Khobar is also a commercial city of the country where many people visits daily.
The Florist boutique + café makes a permutation of flower and food under one roof where customer can buy flower and enjoy food along with hot coffee.
The internal decoration of the shop is also very attractive which includes a garden environment to eat supported by low and sweet music. This environment creates a good impression to the customer and they will visit the shop again.
Florist boutique + café will also assemble foods with different tests, provide customize flower product to their customers, and display it in the shop for placing order by diverse purchasers.
Marketing Strategy
Pricing Strategy: Though it intended to offer comparatively low price of its products but some issues will create hindrance to offer low price, as a result, it will consider the following things to fix the pricing strategy:
Cost of raw materials and fuel is rising, which will increase the production costs;
Direct purchasing of food ingredients from farmer will help to offer reduce price;
First year, it has to spend huge amount of money for infrastructure development;
It will set up price by measuring risk factors, promotional costs, global economic down turn, interest of the people and skill of the staffs;
Low pay efficient designer is not available in this business but it may search low cost Indian and Bangladeshi designer;
Availability of flowers and preservation cost of these flowers will be tough for the company;
It should require to compare the pricing strategies of competitors;
It will provide fresh and high quality products with flexible price.
Promotion Strategy: In order to make the brand name familiar, "Florist Boutique + Café's" foremost requirement is to address a significant factor that is to convince people of Saudi Arabia that "Florist Boutique + Café" has came in the market with superior coffees and beverages other than existing players in the market with differentiated product like boutique. It is essential as the general perception in the Saudi Arabia market that the global leaders of this industry like Burger King, Dunkin Donuts, McDonalds and Starbucks are active in this market with high quality of coffee but to let them know that the product of "Florist Boutique + Café" is in a position to compete any of them. The Promotion Strategy of "Florist Boutique + Café" would motivation the consumers that without paying any premium they with get a sweet floweriest atmosphere to arrange their party at "Florist Boutique + Café" where boutiques would be available. In this regards "Florist Boutique + Café" would be more aggressive on the advertising campaigns to address to the public about the specialty and exceptionality of "Florist Boutique + Café" through print, electronic and visual medias and allocate sufficient budget for promotion with aim to be the leader of Saudi Arabia coffee industry.
Distribution Strategy: To make sure about the compliance with its painstaking standards, "Florist Boutique + Café" would maintain its quality supply chain from purchasing, roasting, packaging, and the distribution of coffee to its outlasts and to the home delivery to the customers. At the first opening "Florist Boutique + Café" only could get rid of it's prepare coffee in retail outlets and flower boutiques to the customers home delivery. It also supply coffee bean and ground coffees to the companies those serve in educational institutes, healthcare accounts and office as well as ready coffee distributors through automatic dispenser where the products are delivered must ensure quality and timely delivery.
The major distribution strategy of "Florist Boutique + Café" would address to capture the adopt that the corporate market and continue to selling directly to the customer and emphasize on ready-to-serve deliveries at its retail locations with a discounted offerings in different occasions and ensure more convenient distribution of its coffee to the employees and its customers where extremely high demand. In this context, company would keep its effort to develop a network of retail shops and to do so it would develop an ecommerce site to take online orders and deliver at once with own employees.
Management Team and Company Structure
Company structure: The organisational structure of "Florist Boutique + Café" will not be too complicated but it must have two separate business units for Florist boutique and café sector and chief executive officer will lie at the central power and control of both units. Three major departments of production, marketing and administration department will serve the purpose of all business sectors by dividing their activities.
Management team: Among these three departments, production department will be responsible for controlling quality of ordered food items (salad, juice, beverage, breakfast, vegan diet, sandwiches, desert and other organic menus). On the other hand, marketing or sales department is playing vital role to carry out selling and other marketing efforts including promotional activities, advertising, market research as well as other essential value creation actions such as planning for future development and risk management. However, administration department will serve multi- purpose to maintain appropriate accounting records and all financial transactions of the café to keep the restaurant free from corruption and to make future profits.
In addition, purchasing raw materials, cultivating natural food ingredients and receiving of shipments will be the main jobs of this department and other significant task is to manage the employees according to the strategic planning. As the firm is expected to have all employees that are highly professionals in flowers designs and foods, human resources management team will arrange training session to motivate the new employees, research to achieve target customer and perform out all the activities regarding salary issues, benefits, future performance, decoration, environmental condition and cultural effects.
Board of directors and advisors: In the beginning, the Board of directors and advisors includes CEO and manager of three departments but it will not include any non-executive directors. They will take all major decisions regarding management and salary issues, such as, they will expend 22,000 SR to pay salary of employees and prepare annual budget to save the firm from any fraud.
Operations Plan
General approach to operations:
Operation manager will get daily progress report by e-mail and manager will visit the location at least three times in a week;
The human resources manger will guide the employees, waiters and accountants;
It will always appreciate customer's feedback;
All partners will enthusiastically take part in operation of the business:
Both profit and loss from business will be equally shared by the partners;
All problems and threats will manage by the directors and shareholders.
Besides annual general meeting, board of directors will arrange monthly meeting to get the opinion from all members.
Business location and facilities
Recently, one of the management team surveys on the business environment, culture, flowers area of Saudi Arabia to find out appropriate location for this company. As it is intended to offer unique flowers with a café surrounded by a garden and serving good healthy food, it will recommend Al-Khobar city where citizens are kind of open minded than others area.
The café shop will be situated besides the road;
It should have car parking facilities;
Arrangement for international customers who want to come this coffee shop to get the flavor of own culture;
Provide transportation facilities;
Use national resources.
Financial plan
The financial analysis section of the plan starts with a total capital investment of SR 1300000, which is the joint contribution of three owners and ABC Bank Ltd. at 4:6 ratio of 5% annual interest rate within 15 years. Some other assumptions are as following:
Shop rental charge = SR 150,000
Starting expenditures (Decoration, lightning, painting, shop sign, electrical installations, toilets, accessories, kitchen equipments, garden needs etc.) = SR 300,000
Labor and rental charge = 40% of total expense
Marketing expenditure = 6% of total revenue
Pro- forma income statement:
| | | | | |
| --- | --- | --- | --- | --- |
| Items | Year 1 (SR) | Year 2 (SR) | Year 3 (SR) | Year 4 (SR) |
| Total revenue | 1740000 | 1855000 | 1850000 | 2050000 |
| Flowers revenue | 1200000 | 1305000 | 1400000 | 1500000 |
| Café revenue | 540000 | 550000 | 450000 | 550000 |
| Operating expenses | 1888920 | 1855000 | 1769000 | 1939000 |
| Flowers | 480000 | 473200 | 480000 | 480000 |
| Salaries | 264000 | 264000 | 217200 | 264000 |
| Grocery | 120000 | 120000 | 120000 | 120000 |
| Electricity | 4800 | 4800 | 4800 | 4800 |
| Water | 12000 | 12000 | 12000 | 12000 |
| Telephone | 6000 | 6000 | 6000 | 6000 |
| Wireless | 6000 | 6000 | 6000 | 6000 |
| Car rental | 360000 | 360000 | 360000 | 306800 |
| Labor | 348720 | 346000 | 330000 | 370000 |
| Shop rent | 150000 | 150000 | 150000 | 150000 |
| Marketing expenses | 104400 | 80000 | 80000 | 80000 |
| Interest | 39000 | 39000 | 39000 | 39000 |
| Net income | (148920) | 0 | 81000 | 111000 |
Pro- forma balance sheet
For Year 1:
| | | | |
| --- | --- | --- | --- |
| Assets | SR | Liabilities & owners equity | SR |
| Starting assets | 300000 | Capital (Bank + owners) | 1300000 |
| Other fixed assets | 200000 | Interest | 39000 |
| Cash | 301080 | Loss | (148920) |
| Bank Account | 400000 | Accounts payable | 50000 |
| Accounts Receivable | 39000 | | |
| Total | 1240080 | | 12040080 |
For Year 2:
| | | | |
| --- | --- | --- | --- |
| Assets | SR | Liabilities & owners equity | SR |
| Fixed assets | 400000 | Capital (Bank + owners) | 1300000 |
| Cash | 350000 | Interest | 39000 |
| Bank Account | 450000 | Accounts payable | 61000 |
| Accounts Receivable | 100000 | Net profit | – |
| Goodwill | 100000 | | |
| Total | 1400000 | | 1400000 |
For Year 3:
| | | | |
| --- | --- | --- | --- |
| Assets | SR | Liabilities & owners equity | SR |
| Fixed assets | 400000 | Capital (Bank + owners) | 1300000 |
| Cash | 400000 | Interest | 39000 |
| Bank Account | 430000 | Accounts payable | 30000 |
| Accounts Receivable | 120000 | Net profit | 81000 |
| Goodwill | 100000 | | |
| Total | 1450000 | | 1450000 |
For Year 4:
| | | | |
| --- | --- | --- | --- |
| Assets | SR | Liabilities & owners equity | SR |
| Fixed assets | 500000 | Capital (Bank + owners) | 1300000 |
| Cash | 350000 | Interest | 39000 |
| Bank Account | 400000 | Accounts payable | 50000 |
| Accounts Receivable | 150000 | Net profit | 111000 |
| Goodwill | 100000 | | |
| Total | 1500000 | | 1500000 |
Pro- forma cash flows
Items
Year 1
Year 2
Year 3
Year 4
Cash flows from operating activities
(148920)
(39000)
0
81000
111000
Less: Accounts receivable
(187920)
(100000)
(120000)
(150000)
Cash flows from investing activities
500000
400000
400000
500000
Cash flows from financing activities
(11000)
50000
39000
(111000)
Cash at the end of the year
301080
350000
400000
350000
Break-even analysis
After analyzing the pro- forma income statement for the projected year 1 to 2, it can be understood that at the end of the 1st year of operation, Florist Boutique + Café would fall in loss by SR 148920 with a non- financial achievement of brand equity and good reputation. Gradually, after the 2nd year of operation, the company would be able to reach at break- even point with an annual cost of SR 1855000 and annual revenue of SR 1855000 with no profit, no loss proposition, such as:
Development Plan and Risk Analysis
Development status and tasks
General action plan and marketing action scheduling will be completed before start its operation, for example:
From the second quarter of this year, it will start its promotional activities, for instance, advertisement in TV, internet and new paper;
As it is expected to make profit from second year, it will consider cost effective strategies;
It will complete to employ designers, employees and waiters within April 2010;
It will offer 5 to 10% discounts for regular customer in December 2010;
From second year, it will obviously generate positive revenue from flowers and café.
Challenges and risks
The "Florist Boutique + Café" has to suffer a lot of challenges such as:
Initial capital or investment for the formation of the company is not sufficient to compete in the industry from very beginning;
Comparing large café of Saudi Arabia and international market, it can assume that the budget for marketing programs is inadequate to provide a clear and different idea about the café shop;
Long term global financial crisis effects the buying power of the customers;
Primarily it is not possible for "Florist Boutique + Café" to entertain a large number of customers as well as letting big- sized parties due to shortage of standard space;
There are many multinational competitors operating its business in Saudi Arab on diversified way to accomplish customer attention where "Florist Boutique + Café" has many attractive options and plans such as low music and flower supply but it has not enough experience to implement these strategies.
A number of measures can be taken to prevent such risks, for example:
It should recruit more creative employees to develop florist boutique sector;
The problem of capital can be solved by converting of ownership from partnership to Limited Liability Company (LLC) or joint venture with large company or from bank loan;
It should more emphasis on organic food items as these type of foods use no artificial colors and flavors, which will help to draw attention of health conscious people;
It has to properly utilize it resources to compete in this market;
It should take initiative to expand the size and capacity of the café to entertain target customers.
Reference
Asseeri, M. S. (2009). Life in Saudi Arabia. Web.
Chemingui, M. A. & Lofgren, H. (2004). Tax Policy Reform in Saudi Arabia. Web.
Florals, F. (2009). Artificial Flowers Import Business Plan (Financial Plan). Web.
Florals, F. (2009). Artificial Flowers Import Business Plan (Product). Web.
Hitt, M. A., Ireland, R. D., & Hoskisson, R. E. (2001). Strategic Management. (4th ed.) South-Western Thomson Learning.
Kotler, P., & Armstrong, G. (2006). Principles of Marketing. (11th ed.) Prentice-Hall of India Private Limited.
Rikken, M. (2007). The Cut Flowers and Foliage Market in the EU, CBI Market Survey. Web.
TDP. (2009) Coffee Kiosk Business Plan. Web.