Context
Nike Inc. is an American-based international conglomerate involved in the design, development, manufacturing, marketing, and retail of athletic apparel, shoes, equipment, accessories, and services. It is one of the most recognized sports brands in the world, also holding ownership of various other athletic merchandise and general apparel brands such as Air Jordan, Hurley Int, and Converse. Founded in 1964 as a sneaker company and adopting the name Nike in 1971 for the Greek goddess of victory, the company has expanded exponentially, having distribution and retail presence in virtually every country in the world. The company has been able to achieve overwhelming success due to effective marketing, strategic acquisitions, and pertinent branding (Nike, 2020).
On-Time Delivery!
Get your customized and
100% plagiarism-free paper
done in as little as
3 hours
Prior to the 2020 pandemic, Nike had revenues of $39.1 billion (Nike, 2019). It maintains leadership as the largest market share of the athletic apparel industry at approximately 24% and has significant leads in some categories, such as over 90% of the market share in basketball footwear (Golubeva, 2020). The scenario which creates a worldwide financial crisis may impact sales for the company significantly, given that original Nike products are above the average price in most categories, taking advantage of brand recognition and high quality. However, Nike is a forward-thinking company that is able to pivot in times of crisis. It is focused on creating value for its consumers and concentrating on long-term profit strategies, including offering more value-based products, shifting to digital direct-to-consumer sales to reduce brick-and-mortar store costs, and demonstrating continuous innovation in its products to remain ahead of the competition (Kohan, 2020). Key stakeholders for Nike Inc. are:
Customers (top priority for the company)
Employees
Shareholders
Executives and management
Suppliers and manufacturers
Communities
Governments
Shareholders
Marketing fit with the corporate and business strategy
Nike is a global corporation which utilizes a complex organizational structure. It follows a hierarchical structure but also with an embedded geographic divisional organizational structure. It has the global corporate leadership, followed by semi-autonomous geographic divisions, and finally global divisions for brand licensing and its sub-brands such as Converse and Air Jordan. However, the focus of organization is on regionalization of business strategies which promote value chains locally that are fitting for a region's consumer demand and expectations based on cultural and climate factors, especially when it comes to service and marketing. This provides the company adaptability and flexibility while creating significant consumer value (Thompson, 2020).
The company's mission statement focuses on expanding human potential by creating innovative sports apparel, but also using sustainable manufacturing practices, building inclusive and diverse teams, and making a difference in communities where the company has a direct presence (Nike, 2020). Nike is a marketing powerhouse, spending approximately $3.3 billion annually on what is known as "creating demand." Through its regional departments, Nike attempts to maximize demand and establish a foothold in the target market through popularity and recognizability of its brand as well as the quality and usefulness of its products.
In the given scenario, the multinational approach both benefits and hurts Nike as the company would face extensive decline in consumer spending while a simultaneous increase in production and shipping costs, but at the same time the diverse markets provide more sources of revenue for the company and the ability to modify strategic approaches in a targeted manner based on individual impacts of the crisis on each region.
SWOT Analysis
Porter's generic strategies – Nike adopts the differentiation strategy by offering products and services that are more attractive than competition because of leading innovation, high-quality, and effective marketing. The company is recognized for having some of the leading apparel and also pursue focus differentiation strategies in certain market segments such as basketball shoes to stave off competition.
Yes, we can!
Our experts can deliver a
custom Nike Inc.'s Marketing and Corporate & Business Strategies
paper
for only

$13.00

$11/page
Ansoff's growth strategies
Market penetration – aggressive promotion of new products in existing markets via high profile marketing campaigns.
Market development – enters new markets with the help of popular existing products and strong supply chain relationships around the world.
Product development – the company is known for investing heavily into R&D, creating high quality and in-demand apparel and accessories for both amateur and professional athletes.
Diversification – maintains a wide range of product lines in all both sports and leisure categories. Attempting to further increase diversification by offering technology and services that are associated with its products or sports in genera (i.e. step-counter based on a chip in its shoes, or application offering exercise routines with leading trainers).
Capturing environmental insights
PESTLE Analysis
The external industry analysis seen below shows that Nike faces similar influences and challenges of most multinational corporations. The public status of the company makes it vulnerable to social opinions and it must consistently demonstrate growth on behalf of shareholders. Due to its internal presence, it is reliant on stability of production and supply chains which can be impacted by everything from trade wars to climate change. Nike is dependent heavily on economic conditions which affect consumer purchasing power and sales, particularly offering non-essential, more premium products.
Porter's Five Forces
The Porter's 5 Forces analysis is used to determine the state of competition in an industry. For Nike, the competition in the industry is strong largely due presence of alternatives and low switching costs for consumers. Major brand competitors are showing similar consistency and quality to Nike as years pass. However, Nike has the brand power that they lack. On the supply side, Nike holds significant power since the company outsources all production, so suppliers are competing over lucrative contracts from Nike and seek to establish working relationships with the global giant. Since the industry is so established and competitive, effectively threats of new entrants on a global level is low unless it is some regional competition from local brands that Nike may face.
Customer insights and connections
Nike's target consumers are aged 15-45 with an interest in athletic apparel and footwear. The company targets and attracts both female and male consumers, but has a notoriously small market impact for women, particularly when it comes to its most profitable segment, the athletic footwear. Consumers are driven to purchase Nike products due to two primary factors – the quality/innovation of their offerings and the perceptual/motivational factors associated with the brand. Nike maintains one of the highest brand loyalties in the industry (41%) (Danziger, 2019). In the context of the scenario, because of these factors and due to the psychological influences discussed below, customer insights are unlikely to change. Some consumers may migrate to cheaper brands due to economic downturn, but because of high consumer loyalty, and these products are something that are purchased for one's health and fitness, there are unlikely to be major shifts.
A vital factor in consumer behavior in regard to Nike products and generally in the athletic merchandise sector is psychological. The following factors should be considered
Motivational – Nike is associated with victory, change, perseverance driven by its brilliant advertising campaign and endorsement by global sport icons such as Christiano Ronaldo, Tiger Woods, Serena Williams, and many others that have achieved immense success in their respective sports. People generally seek to imitate those that they look up to.
Perception – based on the motivational factors above, people entering Nike stores or shopping on their website are given the perception that they can achieve their athletic goals by wearing the very same apparel that athletes at the peak of their physical abilities do.
Learning – Nike benefits from effective advertising as well as word-of-mouth regarding the positive experiences and quality of the products. Consumers have various channels to learn about the brand as well as experience the benefits once purchasing the products.
Beliefs and attitudes – Consumers form a positive attitude towards the brand and generally experience the belief that Nike's products provide them with the technology and comfort to exercise effectively.
Capturing marketing insights
In its recent and ongoing transition to digitization and e-commerce, Nike has strongly invested and emphasized the importance of data. For an apparel company, Nike collects an exuberant amount of consumer data, on par with technology companies which Nike is slowly becoming. Nike has a well-developed website and e-commerce platform along with tight-knit relationships with retailers – all areas where it collects data (Petro, 2018).
Cut
15% OFF
your first order
We'll deliver a custom
Business Analysis Case Study
paper tailored to your requirements with a good discount
The focus on data has shifted the Nike business model in recent years. For decades, the company operated a retail-first model with the majority of revenue generated via wholesale (Mahdi et al., 2015). While that is still the case, from 2018 onwards as Nike developed its own direct-to-consumer initiative Nike Direct, it has increased the percentage of its own direct sales to more than $16 billion (WBR Insights, n.d.).
According to Nike, it does not sell consumer data in any form. Furthermore, Nike utilizes cybersecurity measures and collaborates with government entities when it comes to data protection. The company runs an internal training program for employees to prevent breaches and social hacking (Brettman, 2015). It has also hired former FBI employees to oversee digital security efforts. The company meets legislative standards for all its data and services. If there are violations, Nike seeks to resolve them, such as a recent warning from the Dutch Data Protection Agency regarding the Nike+ has been resolved. Most often legislation does not inhibit industry data collection as long as proper consent procedures are followed and data is protected adequately (Ng, 2019).
With its investment into digital and data collection, Nike also invested into utilizing this data. In 2019, it purchased predictive analytics firm Celect. Nike has a specific goal of attracting members to its NikePlus membership which offers a variety of fitness services but also exclusives and discounts on the Nike website, resulting in three times sales than an average guest on the website or through wholesale (Boyd, 2019). Nike collects customer data for predictive analytics purposes.
Using detailed data on consumer demands and behavior, it is able to predict future demand and optimize various internal operations such as inventory management due to hyper-localized demand predictions ensuring that customers can find, order, and purchase what they are most interested in. The big data approach in forecasting demand is highly effective for such a large-scale company as it can reduce costs significantly while creating and capturing value for the consumer resulting in better experiences and increased services while also improving customer acquisition and retention (Biswas, 2020).
In the context of the given scenario, data forecasting is invaluable from an economic perspective. Economic downturns with significant increases in costs of manufacturing and shipping will require to streamline operations. Through data analytics, Nike can streamline its product line, ensure minimum local shipping costs, and decrease costs for the company which it can pass down to consumers when the rest of the industry will be likely raising costs to meet margins.
Planning
Market segmentation
Nike utilizes traditional market segmentation which are:
Geographic – Nike runs regional corporate centers which oversee sales and marketing in respective areas of the world-based culture and lifestyle habits.
Demographic – the company separates its apparel by gender when applicable. For different products and sports, it targets different age groups. Nike also segments consumers by financial status, offering both premium and value products.
Psychographic – Nike offers a wide variety of products to consumers based on interests. There are shoes, apparel/clothing, equipment, accessories, and services among other categories.
Behavioral – Nike segments consumers based on their behavior and lifestyle – offering both activewear as well as simply comfortable clothing.
Corporate strategy is focused on broad appeal and strong market share penetration in multiple categories. The scenario may have limited impact as Nike modifies its offerings in psychographic and behavioral segmentations based on demand but should not impact geographic or demographic segmentation unless there are critical regional economic shifts.
Get a custom-written paper
For only
$13.00
$11/page
you can get a
custom-written academic paper
according to your instructions
Targeting
Due to the range of products and services that Nike offers, differentiated (segmented) marketing is the best approach. It targets different market segments, usually with separate messaging and offers for each, which is viable when the company such as Nike holds distinct categories such as footwear, athletic apparel and accessories, and equipment/services. These are distinct product categories each with their nuances. Although Nike does use some undifferentiated (mass) marketing strategies as well, these are aimed at general brand awareness, while concentrated niche marketing is rarely utilized for very unique products such as basketball shoes.
Branding and positioning
The Nike Swoosh logo and the trademark slogan "Just Do It" are universally recognized trademarks, which along with sponsorships and endorsements of high-profile athletes and sports teams around the world, bring the company unprecedented recognition that few companies in any sector can claim. Nike is synonymous with sport and athleticism, often deriving associations of quality and performance. In its marketing, Nike rarely sells products, it sells a story, an experience, or a movement that generates aspiration as well as word-of-mouth excitement. This effectively drives the company sales regarding of the socioeconomic situation in the world, as people strive to wear the same clothing and brand as their favorite sports icons for the experience of feeling competitive and confident. Combined with a reputation of quality and innovation for Nike, consumers enjoy the forward-thinking technologies that the company introduces in its various products.
Perceptual Map
Define target market – those seeking high quality performance athletic apparel.
Identify competition – There are smaller athletic apparel companies such as Adidas, Puma, Under Armour, and Asics as well as more targeted segment companies such as New Balance that focus on footwear as the majority of the business.
Determine points of difference – Nike has a presence in all sports and virtually every athletic-related category. Also point of difference in technology, with innovations that competitors still struggle to match.
Perceptual map.
Nike consistently outranks competition in consumer perception, remaining at the top of the sportswear industry. Nike ranks first in consumer perception of innovation and fashion, being a leader in all viable categories for consumers.
Selection of marketing strategy
A comprehensive marketing strategy allows to guide a company's vision, direction, and objectives. So far Nike has maintained a product and sales-oriented strategies, which should remain its strong points. However, the company is undergoing rapid change in the context of changing market, societal, and environmental forces. Nike has recognized that market orientation which allows it to identify, respond, and meet customer needs is the next step in its marketing strategy to further increase sales and market share. That includes expanding its Nike Consumer Experience (NCX) direct-to-consumer network and streamlining distribution.
Nike plans to cut down distribution from over 200 retailers to just the top most trusted 40, as well as streamline offerings by 25% to focus on innovation and offering consumers what they need (Danziger, 2018). The company has and continues to invest heavily into organizational structure and infrastructure for consumer feedback and building long-term relationships that capitalize on the brand loyalty and perception.
Implementation
Integrated marketing mix
The integrated marketing mix is an established marketing strategy tool which seeks to categorize and classify areas of focus for a comprehensive marketing plan. An effective marketing approach aims to address multiple areas rather than fixating on one message. Therefore, by utilizing the marketing mix, marketers can reach a wider audience while still maintaining a focus for the campaign and make strategic decisions (Kenton, 2020). In multinational conglomerate such as Nike which simultaneously runs multiple marketing campaigns, utilizing the marketing mix helps to selectively target key demographics and markets to generate best response and sales.
Product
Core benefit – Ability for maximized athletic performance with quality and style
Generic product – Basic cotton or synthetic shirt, shorts/pants, and sneakers
Expected product – A high quality performance sportswear or equipment that is enhancing and stylish.
Augmented product – Nike offers high technical athletic performance through use of specific materials (lightweight and aerodynamic) and technologies (i.e. better perspiration control or shoes that can better propel a runner) in some of its products.
Potential product – Nike does and plans to offer more services for its technology related products, especially as some highly technological products are entering the market. There are now some clothing, shoes, and sports equipment which can communicate with smartphone applications to aid the user in monitoring their health and physical activity. As this new segment expands, the company will be able to enhance service and features for existing consumers
Nike focuses on developing, manufacturing, and selling athletic products. Therefore, consumers are looking for apparel and equipment which is beneficial to their athletic performance either through comfort, technology, and material, but also maintaining the latest styles in physical appearance. Quality and appeal are primary elements of Nike products that generate demand, requiring consistent innovation, modernization, and renewal of its product lines.
Price
Nike has defined itself through quality and innovation. Although the majority of its products are not luxury (outside of minor exclusives), it maintains relatively high prices for a majority of its products. Nike is typically more expensive than its competitors. Price setting should depend on product as well as economic contexts. Nike usually modifies prices regionally according to buying power of consumers, with Western nations seeing the highest due to profitability opportunities and brand name recognition. However, because of manufacturing capabilities of the company and a wide range of products it offers, it does offer more value-based options as well, especially with older product lines and technologies (Haque, n.d.). The company should not drastically modify its pricing strategy as it currently stands since it is both representative of the quality and innovation that is invested but remains within acceptable spending limits of the majority of middle-class consumers for these types of goods.
Place
Nike utilizes largely 0-level e-commerce or its own store selling of its products direct to consumers as well as 1-level where it ships its products to various retailers such as sporting goods stores. Nike sells to retailers through a combination of EDI and e-commerce, serving as a wholesaler itself as the company does not manufacture the products themselves but contract out other manufacturers. Strategic considerations for channel choice is to increase growth in sales and improvement of the company's market share. Nike should also strive to achieve of structured pattern of distribution and create an efficient channel.
For example, as in-store sales in its locations have declined over the years, Nike has invested heavily in its direct-to-consumer e-commerce model, modifying its supply chains and retail options to be widely available via this channel in its most profitable regions (Oberoi, 2020). The company utilizes an intensive channel distribution intensity due to the demand and popularity of its products.
Promotion
Nike typically utilizes both push and pull marketing channels with an emphasis on pull, in a multichannel environment. It uses a significant number of push advertisements both digitally and through traditional media as well as selling its products in retail. However, these are not intrusive and often welcomed as Nike advertisements are often seen as 'inspirational' and involve messaging or sports stars that people enjoy seeing, making them more of a 'pull' technique as the emotional reaction of viewers actually draws them to search for Nike offerings. However, Nike employs a number of pull marketing methods as well. It sponsors a huge number of elite athletes which promote and endorse Nike products, drawing consumers to seek them out for purchasing as well. Nike also utilizes social media advertising, by posting unique technological products (i.e. self-tying shoe) that intrigues consumers.
Nike also entices consumers through its services on digital apps which then get consumers the association between athletics and the company, pushing them to search for the products (Sattar, n.d.). This combination of push and pull has been highly effective for Nike for a long time and strategically draws consumers to seek out the company's products because they are synonymous with athleticism and inspiration.
Extended 4 Ps
In terms of extended Ps that are relevant to Nike's marketing mix, people also serve an important role. Athletes are critical to supporting the brand image. Both professional and amateur athletes utilize Nike products, endorsing them both for sponsorships as well as publicly voicing support due to the quality. Nike employees, particularly designers and researchers who continuously create iterations of new products which are effective, innovative, and appealing – these are key to the company's success.
Processes should also be considered in the context of the marketing mix. As mentioned previously, e-commerce and direct-to-consumer sales are the primary distribution channels in 2021, and as more and more people transition to online shopping and away from brick-and-mortar stores – processes of sales, payment, distribution, and customer service have to be improved for quality and stability (Thomas, 2020). The presented scenario would likely have little impact on Nike's marketing mix as it is a strategy it has successfully utilized for decades, through crises, simply adapting when necessary. It would be more strategically effective in all areas to transition focus to more value-based goods and services to account for decreased spending power of consumers while retaining the prestige and quality of the brand to the best extent.
Feedback and Control
Monitoring and control of strategic marketing activities
Nike should continue to focus on its digital transformation which is a significant overhaul of the company's systems, business model, and marketing/retail strategy. In the context of the scenario digital transformation is effective as it serves to optimize all elements of the company's operations and reduce costs for the company that can be passed down to consumer. Furthermore, it meets the company's strategic mission of enhancement of human potential as well as sustainability.
Nike should set quarterly goals for each of its regional affiliates and measure performance of sales. Nike also maintains a high commitment to "consumer first" approach – conducting focus groups, surveys, and marketing studies on a consistent basis. This serves to provide critical information on customer satisfaction, response to new products, and other statistics such as customer acquisition costs. Nike leverages its technology platforms of its services and digital retail to collect and monitor data for access to and with its customers that few other brands have (Petro, 2016). By monitoring the "sense" of the market, Nike is then able to make appropriate changes alongside other back-end metrics it collects and provide the most optimal output in terms of products and cost.
In digital environment, the following metrics should be monitored to ensure the strategic marketing plan is effective:
Viewership metrics – early-stage interaction, and may include website traffic, reengagement, time spent shopping for Nike products.
Engagement metrics – actions and interactions with marketing material. It allows to evaluate effectiveness of marketing campaigns, customer acquisition costs, sentiment of the audience towards marketing content.
Lead-based metrics – these are known as inputs, defining the action necessary to achieve the goal with the measurable outcome. Some key metrics in this category include click through rate, conversion rates, cost per lead, and return on investment.
Sales metrics – these are the traditional metrics which allow marketing teams to understand which strategies led to revenue creation for the company. These help to identify the most profitable paths across the inbound marketing funnel. Sales metrics define performance but also demonstrate for the company which products or categories are most in-demand or profitable.
A marketing dashboard should be designed with these key categories in mind, with dedicated tabs for each providing the various sub-metrics. These categories represent a gradual process which a consumer undergoes through a inbound marketing tunnel after exposure to marketing from the company, with the objective leading to sales. With the majority of advertising and sales being done digitally in modern day, these metrics are much easier to collect and monitor to determine effectiveness of marketing efforts in transitioning the consumer to a sale.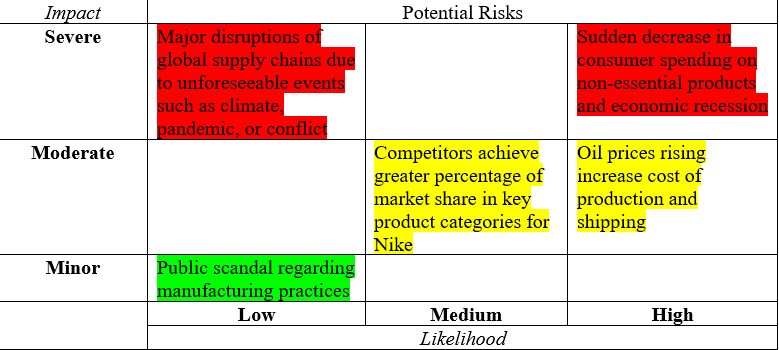 Reference List
Biswas, S. (2020) Nike – just do it with data science and demand sensing. Harvard Business School. Web.
Boyd, C. (2020) How Nike uses predictive analytics. The Startup. Web.
Brettman, A. (2015) Nike pushes security, wants employees to 'Keep It Tight'. The Oregonian. Web.
Danziger, P. N. (2018) Nike's new consumer experience distribution strategy hits the ground running. Forbes. Web.
Danziger, P. N. (2020) Nike outranks Adidas, Under Armour And Lululemon where it counts most: consumer perception. Forbes. Web.
Golubeva, H. (2020) Just do it: what we can learn from Nike's $39b marketing strategy. Single Grain. Web.
Haque, F. (n.d.) Pricing strategies of Nike. The Strategy Watch. Web.
Kenton, W. (2020) Marketing mix. Investopedia. Web.
Kohan, S. E. (2020) NIKE sales drop 38% but leadership is not concerned. Forbes. Web.
Lutz, A. (2015) Nike is going after 3 kinds of customers. Insider. Web.
Mahdi, H. A., Abbas, M., Mazar, T. I. & George, S. (2015) 'A comparative analysis of strategies and business models of Nike, Inc. and Adidas Group with special reference to competitive advantage in the context of a dynamic and competitive environment ', International Journal of Business Management and Economic Research, 6(3). Web.
Nike. (2019) NIKE, INC. reports fiscal 2019 fourth quarter and full year results. Nike Investors. Web.
Nike. (2020) Company profile. Nike Company. Web.
Ng, A. (2019) With smart sneakers, privacy risks take a great leap. CNET. Web.
Oberoi, M. (2020) Analyzing Nike's distribution channels and retail strategy. Market Realist. Web.
Petro, G. (2016) Nike just does it – keeping an eye on the customer. Forbes. Web.
Sattar, S. B. (2020) Promotional strategy of Nike. The Strategy Watch. Web.
Thomas, l. (2020) Nike's online business is booming — 'digital is here to stay,' CEO says. CNBC. Web.
Thompson, A. (2019) Nike Inc. organizational structure characteristics (analysis). Panmore Institute. Web.
WBR Insights. (2020) Company profile. NGCX. Web.