Being a leader in the automobile industry, it is argued that a company like Toyota Motor Corporation gets 60% of all their innovation out of the supply chain. The key is in distinguishing processes included in the Toyota Production System (TPS), a "benchmark used throughout the world as the foundation for "lean thinking" (Iyer et al., 2009, p.5). The elements of the system included new approaches toward working with the suppliers, where Toyota collaborated with a few suppliers, whom the company made as a part of the team. In that regard, the company used a multilevel system of supply, where the manufacturer worked with a limited number of tier one suppliers. In turn, they collaborated with a limited number of suppliers of the second tier, and so on, and so forth. Accordingly, the company set partnerships with their suppliers, which can be seen through the creation of joint ventures and the selection of local suppliers at the time of setting manufacturing operations in North America (Harvard Business School. Press., 2006, p.29). One of the main principles is the usage of a pull strategy, where the order of manufacturing of the final product "pulled" the components and the parts through the whole chain of suppliers (Iyer et al., 2009, p.153).
Another distinguishing factor in the supply chain is the reduction of cycle time. Despite being revolutionized by Henry Ford, the impetus of the innovation of cycle time reduction came in TPS. In terms of supply chain the latter can be seen in such developed concepts such as just-in-time, in short describes a strategy of "right part, right amount, right time", which allows the reduction of inventories and increasing the efficiency of all processes. The latter is consistent throughout the stages of the supply chain as well as across products, services, processes, hierarchical levels, etc.
Ford Motor Company is also well known as an example of excellent supply chain strategies and production activities. In that regard, it should be stated that some of the ideas of supply chain processes were pioneered in the company, although later abandoned, modified or restructured. Analyzing the supply chain in Ford Motors, the period after 1990 should be specified, as it was the period in which the company started decreasing the number of direct suppliers. In that regard, it can be stated that the subset of suppliers, divided into tiers is similar to that of Toyota, where the "tier one" suppliers were the ones the company was dealing with directly. The similarity to the Toyota system can be extended to the production system, namely Ford Production System (FPS). The system was "modeled roughly" on TPS, developed with the aim of making the manufacturing process "leaner, more responsive, and more efficient" (Austin, 2001, p.4). Despite similarities, it can be stated that there are distinguishing differences in each of the components of the supply chain in Ford and Toyota. One of the striking differences can be seen in the practices stemming from the relationship with suppliers. Ford Company, as well as other companies forming the BIG Three in the US, does not have the same long term commitment to their suppliers, where the online reverse auctions to get the lowest price for components can be seen as an example of such relationships (Harvard Business School. Press., 2006, p.27).
Another distinguishing process in Ford supply chain can be seen in Synchronous Material Flow (SMF), which can be defined as a process or system that produces a continuous flow of material and products driven by a sequenced, and leveled vehicle schedule, utilizing flexibility and lean manufacturing concepts (Austin, 2001, p.4). The latter can be seen as a development of Model T assembly line (Cohen and Roussel, 2005, p x), where the sequencing of labor's responsibility was substituted by the SMF. Bennett and O'Kane demonstrated this flow of material by the following diagram:
Another supply chain process can be seen in Order to Delivery (OTD), where the company managed to establish the bottlenecks through the supply chain and forecast the demand in order to significantly reduce the time between order and delivery.
Procurement strategies of Ford and Toyota
Ford Motor Company is currently the second largest automaker in the U.S. With procurement activities they spend about 60% of their overall cost in purchasing raw materials and basic motor vehicle parts (Hill C, 2000). Those procurement activities are mainly done in countries of Canada, Japan, Mexico, Germany and Brazil. The procurement strategy which they have employed is to purchase materials in a global basis, starting in the early 1970s. They focused on assessing the suppliers over the world to find companies who provide the highest quality, highest technology and lowest cost materials. The raw materials and basic motor vehicle parts are leverage items which the profit impact is high and the supply risk is low. This means that there are many suppliers and a small percentage of cost savings will have a large impact on the bottom line. Ford select their suppliers in a global manner and can take advantage of the cost competition by suppliers worldwide. Moreover, when acquiring materials from local suppliers Ford can minimize the transportation costs thus reduce the total cost.
Nevertheless, Ford for the past five years has been aggressively consolidating its supplier base, decreasing the number of suppliers, and cut down the presence of excess capacity. Especially since the global financial crisis that hit the automotive industry heavily, demand was deflated and almost 60 suppliers filed for bankruptcy in 2009, approximately 200 stopped operations completely. (Hoffman, 2010) Ford will be offering major new business to about 850 suppliers this year, compared to 3,300 at the end of 2004. It is apparent that Ford is building consolidated relationship with suppliers and aiming to achieve shared development – coincidental with the strategy that has long been adapted by Toyota Motor Co.
Toyota Motor Corporation has been commonly perceived by suppliers to be the most rewarding to work with. (Whitbread, 2009) They purchase raw materials and basic motor vehicle parts most from domestic suppliers in Japan. Therefore they would have relatively less suppliers than Ford Motor Company. With limited and focused suppliers they can get better control of the quality as well as other features of the materials. The University of Michigan Professor Liker summarized the following as management of suppliers the "Toyota Way":
Suppliers are extensions of Toyota (more than "buying parts")
Select with same care as own associates
Develop like own associates
Long-term partnership
Tier structure: Levels of responsibility
Strict cost targets and timing
Integrated systems (JIT, product development systems)
Toyota focuses on long term partnerships with their suppliers. They seek cost reduction by cooperating with their suppliers rather than cutting down the profits of the suppliers through their competitions which is the way that Ford uses. The benefit of this procurement strategy is to guarantee and increase the quality credibility of the materials through focusing supplier partnership. By cooperation would also motivate the suppliers targeting the same strategic goals as Toyota. However, recently due to the rapid and high increase in the global market share by Toyota, they started to employ many international local suppliers to fit their procurement needs. By changing their classic strategy they have less control over its supplies thus may raise some potential problems. 'As of January 28, 2010, Toyota had announced recalls of approximately 5.2 million vehicles for the pedal entrapment/floor mat problem, and an additional 2.3 million vehicles for the accelerator pedal problem.' (Sheehan, Tim, 2010). This implies the quality creditability of its products broke down.
Outsourcing
Toyota outsources over 70% of their vehicle content nowadays (Hill C, 2000). Outsourcing involves subcontracting a process such as product design, R&D, manufacturing and marketing or transfer of management to an entire third person or a third party provider (Simchi-Levi, D., 2008). They outsourced most of the transmission components and vehicle electronic systems. However, they produce the engines internally because they have knowledge and capacity over this to gain competitive advantage and also this component is relatively strategically important thus is risky to outsource. The primary reason why Toyota outsources is that Toyota is a master of cost reduction internally and they expects its suppliers to master this discipline as well. By outsourcing Toyota can obtain the benefit from Economies of Scale. 'An important objective in outsourcing is to reduce manufacturing costs through the aggregation of orders from many different buyers. Indeed, the aggregation allows suppliers to take advantage of economies of scale, both in purchasing and in manufacturing.' (Simchi-Levi, D., 2008). The second reason is to focus on strategy and core functions while also avoiding heavy investments. The tactical part of function-distribution would enable the management to focus on strategy-related issues like market positioning and product development in return. Moreover, acquiring increased market share requires a support mechanism for function overloads. Converting fixed costs into variable costs as well as driving the performance ratios improved the profitability of the business as a whole.
Like the most American automakers such as GM, Ford Motor Company produce most of the components internally. With in-source produce, one advantage is that Ford has the ability to introduce new designs based on their own agenda rather than the supplier's agenda. The other reason is that outsourcing the manufacturing of various components to different suppliers may prevent the development of new insights, innovations, and solutions that typically require cross-functional teamwork. However, by realizing the advantages of outsourcing, Ford has developed some outsourcing strategy to maintain its market competitiveness. In 2006, Ford Motor Company has decided to outsource services in the field of IT, engineering and components in India. Outsourcing to India is one of the most popular management practices today. Substantial costs savings are between 30%-50% (Brinkley, 2007).
Compare the alliance strategy between Toyota and Ford
Toyota Motor Corporation acquires cost, quality and time advantages in the car market by strategic alliance with its major suppliers. The main suppliers include Denso Corporation and Aisin Seiki Corporation. Firstly, Aisin Seiki Corporation is a Japanese corporation which develops and produces components and systems for the automotive industry. Aisin is a Fortune Global 500 company, ranked 347 on the 2007 rankings (Liker, 2004). In the automaker industry, the major components of cars are modular products. Aisin aims to create a best manufacturing and supply system in the industry and use Economics of Scale to reduce their production costs. By strategic alliance between Toyota and Aisin, Toyota could not only reduce the manufacturing risks but also acquire low cost materials therefore reduce their overall costs.
Secondly, the cars of Toyota are well known of its quality. In order to maintain good quality, part of the contribution is from the excellent performance in innovation, manufacturing and creditability of its major suppliers. Toyota treats their suppliers as their strategic partner and let the suppliers grow together with Toyota as well as keep learning the Toyota way of production. By sharing the same strategic goals with its suppliers Toyota guarantees the quality of their products.
Moreover, due to the intense competition of the global market, the product life cycle is getting shorter and new substitution products come quickly. Thus time management becomes a significant issue. Toyota's Just In Time production strategy largely rely on the support by its suppliers. From strategic alliance with its suppliers Toyota can improve their time management through quick response strategy. In a basic quick response strategy, suppliers receive POS data from retailers and use this information to synchronize their production and inventory activities with actual sales at the retailer. In this strategy, the retailer still prepares individual orders, but the POS data are used by the supplier to improve forecasting and scheduling and to reduce lead time (Simchi-Levi, D., 2008). Partnering with Toyota, Toyota demands of timeliness, innovation, quality and cost reduction. What Toyota offers its suppliers is to innovate the product design through value engineering. Because Toyota responds to supplier concerns with integrity and capability, it has established a great level of professional trust with its suppliers and also through developing a sophisticated system that encompasses people, processes, tools and technology and extends to all partners in lean enterprise.
Ford Motor Company also applies Retailer-Supplier Partnerships in some level. However, unlike the way that Toyota is using which has very transparent information sharing with their suppliers, Ford does not share much information with their suppliers. They want to avoid the risk of leaking out their product design and sales forecasting information to other automaker competitors. This also result that the suppliers of Ford hide the accounting data to avoid Ford changing their offering price.
Moreover, Ford Motor Company uses third-party logistics as their strategic partner. 3PL relationships are typically more complex than traditional logistics supplier relationships: they are true strategic alliances (Simchi-Levi, D., 2008). 'On June 30, 2009 – UPS announced it has extended its contract with Ford Motor Company to continue providing logistics services for the delivery of new cars to dealers.' (Dolan, 2009). Through this contract, UPS assists in the management of Ford Motor Company's North American outbound finished vehicle distribution network, shipping Ford's finished vehicles from assembly plants to dealerships in the United States, Canada and Mexico. While the nation's automotive industry is currently undergoing a dramatic upheaval, UPS's finished vehicle logistics model effectively reduces costs for manufacturers such as Ford. UPS has been working with Ford since 2000 and has provided improved transit times while lowering logistics costs (Dolan, 2009). Other than cost saving, Ford can focus on their core strength rather than trying to control everything, avoid heavy investment on transportation, and enjoy the professional logistic service expertise while having flexibility and reliability at the same time.
Challenges brought in by globalisation
With a growing pace of globalisation, the pressure on establishing effective and efficient global supply chain follows. According to the IBM Global CEO Study 2008, the automotive is the second most global industry – first being electronics. Consequently, the auto industry faces very significant influence of such pressure. Two of the major issues that supply chain executives come to realize are quality and delivery reliability. Although they are known obstacles as a result of globalisation to most industries, it seems to be more problematic to the automotive.
Visibility issues
The lack of transparency along the supply chain has been raised as a common predicament. Limited exchange of information occurs between adjacent entities in a network. For instance, a supplier may have no real-time information on the rate of sale on retail or manufacturing levels of the supply chain, hence only base its delivery on periodic orders from down the supply chain. Each member of the supply chain is disconnected, and cannot make decisions collaboratively.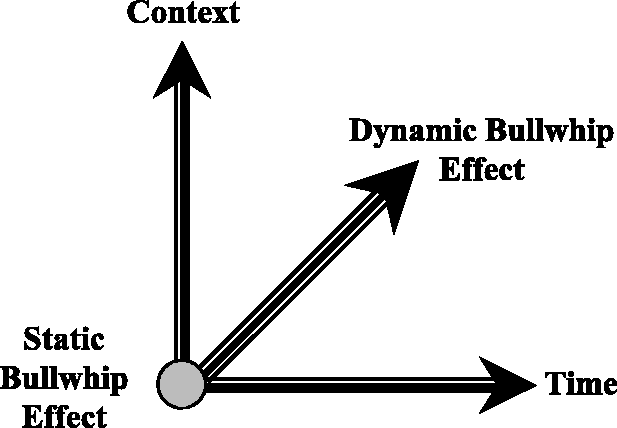 The above diagram shows that this impact is significant for the auto industry since car makers have a wide based multiple tiers of suppliers, often located around the world. High volume and variety of parts and material further enhances complexity. Visibility will be further distorted by the presence of the bullwhip effect (Lee, Hau, V. Padmanabhan and Seungjin Whang, 1997) that can magnify small changes in marketplace demand as it moves back up the supply chain.
In order to overcome the difficulty of geographical span of the global production network, Ford has utilized the Internet to exchange information in real-time. The information on material movement and production planning data is shared with its suppliers and outsource partners. (Hoffman, 2001)
Ford and its supply chain management solution provider, SynQuest, derived the Inbound Planning Engine (IPE), which provides integrated collaboration on the inbound side of the automaker's production networks. IPE is a revolutionary solution for global supply chain, which sifts through and evaluates a vast range of factors to instantaneously produce an optimized logistics plan. (Hoffman, 2001) IPE provides Ford with a more active and integrated solution, in place of the traditional sequence-based decision-making processes, which no longer satisfies the complexity of globalisation.
Toyota has set an example for the entire auto industry with its lean manufacturing and just-in-time inventory policy, which relies on its suppliers for quick response and quality control. Toyota has also been praised for its long-term commitment and collaboration with its suppliers, by planning ahead and building trust along the supply chain, Toyota is able to enhance transparency and sharing of information. Each member of the supply chain is committed to the identical Toyota alliance. Collaborative decisions are made and each member benefit from this partnership financially and technically. Toyota's strategy had been proven to be very successful and widely adapted by other companies.
However, it is argued that Toyota's rapid globalization may have seeded the potential danger in Toyota's production. (Cornish, 2010) When giving his opening statement before the House Commerce Oversight Committee hearing in February 2010, Toyota President Aiko Toyoda states "the speed of Toyota's recent expansion may have been too quick". As discussed above, the stretch of complexity clearly grew beyond Toyota's control. Safety control oversight was not undertaken cautiously. Safety problems on acceleration and brake panels came unnoticed and brought Toyota into deep crisis, followed by more than 8 million recalls worldwide. In response to that, Toyota aims to ensure that management truly takes responsibility, listen more closely to its customers, and response quickly to any problems that were raised. (BBC News, 2010) This incident again addresses the importance of visibility in the supply chain for all auto makers in the process of globalisation.
Fragmentation of customer demand
Over the booming years of automotive industry, styles and models of cars have increased substantially. Customers now have more choices, varying preferences and requirement for higher extent personalization. Competitions from around the world also added to this challenge. In particular with the rise of energy price, as well as the increasing emphasis for environmentally friendly cars, hybrid vehicles have become the focus of future R&D. As a result, the automotive supply chain is growing more complex and difficult to manage than ever before.
In order to satisfy the more diversified demand of customers, both Toyota and Ford have been creating new models that are fuel efficient and environmentally friendly.
Toyota is a pioneer company to push hybrid vehicles in the market and the first to commercially mass-produce such vehicles, with a signature model being the Toyota Prius. Such technology in Toyota cars is labelled as "Hybrid Synergy Drive" and in Lexus versions as "Lexus Hybrid Drive." Toyota is currently testing its "Toyota Plug-in HV" in Japan, the United States, and Europe. This model has even less impact on the environment than the existing hybrids. Ford has also introduced Ford Fusion Hybrid and small cars such as Fiesta and Focus, in response to the increasing demand for sustainable vehicles. Ford Fiesta ECOnetic offers an alternative at a time when more people are looking for a cost-effective way to go greener. Researches show that the market for green cars is heating up. Car makers are urged to be more innovative in offering of energy efficient vehicle in order to meet the growing demand.
Accelerated Volatility/ risk management
The year 2009 had been a volatile and vicious year for the entire automotive industry. With the catastrophic impact of global financial crisis and the tightening of debt market, many a companies have experienced decrease in sales volume, financial loss or even bankrupt reform.
"In today's uncertain and turbulent markets, supply chain vulnerability has become an issue of significance for many companies." As discussed above, the supply chain has become more complex as a result of global sourcing and wider adaption of lean production, supply chain risk increases. (Martin Christopher and Helen Peck, resilient supply chain) Georgia Institute of Technology Professor Vinod Singhal and University of Western Ontario Associate Professor Kevin Hendricks staged that it takes at least two years or more for a company to recover from a supply chain failure. (Bosman)
Ford simplifies its business structure in response to the uncertainty of today's market. Through selling of the costly brands that no longer generate profit, such as Volvo, Aston Martin, Mazda, Jaguar and Land Rover, Ford strives to focus on the integration of the Ford brand internationally and strive for profitable growth. Ford sets its general direction as altering the business structures to eliminate complexity that hinders competitiveness and strangles innovation.
Toyota tackles risk by first evaluating a new project realistically, avoiding any human tendency of being overly optimistic about the odds of success. During the early stage of development of Prius in 1993, the estimated odds for success ware merely 5% for this benchmark model. (Slywotzky) Secondly Toyota ensures its production efficiency with many teams of professional engineers who are fully trained to carry out the Toyota philosophy of high standards. Thirdly, Toyota emphasises on long-term planning with every project, making sure that predicable errors are avoided, and all waste is eliminated.
Competition
On March 28th, 2010, Zhejiang Geely Holding Group signed a binding deal with Ford Motor Co. to buy its Volvo Cars unit for $1.8 billion. This marks a significant progress in global expansion for the Chinese carmaker, whose goal is to explore the European market. The surge in demand for cars in Asia and other developing countries has attracted more and more entries to the market. Chery from China and Tata from India have gradually developed beyond their local market, expanding their networks to the US and Europe.
The increasing competition across country borders need to be addressed with a more effective supply chain, in order to gain competitive advantage, especially by utilising home country advantage, effectively cut cost and improve efficiency in procurement, to maintain a steady market share. Ford has recently announced that it will shift its hybrid electric battery pack facility to the Michigan Assembly Plant, from the original location of Mexico. Ford was provided with $188 million as a tax incentive from the government, since the assembly plant is likely to bring more jobs and investment to the state. (Snavely, 2010) This relocation also will significantly cut cost and optimise logistics, given the fact that hybrid battery packs are heavy and expensive to transport.
On the other hand, Toyota has also developed a "learn local, act global" strategy for international business development. Shifting from simple transfer of knowledge directly from Japan and use it in foreign subsidiaries, Toyota has expanded international competiveness by connecting and communicating with local staff. This strategy eventually turned Toyota "from simply being a global projector to a truly multinational company". (Ichijo & Kohlbacher, 2007)
Sustainability in supply chain
The increasing emphasis on sustainability is bringing significant changes to the automotive industry. In particular, the pushing of emission-level targets will reshape the car-making industry, including areas such as R&D and manufacturing. (Schwarz, 2008) "The automotive industry must introduce more fuel-efficient vehicles in order to meet the challenges of diminishing oil reserves, global warming and a desire by customers to spend less money on gas." Said Bill Ford on the closing of SAE world congress. (Snavely, 2010)
Ford has a global corporate initiative to implement environmental management systems in all operations. Ford Motor Company was the first global automaker to certify all its manufacturing facilities around the globe to ISO 14001 standard, which it achieved in 1998. With extensive support for its suppliers, Ford also listed the following benefits at the Green Procurement Forum 2004.
Elevated supplier performance
Provides a mechanism for handling Ford's requests such as to use returnable dunnage
Increased lifecycle approach
Ensures a sustainable supply base for Ford –sites with an EMS are less likely to be subject to legal proceedings or closed down.
Cost savings –resource use & waste
Meets other Auto manufacturers requirements
Besides, Ford has provided resources to raise staff awareness, established the Restricted Substance Management Standard (RSMS), work with European OEM's to develop an web-based reporting tool – the International Materials Data System (IMDS) – while engaging each tier of suppliers. Ford Motor Co. had recently gained a LEED Certified rating for its 300,000-sq.-ft. Premier Automotive Group's North American headquarters in nearby Irvine-the first LEED 2.0 project in Southern California.
Toyota's production process – as introduced above – is distinguished from its counterparts with its reduction of cycle time. The means to achieve this is through the adaption of the core concept of "lean" policy, while any waste should be eliminated. Fujio Cho of Toyota once described "waste" as "Anything other than the minimum amount of equipment, space and worker's time, which are absolutely essential to add value to the product." This concept not only shortens lead time, but also complies with its requirement of sustainability. The University of Michigan Professor Jeffrey K. Liker illustrated this elimination of waste as below.
Toyota has always worked towards complying its sustainability policy of Earth Charter guidelines, established in 1992, which call for the company to reduce its impact on the environment in every aspect of its business. In 2005, a five year Environment Plan was developed and had been carried out through the subsequent years. The annual Sustainability Report summarises all the contribution and progress Toyota has made.
Integrated with the culture of TPS, Toyota works to achieve business sustainability in 3P's (Mariano, 2009). Toyota bases its decisions on long-term development, even at the expense of short-time financial cost. This is the essential concept of sustainability.
Competitive Advantage
Toyota's main strategy is based on the supply cooperation, which is demonstrated through their just-in-time production management. Accordingly, such strategy allows manufacturers to make supply lines shorter, and as a result, the parts can move to the assembly process faster (Rangaraj, 2009, p.122). The dimensions through which supply chain management affects the company's competitive advantages are numerous. There are direct and indirect contributions of Toyota's strategy on performance. The direct contributions are evident through statistical numbers reflecting the position of the company among other manufacturers. Such statistics include the output of lean and non-lean automobile manufacturers, which if turned into contribution to revenues, shows that the sales per employee from the period 1983 to 2000 Toyota led the charts among other companies. Additionally, Fortune stated that the company's sustained competitive advantage "is directly attributable to the precision with which Toyota has been able to schedule and co-ordinate the activities of its network of 300 components suppliers" (Vaghefi, 2001). One of the elements of competitive advantage is the orientation on customers, where the reduction of cycle time provides the flexibility to respond to customers' needs (Vaghefi, 2001).
The main principle of the lean system initiated by Toyota is the reduction waste in the production system. In that regard, the reduction of waste at the various stages of the supply chain, and thus, such optimization allows for a reduction of costs and defect levels at each stage-tier of the supply chain. In terms of cost reduction, this fact can be evident through a comparison of supply base between Toyota and US companies such as Ford and GM. The supply base of Toyota is only 190, which is managed by a supply management staff of 185 (Bhote, 2003, p.149). The base is 2,000 at GM and over 1,500 at Ford, which are managed by a staff of 4,000 and 2,000 respectively. The striking difference in costs is a competitive advantage, achieved through effective management of the supply chain. Additionally, the low defect levels resulting from such optimization can indirectly influence the company's competitive advantage, mainly as a brand asset accompanying the Toyota's products and increasing their sales.
Ford's philosophy, on the other hand, lies in focusing more on the final steps of production, which is the assembly of the finished parts delivered by suppliers. Such an organization allows saving costs, as the monitoring of the entire chain requires much capital. Therefore, the company developed another system of supplier relationship, which although implies some risk management, was much cheaper (Mentzer, 2004, 49). Additionally, in order to increase the company's competence, Ford's producers began applying UPS that uses updated logistics capabilities to control the vehicle shipment via the internet (Handfield and Nichols, 2002, p. 62). This system also constitutes a powerful tool of competitive advantage for the supply chain. In whole, this technique considerably shortens the cycle tome and allows controlling the supply lines (Handfield and Nichols, 2002, p 62).
The importance of a supply chain as a source of a competitive advantage is mainly related to costs, where Ford claimed that over $300 billion of transactions occur throughout the supply chain. In that regard, handling the issue of information exchange within the supply chain of Ford was a source of a competitive advantage that enabled the company to effectively cut the costs. The solution implemented by Ford, Coivisint – "the world's first fully-functioning automotive online supply chain network" was a project on the development of which such companies as "Ford, Daimler Chrysler, General Motors, Nissan and Renault" (2002). The advantages gained through such project were saving the cost of maintaining a supplier facing portal, and accordingly, freeing the resources for other processes. (Compuware Corporation, 2010). In that regard, the company chose to gain a competitive advantage through enhancing information exchange, rather than directly slashing the cycle time like Toyota. Considering that participation in the project in 2001 allowed the company to save around $350 million in transaction, the role of information exchange, as competitive advantage in the supply chain can be evident (2002).
Recommendations
It is difficult to draft recommendations concerning two of the most successful automobile companies in the world. In that regard, such recommendations can be based on the creation of a framework of best practices, unifying the processes that were proven successful for both companies. Thus, such recommendations would include building strong long-term relationships with suppliers. Approaching relationships with suppliers as mutually benefitting partnerships, proved successful for Toyota, an element of supply chain processes which Ford only recently started to implement. Focusing on a smaller number of long-term "partners" will enable companies to raise the effectiveness of their supply chains and efficiently reduce the costs of the operations. Another recommendation stems from the information-exchange approach adopted by Ford through its Covisint network. Although the implementation of such a recommendation might take a different form, the main emphasis in such an approach is an efficient information exchange, facilitating transactions between the supply chain participants. There are many elements that could be recommended to effectively manage the supply chain of a company, which nevertheless, will revolve on simple elements already outlined, such as the reduction of a cycle time, inventory reduction, etc. In that regard, the proposed two approaches, i.e. efficient information exchange and long-term manufacturer-supplier partnership are only two representative elements of successful supply management practices.
Conclusion
In the end it can be stated that the contrasting approaches taken by each of Ford and Toyota in managing the supply chain indicates different areas of focus in business processes for both companies. At the same time, with both companies currently having many similar practices, while at the same time differing in their approaches, indicates that supply chain management is still a field for potential innovations. In that regard, such innovations allow Ford and Toyota to gain competitive advantages solely focusing on improving their supply chain practices, the efficient operation of which allows the companies to focus on other aspect of manufacturing as well. Ford and Toyota, and accordingly their FPS and TPS systems, are exemplas of efficient and coordinated network of relationships involving manufacturers, suppliers, and customers.