Competitor Analysis
Mambo is a surfwear company based in Australia. The Australian surfwear market is oligopolistic in nature with a few sellers and a large number of buyers. The main competitors that operate in the Australian surfwear market are Billabong, RipCurl, Pipping Hot, and QuickSilver. This paper is to study the brand strategy that Mambo should take in order to change its target audience from twenty-something to fifty-plus market. In this, section an analysis of the main competitors of Mambo in Australia with respect to the four Ps of marketing i.e. price, place, promotion and product. We will discuss each of the brands in this section.
Products: The main products of Mambo are t-shirts. They started in 1984 as a brand that sold t-shirts. However, identifying that the market was getting too competitive, they planned to reshuffle their branding and product offering (Lee, 2004). Therefore, they intended to enter a highly lucrative business in Australia that is surfwear market. This lead to increase in their product line largely and their new line of products ranged from t-shirts, shorts boards and swimsuits. However, they did not provide wetsuits like Billabong and RipCurl.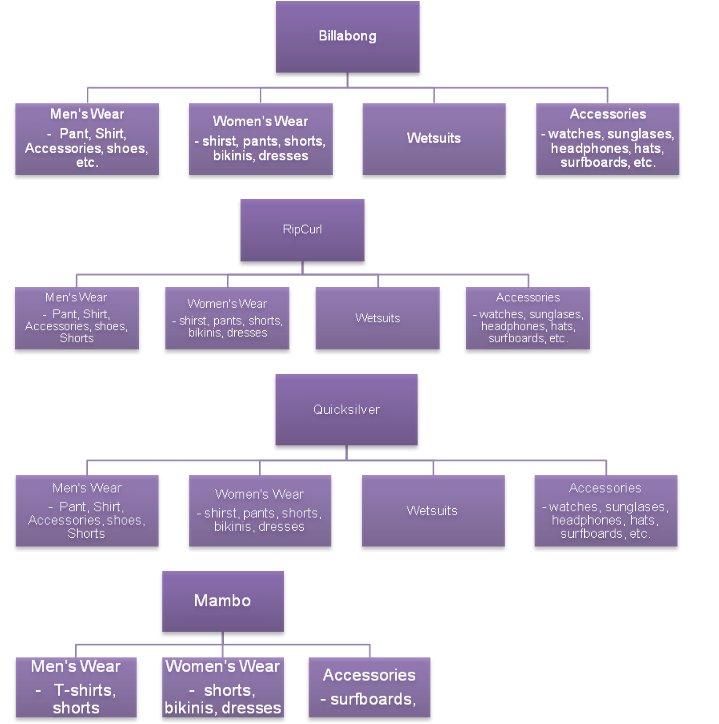 Therefore, in terms of the products, Mambo does not provide all the traditional surfwear companies cater to. First, the traditional companies provide extensive line of swimsuits for women and girls, wetsuits for diving and surfing gear and accessories. Further, they provide a line of clothing right from infants to adults. For instance, Billabong caters to the market of teenagers as well as adults. This increases their product base as well as target market base whereas the offerings of Mambo limit to young adults and not teenagers.
Further, they constrict their market to the young demographics avoiding the adults who too are taking interest in surfing. As RipCurl and Billabong cater to all from infants to adults, Mambo does not do so. RipCurl and Billabong provide surfboards, wetsuits, girls and boys wear and accessories for both winter and summer while Mambo provides only a few selected items like t-shirts, swimsuits, surfboards, etc. Here it must be considered with a target market of people over fifty, Mambo's product folio must show a mature product offering.
Price: The surfwear industry in Australia is highly competitive with the big brands, which have known internationally, are Billabong, RipCurl and QuickSilver. Table 1 shows that the main the prices at Mambo are competitive with other brands, and are available on an average below that of the competing brands.
Table 1: prices of the products of the surfwear brands, (SurfStich, 2009)SOURCE WWW.SURFSTICH.COM.
Prices in Australian Dollar
Products
Billabong
RipCurl
Pipping Hot
QuickSilver
Mambo
T-Shirts
40-80
30-80
NA
15-40
30-60
Wetsuit
300-650
200-600
NA
NA
NA
Bikini
50-80
80
NA
60-90
40
Shorts
80
40-80
NA
40-70
60
Dress
50-180
NA
NA
NA
70-90
Accessories
30-250
NA
NA
40-190
NA
Place: Mambo is based in Australia and New Zealand with the largest market being in Australia. Whereas brands like Billabong and Rip Curl are located in other courtiers like the US, Asia, and some countries in Europe. Mambo is located only in Australia and New Zealand. Quicksilver is located in the Americas, Europe, Asia and Australia.
Promotion: The main promotional measure that the companies undertake apart from traditional promotions in mass media, is through sponsoring and organizing events related to surfing. For instance, Rip Curl organized a Girls' Surf Day in 2008 and Quicksilver organized a junior surfing competition. These events help in increasing the company's exposure to a very niche market for surfers who get attracted through the haughty and adventurous gears and display. The promotions in mass media are based on product display and through endorsement of famous surfers. Quicksilver recently launched their line of women's wear and this was gained promotion too was well advertised. However, mambo is one company, which did not use any advertising to sell its products (Veldre, 2004).
Brand Personality
In order to understand the brand personality it is important to ascertain the brand identity of Mambo, and its competitors. Here a distinction must be made as mambo is not projected as traditional surfwear retailers, rather they are more of design-based garments and surfwear retailers who do not directly compete with the more sports-oriented surfwear companies.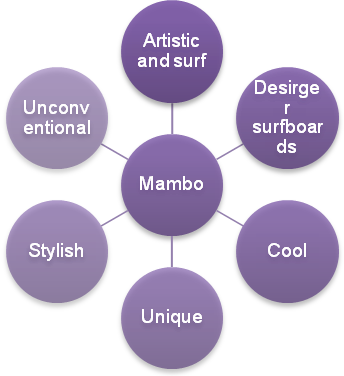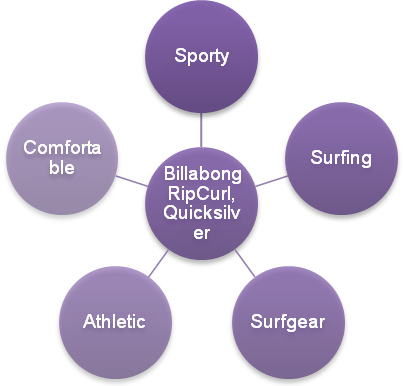 As figure 3 shows the brand identity of the competitors of mambo is based on their sporty and athletic goods. They make goods which are stylish but in a sporty way. Their main stress is on selling hardcore sport-related clothes and accessories. Their forte is traditional surfing gears and very recently, they have entered into women's clothing line. However, as figure 2, shows, the main identity of the mambo is in its cool graphic designs which actually increases its appeal. Their offerings are more stylish in their design and look while Mambo's competitors provide goods, which are for hardcore surfing. To target a fifty-plus consumer market, Mambo must keep in mind that the
Points of Difference
The main areas of difference in case of Mambo and the other brands are there in the following:
Unique art designs,
Humorous,
Adventurous,
Noisy.
Mambo is a brand, which promotes art as well as surf, while other brands are not exactly in the same league as Mambo. To quote Ben Lilley of the youth marketing agency Smart: "Other brands are doing the art and surf well but none have really captured Mambo's scoundrel quality. We've got to communicate that to a new audience." (Lee, 2004). Further, the brand image that is projected through Mambo is more of the 1980s and this is reflected even through its products, this needs to be changed (Lee, 2004).
Further, other brands project seriousness towards professional surfing, which is not reflected through the mambo, which hampers it's entering the more hardcore professional market of professional surfers. While the competing brands conduct or organize surfing events, Mambo organizes an all-daylong mud (Mambo, 2009). While the competing brands' marketers, distributors and retailers of surfwear while Mambo projects itself as a art and surf company that mainly aims at designing the products. As the designing team is highly acclaimed surrealist artists, Mambo provides a differentiation based on the products and the art it carries.
Points of Parity
The main areas of similarity of mambo with its competitors are that they cater to the same niche market and that they provide same product i.e. apparel and surfboards. Surfing according to mambo is an art like designing or music, while the other brands believe surfing is a sport.
Brand differentiation vs. Brand Relevance
The main differentiating point of Mambo is its image as a design company rather than a surfwear retailer. Mambo provides style and a uniqueness t its products through their artistic presentations, while the other brands are more concerned with development of the more professional and hi-tech surfing gear as is seen through the "airline stretch" of Billabong (Billabong, 2009) or Hbomb wetsuits from Rip Curl (Rip Curl, 2009). Hence, the differentiating point between Mambo and the other brands is its look and image of being the "scoundrel" (Lee, 2004). Brand differentiation is necessary and here has provided an added point to Mambo. This view was expressed by Aaker: "If a brand fails to develop or maintain differentiation, consumers have no bias for choosing it over others." (Aaker, 2003, p. 83). This helps companies mark a difference from their competitors.
As Mambo refrained from doing when it was provided the choice to dress, the athletes at Sydney Olympics, which is believed to have killed the company's, brand image (Lee, 2004). However, by positioning the products to be targeted at the fifty-plus market, Mambo can retain its eighties feel. As has been stated that mambo's offerings were irrelevant to the target market (Williams, 2008).
Mambo's differentiating point became the greatest point of irrelevance to the target market, as it was not the need of the customers: "At Mambo's heart were Jennings and a handful of mates from Sydney's art and music scene, who turned their irreverent and sometimes off-color whimsy into the loaded words and striking images that defined the Mambo brand" (Williams, 2008). That was because they targeted a market (twenty-something) who did not feel the graphics and the ideologies that mambo disseminated bore any meaning to them. However, with leisure-loving fifties plus market who would find the products of Mambo appealing as it would transport them back to their youthhood.
Brand esteem vs. Brand knowledge
The brand had very high esteem among the target markets as they approached more unconventional measures, which made the brand a community:
"The drawings were seldom sophisticated, often focusing on human anatomy and bodily functions. Nevertheless, along with Jennings' habit of donating a share of profits to left-wing causes, the art made Mambo exceptional in business, where the tweaking of a logo can qualify as a creative masterstroke. "Mambo was a community," says Jennings. And for more than 15 years, it thrived." (Williams, 2008)
However, the knowledge of the brand is not present among many the marketers. For the market, it caters. Mambo is well known among its patrons but the growth of the market is limited as the knowledge and the awareness of the brand is limited. Thus, the knowledge of the brand is limited.
Brand Share
The share of the brand in the company's revenue is not very high as the brand. Gazel the owning company is a $160 million company while mambo is a $40 million company (Williams, 2008). Thus, the share of Mambo in Gazel is 40 percent. Further, the reason for the popularity of the brand was its offbeat artistic t-shirts, which were their main source of revenue in the eighties. However, presently they form less than 10 percent of Mambo's revenue (Lee, 2004). This indicates that the brand was not doing so increased well as was expected.
Another reason for the depletion of the brand mantra is the increased obsoleteness of the market offering of the brand. Mambo is a brand that competes in the professional surfing market with a product, which is meant for artistic people. Now the target market is small, people who surf. Nevertheless, the main problem is in their acceptance of the product. The products need to be simplified, inspiring and communicated. As Mambo had never used traditional promotional medium, needs to do so now in order to make the brand knowledge spread among the target markets. Further the brand offerings need to be changed in order to improve the performance of the company (Morgan, Pritchard, & Pride, 2004; Morgan & Rego, 2009).
Brand Strength
The brand that needs to be the most important factor of the product offering needs to be evaluated in the light of the brand's strengths and weaknesses. In this section, the strength of the brand is measured by measuring the brand's equity. Brand equity can be measured through various models. First is to find the brand's asset value called the brand asset valuator (Kotler & Keller, 2006), then is Aaker's model which makes brands through a core and extended identity (Aaker, 2003). The other process is through Brand Resonance Pyramid, which allows companies to build their brands as an "ascending sequential series of steps" (Kotler & Keller, 2006, p.262). This pyramid will allow us to identify the various aspects of marketing of the brands.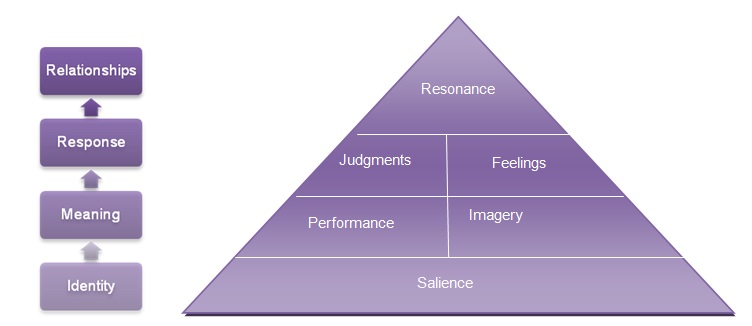 There are various areas, which relate to branding of Mambo and need to be consolidated through the understanding of the brand. Figure 4 shows the brand resonance pyramid, which depicts the brand characters with the brand image. The premise of the model is based on the belief that brand image and identity reside in the mind of the consumer (Keller, 1993).
This is a customer-centric brand equity measure, which establishes that a brand can become successful with instant association of the brand's identity and image in the customer's mind. This is used to identify the various areas of the branding of Mambo. Identity refers to the meaning of the brand and answers the question "who we are". Mambo is an art and surf company, which poses more emphasis on art than on surf while catering to a market for surfers. The brand positioning of Mambo is unique "surf, art, humor and music" (AAP, 2008).
Further, with a target group of fifty-plus customers, the products will itself show the brand identity to be that of the eighties like its products, which will produce a seamless communication to the customers. This provides strength to Mambo as a brand. Further, their products represent the eighties' sarcasm and cynicism for people who are below their twenties, which creates a major disconnect of the brand. As far as the visibility of the companies is concerned is consistent with their brand identity as has been supported by researcher's findings (Joachimsthaler & Aaker, 1999). As brand awareness also consists of two key dimensions viz. breadth and depth of brands, it is important the customers are aware and understand the total of the value propositions.
Keller believes that "The salience or accessibility of the core brand associations depends on their strength in memory, as well as the retrieval cues provided by the extension" (Keller, 1993, p.15). The identity of the brand and its strength depends on the brand identity and the brand recall among customers. Therefore, as Mambo becomes more of a retro product, the customers will understand the real feel of the product and will understand the brand through this point of differentiation. For this simple price differentiation is not the solution, rather brand differentiation to the market, which can set the brand as unique. The brand strength of Mambo can be assessed using the brand strength assessment model (Keller, 2008). In this model, we assess the relative strengths and the areas, which bring about the strength of the product. As figure 5 shows, the main and the only strength that Mambo holds over its competitors are its designers and designed apparel.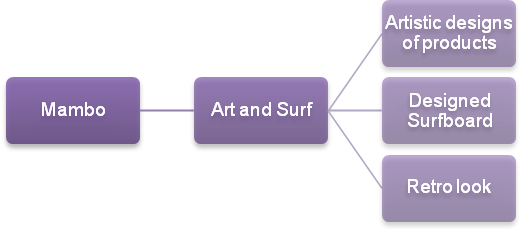 Target market and competitor reactions
The target market for Mambo Retro is the fifty-plus people who enjoy surfing. The message that the brand wants to give is that of a different kind of surfing, which is for leisure and personal pleasure. The competition that is observable in case of the surfing wear market is based primarily on brand differentiation and price. The differentiation strategy of Mambo is based upon its target market, which is different from the other competitors and its forte of art and surf. As Aaker stated "The challenge of vertical extension is to leverage and protect the original brand while taking advantage of the new opportunity." (Aaker, 1999, p.81)
This argument by Aaker indicates that the Mambo's strategy to keep intact the product portfolio and the main essence of the brand while changing the target customer in order to be competitive in a high niche and competitive market is a correct reaction. With this move of Mambo to change its target market, the competitors will not immediately change their strategy completely as this will alter their focus on the current target market. However, in due course the competitors may separately launch products targeting this section.
Conclusion
The discussion of Mambo and its branding strategy shows that the brand itself is strong but lacks relevance, which makes the brand irrelevant to the target customers. As more and more target customers are shifting towards other brands, Mambo has to devise a way through which they can make the brand become relevant to the present-day customers. One clear idea is to change the branding strategy and cater to all people irrespective of their age group, which will increase the brand scope and target market. Further, there needs to be a brand communication between the desired brand and the present understanding of the consumers. Therefore, as figure 6 shows, mambo needs to communicate the brand to its customer, rather than expecting a community to grow around the brand without any communication.

The main idea here is to increase brand awareness through increased communication. This is even more important as there is an increased brand loyalty among professional sportsmen (Kaynak, Salman, & Tatoglu, 2008). So in order to restructure it to a surfwear brand from a clothing brand will require a lot of communication as the target group already has a loyalty base.
Reference
Aaker, D. A. (1999). Should you take your brand to where the action is? In Brand Management (pp. 79-104). Boston, MA: Harvard Business Press.
Aaker, D. (2003). The Power of the Branded Differentiator. Sloan Management Review, 83-87.
AAP. (2008). Private equity group buys Mambo brand. Web.
Billabong. (2009). Billabong. Web.
Joachimsthaler, E., & Aaker, D. A. (1999). Building Brand without Mass Media. In E. Joachimsthaler (Ed.), Harvard business review on brand management (pp. 1-22). Boston, MA: Harvard Business Press.
Kaynak, E., Salman, G. G., & Tatoglu, E. (2008). An integrative framework linking brand associations and brand loyalty in professional sports. Journal of Brand Management Vol. 15 No. 5 , 336-357.
Keller, K. L. (1993). Conceptualizing, Measuring, and Managing Customer-Based Brand Equity. Journai of Marketing Vol. 57 (January) , Journai of Marketing vol. 57, 1-22.
Keller, K. (2008). Strategic Brand Management – Building, Measuring and Managing Brand Equity, International edition, 3rd ed. New Jersey: Prentice Hall.
Kotler, P., & Keller, K. L. (2006). Marketing Management. London: Pearson Prentice Hall.
Lee, J. (2004). A farting dog no longer cool?. Web.
Mambo. (2009). Web.
Morgan, N. A., & Rego, L. L. (2009). Brand Portfolio Strategy and Firm Performance. Journal of Marketing Vol. 73 , 59–74.
Morgan, N., Pritchard, A., & Pride, R. (2004). Destination Branding. Butterworth-Heinemann.
Rip Curl. (2009). Rip Curl. Web.
SurfStich. (2009). Web.
Veldre, D. (2004). Mambo gets Smart. B&T , pp. P1-P3.
Williams, D. (2008). Born-Again Mambo. Time South Pacific (Australia/New Zealand edition) , pp. 53-55.