Abstract
The purpose of this case study is to identify potential entry opportunities and strategies of Google Inc. The study includes a complete overview of the Google Inc, internal and external analysis, strengths, weaknesses, threats, and opportunities. Various models assist in the analysis, including PEST factors, Porter's five forces, VIRO framework analysis, and strategic alternatives. Google was founded in 1998 by Larry Page and Sergey Srin, which offers advertising solutions, international internet search solutions through its portal and it also have internet search engine, Google Finance, Google Blog search, AdWords, AdSense, Google Earth, Page Creator, Orkut and Google maps etc.
On-Time Delivery!
Get your customized and
100% plagiarism-free paper
done in as little as
3 hours
Introduction
Within a single decade, Google has jumped from an Internet based start-up to the prevailing contestant in the Internet advertising pedestal on search engine technology by the use of Information Technology. Google's accomplishment has established on its unique service line such as AdWords and AdSense, Gmail, Google Maps, and Google Earth, even if Google prolongs to spread out search-based Internet advertising through its enormous IT infrastructure to get underway services for persons, small and medium enterprises as well as larger firms with strong competition from the rivals and global recessionary economy.
According to the Google case study, Competitors in existing internet service industry is the main challenge as a single click is enough to go to another search engine. Eisenmann & Herman argued that to deliver useful results is the great challenge for Google as at least half of all web searches failed to provide appropriate results, so Google's engineers were constantly fine-tuning search algorithms and evaluating leading-edge concepts from computer science.
Internal analysis
Resources and Capabilities
According to the annual report 2008 of Google, it has both tangible and intangible resources such as financial resources, reputation, physical resources and technological resources. However, intangible assets are more important to Google as it is a service provider and the market leader of this consumer services and internet industry. In 2008, Google generated almost $22 Billion in revenues and it had $15.8 billion of cash, cash equivalents, and marketable securities; cash provided by operating activities was $7,852.9 million, and it has common stock, direct sales resources.
The firm's intellectual and human resources base the core capabilities of the organization on developing, carrying, and exchanging information and knowledge. Few examples are:
Google was using almost 100 domains for its internet search engine segment and thus had the highest searching capability. According to the case, it had 1.5 million URLs in its directory.
It has operational capability to fulfil the user's demand;
It has financial and technological capability to hold its first position;
the proper involvement and management of third-parties to its operations;
It has capability to introduce new programs, sites, and facilities.
External analysis
A PEST factor assists the managers in organization and evaluation of external factors and their implications in the decision-making process and the acronym PEST separates external factors into four distinct segments: political, economic, social, technological.
Yes, we can!
Our experts can deliver a
custom Case Analysis of Google Inc
paper
for only

$13.00

$11/page
Political Factors: The US government is becoming increasingly involved in regulating the internet to keep it safe and secure for all users but the political environment of Google is not a highly controlled one. The internet could become a dangerous area, where identity theft, fraud, and other vices could take place for lack of rules and regulations and the internet search engine corporations like Google has their own ways to operate their businesses accordingly.
Economical Factors: The global economic downturn has a major impact on internet content and service businesses and Google experienced slowdown because its customers have decreased advertising costs. Therefore, this issue has changed the business environment but Google could recover because more and more people use its search engines for their shopping purposes.
Social Factors: Google should adapt to the values, beliefs, and lifestyles of their users and it should have interfaces based on socio-cultural factors across the world, however, Google created a viable search platform that users found more appropriate for their needs.
Technological Factors: The internet itself is quite possibly the single greatest technological development. The continuous innovation and improvement of search engine technologies are the handiest activities for Google. According to annual report 2008, the most recent technological innovation on the internet is digital media and advertising, and Google currently generates over 90% of its revenue from text banner ads, but digital ads are the future.
SWOT analysis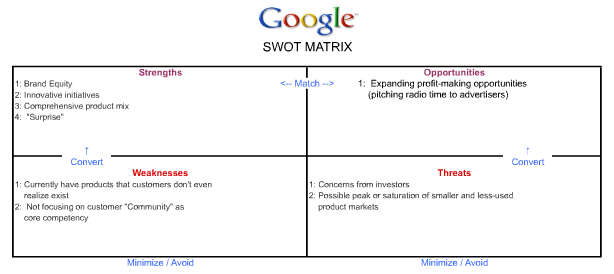 Strength
Google is the main player in Consumer Services and Internet industry and it has unparallel advertising technology, so the strongest market positioning and brand equity is the main strength of Google. It provides services in 88 languages, so non-English people can search information over internet by using their own languages, and it has used almost 100 domains for its internet search engine segment to provide upgrade service. Google has captured more than 65% of the online search market by using the most relevant content and a powerful search engine and statistics show that Google's and Yahoo's revenues combined are about $29 billion, which is 83% of industry's total revenues. It has skilled and highly motivated employees and effective administrative control and according to the annual report, in 2008, it had 7,254 employees in R&D sectors out of total 20,222 employees, who offer quality service to the customer to hold its first position.
Weakness
Google should more concentrate on privacy policies and socio-cultural effects In order to reduce claim. According to the case study of Google Inc, it had a 19.4% profit margin and 16.6% ROE, down from 29% and 23.7% in 2006. As there are no switching cost, the Google's customer will choose different search engine if they do not find appropriate content.
Opportunities
Technological development enhances the business opportunities, for instance, Google is the single most popular web search portal: over 63% of all web searches are delivered by Google search applications, moreover, it develops e-commerce by providing unlimited advertising opportunities. According to the annual report, Google is continuing to expand their business outside of the US. Google as news provider has connected with customers and numerous customers are canceling their newspaper subscriptions in favor of digital information and media providers.
Cut
15% OFF
your first order
We'll deliver a custom
Business Analysis Case Study
paper tailored to your requirements with a good discount
Threats
Google had cost cuts, consolidated facilities, and reduced workforce to face global financial crisis and it anticipates downward pressure on its operating margin as customers reduce their cost for advertising. Merger and Acquisitions between competitors, for example, Microsoft and Yahoo, increasing intellectual property claims, increasing competition, and sluggish growth in the online advertising market are the main threats of Google Inc.
Porter's Five Forces Analysis
Competitive Rivalry: In recent years, competitive rivalry of Google is very high because almost all the competitors (AOL, Yahoo, and Microsoft) are operating closely and hundreds of smaller firms are nipping at their heels. According to the annual report of Google, in 2008, 97% of its total revenue has generated from advertisers but Yahoo, MSN and other competitors enhance their facilities too. The AOL's revenue and net income has increased by 6% and 2% respectively, the MSN's revenue enlarged 9%, and its net income rose by 44% for the same period.
Threat of Substitute: There are many competing firms in the industry and most of them offer similar services, but there are no clear and prominent substitutes of these search engines, so threat of substitute in the industry is very low.
Threat of New Entrants: Google has threatened by the possibility of new entrants as the cost of computer software is decreasing and it is comparatively easy and cheap to start up a website. However, the barriers to entry to the industry were relatively low because advance technological support and large amounts of capital are required to achieve economies of scale and profitability on the internet.
Bargaining Power of Suppliers: Though no raw materials are required for the business and there are many available suppliers of content, but bargaining power of suppliers is important because content providers have legitimate power. By achieving economies of scale, Google have gained bargaining power over suppliers and they are now developing their own technologies at their own home, through their own people.
Bargaining Power of Buyers: Google has mainly two sets of customers: users and advertisers. The bargaining power of buyers is very high because there is almost no switching cost for example or a single click is enough for a Yahoo customer to become a Google customer. On the other hand, it is comparatively high in advertisement segment because advertisers want to reach as many people as possible and demand higher quality and better services so they have to pay for switching costs.
Get a custom-written paper
For only
$13.00
$11/page
you can get a
custom-written academic paper
according to your instructions
Google's VRIO Framework Analysis
Google always strives to achieve a competitive advantage in the search engine marketplace to take full benefit of its value and to analyze VRIO framework of Google, this paper would look for four questions that would determine Google's internal strengths and weaknesses based on current situation. The VRIO framework of Google would stand on following investigation:
What valuable resources and capabilities do Google have that enable it to defuse external threats or to take an advantage of external opportunity?
What Rarity does Google have in its current to better competing others?
What is Inimitable for Google to get a cost advantage for improvement rather than any resource?
Is Google's procedures and course of actions are well organized to prop up the utilization of its resources?
Valuable
Peng, (2005) pointed out that Google has identified the value creating strategy by forming alliance with major players. It has acknowledged that single world, sky team, and Star Alliance would generate higher value for it through a deduction of cost that measured 18% to 28 per annum with minimizing risk and uncertainty. Google has raised superiority among the former rivals such as MSN, eBay and Yahoo, at present it has been exploring alliances to respond to its persuade with out captivating extreme risk and it ultimately proves significant advantages of alliance that provide their value as a real option. (Peng 3)
Rarity of Google
At this competitive world the IT era, it is very difficult for any company to carry on any rear attributes than its competitors as the competitors always keep their enthusiastic eyes on each other and eager to comply its capabilities. Right now Google has the rarity with Google Earth and Google Map, which has not yet introduced by the other search engine. Popularity of Google Map has contributed the company a real attributes.
Inimitable
Among the resources of a company, it is very difficult to categorize somewhat which is inimitable and non-substitutable and the competitors would be unable to acquire and substitute those attributes (Gallagher, 2). At this present circumstances Google AdSense and Adworlds is a unique and inimitable and the other search engines have no substitute to bit AdSense and Adworlds. Moreover, the global network of Google AdSense and Adworlds is so large and strong that it would be huge costly for competitors to in terms of time money and resources to touch this inimitable resource of Google.
Organized
To organize Google in the order of differentiator, the research and development team of Google has created the technology and Google confirmed it's registered some of patents which would be difficult for other competitors to Imitate. Moreover, Google's sales team exhibit the differentiator to its customers by illumination of the value of in-house technology and outsourced human resource with freelancing opportunity and these features indicate that the organization has leveraged based on differentiator.
Competitor Analysis
Still, Google is a market leader but this is a very competitive industry in every aspect of business. The main three competitors of Google's internet search segment are Yahoo, AOL, and Microsoft Corporation and the secondary competitors are eBay and Amazon. Microsoft has developed new web search application (namely, Bing) which became available in May 2009, and it has expected to increase its share in internet search industry because it has integrated operating system with customers' experience, financial supports, and engineering technologies. In addition, Google has to face competition across all geographic regions as local search providers, internet service providers, destination web sites, and foreign web search services try to provide high quality services to their customers. In addition, for the growing popularity of online print media industry such as online newspaper and magazine, Google and Yahoo! compete with traditional media communications services.
Eisenmann & Herman argued that competition has been fierce and many Google advertisers asserted that the company neglected customer service and its management was unresponsive and self-centred (9). Eisenmann & Herman added that Google continues to build off its superior search advantage by building its portal and introducing new services and content like Gmail, Google Earth, Google Docs, Picasa, Chrome, YouTube and most of the Google's new products also had direct rivals at Yahoo including Google's Local Search, Video, Froogle, Home page, Maps and Picasa (9). He further added that Yahoo provides easy access to a broad range of third-party content and related transactional services such as Autos, finance, Games, Health, Kids, Movies, Music, Sports and Travel sites, recruitment sites, web's second-largest dating sites, hosted over 100,000 stores in its shopping service and supplied free websites, and it has a huge registered membership (10).
Emerging Strategic Challenges of Google
Chen et al stated that being a juvenile company Google has to go ahead through serious adversity challenges and it is capable to accomplish the vision of turning itself as a top leader of search engine market. Following are the emerging challenges of Google:
Monitoring services ahead of advertising,
Boosting model of Business & Information Systems Engineering with wide range of utility,
Upgrading focus on privacy threats ensuring and security measures,
Google Book already sued for violation of copyright act,
Noteworthy economic and social implication
Merger and acquisition of other competitors.
Competitors in existing internet service industry, global financial crisis, increase rate of sues against Google are the main challenges of this companies. Moreover, merger and acquisition between other competitors is also great challenge, for example, Microsoft had been trying for over a year to acquire their rival in attempt to challenge Google.
Strategic Alternatives
Corporate strategies
It has already mentioned that 90% of its total revenues generate from advertising segment that means revenue of Google is depends on single sector, so it has maintained the low-levels to moderate to very high-levels of diversification. Here it is necessary to say that growth in one of its non-dominant product or service line is able to alter the nature of any Google's diversification. According to this concept, other related business (70% of business) of Google have shared the same technologies and human resources to generate profits but it has opportunity to diversified its business as it provides many services to the customers.
Business Level Strategies
In this strategy, Google Inc has to integrate and communicate the settled commitments and actions to attain competitive advantages in specific markets. For this reason, Google Inc has to determine:
Target Customers: There were 1.4 billion total internet users in the world in 2008, including 247 million in the US,
Need of Customers: From the Internet services of Google Inc, the customers can be satisfied with high speed, reliability, cost effectiveness, and safety;
Fulfill need of customers: Google Inc can develop competitive advantages through building customer relationship.
There are three generic strategies, can be developed by Google, which are:
Cost Leadership Strategy: By this strategy, Google can deliver its service with minimal costs, but providing same services relative to competitors' in Internet services;
Differentiation Strategy: If Google wants to develop this strategy, then it has to provide different service level than others with a high premium price and to exceed the level of customers' expectations with prestigious services and rapid innovation in technological development;
Focused Business Level Strategy: In this strategy, Google has to focus on specific customers' group, like International customers to adapt cultural, environmental, and competitive changes in the different markets.
Maintain Current Strategy
Most of the directors and employees recommend that Google should follow its existing strategy to remain competitive as more big players focused on Internet search segment. Despite the fact that Google is market leader in Internet Search technology, the company is introducing a new line of services not related to internet search and this new situation would increase market competition (Teya-Kofi, Mocker & Gartenfeld 18).

Recommendation
Strategic Alternative 3 is more appropriate then other as Eric Schmidt- Google's President and CEO, recommended that it should continue its existing strategy because it is committed to the growth of Google as a premium Internet Search company. Google should not maintain Alternative 1 though 90% of its total revenues generate from advertising segment because it consider future growth from different sectors and it introduce new Internet-related services in order to develop amore enduring company not reliant solely on Internet search technology but diversified enough to remain an enduring entity. On the other hand, its business structure is not like other multinational companies; therefore, it can avoid business level strategy. Alternative 3 would help Google to develop its international popularity, for example, Google had been a prominent brand in USA but it had to be such prominent in other countries mostly in China, India because, these countries are over populated. Current strategy supports to increase its budget for R&D department because competitors are technologically well developed.
Works Cited
Chen, Rex; Kraemer, Kenneth L., and Sharma, Prakul. "Google: The World's First Information Utility?" CRITO, University of California, Irvine, 2008. Web.
Eisenmann, Thomas. & Kerry Herman. Google Inc. Harvard Business School. 2006. Print
Gallagher, Scott. Internal Analysis: Why does firm performance differ? 2007. Web.
Google Inc. "Annual report 2008 of Google Inc". Form 10-K. Web.
Peng, Mike W. Global Strategy. Thomson South-Western, 2006. Print.
Sellani, Sandra. Does Your Brand Pass the VRIO Test? 2006. Web. Web.
Teya-Kofi, Joseph, Robert Mocker & Mare Gartenfeld. Google: An Internet Search Service Company. Strategic Management Research Group. 2005. Print
Appendix