Easy Jet is Europe's leading short-haul airline with a market presence in more than 30 countries around the world. Founded in 1995, the airline has grown from a small firm to become one of the most formidable aviation companies today (Gross and Lück, 2016). Headquartered in Luton Airport, United Kingdom (UK), Easy Jet employs about 15,000 people (Easy Jet Plc, 2020). The firm's mission is to provide customers with consistent and reliable services (Gross and Lück, 2016). The point-to-point airline depends on five key resources to make this happen: people, capital, aircraft, technology and stakeholders (Bäder, 2015). Similarly, it is guided by five values: safety, simplicity, one-team, integrity, passion, and pioneering, which inspire its workforce to accomplish the organisation's goals (Easy Jet Plc, 2020).
Easy Jet's success has mostly been registered in the European market where the company has adopted a low-cost business model that maximises operational efficiencies by enabling passengers to travel short distances across Europe's major airports (Oborune, 2016). Easy Jet's low-cost business framework has helped it beat the competition by structuring its operations to make flights more affordable to travellers. Consequently, the company's customers have benefitted from cost advantages, which have been brought by reconfiguring aircraft designs to accommodate more people and decrease maintenance costs (Eriksson and Steenhuis, 2015).
Additionally, a higher lead factor and the purchase of a young fleet of aircraft has improved operational efficiency and created brand awareness (Shabbir, Saleem and Khan, 2019). According to the company's website, it is confident that this low-cost model will deliver growth for its shareholders in the long-term (Easy Jet Plc, 2020).
This document is a marketing plan for Easy Jet to venture into the Asia Pacific market, which is one of the most promising sectors of the aviation industry (Duval et al., 2019). Key sections of the report will highlight potential target markets using 4Ps and positioning strategies to find out the best marketing mix that will enable the airline to have a significant impact on the new market. Evidence will be provided to show why the proposed marketing mix is ideal for Easy Jet's expansion and its alignment with Easy Jet's signature low-cost business model.
Country Selection
The Asia Pacific market is one of the most promising sectors for Easy Jet's expansion because of its prevailing positive economic and social environment, which make it ideal for business travel and tourism. This market accounts for about 33% of the global passenger traffic in the airline industry (Heshmati and Kim, 2016). It is also responsible for about 37% of global cargo transport (Harrington, 2016). The busiest travel routes within the region are between Hong Kong – Taipei and Jeju – Seoul, internationally and domestically, respectively (Heshmati and Kim, 2016).
The justification for selecting the Asian Pacific market as the next frontier for Easy Jet's market expansion is enshrined in the findings of a report authored by the International Air Transport Association (2020), which show a positive outlook for the market in the global airline industry by 2035. The institution further suggests that the Asia Pacific and African markets will provide the next frontier for growth in the aviation industry (International Air Transport Association, 2020).
Other factors likely to affect the industry include geopolitical factors, data management, government activities, border control and privacy concerns (International Air Transport Association, 2020). Broadly, the presence of the Asian Pacific market in the global list of factors that would affect the airline industry going forward is testament to its potential to propel the next wave of growth for Easy Jet. This section of the document highlights the market size, cultural environment, competition, and physical infrastructure of the target market that supports Easy Jet's market plan.
Market Size Potential
Economic/Legal environment
The Asia-Pacific market provides a supportive economic and legal environment for expanding Easy Jet's operations throughout the Asia Pacific market because of liberal trade policies and a strengthening rule of law. Particularly, the positive economic progress made in this market makes it attractive to airlines intending to increase their passenger traffic because its Gross Domestic Product (GDP) growth is about 5.7% per annum, which is among the highest in the developing world (Popova, 2015). Alternatively, the Asia Pacific market is characterised by diverse economies that contribute about 35% of the global GDP (Dewitt et al., 2018).
This statistic means that there is strong market potential in this region, relative to global nominal GDP. In turn, it is supported by a strong consumer purchasing power, especially among a rising middle-income population in most of these countries (Tan-Mullins, 2017; Patra and Dastidar, 2018). Researchers such as Popova (2015) and Pennisi di Floristella (2019) have highlighted the potential of the Asia Pacific market in spurring the next phase of airline growth. Figure 1 below shows the rise in middle-income population in this market, relative to their household income.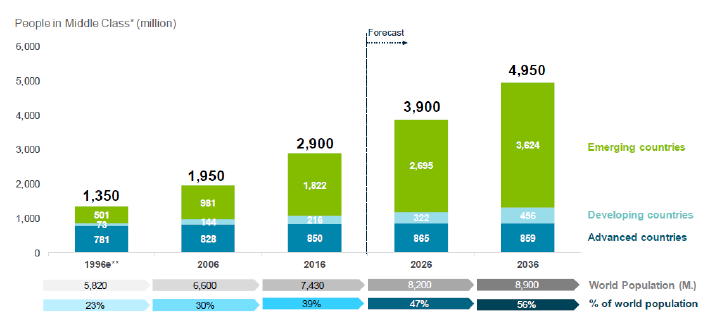 According to the graph above, emerging countries, primarily located in the Asia Pacific market, have the highest growth rate of middle-income earners. Estimates show that the number of people has increased from about 1.3 to 4 billion people throughout the years under analysis (Herdman, 2019). Relative to this figure, Popova (2015) says that the population in the target market is expected to rise to 4.4 billion people by 2030, thereby making it one of the most promising segments of the airline market because of the high likelihood of having a sustained demand for airline services in the long-term.
The aforementioned population growth trajectory means there has been a 15% increase in the number of people compared to 2020 statistics, which showed that the number of people living in the target market was less than 4 billion (Popova, 2015; Harrington, 2016). The growth is attributed to a surge in the number of people over 60 years (Popova, 2015; Aziz and Ansari, 2018). These statistics mean that the demand for airline services exists and can be sustained for long periods.
Broadly, the positive economic and legal environment of the Asian Pacific market also makes it a potentially lucrative scion of the aviation industry because of rising incomes and standards of living (Ghatak, 2019). For example, Popova (2015) says that by 2024, the per capita income for people living in the Asian Pacific market will be more than $4,000. The target market is also one of the most dynamic, as it has registered a strong value growth compared to other potential markets, such as Latin America.
Cultural Environment
As part of its cultural heritage, people who live in the Asia Pacific market travel occasionally, as part of their leisure or business activities (Hameiri and Jones, 2016). These behavioural patterns are similar to the travel behaviours of Easy Jet's customers in western countries, but the norms, attitudes and beliefs of the local population regarding management and interpersonal relationships are different from the UK culture (Yecies et al., 2019; Benson et al., 2016; Singh, 2018).
For instance, personal relationships play an important role in nurturing business relationships in the Asia Pacific region more than the UK. To navigate some of these differences, Easy Jet needs to recruit a local contact to support its overseas operations to compensate for the lack of experience in the new market. The contact should primarily be a liaison between the company and its customers. Lastly, Easy Jet must adopt new leadership and management styles that are attuned to local cultural dynamics.
Competitors
Different airlines that serve the Asia Pacific market adopt varied business models. The low-cost philosophy used by Easy Jet to develop its products is least practised in the target market. A broader overview of the business model outlook in the target market appears in figure 2 below.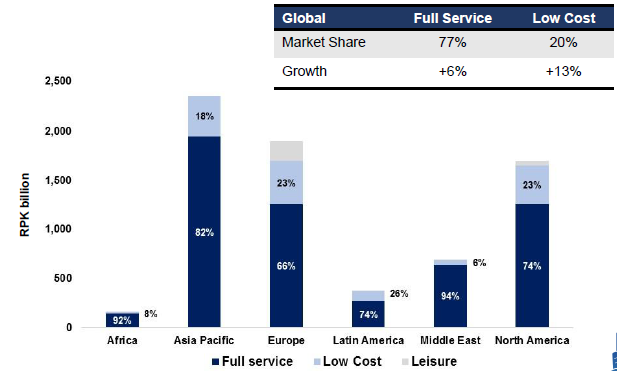 According to figure 2 above, the Asian Pacific market is characterised by the adoption of the full-service airline model, which accounts for about 82% of all business, while low-cost airlines only control about 18% of the industry. These statistics reveal that the low-cost business model adopted by Easy Jet has high growth potential in the market, as it is the least practised. Buoyed by the growing number of middle-income earners in the region and the rising demand for air transport, the airline has potential to service this market effectively, as it is a leader in the adoption of the low-cost business model (Naydan, 2018).
Today, the technique has been adopted by many organisations, which pose as possible competition for Easy Jet, such as Singapore Airlines, Lion Airlines, Tiger Airways, and Cebu Pacific (Heshmati and Kim, 2016). To counter them, Easy Jet will have to compete based on other competencies, such as customer services and operational efficiency.
Physical Infrastructure
In the last decade, the Asia Pacific region has witnessed a rapid growth in infrastructure development. Particularly, there has been a steady growth in the number of airports constructed because of increased air travel in the aviation industry (Centre for Aviation, 2020). In line with this development, most of the airports in the region have been constructed and are maintained through public-private partnerships (Heshmati and Kim, 2016).
Notably, governments have adopted a trend of privatising existing airports or allowing private entities to build new ones as a measure to meet the growing infrastructure demand for air transport in the region (Heshmati and Kim, 2016). According to the Centre for Aviation (2020), there are about 1,697 airports located in more than 50 countries within the Asia Pacific market. These airports serve about 580 airlines (Heshmati and Kim, 2016). Reports show that governments operating in the targeted market are planning to build more airports with a capacity to serve up to 100 million passengers (Clayton, 2019). Broadly, these developments show that the physical infrastructure in the Asia Pacific region can support the future market expansion of Easy Jet.
Geography
The Asia Pacific market refers to countries that are located on the western part of the Pacific Ocean. Therefore, East and Southern parts of Asia, including Oceania form a significant section of this market's geography. To the Northern part of the border is Mongolia and to the south is New Zealand. Its western boundary stretches up to Pakistan, while the Eastern side reaches Oceania. Based on the dispersion of countries within this region, the Asia Pacific market is comprised of a diverse and expansive geographic landscape. This vastness and growing population make air travel one of the most preferred modes of transport for a majority of middle-income earners in the region (Rothman, Vyas and Sato, 2017). Easy Jet is poised to exploit this opportunity by setting up a transport hub at the centre of the market, as explained below.
Entry Mode Selection
Airlines could use several market entry strategies to expand their operations overseas. The most common ones include direct foreign investments, strategic alliances and joint ventures (Chabowski, et al., 2018). Pursuing a joint venture would mean that Easy Jet has to seek new partnerships with companies in the target market, at a corporate level. In some jurisdictions, joint ventures are sought by entities that do not reside in the host country. For example, Singapore Airline is operated this way (Rothman, Vyas and Sato, 2017). However, this market entry strategy is unsuitable for Easy Jet's planned market entry into the Asia Pacific region because of limited flexibility in decision-making, which is a key part of the airline's operations.
Furthermore, a joint venture could be undermined by differences in culture between Easy Jet's European-managed airline and a foreign partner, who does not subscribe to similar management and leadership principles acceptable in the organisation. Alternatively, Easy Jet could use a direct foreign investments strategy to venture in the new market through an acquisition or licensing agreement. However, this market entry strategy is unsuitable for the airline because it could lead to the loss of managerial control. Consequently, there could be a gap in leadership that could lead to management weaknesses and customer dissatisfaction. These outcomes could harm the brand.
Based on the merits and demerits of the aforementioned market entry strategies, Easy Jet should adopt strategic alliances as the preferred mode of entry. This type of alliance is a contractual agreement between two or more parties regarding setting up and operating a business. Usually, airlines that use it do so to leverage their resources (Watson et al., 2018). This strategy is also commonly adopted in the industry, as seen through the One World and Sky Team Alliances that continue to dominate most of the global market share of air travel (Morgan, Feng and Whitler, 2018).
A strategic alliance will enable Easy Jet to expand its market presence and pool or increase revenue through mutual contractual agreements and code-sharing contracts. This strategy is appropriate for Easy Jet because it is a European airline that has little market experience in the Asian Pacific market. Partnering with another low-cost carrier in the market would provide the airline with an opportunity to not only learn the market but also import its European experience to better the services offered. Overall, the strategic alliance is associated with better use of resources and increased operational flexibility, which will also be beneficial to Easy Jet's operations (Watson et al., 2018).
Media/Technology
Like many parts of Asia, the target market has many media options that could be used to implement the marketing plan. Traditional media channels include television and radio, which are still popular throughout most countries in the Asia Pacific region (Dawson, 2018; Mukherjee, 2018; Fortescue, 2016). Non-traditional modes of communication, such as social media, are also alternative forms of engagement that could be used to implement the marketing plan (Crittenden and Crittenden, 2015). This type of media will provide the best mode for communicating with customers when implementing the marketing plan because it is inexpensive and appeals to young people, who are the main customers for low-cost travel.
Target Market
China and Myanmar are two leading markets in the Asia Pacific region that have a lot of potential for low-cost air travel. For example, Myanmar's economic activities are closely connected with those of China, Thailand and the Philippines because these markets account for about 70% of the country's exports (Lutz-Auras, 2015). Particularly, regulatory changes in some of them have supported increased economic activity, which has boosted air travel and by extension, industry performance.
Myanmar is a good example of how its economic growth has been buoyed by supportive regulatory changes that have seen a strong economic resurgence in the country, driven by investments in gas. Alternatively, China is an important destination in the Asia Pacific market because it is one of the most populous countries in the region. Both China and Myanmar highlight two of the most promising markets in the Asia Pacific region. The low number of airlines providing low-cost travel in these markets makes them attractive to Easy Jet because of its experience in this line of business.
Positioning Strategy
Easy Jet's positioning strategy in the Asia Pacific Market needs to be similar to the one adopted in Europe – to deliver sustainable growth and high returns for its shareholders. This plan is also pegged on the ability to build on its competitive advantages (low-cost model) to provide better service at affordable prices to its customers. The company also needs to maintain its logo throughout all of its new locations to safeguard the airline's global brand that has been a pillar of its success throughout the years. Based on the recommendation to use strategic alliance as the main market entry mode, Easy Jet should maintain its products and logo in the manner other airlines have done in similar alliances such as the Sky Team and One World Alliances. Figure 3 below highlights the airline's logo that should also be used in the new market.
By positioning itself as a reliable low-cost airline in the Asia Pacific market, Easy Jet would be adding value to its customers by providing more options for travel. It will also be increasing the competitiveness of the target market's airline sector, which enhances the potential for realising an improved quality of services and affordable ticket prices. The benefits would trickle down to the customers through low fares and improved efficiency. Easy Jet has extensive market experience in this line of business and can easily deliver this value to customers. However, it has to continue positioning itself as the low-cost carrier of choice through the product logo depicted above.
Place Strategy
The success of aviation companies largely depend on their place strategy because, logistically, they need to operate in locations that are convenient for customer travel. In line with this vision, Easy Jet's place strategy should be domiciled in Singapore's Changi airport because it is the busiest and most advanced transport hubs in the region (Fu and Peoples, 2018; Changi Airport Group, 2020). Therefore, Easy Jet would be strategically positioned to exploit the high passenger traffic that frequents the facility. However, it is important to be cognizant of the fact that other airlines also use the location, as their primary bases of operation.
Some of these airlines are Easy Jet's rivals in the low-cost market, including Singapore Airlines, and Jetstar Asia airlines which also use Changi airport as their primary operational base. However, multiple airlines can use the same facility without significantly affecting each other's operations. Therefore, the benefits to be gained from the geographic centrality of the Changi airport in the Asia Pacific market override some of the concerns posed by having Easy Jet's competitors operate from the same place. The airline needs to negotiate for space at this facility and operate a small fleet of aircraft before it gains market traction. Anchored on the strategic alliance partnership highlighted in this marketing plan, the company can secure an operational base at this busy Singapore Airport as part of its place strategy.
Product Strategy
As has been evident in this report, Easy Jet's low-cost business model is one of the most successfully implemented in the global aviation market. Its product strategy should also follow this model to maintain the same appeal it has to younger and middle-income travellers that it enjoys in different markets around the world. In other words, the company's product strategy will be the same as that adopted in the successful European market. This strategy aims to remind customers that the airline intends to stay true to its original cause of providing quality low-cost travel, as proposed by Babah-Daouda, Barth and Ingenbleek (2020).
Pricing Strategy
Similar to its European operations, Easy Jet should adopt its low-cost pricing model because it offers the maximum protection to customers who want to travel on a budget. This pricing plan is appropriate for the selected market because it has a growing middle-class population that is concerned with value for money (Mason, Chakrabarti and Singh, 2017; Finch, Geiger and Harkness, 2017).
Singapore Airlines, which is one of Easy Jet's main competitors, charges a premium for the services offered on its aircraft. Therefore, Easy Jet's pricing strategy does not compete directly with its competitors. Indeed, as highlighted in previous sections of this report, the low-cost business model is rarely adopted by Airlines in the Asia Pacific market. It is expected that the low-cost pricing model will offer customers the maximum value for their ticket purchases. It is also in line with the company's main goal of profit maximisation because preference is given to basic services as opposed to fringe benefits. Therefore, the low-cost business model will be useful in increasing the company's profitability and ultimately its market share. More importantly, the low-cost pricing strategy is one of the differentiating factors for the airline.
Promotional Strategy
Easy Jet's promotional strategy should be pegged on social media marketing because it is an inexpensive mode of communication, which aligns with the low-cost business model used by the European airline. This promotional strategy has the potential to increase Easy Jet's brand awareness throughout the Asian market, as this form of virtual communication will allow people in Asia to know about a company they have very little understanding of.
Conclusion
This marketing research plan has demonstrated the opportunities that exist for Easy Jet if it is to expand its operations in the target market. Most of the key tenets of the company's marketing plan, such as its promotional and pricing strategies, are similar to those adopted in its European market. There is a need to maintain this consistency in the brand image to standardise the global perception of the company.
The strategic alliance approach is appropriately selected as the main market entry strategy because it offers opportunities to expand Easy Jet's operations without having to learn local cultural dynamics. This statement is informed by differences in culture observed between Easy Jet and most Asian Pacific countries. However, the recommended strategic alliance approach would enable Easy Jet to have a local contact who will aid in completing local business dealings.
Reference List
Aziz, T. and Ansari, V. A. (2018) 'The turn of the month effect in Asia-Pacific markets: new evidence', Global Business Review, 19(1), pp. 214-226.
Babah-Daouda, F., Barth, P. and Ingenbleek, P. T. M. (2020) 'Market development for African endogenous products', Journal of Macromarketing, 40(1), pp. 13-30.
Bäder, M. (2015) Quantitative and qualitative analysis of EasyJet's annual report 2013: including a comprehensive analysis of financial ratios and industry standards benchmarked against main competitors. London: GRIN Verlag.
Benson, K. et al. (2016) 'Corrigendum to a review of accounting research in the Asia Pacific region', Australian Journal of Management, 41(4), pp. 660-661.
Centre for Aviation. (2020) Asia Pacific. Web.
Chabowski, B. et al. (2018) 'An assessment of the exporting literature: using theory and data to identify future research directions', Journal of International Marketing, 26(1), pp. 118-143.
Changi Airport Group. (2020) About Changi airport. Web.
Clayton, E. (2019) Airport infrastructure in Asia: coping with the demand surge. Web.
Crittenden, V. L. and Crittenden, W. F. (2015) 'Digital and social media marketing in business education: implications for student engagement', Journal of Marketing Education, 37(3), pp. 131-132.
Dawson, V. R. (2018) 'Fans, friends, advocates, ambassadors, and haters: social media communities and the communicative constitution of organizational identity', Social Media and Society, 3(5), pp. 1-10.
Dewitt, D. et al. (2018) 'AWOL: Canada's defence policy and presence in the Asia Pacific', International Journal, 73(1), pp. 5-32.
Dreams Time. (2020) Easy Jet logo and sign on plane. Web.
Duval, Y. et al. (2019) 'Next-generation trade facilitation for Asian integration: cross-border paperless trade', Journal of Asian Economic Integration, 1(1), pp. 11-31.
Easy Jet Plc. (2020) Company information. Web.
Eriksson, S. and Steenhuis, H. (2015) The global commercial aviation industry. London: Routledge.
Finch, J. H., Geiger, S. and Harkness, R. J. (2017) 'Marketing and compromising for sustainability: competing orders of worth in the North Atlantic', Marketing Theory, 17(1), pp. 71-93.
Fortescue, S. (2016) 'Russia's economic prospects in the Asia Pacific Region', Journal of Eurasian Studies, 7(1), pp. 49-59.
Fu, X. and Peoples, J. (eds) (2018) Airline economics in Asia. London: Emerald Group Publishing.
Ghatak, S. (2019) Demystifying rising inequality in Asia', Journal of Asian Economic Integration, 1(2), pp. 283-286.
Gross, S. and Lück, M. (2016) The low-cost carrier worldwide. London: Routledge.
Hameiri, S. and Jones, L. (2016) 'Rising powers and state transformation: the case of China', European Journal of International Relations, 22(1), pp. 72-98.
Harrington, J. W. (2016) Services and economic development in the Asia-Pacific. London: Routledge.
Herdman, A. (2019) Asia pacific aviation: stronger together. Web.
Heshmati, A. and Kim, J. (2016) Efficiency and competitiveness of international airlines. London: Springer.
International Air Transport Association. (2020) Future of the airline industry 2035. Web.
Lutz-Auras, L. (2015) 'Russia and Myanmar – friends in need?', Journal of Current Southeast Asian Affairs, 34(2), pp. 165-198.
Mason, K., Chakrabarti, R. and Singh, R. (2017). 'Markets and marketing at the bottom of the pyramid', Marketing Theory, 17(3), pp. 261-270.
Morgan, N. A., Feng, H. and Whitler, K. A. (2018). 'Marketing capabilities in international marketing', Journal of International Marketing, 26(1), pp. 61-95.
Mukherjee, D. (2018). Oligopoly, auctions and market quality (economics, law, and institutions in Asia Pacific)', Studies in Microeconomics, 6(2), pp. 130-132.
Naydan, L. M. (2018) How to get filthy rich in rising Asia: the false promise of self-help and possibilities through reading with a creative mind', The Journal of Commonwealth Literature, 53(1), pp. 92-108.
Oborune, K. (2016) Corporate social responsibility: a comparative study of Ryannair and EasyJet. London: GRIN Publishing.
Patra, S. and Dastidar, S. G. (2018) 'Finance and growth: evidence from South Asia', Jindal Journal of Business Research, 7(1), pp. 37-60.
Pennisi di Floristella, A. (2019) 'The United States and European Union evolving approaches in Southeast Asia: moving closer to convergence or divergence?', Journal of Current Southeast Asian Affairs, 38(2), pp. 172-193.
Popova, N. (2015) Emerging markets in the airline industry. Web.
Rothman, S. B., Vyas, U. and Sato, Y. (eds) (2017). Regional institutions, geopolitics and economics in the Asia-pacific: evolving interests and strategies. London: Taylor & Francis.
Shabbir, M. S., Saleem, H. and Khan, M. B. (2019). 'Impact of internet adoption and mobile phone penetration on corruption: evidence from selected Asia-Pacific countries', Global Business Review, 4(2), pp. 1-10.
Singh, S. (2018). 'Taking Asia-Pacific journal of management research and innovation to the next level', Asia-Pacific Journal of Management Research and Innovation, 14(2), pp. 7-8.
Tan-Mullins, M. (2017). 'Dancing to China's tune: understanding the impacts of a rising China through the political-ecology framework', Journal of Current Chinese Affairs, 46(3), pp. 3-32.
Watson, G. F. et al. (2018). 'International market entry strategies: relational, digital, and hybrid approaches', Journal of International Marketing, 26(1), pp. 30-60.
Yecies, B. et al. (2019). 'The cultural power metric: toward a reputational analysis of China's soft power in the Asia-Pacific', Global Media and China, 4(2), pp. 203-219.