Executive Summary
Australia's retail industry faces turbo-charged competition from both local and foreign retailers. Most importantly, a new threat in the form of online stores is emerging, which only worsens the situation. The result has been many of the firms making inadequate profits and other incurring losses over a long period. Osiris Holdings Pty Ltd is one of the iconic Australian brands in the retail industry. The department store faces the need for a new strategic direction necessitated by the sectoral trends and the possibility of making massive losses. Therefore, this report has explored how digitization is the ultimate solution for the company if well-implemented. The goal is to build sales and retain customers, as well as attract new ones. To achieve this, Osiris Holdings Pty Ltd will take advantage of the cost-saving opportunities presented by online retail platforms and the deliberate differentiation at the service level.
Introduction
Strategic analysis is a critical practice in management where the business environment is integrated into the formulation of a strategy. In some cases, the analysis may focus on existing strategies and decisions made on whether to maintain or change the current strategy. This report focuses on Osiris Holdings Pty Ltd, which trades as David Jones. The Australian icon has faced multiple changes in both ownership and strategic direction. The latest of these changes aims to increase the company's retail footprint and relevance in the Australian market. This report will explore the internal and external environment to help develop a new strategic direction.
Evaluating the Organization's Environment
External
The company faces competition from other large retailers across Australia, where many firms have used innovative mechanisms to gain an edge as explained by Kitchener (2019). The external environment can be analyzed using Porter's five forces and the PESTEL framework. Porter's model comprises the threat of new entrants, bargaining power of customers, bargaining power of suppliers, the threat of substitutes, and the intensity of competitive rivalry.
The retail business in Australia is highly competitive, which translates to the high intensity of the rivalry. The competitive pressure has resulted in many firms engaging in price-setting behaviors to remain competitive (Carter, 2019). The threat of new entrants can be described as moderate because smaller retailers can easily enter the market while it would require massive capital to set up department stores.
Additionally, online retail is growing fast, which could offset the level of this threat as new innovative e-commerce businesses emerge. The power of suppliers and buyers remains high because slight price changes easily influence buying decisions. Lastly, all the retailers sell similar products, which means that the threat of substitution is very high. From the PESTEL framework, technology and economic factors are the most relevant elements applied to David Jones. Technology is driving digitization and many businesses are operating e-commerce or online retail stores. Economically, the retail industry keeps growing, which means that many businesses expand by lowering prices. Such efforts are likely to negatively affect the profitability of retailers.
Internal
The internal analysis can be conducted using core competencies and value chain analysis. According to Kawshala (2017), core competencies are a management theory concept that describes specific factors central to how a business works. Core competencies comprise such key elements as capabilities, resources, and competencies. David Jones is a large business with financial and capital resources to allow it to exploit opportunities and compete in the market. capabilities include establishing more stores and online retail platforms. Capabilities include technological innovation where the company embraces digital transformation. The VRIO (value, rare, imitable, organization) framework can be used to examine these core competencies (Ariyani & Deryanto, 2018). For example, the resources are rare because not many businesses are the size of David Jones. However, they are valuable and can be organized to offer the company a competitive advantage.
Value chain analysis can also be used to assess Dovid Jones' internal environment. The framework was first introduced by Michael Porter to describe the list of activities performed by a business to deliver value to customers (Jones et al., 2019). The primary activities comprise inbound logistics, operations, outbound logistics, marketing and sales, and post-sale services. Support activities include firm infrastructure, human resource management, procurement, and technology as highlighted in the figure below: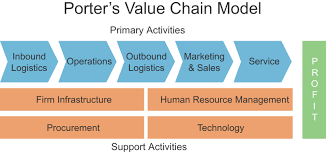 The components of value chain analysis for David Jones can be summarized in a table as illustrated below:
Category
Elements
Examples from Company
Primary Activities
Inbound logistics
Product picking and packing
Shipping
Receiving
Reverse logistics
Operations
Store design
Premise maintenance
Inventory management
Staff management
Customer service
Outbound logistics
Delivery
Order fulfillment
Packing
Marketing and Sales
Staff training
In-store merchandising
Referral and loyalty programs
After-Sales Services
Delivery
Click & collect
Support Activities
Firm Infrastructure
Physical stores
Online stores
Transport vehicles
HRM
Recruitment/selection
Training and development
Performance appraisal
Procurement
Supplier/vendor selection
Strategic vetting
Payment negotiation
Technology
Online retail
Social media marketing
Analysis of competitive advantage
The competitive rivalry among department stores in Australia is intense. According to Knight (2017), the competition can be described as 'turbo charged' because the major stores compete in many areas, including pricing, store design, and advertising. Such stores as Target and Big W. have either made poor profits or incurred losses over the past half-decade as a result of the competition, which has resulted in some of them undergoing complete overhaul and restructuring.
However, it is important to acknowledge that the rivalry is made worse by the presence of online stores. As a result, David Jones and Myers have resorted to establishing their own online stores to continue competing on the digital platform. Both companies are high-end retailers that have dominated the Australian market for a long time. Both sell similar products, including fashion, tech, homewares, and beauty. The rivalry across both the physical and online stores has involved offering such services as free deliveries for orders over $49 and $50 for Myers and David Jones respectively (Hockey, 2021), points earned from membership, and returns accepted. Most importantly, all products offered in the physical stores are also sold online for both companies, which makes the rivalry resemble a head-to-head competition with each other.
Strategy formulation and Choice
Vision
The analysis of the business environment reveals that only those businesses that adapt to changes have a chance of survival and remaining competitive. The strategic choice for David Jones is to undergo a complete restructuring placing greater emphasis on online retailing. Therefore, the vision of this strategy can be described ­a: to become the best online retail store in Australia through value co-creation and continuous improvement. The vision encompasses the need to engage the consumers in value creation because the nature of online businesses requires not only loyal but also continuous involvement of shoppers. Continuous improvement is included in the vision because the digital business environment is also highly competitive and David Jones needs to keep improving both services and products to gain an edge in the market.
Goals
Increased sales through the online store – the main goal embodied in the strategic vision is to build an online platform where most of the shopping will take place. Therefore, David Jones will use the digitization strategy to drive sales under the assumption that all current consumers will shift to online shopping. In this case, online stores are subject to exposure to a wider market, which could also help drive sales. The problems faced by the company regarding inadequate profits will be resolved because higher sales levels will raise the profitability.
Winning new customers – thriving in the online business requires the firms to improve their marketing efforts as a means to drive sales. David Jones cannot settle for the current market share and should strive to gain more of it. Such marketing efforts as generating new leads and the use of social media should become part of this strategy. The success of the new business model will require a strong online presence.
Customer retention and satisfaction – the idea of value co-creation is mentioned in the vision statement to highlight the need to keep customers happy with the company's products and services. The firm will use the strategy to facilitate both customer retention and satisfaction as a means to sustain and continually raise sales volumes. The argument is that satisfied shoppers will remain loyal to the company.
Initiatives – cost leadership versus differentiation
The strategic initiatives will take into account the main challenge the company faces and the goals they seek to pursue. As mentioned earlier, the level of competition has seen many firms use price actions to attract more consumers (Carter, 2019). Others have decided to restructure and overhaul to look different from the competitors (Knight, 2017). Therefore, David Jones has to consider cost leadership and differentiation as the key strategic initiatives. Both of these approaches offer competitive possibilities, which means that the company has to pursue both. In terms of cost leadership, operating online and reducing physical infrastructure helps reduce many of the operational costs, including premise and store rent, labor, and electricity, and other overheads.
Differentiation can be achieved by building unique shopping platforms and offering differentiated services. Considering that many competitors in the retail business offer similar product lines, it can be argued that the service level offers the greatest potential for differentiation. Examples include delivery, packaging, and after-sales services that focus on improving customer experience.
Recommendations and Conclusions
Rationale for Support of Strategy
The first rationale for supporting this strategy is that David Jones and such rivals as Myers have resorted to establishing their own online stores to help them remain competitive. The two chains have established that their major threat is the ever-growing online stores that have a wider outreach and that take advantage of the consumers' tendency and readiness to shop online. Therefore, overhauling its physical stores and improving the online platform goes a long way in ensuring the future of the company.
The current trends indicate that the digital transformation will lead to a scenario where almost all businesses will go online and shoppers will hardly use the physical stores. The convenience offered by e-commerce cannot be matched by the brick-and-mortar business models, which means that digitization is the only viable direction for David Jones. A second rationale is that online stores can take advantage of certain efficiencies and cost-saving opportunities to allow them to sell at relatively lower prices. Pricing strategies and behavior among Australia's is evidence that operational costs are a key concern.
Rationale for Critique of Strategy
While going digital offers vast advantages associated with costs, there is a need to consider expenses incurred in building and maintaining the online platforms. The rationale is that online stores are not merely website where goods and services are posted.
However, it encompasses such aspects as order processing systems, payment systems, and other software and applications needed to keep an online store running. However, the costs of running an online business will remain lower than physical ones that require multiple costly infrastructures. Another rationale is that going exclusively online may affect the behavior of the current consumers who are used to shopping at the stores. However, the company can make gradual shifts to allow all current consumers to adapt fully to the new set-up.
In conclusion, it can be recommended that digitization be implemented incrementally to allow both the company and its consumers to adapt to the change. Despite the criticism, online platforms remain the ultimate solution to the current challenges faced by large department stores. Left unchecked, the online retailers will snatch the market shares from David Jones and competitors, especially considering that such rivals as Myers are headed in a similar direction. The main goals will be to build sales and retain customers, as well as attract new buyers to the company's online stores. If these goals are achieved, the company can improve both its survival and profitability in the long run.
References
Ariyani, W., & Deryanto, A. (2018). Operationalization of internal analysis using the VRIO framework: Development of scale for resource and capabilities organization (case study: XYZ company animal feed business unit). Asian Business Research Journal, 3. Web.
Carter, M. (2019). Competition and profit margins in the retail trade sector. Reserve Bank of Australia. Web.
Hockey, M. (2021). The biggest Australian online shopping sites & clothing stores. Who.com. Web.
Jones, L., Demirkaya, M., & Bethmann, E. (2019). Global value chain analysis: Concepts and approaches. Journal of International Commerce and Economics, 1-29. Web.
Jurevicius, O. (2021). Value chain analysis. Strategic Management Insight. Web.
Kawshala, H. (2017). Theorizing the concept of core competencies: An integrative model beyond identification. International Journal of Scientific and Research Publications, 7(2), 253-256 [PDF Document]. Web.
Kitchener, T. (2019). Retail competition: threat or opportunity? APAL. Web.
Knight, E. (2017). Department stores face uncertain future as sales seen shrinking over coming years. The Sydney Morning Herald. Web.